Looking for the perfect Christmas morning breakfast? Here are 25 delicious ideas complete with easy recipes. Whatever your taste preferences, there's something here to make your festive morning one to remember. Let's get cooking!
1. Blueberry Cream Cheese Muffins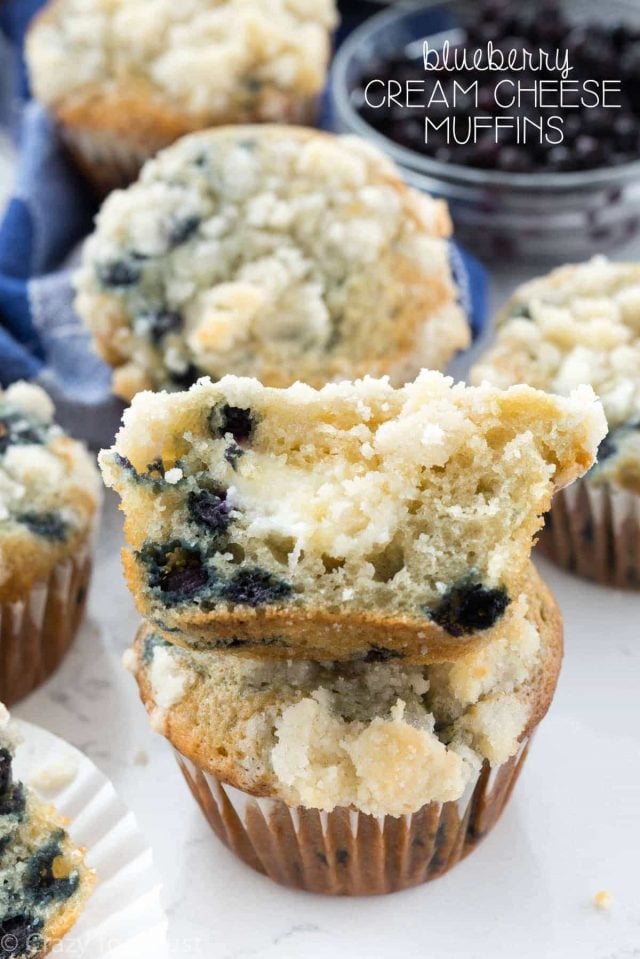 You'll love these blueberry cream cheese muffins. They have a soft and fluffy texture and are bursting with the flavors of blueberries and cream cheese. They are topped with a buttery streusel, adding a delicious crunch to every bite.
These muffins are the perfect addition to your Christmas breakfast spread. The combination of sweet blueberries and creamy cheese creates a delightful taste sensation that will leave you wanting more.
2. Gingerbread Muffins
Indulge in the warm and spicy flavors of these gingerbread muffins. They are made with a delightful blend of ginger, nutmeg, cloves, and cinnamon. These muffins are perfect for Christmas morning, filling your home with the comforting aroma of holiday spices.
The key ingredients like molasses, cashew milk, and turbinado sugar create a dairy-free option. These muffins are soft, tender, and bursting with flavor.
3. Italian Sausage Breakfast Casserole
The Italian sausage breakfast casserole is a delicious and satisfying dish that combines the flavors of peppers, broccoli, and cheese. It's the perfect way to start your Christmas morning with a hearty and indulgent meal.
The aroma of the sausage cooking in the oven will fill your home with warmth and comfort. This easy-to-make casserole requires just some baking time, making it a stress-free option for your holiday breakfast.
4. Christmas Quiche
For a festive twist on a classic, try making a Christmas quiche with sausage, cheese, and cranberries.
The flaky crust gives it the perfect crunch while the fluffy eggs create a velvety texture.
The combination of savory sausage and rich cheese is balanced out by the burst of sweetness from the cranberries.
5. Starbucks Pumpkin Bread
You can't resist the warm and comforting aroma of Starbucks' pumpkin bread. It's like a cozy hug from your favorite coffee shop.
The sweet pumpkin, cinnamon, nutmeg, and cloves create a symphony of flavors that dance on your taste buds. This classic Christmas morning treat is a must-have for any festive breakfast spread.
And let me tell you, making it at home is even better than buying it. With a simple and foolproof recipe, you'll have everyone feeling the holiday spirit in no time.
6. Maple Pecan Scones
Indulge in the rich and nutty flavors of these tender scones with a delightful maple syrup glaze. The combination of pecans and maple syrup creates a perfect harmony, making each bite a heavenly experience.
These scones are not only flavorful and delicious but also incredibly easy to make.
With just a few simple ingredients, you can prepare this Christmas treat that will impress your loved ones without breaking a sweat.
7. Red Velvet Waffles
These red velvet cake waffles are a delightful combination of chocolatey goodness and crispy texture that will make your mornings extra special.
The rich, sweet aroma fills the kitchen as the batter sizzles on the hot waffle iron.
Each bite is a decadent experience, with the moist, velvety center contrasting perfectly with the crisp exterior.
Topped with a sprinkle of powdered sugar and a drizzle of maple syrup, these waffles are guaranteed to bring joy to your breakfast table.
8. Peppermint Donuts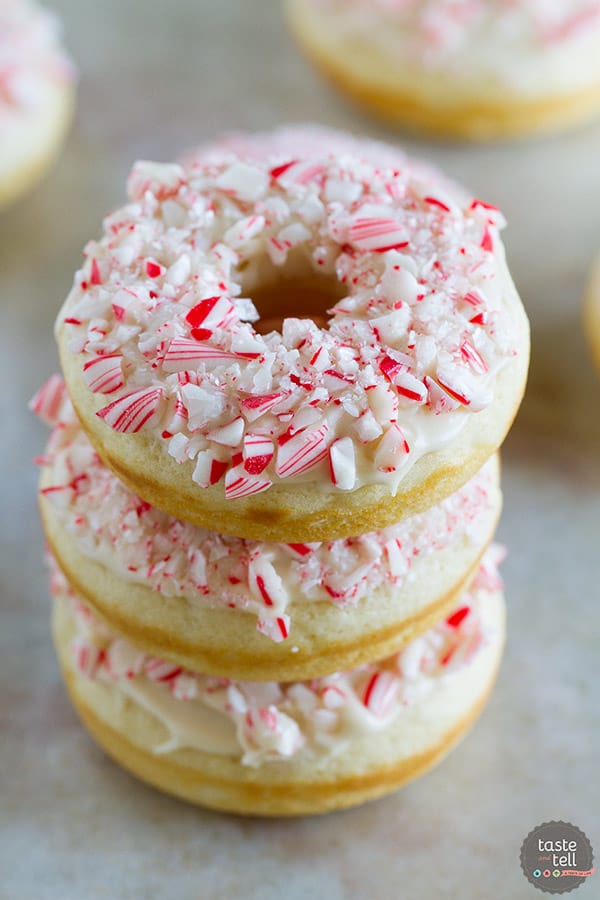 Savor the irresistible combination of soft donuts and crushed peppermint candies with a balanced peppermint flavor that will leave you wanting more.
These baked donuts are not only delicious but also healthier than traditional fried ones. The crushed peppermint candies add a delightful crunch to every bite, while the subtle peppermint flavor adds a festive touch to your Christmas breakfast spread.
Whip up these easy-to-make treats and indulge in the perfect holiday treat for your family and friends.
9. Sticky Buns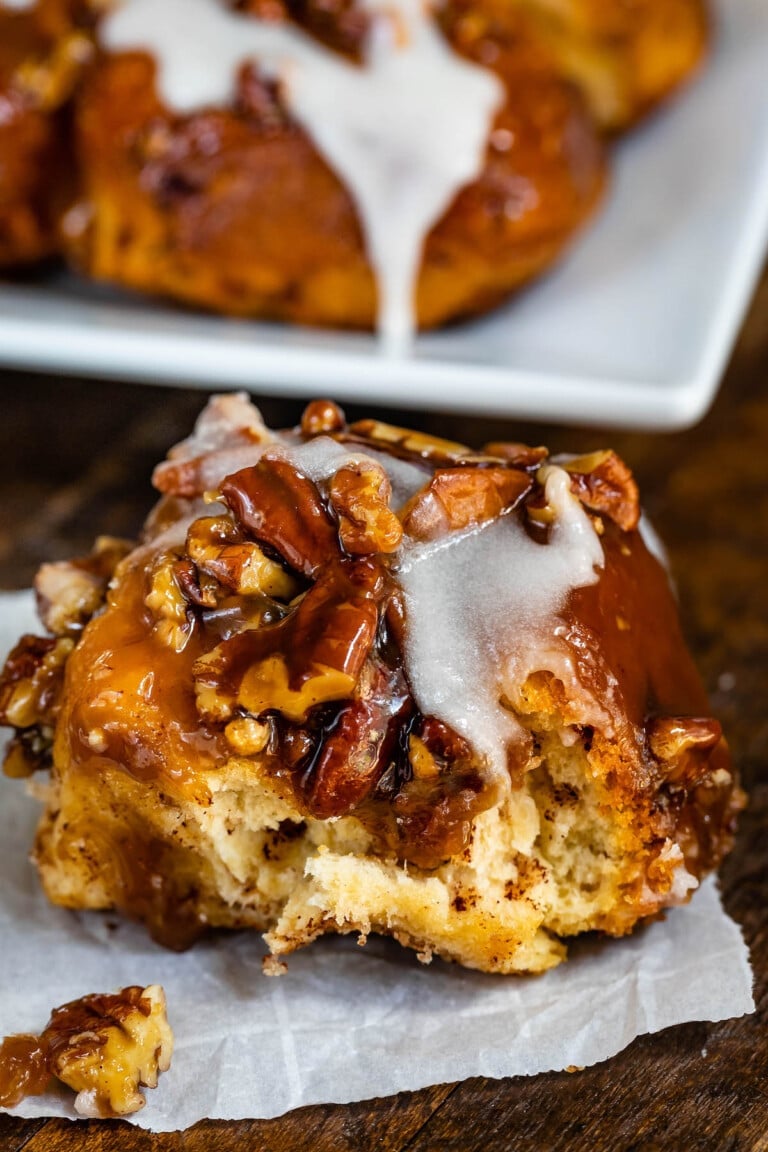 You can't resist the gooey caramel pecan glaze that perfectly complements the soft cinnamon rolls in these shortcut sticky buns.
With just 5 easy ingredients, this Christmas breakfast treat is ready in only 30 minutes.
The shortcut version using canned cinnamon rolls makes it a breeze to whip up, but don't let that fool you – the flavor is out of this world!
These sticky buns are sure to make you feel like part of a warm and cozy holiday tradition.
10. Cranberry Bread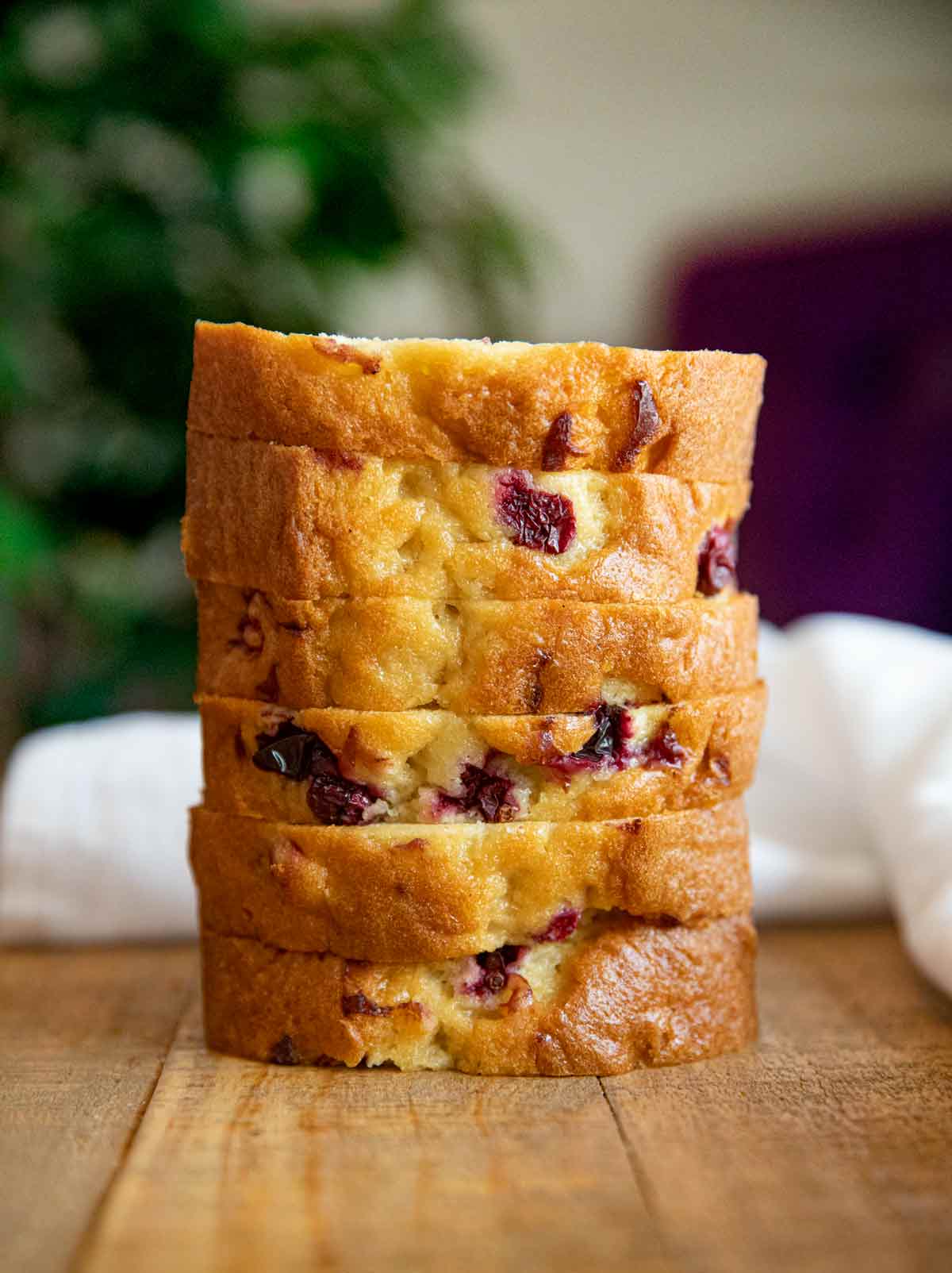 Indulge in the irresistible aroma of freshly baked cranberry bread, a delectable treat that is perfect for any occasion.
This soft and buttery bread is packed with bursts of sweet and tangy cranberries, adding a festive touch to your breakfast table.
With its moist texture and specks of red cranberries, this bread not only tastes heavenly but also looks beautiful.
Plus, it's quick and easy to make, making it a hassle-free choice for a delightful Christmas or Thanksgiving morning.
11. Christmas Coffee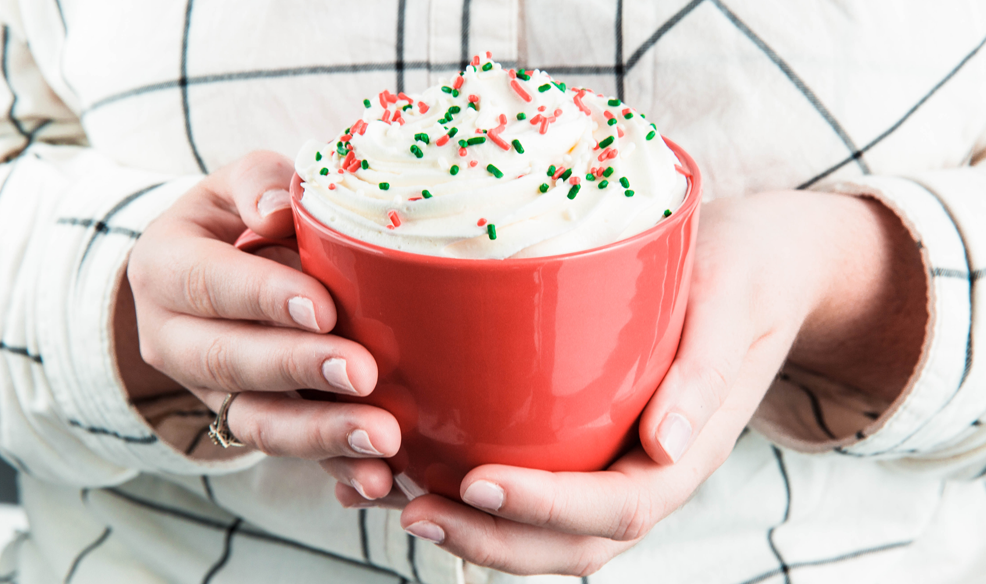 Infused with spices and topped with whipped cream, this comforting coffee is perfect for a cozy morning treat.
The aroma of freshly brewed coffee combined with the warming flavors of cinnamon, nutmeg, and cloves creates a festive experience that will transport you to a winter wonderland.
And when you take that first sip, the creamy sweetness of the whipped cream adds an extra layer of indulgence.
It's the perfect way to start your Christmas morning and feel like part of something special.
12. Coffee Cake
The moist and tender coffee cake is a simple yet spectacular treat that pairs perfectly with your morning cup of coffee. With its cinnamon crumble topping and bakery-quality taste, it's a delightful way to start your day.
Made with basic ingredients, this coffee cake is easy to whip up for a festive Christmas breakfast. The heavenly aroma wafting through your home will make you feel like you belong in a cozy holiday gathering.
13. Cranberry Christmas Crepes
With a soft and tender texture, these cranberry Christmas crepes are filled with a sweet and tart cream cheese filling.
Topped with luscious red cranberry jam and sprinkled with candied ginger, these crepes are both visually appealing and appetizing.
The festive flavors of the cranberries perfectly complement the creamy filling, creating a delightful holiday breakfast option.
These cranberry Christmas crepes will surely make you feel like you belong to the holiday spirit.
14. Nutella Cream Cheese Crescent Rolls
You can enjoy the irresistible combination of Nutella and cream cheese stuffed inside warm, flaky crescent rolls. These heavenly treats are perfect for any occasion, whether it's a holiday party or a cozy morning at home.
The rich and creamy Nutella pairs perfectly with the tangy cream cheese, creating a mouthwatering blend of flavors that will leave you craving for more.
With just 20 minutes of prep time, these decadent crescent rolls are quick and easy to make.
15. Christmas Breakfast Strata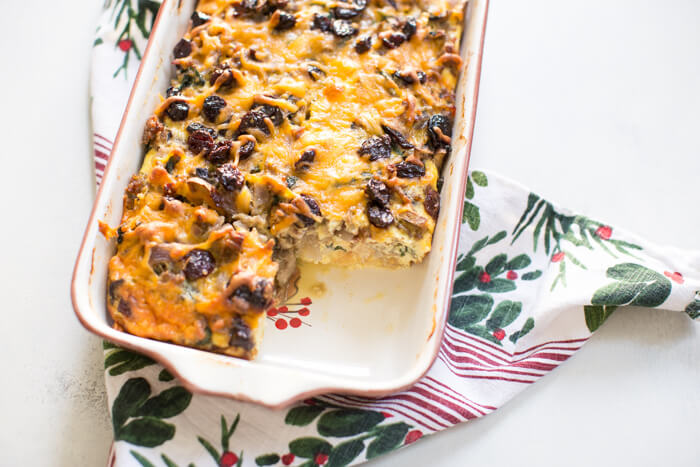 Indulge in this mouthwatering dish filled with layers of cheese, sausage, and cherries for a rich and flavorful breakfast option.
The combination of savory sausage and creamy cheese pairs perfectly with the sweet burst of flavor from the cherries.
Each bite is a delightful balance of textures and tastes that will leave you satisfied and ready to tackle the day.
This Christmas Breakfast Strata is sure to become a favorite in your holiday recipe collection.
16. Gingerbread Pear Loaves
These gingerbread pear loaves have a rustic and adorable appearance that will make them the perfect addition to your holiday table.
The pears are poached in a delightful mixture of ginger beer, cinnamon, cardamom, and sugar, infusing them with warm and cozy flavors.
When baked into the spiced gingerbread batter, the result is a moist and flavorful loaf that strikes the ideal balance between sweet and spicy.
It's a treat that will surely impress your loved ones on Christmas morning.
17. Christmas Bread Pudding
If you're looking for a decadent and festive dessert, nothing beats the sinful and heavenly Christmas bread pudding.
Picture this: moist French bread studded with plump dried cranberries and juicy apples, all soaked in a rich and creamy topping.
The aroma is intoxicating, with hints of nutmeg and a subtle kick of rum.
This indulgent treat is the perfect way to satisfy your sweet tooth during the holiday season.
18. Gingerbread French Toast Bake
The gingerbread French toast bake is made with brioche that's soaked in a brown sugar custard and topped with a gingerbread sugar crumble.
It's the ultimate breakfast treat, perfect for Christmas morning.
The brioche becomes soft and flavorful as it absorbs the sweet custard, while the gingerbread crumble adds a delightful crunch.
Drizzled with maple syrup and sprinkled with powdered sugar, this dish is sure to make you feel warm and cozy on a chilly winter morning.
19. Banana Chocolate Chunk Muffins
You'll love how moist and tender these banana chocolate chunk muffins are. They have a bakery-quality taste that's super easy to achieve.
They are loaded with ripe bananas and chunks of rich chocolate, creating a delightful combination of flavors.
The recipe is foolproof and requires minimal effort, making it perfect for those busy mornings during the holiday season.
20. Sweet Potato Frittata
Using leftover sweet potatoes, ham, vegetables, caramelized onions, and feta cheese, you can make a delicious frittata that's perfect for any time of day.
The combination of the sweet potatoes and savory ham creates a mouthwatering blend of flavors.
The caramelized onions add a touch of sweetness, while the feta cheese adds a creamy and tangy element.
This versatile dish is not only great for Christmas breakfast but also makes for a satisfying brunch or dinner option.
21. Sausage-Cheddar Biscuits
Start by combining sausage, cheddar cheese, and buttermilk biscuits for a tasty treat. These Sausage-Cheddar Biscuits are the perfect addition to your Christmas morning spread.
The soft and flaky biscuits pair perfectly with the savory sausage and melted cheddar cheese. Every bite is filled with well-balanced flavors that will make Santa's visit even more special.
Whip up a batch of these delicious biscuits for a breakfast that will have everyone feeling warm and welcomed this holiday season.
22. Peppermint Hot Chocolate Pancakes
After indulging in the savory goodness of Sausage-Cheddar Biscuits, it's time to satisfy your sweet tooth with Peppermint Hot Chocolate Pancakes.
These heavenly pancakes are a celebration-worthy treat that combine the rich and chocolatey flavor of hot cocoa with a hint of refreshing peppermint.
Topped with chocolate syrup, crushed peppermint candy, chocolate chips, and mini-marshmallows, every bite is like a warm hug on Christmas morning.
23. Bananas Foster French Toast Casserole
To create a delectable Bananas Foster French Toast Casserole, you'll need to gather ripe bananas, brown sugar, butter, cinnamon, vanilla extract, eggs, milk, and day-old bread.
This mouthwatering dish combines the rich flavors of caramelized bananas with the comforting warmth of French toast.
The sweet aroma fills your kitchen as you bake this crowd-pleasing breakfast.
With its creamy texture and hints of cinnamon and vanilla, this casserole is sure to become a favorite among family and friends.
24. Cinnamon Rolls
You'll love sinking your teeth into these warm and gooey cinnamon rolls. They're made with a simple Bisquick dough that's bursting with cinnamon and brown sugar.
These rolls are the perfect addition to any Christmas morning spread. They're quick and easy to make, so you can spend more time enjoying the festivities.
The soft and tender texture of the rolls, combined with the ooey-gooey center and crisp frosted exterior, will rival even the famous Cinnabon.
25. Orange Rolls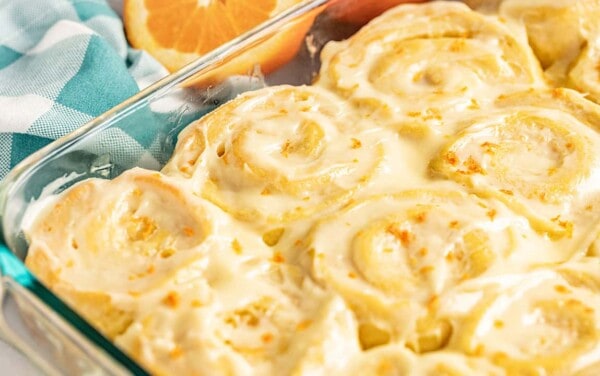 Indulge in the irresistible combination of tangy orange and creamy cream cheese frosting with these soft and sticky rolls.
Imagine sinking your teeth into a pillowy roll, bursting with the harmonious blend of citrusy orange and warm cinnamon flavors.
The texture is insanely soft and fluffy, melting in your mouth with each delectable bite.
And the sweet cream cheese frosting adds a refreshing tang from the orange juice, making these rolls the perfect treat for Christmas breakfast festivities.