Got a craving for lobster? I've gathered 25 of the best lobster recipes, perfect for any occasion. Whether you're a pro in the kitchen or just starting out, there's something here for everyone. Let's get cooking!
1. Grilled Lobster Tail
You should start by preheating the grill and brushing the lobster tails with melted butter for a delicious grilled flavor. This simple step will infuse the lobster with rich, buttery goodness that will make your taste buds dance.
As you place the tails on the grill, be sure to butterfly them to ensure even cooking and maximum tenderness.
And don't forget to skewer them through the center to prevent any unwanted curling.
2. Lobster Cakes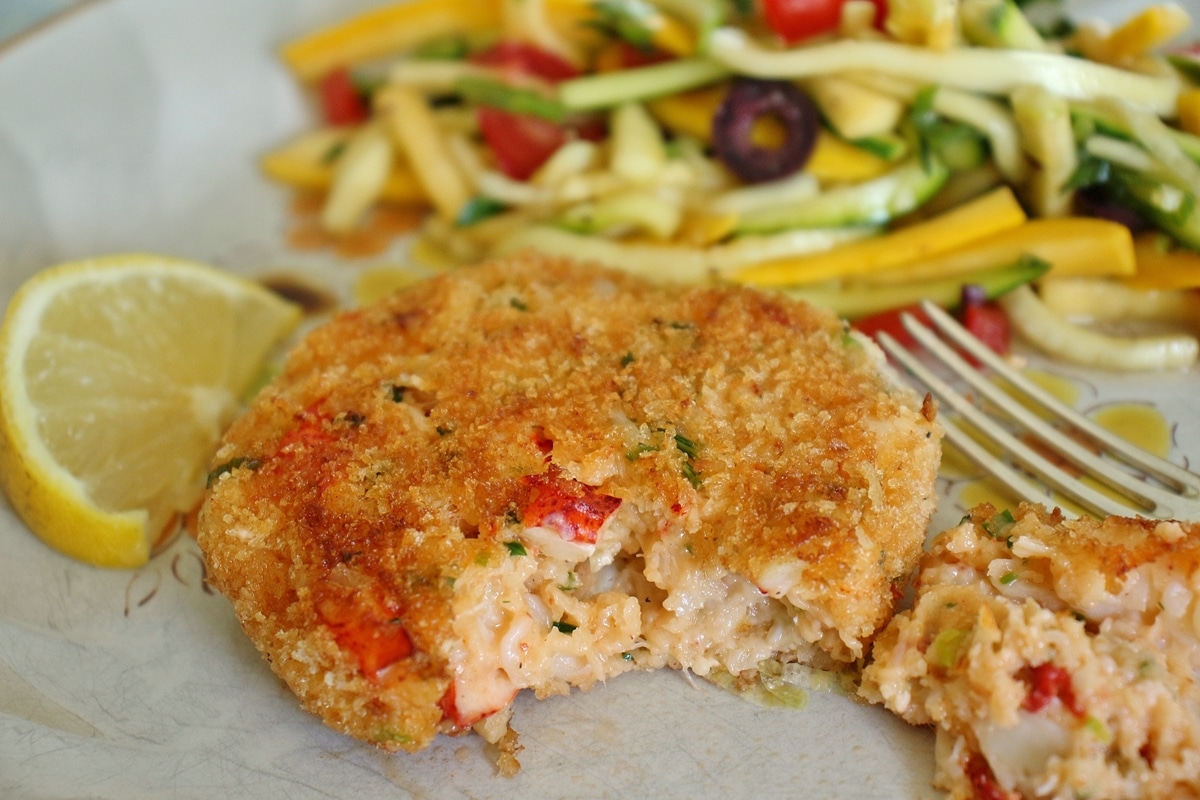 Indulge in these delectable lobster cakes, bursting with succulent meat and coated in a crispy panko crust. They're the perfect choice for a summer lunch or appetizer that will impress your guests.
These light and flavorful cakes are filled with abundant lobster meat, creating a rich and satisfying bite. The panko breadcrumb crust adds a delightful crunch to every mouthful.
Serve them alongside a fresh side salad, slaw, and a squeeze of lemon for an unforgettable meal experience.
3. Cheesy Cheddar Lobster Dip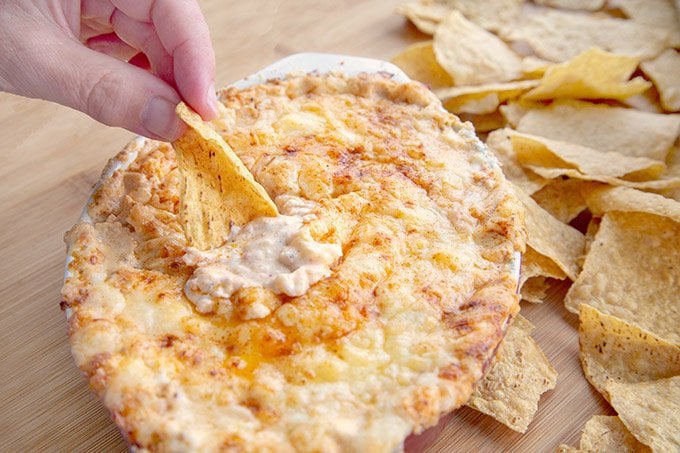 Savor the irresistibly creamy and flavorful cheesy cheddar lobster dip, perfect for entertaining or indulging in a delicious appetizer.
This dip is a true crowd-pleaser, combining the decadence of cheese with the rich taste of lobster.
With every bite, you'll experience a burst of savory flavors that will leave your taste buds begging for more.
4. Best Lobster Sauce
When making this sauce, all you need are a few fresh ingredients to create a rich and flavorful addition to your lobster dish.
The jumbo lobster chunks cooked in white wine and butter sauce make for the best lobster sauce with its ultra-gourmet taste.
Enjoy it with spaghetti noodles to savor the buttery white wine sauce that perfectly complements the delicate flavor of the lobster.
5. Lobster Rangoon
You can easily elevate your appetizers by making lobster rangoons. These deep-fried wontons are crispy on the outside and have a sweet and creamy filling.
They are filled with tender chunks of lobster and cream cheese, creating a mouthwatering combination of flavors.
While not traditional Chinese cuisine, these decadent treats are perfect for a Chinese-themed feast or any occasion where you want to impress your guests with something indulgent and delicious.
6. Lobster Salad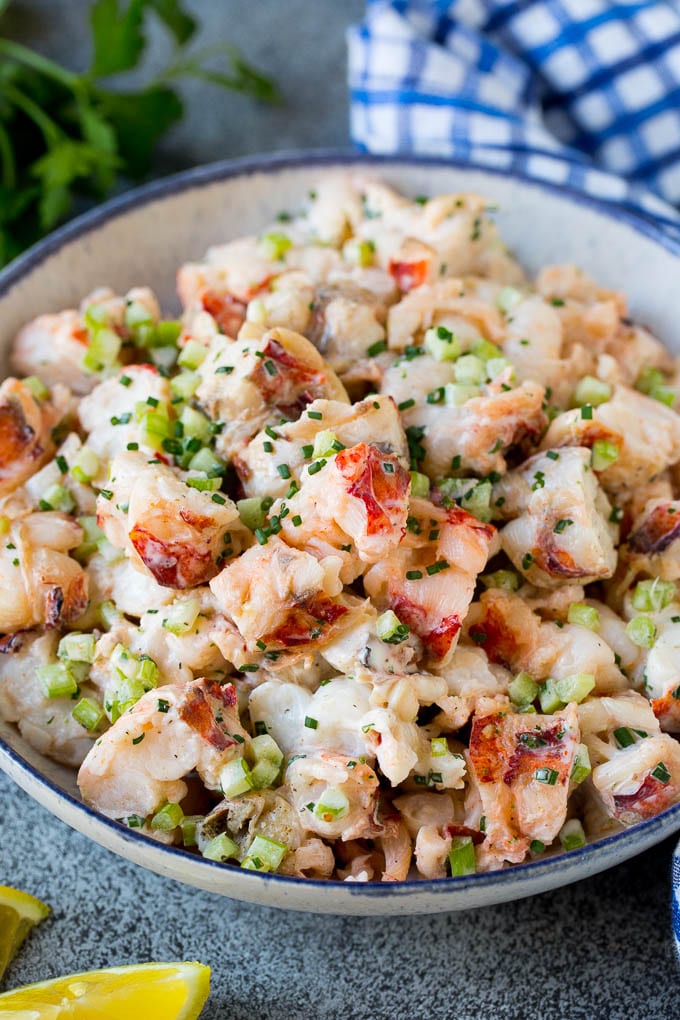 After indulging in the rich and crispy Lobster Rangoon, I was craving something lighter. That's when I stumbled upon the exquisite Lobster Salad.
Packed with succulent lobster meat, crisp veggies, and fragrant herbs, this dish is a perfect choice for a quick and satisfying meal. Tossed in a creamy dressing that adds just the right amount of tanginess, it takes only 10 minutes to prepare.
Serve it on lettuce leaves for an extra refreshing touch. Belonging never tasted so good!
7. Extra Creamy Lobster Mac and Cheese
The secret to making extra creamy lobster mac and cheese is using a combination of three different types of cheese. The blend of sharp cheddar, creamy Gruyere, and tangy Parmesan creates a flavor explosion that perfectly complements the tender chunks of lobster.
As the cheese melts into a silky sauce, it coats every strand of al dente macaroni, creating a dish that is indulgent and comforting.
8. Lobster Pasta Salad
To create a deconstructed New England lobster roll, start by tossing cooked lobster with al dente pasta and a creamy dressing. This lobster pasta salad is an economical option to feed the family.
The combination of tender lobster meat and perfectly cooked pasta creates a dish that is both creamy and meaty. It's ideal for a light lunch or as a side dish for dinner.
With this recipe, you can stretch your lobster on a tight budget without sacrificing flavor or satisfaction.
9. Chipotle Lobster Avocado Wrap
Enjoy the fresh and fabulous flavors of chipotle lobster avocado wraps. These wraps are filled with juicy lobster and crisp veggies, all wrapped up in a convenient wholewheat tortilla.
These wraps are perfect for those on-the-go meals when you need something quick and satisfying.
The combination of tender lobster meat with the creamy avocado and the smoky chipotle flavor creates a truly delightful experience for your taste buds.
10. Lobster Chowder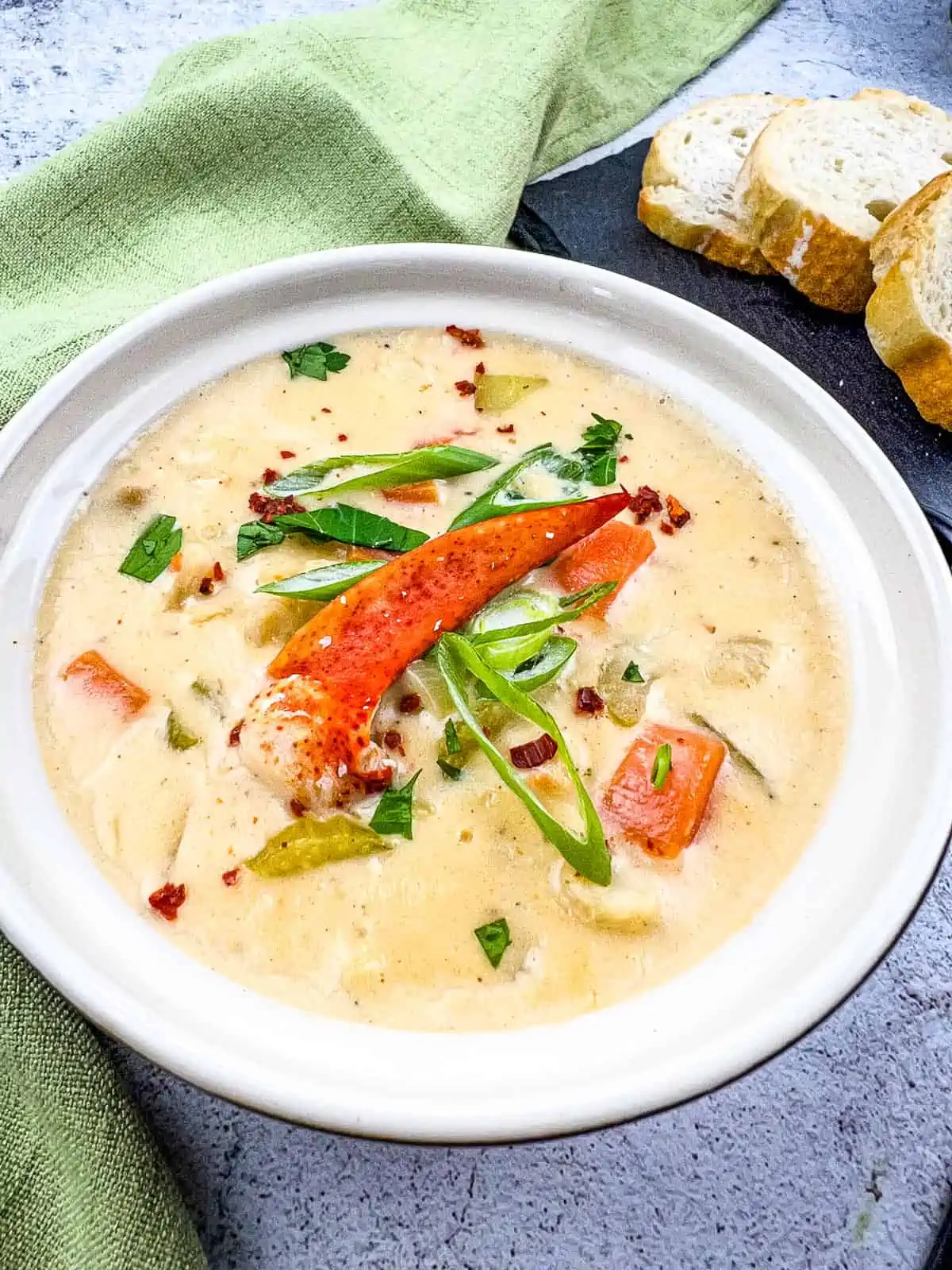 Cozy up with a bowl of this heartwarming lobster chowder – it's like a warm hug for your soul. Each bite is a delightful dance of creamy goodness, punctuated with generous morsels of sweet, tender lobster.
The magic behind its mouthwatering flavor? Simple. It's all about choosing the finest ingredients.
11. Warm Connecticut Lobster Roll Sandwich
After indulging in the creamy goodness of Lobster Chowder, my taste buds crave something warm and hearty.
That's when I turn to the irresistible Warm Connecticut Lobster Roll Sandwich. Picture this: succulent lobster meat piled high in a toasted, buttery bun. Every bite is a burst of flavors, enhanced by an extra drizzle of melted butter.
This New England-style delight is best enjoyed with a side of fries, slaw, and refreshing lemonade.
12. Best Lobster Tail Recipe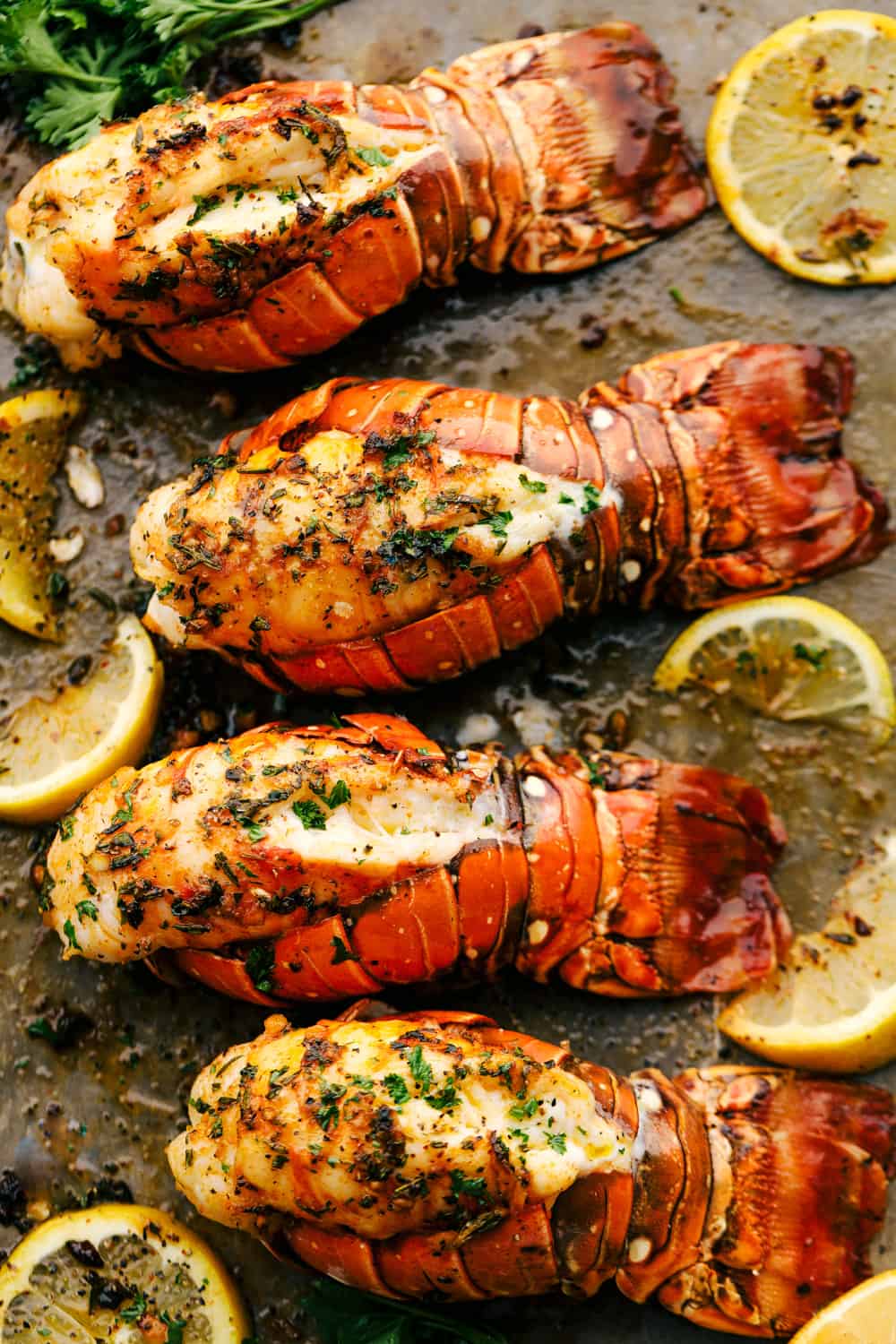 These buttery, tender tails are smothered in a garlicky herb dip that adds an extra layer of flavor. Broiled to perfection in just 20 minutes, the meat melts in your mouth like butter.
This recipe will make you feel like a gourmet chef without all the fuss.
13. Cilantro Lime Lobster Tacos With Spicy Citrus Slaw
Unearthed the yummiest lobster tail dish and, guess what? Found an even more thrilling twist: cilantro lime lobster tacos with a kicky citrus slaw.
Picture this: melt-in-your-mouth lobster, snuggled in toasty tortillas, crowned with a lively slaw that's a dance of tangy and spicy notes. It's your next star for BBQs or chill hangouts.
No fresh lobster? No sweat! Langostino tails are your best pal here. Pair these tacos with some rice, beans, and a frosty beer, and you're in flavor paradise.
14. Kennebunkport Lobster Grilled Cheese Sandwich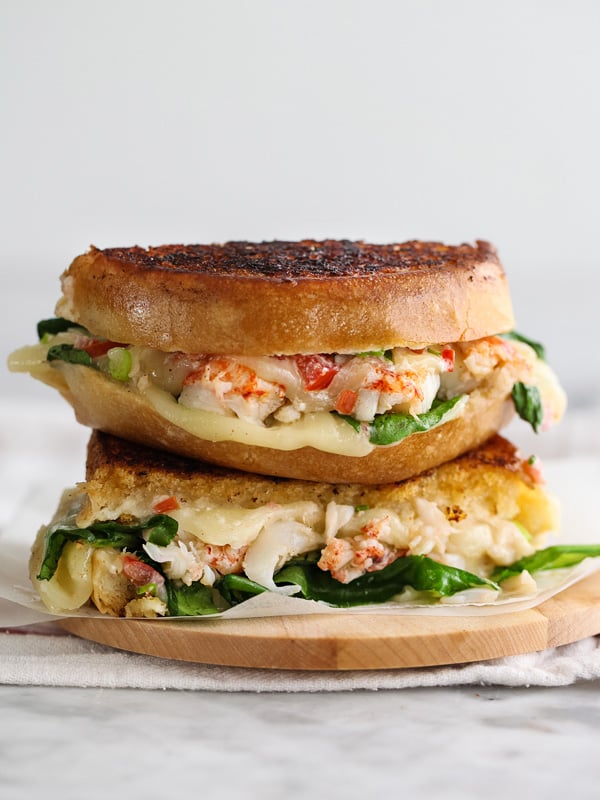 Dive into the irresistible mix of juicy lobster bits and ooey-gooey cheese with the Kennebunkport lobster grilled cheese.
Imagine: this prize-winning treat is what dreams are made of for cheese and lobster lovers. Imagine creamy Mascarpone cheese wrapped around juicy lobster, all cuddled up with melty provolone.
All this yumminess is tucked between two slices of buttery sourdough, grilled until they're just the right shade of gold. And, for that little zing? A dab of chili paste to spice things up, making this sandwich a top pick for any get-together.
15. Lobster Fra Diavolo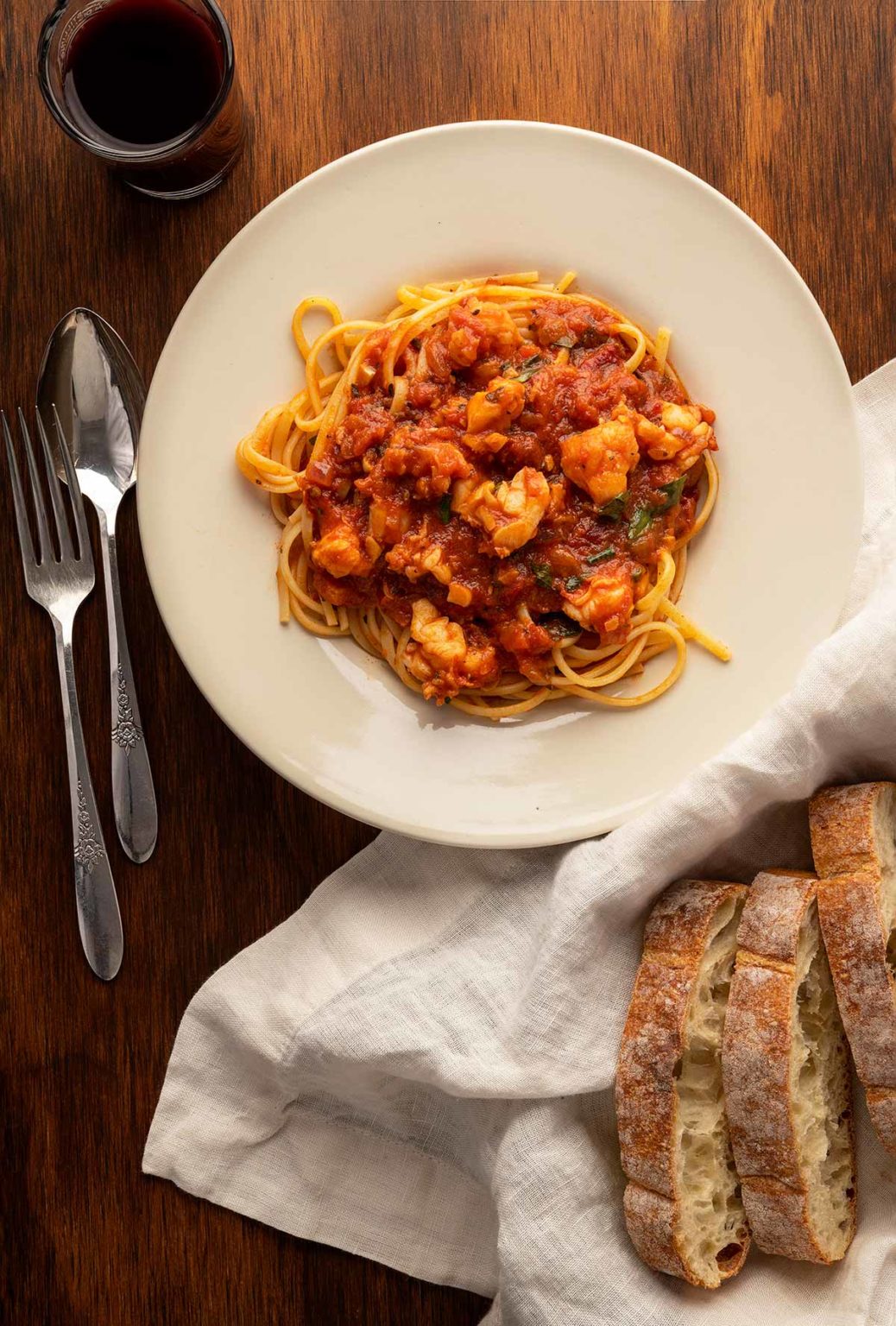 Having savored the heavenly Kennebunkport Lobster Grilled Cheese Sandwich, I've got another drool-worthy lobster treat for you.
Meet Lobster Fra Diavolo: the showstopper pasta that's bound to impress. Picture juicy lobster mingling with a sizzling, garlicky tomato sauce, setting your palate on a delightful fiery tango. With a name like 'brother devil's lobster', you know it's packing a punch!
Pair it with some crunchy bread and a deep red wine, and you've got yourself a celebration to remember.
16. Lazy Lobster Casserole With Buttery Ritz Topping
When you're craving a rich and effortless seafood dish, why not try making a lazy lobster casserole with a buttery Ritz cracker topping?
This New England classic is the perfect way to enjoy the taste of lobster without the mess.
The combination of Ritz and oyster crackers creates a balanced flavor profile that complements the succulent lobster meat.
And let's not forget about the ample butter that adds a luxurious richness to every bite.
17. Lobster Bisque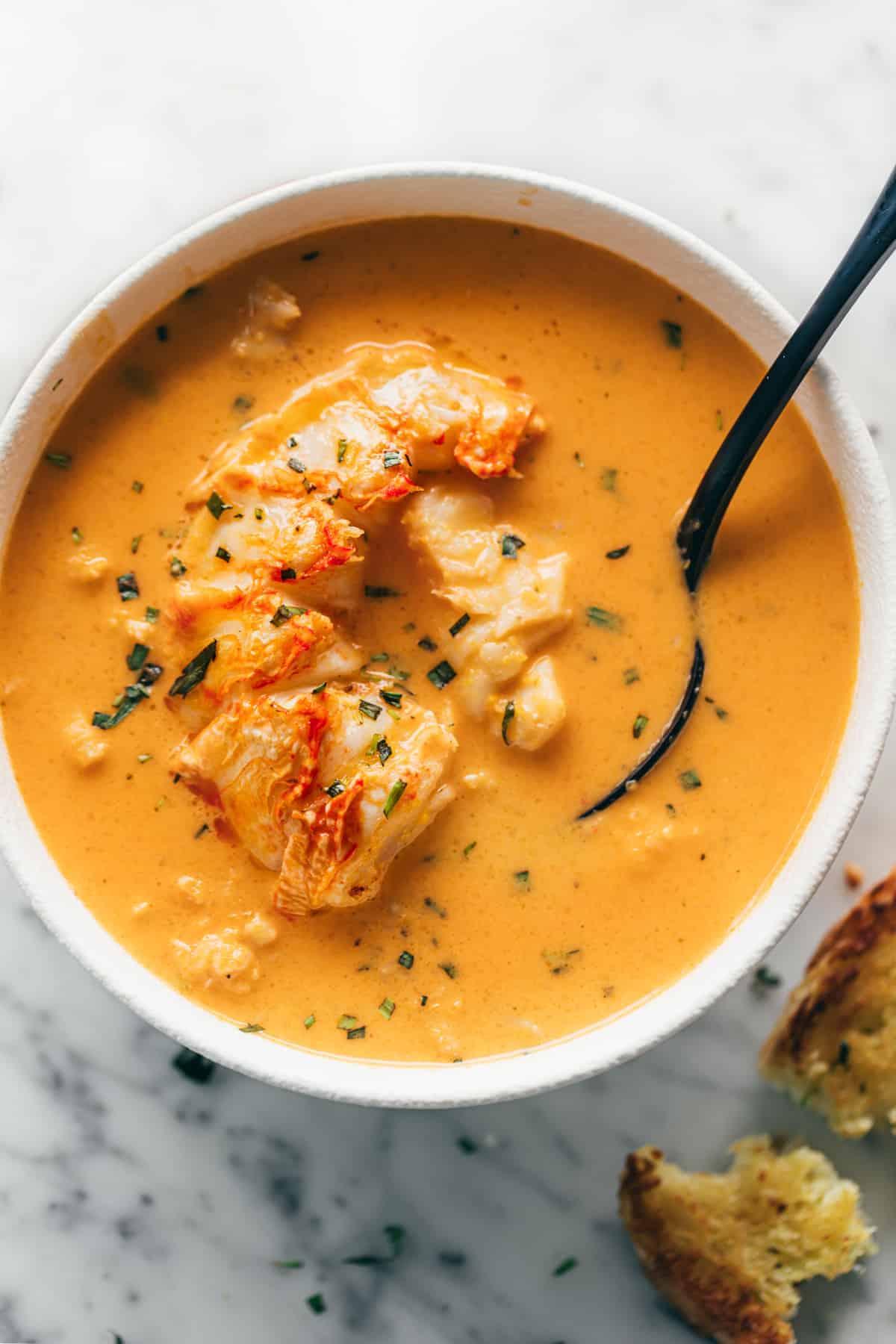 Dive into a bowl of luxurious lobster bisque, a warm hug for your taste buds on a chilly day.
Imagine a silky-smooth soup caressing tender bites of garlic butter lobster tail, each spoonful a little splash of heaven.
The secret? A rich lobster stock crafted from the shells, making sure every bit of that divine lobster shines through.
18. Classic Lobster Thermidor
This dish features tender chunks of lobster in a decadent cream sauce spiked with cognac and topped with gruyere cheese.
The lobster is cooked to perfection, its delicate flavor enhanced by the rich sauce.
Simplify cooking a fancy dinner experience by recreating this timeless recipe at home.
19. Phyllo Cream Cheese Lobster Appetizer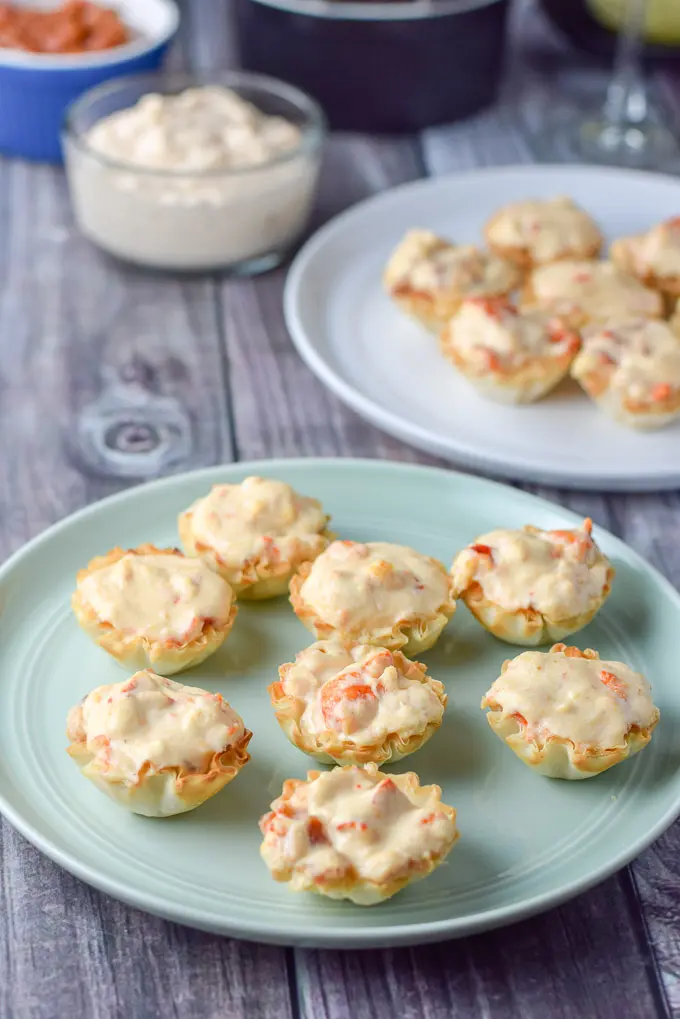 You can easily whip up these scrumptious phyllo cream cheese lobster appetizers in just 20 minutes, making them a quick and convenient option for your next dinner party.
The creamy lobster filling is perfectly complemented by the flaky phyllo pastry cup.
These appetizers are always a hit at gatherings, with guests devouring them quickly.
With minimal preparation and cooking time, they're an easy and delicious addition to any menu.
20. Air Fryer Lobster Tail With Lemon Garlic Butter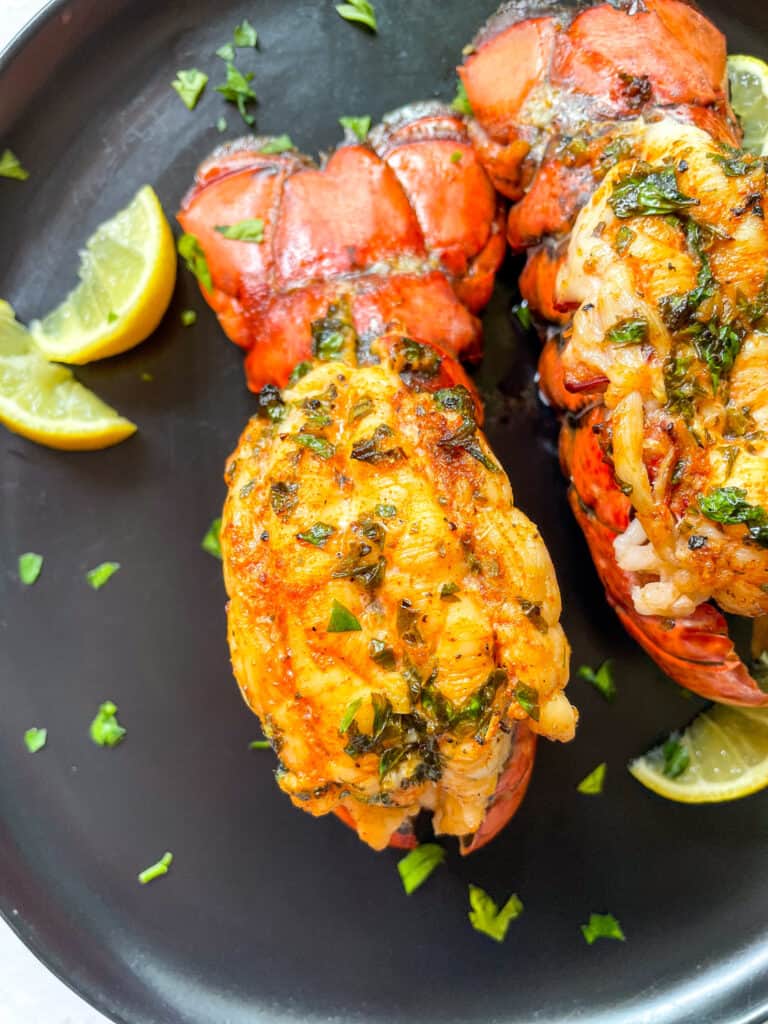 To achieve a tender and hassle-free lobster meal, simply butterfly the lobster tails. Coat them with a tangy lemon garlic butter sauce and cook them in your air fryer for 8 minutes.
The air fryer works its magic by creating that perfect balance of crispy exterior and succulent interior.
As the lobsters cook, the aroma of the lemon and garlic fills the kitchen, making it hard to resist sneaking a taste.
21. Lobster Pizza
For a delectable twist on pizza night, try topping your crispy crust with a lemon-garlic sauce, cheese, lobster, and tarragon.
This lobster pizza is a flavor explosion that will leave your taste buds begging for more.
The combination of the tangy lemon-garlic sauce, creamy cheese, succulent lobster, and aromatic tarragon creates a unique and mouthwatering experience.
22. Lobster Spaghetti
Now, let's dive into another mouthwatering lobster recipe: Lobster Spaghetti.
Imagine tender chunks of lobster coated in a rich butter, garlic, and vermouth sauce, all generously poured over a bed of perfectly cooked spaghetti.
The combination of flavors is simply divine. As you take a bite, the sweetness of the lobster enhances each strand of pasta, creating an unforgettable seafood extravaganza.
23. Creamy Lobster Pasta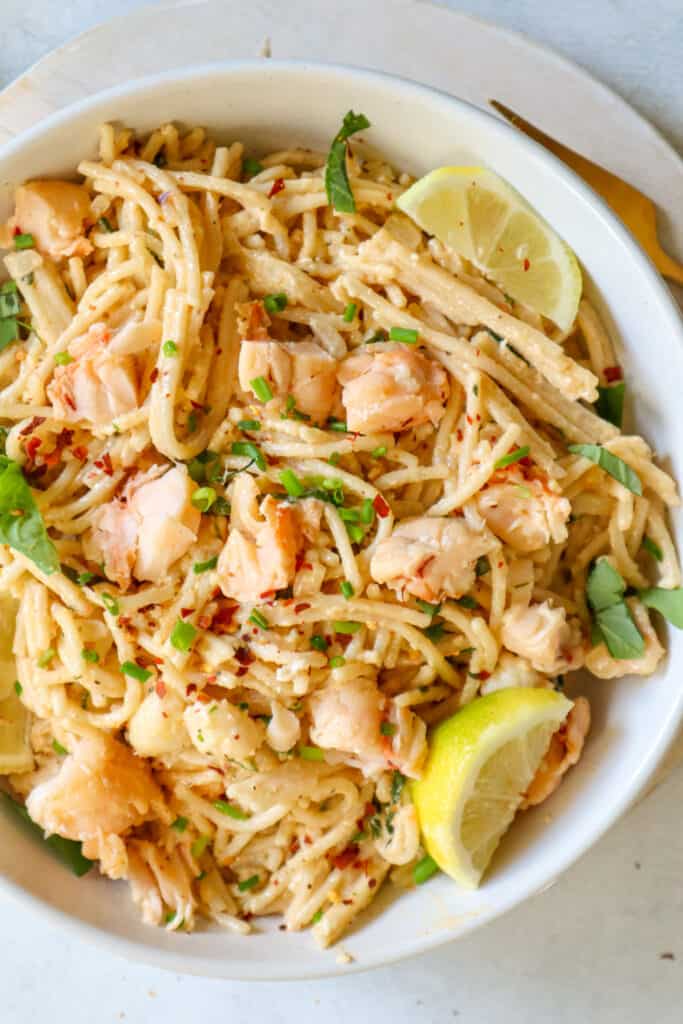 Enjoy a tasty treat with this smooth lobster pasta that will make you want more.
Succulent chunks of wine-butter poached lobster are nestled in a velvety parmesan sauce, creating a dish that elevates from the classic shrimp Alfredo.
The aroma alone is enough to make your mouth water, and the tender lobster meat adds a touch of luxury to every bite.
24. Cold Lobster Roll
Savor the refreshing flavors of a cold lobster roll, where succulent chunks of poached lobster are nestled in a buttery toasted bun. This delectable sandwich is perfect for a light lunch or satisfying meal.
The key to a great lobster roll is not holding back on the quantity of lobster meat – it should be abundant and meaty.
Seafood enthusiasts will delight in the fresh flavors and large, chunky pieces of poached lobster that make this dish so enjoyable.
25. Cajun Garlic Butter Lobster Tails
Cajun Garlic Butter Lobster Tails is a dish that promises to ignite your taste buds with bold Cajun spices and creamy garlic butter sauce.
The tails are broiled to perfection, resulting in tender and succulent meat that is simply irresistible.
With a tangy lemon piece, this recipe is a call to eat right away and feel happy with the taste.