Looking to eat healthier and save time on meal prep? Well, I've got just the thing for you.
In this article, I'll be sharing 23 delicious meal prep salads along with their easy recipes. Whether you're a fan of shrimp, beans, chicken, quinoa, or even eggs, there's a salad here that'll satisfy your cravings and keep you feeling energized throughout the day.
So let's dive in and discover some mouthwatering salad options that will make your taste buds dance with joy!
1. Chopped Salad with Shrimp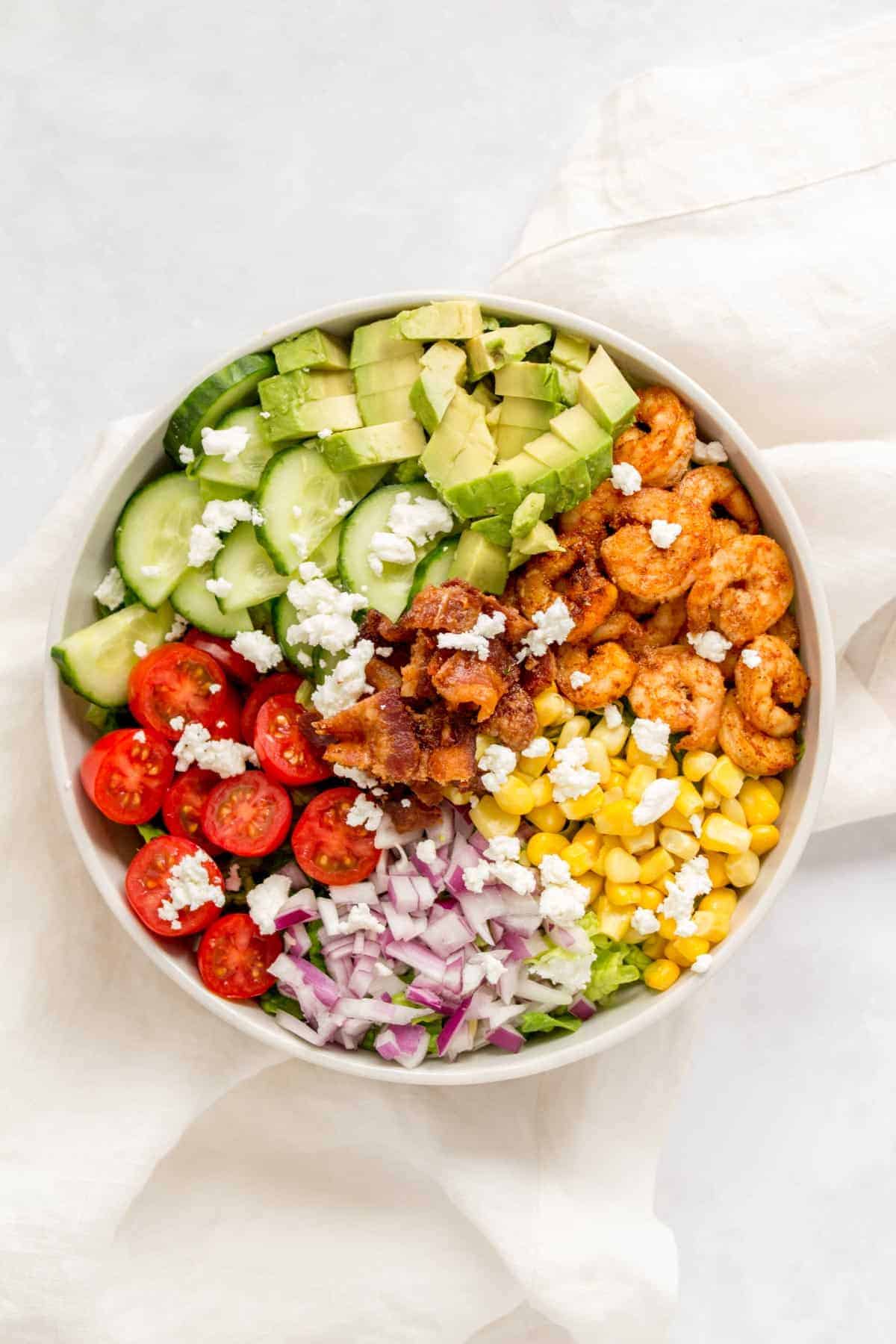 I'll start by sautéing the shrimp until they're cooked through and then adding them to the chopped salad.
The combination of juicy shrimp, crunchy lettuce, and vibrant vegetables creates a burst of freshness in every bite.
To enhance the flavors even further, I'll toss in some crispy bacon bits for that irresistible smoky taste.
This surf and turf salad is not only delicious but also easy to make, making it a perfect addition to your summer meal prep routine.
2. Mediterranean Bean Salad
You can easily make a flavorful Mediterranean bean salad by combining three types of beans with veggies, parsley, feta, olives, and fresh basil.
This colorful and satisfying dish is perfect for potluck events or cookouts.
The combination of the different beans adds a variety of textures and flavors to the salad.
The feta cheese adds a creamy richness while the olives provide a tangy bite.
The fresh basil gives it a fragrant and herbaceous touch.
This salad is not only delicious but also nutritious and filling, making it an ideal choice for lunch.
3. Greek Chicken Salad Bowls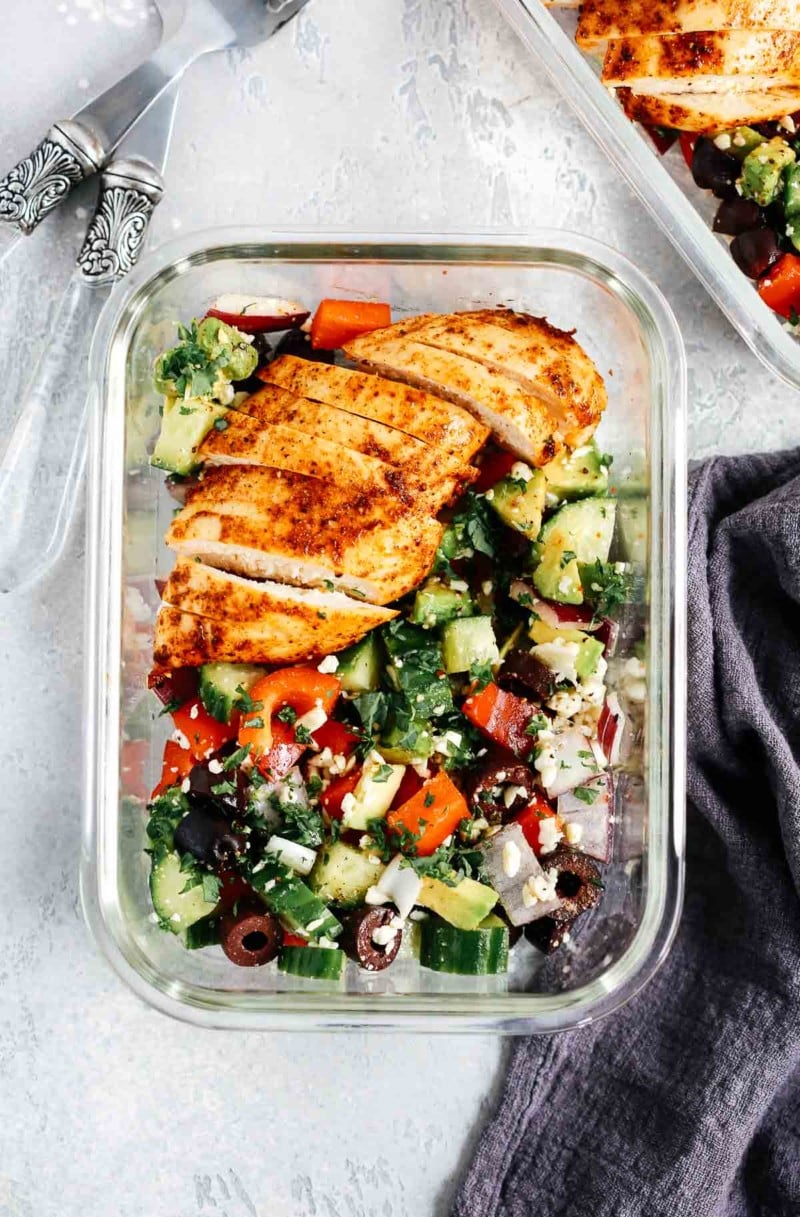 For a quick and flavorful meal, toss seasoned chicken, juicy tomatoes, crisp cucumbers, olives, and feta together to create Greek chicken salad bowls.
This vibrant dish brings together the best flavors of the Mediterranean in one bowl. The tender chicken is perfectly seasoned and pairs wonderfully with the freshness of the tomatoes and cucumbers.
The olives add a salty bite while the creamy feta cheese enhances all the flavors. It's like taking a culinary trip to Greece right in your own home!
4. Easy Quinoa Salad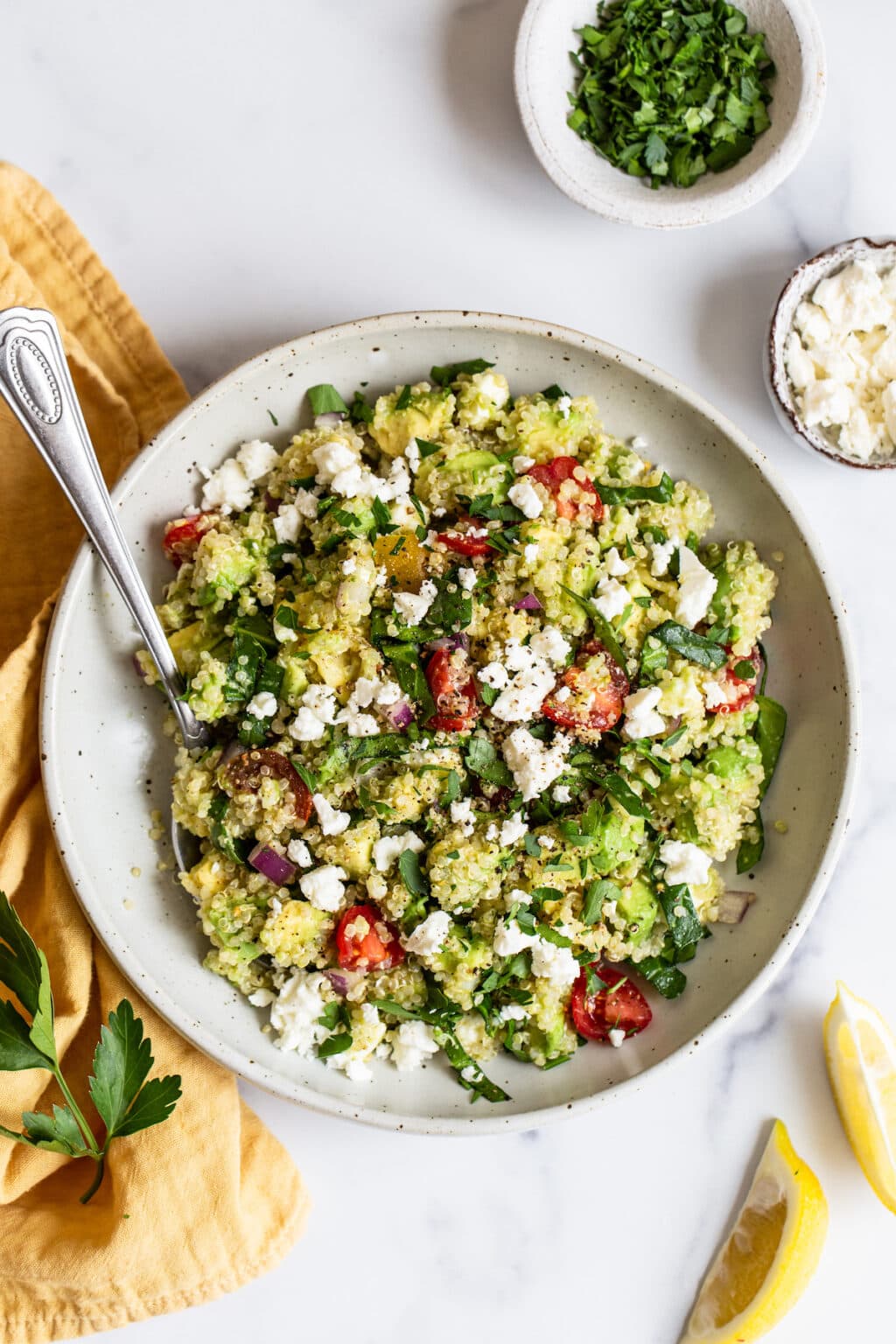 Incorporate a medley of tomatoes, spinach, avocado, feta, and red onion into a quinoa salad for a delicious option that can be made ahead of time.
This easy quinoa salad is packed with vibrant flavors and nutritious ingredients. The combination of juicy tomatoes, crisp spinach, creamy avocado, tangy feta cheese, and zesty red onion creates the perfect balance.
Tossed with fluffy quinoa and dressed with a zippy dressing, this salad is not only tasty but also beginner-friendly and quick to prepare.
It's the ideal meal prep option for those seeking both convenience and great taste.
5. Healthy Tuna Salad Meal Prep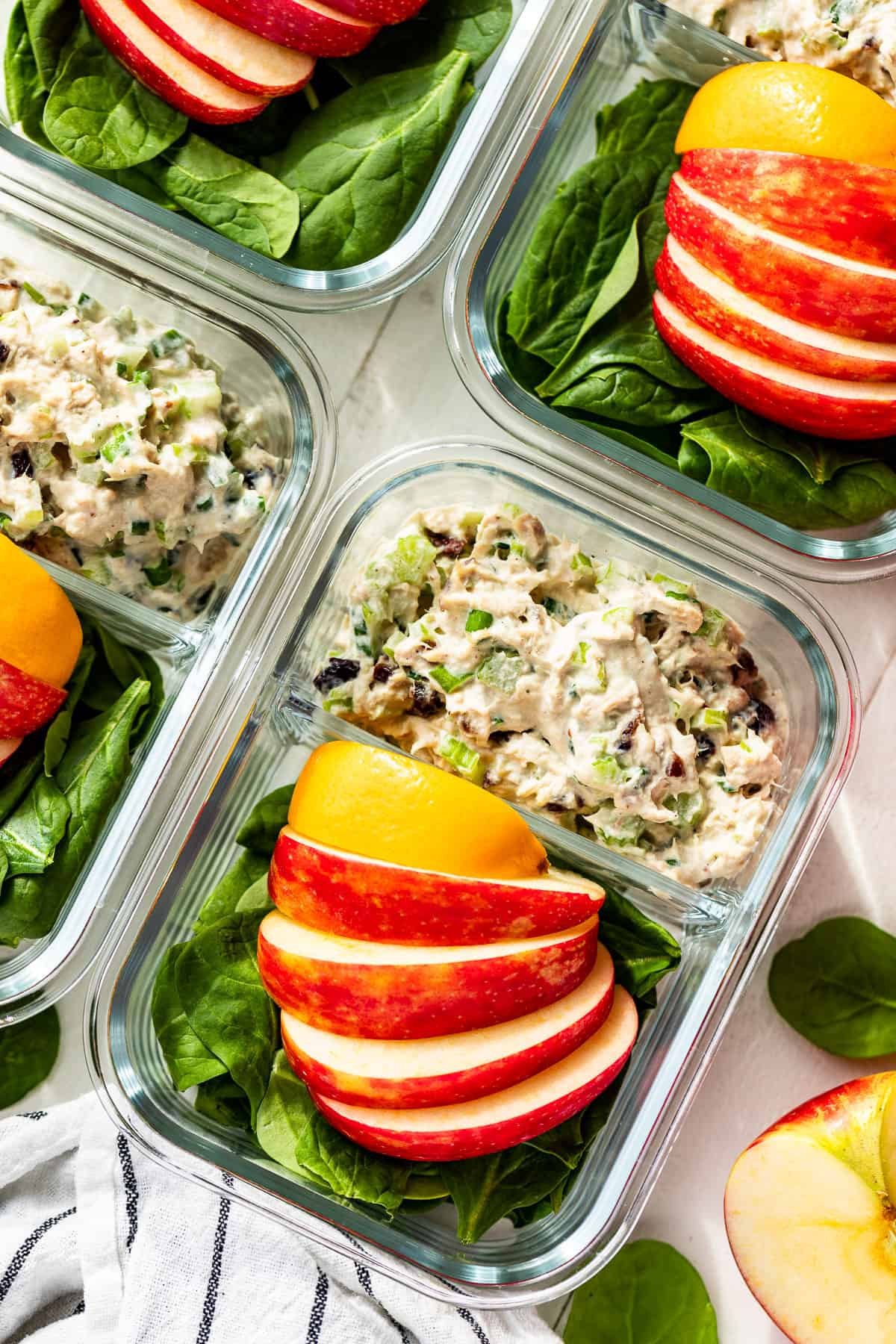 The classic tuna salad is a suitable option for meal prep and can be divided into containers, with one compartment for the tuna and another for the spinach or apples. This makes it easy to grab a healthy lunch on-the-go.
The combination of mayo, celery, cranberries, green onions, and Dijon creates a flavorful mix that compliments the tuna perfectly. It's a satisfying and nutritious meal that will keep you energized throughout the day.
Join me in enjoying this delicious and convenient meal prep option!
6. Thai-Inspired Chopped Chicken Salad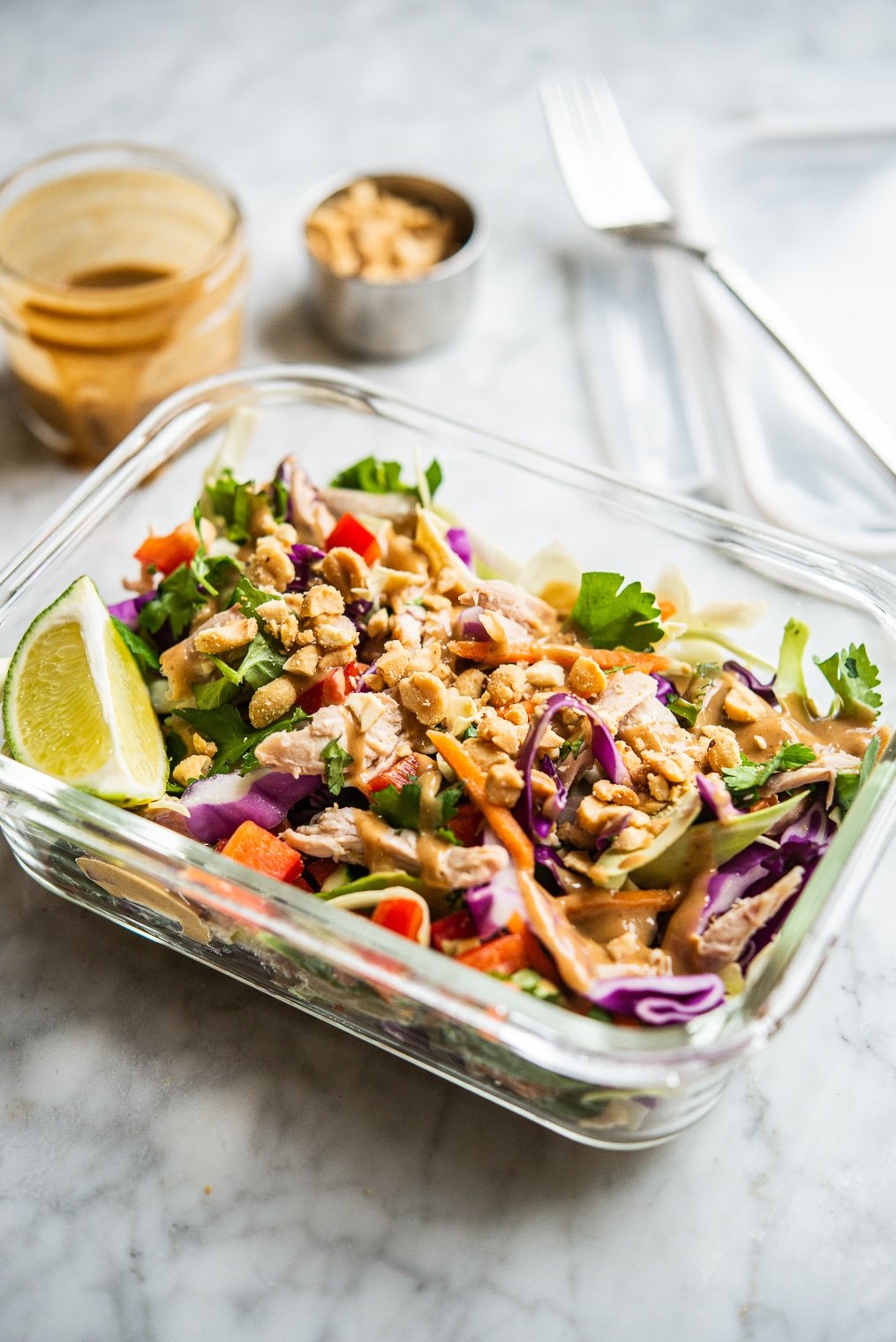 You can create a Thai-inspired chopped chicken salad by mixing crunchy veggies, peanuts, cilantro, and shredded chicken together.
This salad is a refreshing twist on the traditional leafy greens.
The highlight of this dish is the creamy, nutty, sweet, and umami peanut dressing that adds depth of flavor.
To ensure maximum freshness and prevent sogginess, it's best to store the dressing in a separate container until you're ready to enjoy this delicious meal prep option.
7. Greek Chickpea Salad
For a taste of the Mediterranean, try making a Greek chickpea salad with olives, tomatoes, feta, and a zesty vinaigrette.
This vibrant salad is a perfect addition to your meal prep routine. The combination of tangy feta cheese, juicy tomatoes, and briny olives creates a burst of flavors in every bite.
The creamy chickpeas provide protein and fiber, keeping you satisfied throughout the day.
With its affordable ingredients and easy preparation, this Greek chickpea salad is sure to become your go-to recipe for busy days.
8. Shaved Brussels Sprouts Meal Prep Salad
When making this shaved Brussels sprouts salad, be sure to include a variety of add-ins for maximum flavor.
I love how versatile this salad is, perfect for any occasion from dinners to potlucks.
The combination of shaved Brussels sprouts and kale creates a hearty base that can handle advance dressing without wilting.
But what really takes this salad to the next level are the add-ins.
Think crunchy almonds, tangy dried cranberries, and salty feta cheese.
9. Basic Meal Prep Salad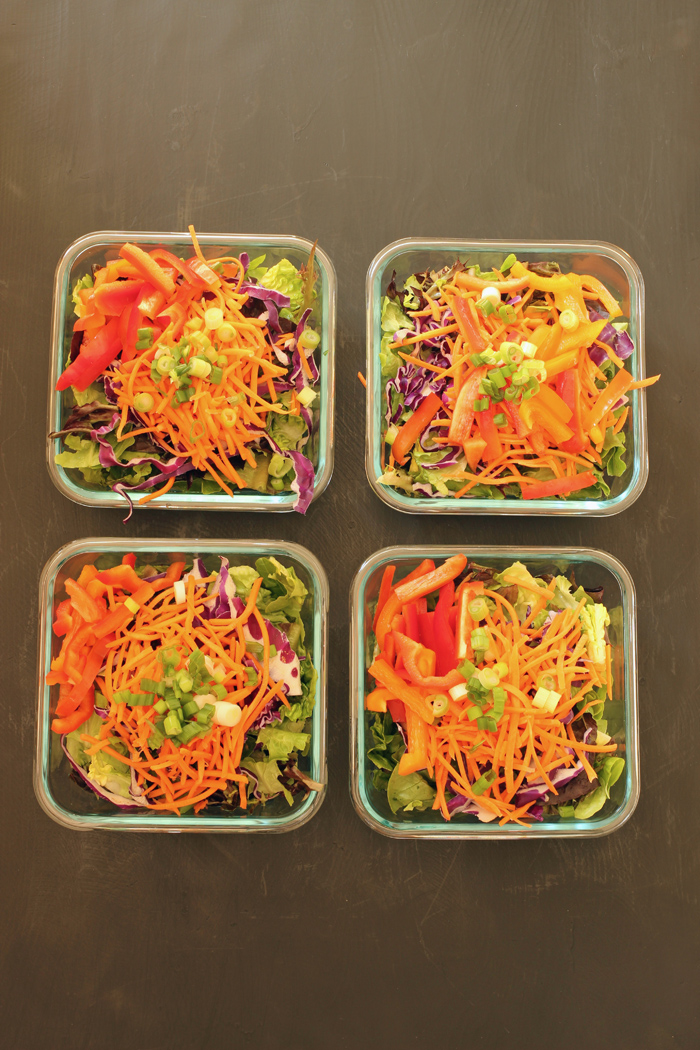 The basic meal prep salad is a versatile option that allows for customization to suit any taste preferences.
Start with a bed of crisp romaine lettuce and add in some colorful ingredients like shredded carrots, crunchy bell peppers, vibrant purple cabbage, and flavorful green onion.
Keep it simple or get creative by adding your favorite protein, nuts, or fruits. This salad is the perfect blank canvas to make your own delicious creation!
10. Southwestern Chopped Chicken Salad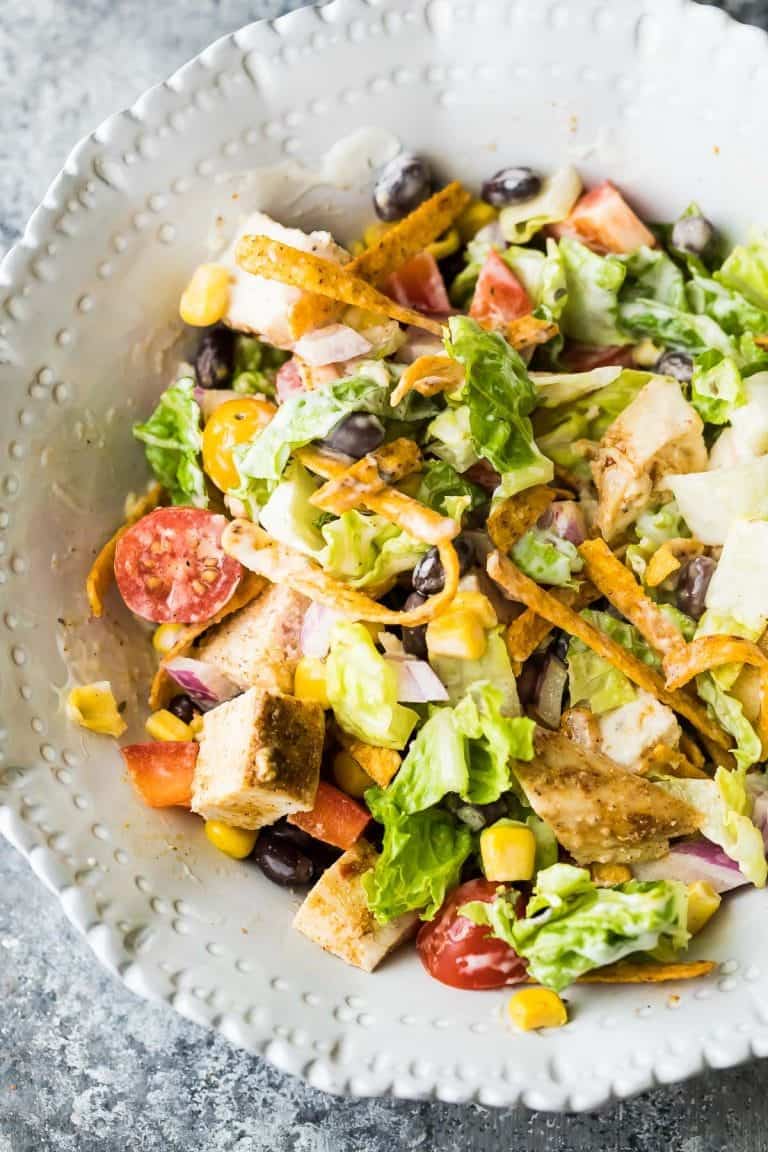 You can easily make a delicious Southwestern chopped chicken salad by combining seasoned chicken, corn, black beans, bell peppers, and tomatoes with a light ranch dressing.
This invigorating mix of flavors and textures will satisfy your cravings while providing a healthy alternative to fast food.
The seasoned chicken adds a savory kick, while the corn, black beans, and bell peppers bring a burst of freshness.
Top it off with the tangy ranch dressing for the perfect finishing touch.
Don't forget to include some crunchy corn chips before digging in!
11. Chopped Chicken Salad
For a satisfying chopped chicken salad, mix together crunchy veggies, peanuts, cilantro, and shredded chicken with a creamy peanut dressing that adds a sweet and nutty flavor.
This Asian-inspired salad is a refreshing change from the usual leafy greens. The combination of crunchy vegetables and tender shredded chicken creates a delightful texture in every bite. Topped with the creamy peanut dressing, this salad is bursting with umami goodness.
To keep the salad fresh and avoid sogginess, I recommend keeping the dressing separate until it's time to enjoy this delicious meal prep option.
12. Easy Kale Salad with Fresh Lemon Dressing
Mix together the nutrient-dense kale, carrots, and broccoli with dried cranberries, cheese, and a zesty lemon dressing for a refreshing and healthy option.
This easy kale salad is packed with vitamins and minerals to fuel your body.
The combination of crunchy vegetables and sweet cranberries creates a satisfying balance of flavors.
The tangy lemon dressing adds a burst of freshness that brings everything together.
It's the perfect salad to make ahead for busy days or as a side dish for your next gathering.
13. Meal Prep Low-Carb Big Mac Salad Jars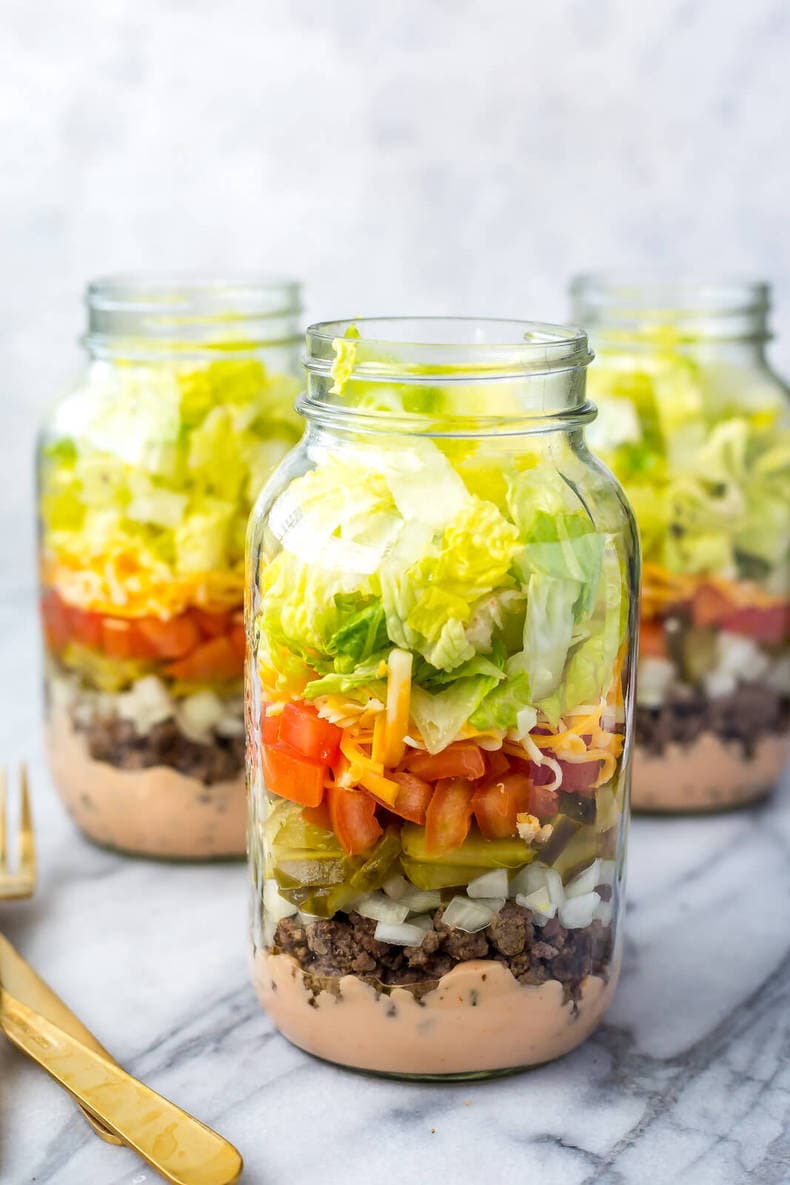 Start by layering cooked beef, onions, pickles, cheese, tomatoes, and lettuce in Mason jars to create a convenient and satisfying low-carb Big Mac salad.
These meal prep salads are inspired by the iconic fast food burger but with a healthy twist. The three-ingredient Big Mac sauce adds that classic tangy flavor without the guilt.
With this recipe, you can have delicious Big Mac salads ready for the whole week. It's a perfect option for those looking for a low-carb lunch that satisfies cravings and keeps you on track with your health goals.
14. Super Fresh Cucumber Tomato Salad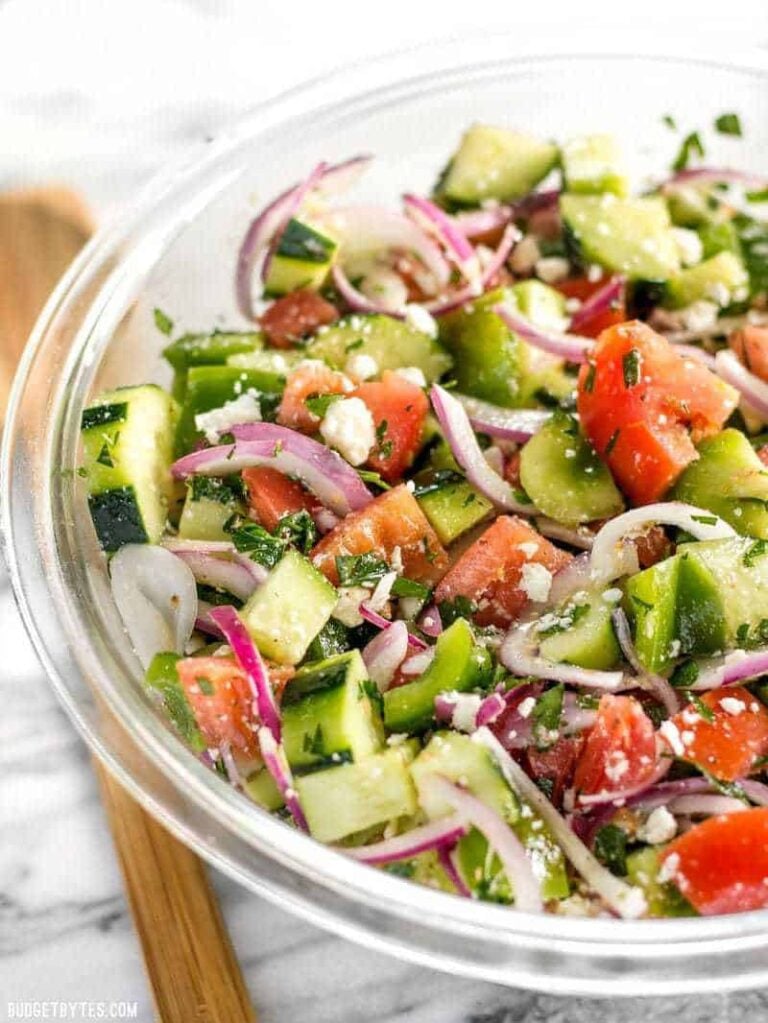 You can easily make a super fresh cucumber tomato salad with just a few simple ingredients.
This salad is bursting with flavors and textures that will leave you feeling satisfied and refreshed.
The crisp cucumbers, juicy tomatoes, and tangy red onions come together to create a vibrant combination.
Add in some diced bell peppers for an extra crunch, and sprinkle with parsley for a burst of freshness.
It's the perfect salad to enjoy for lunch or as a side dish during dinner prep.
15. Meal Prep Detox Salad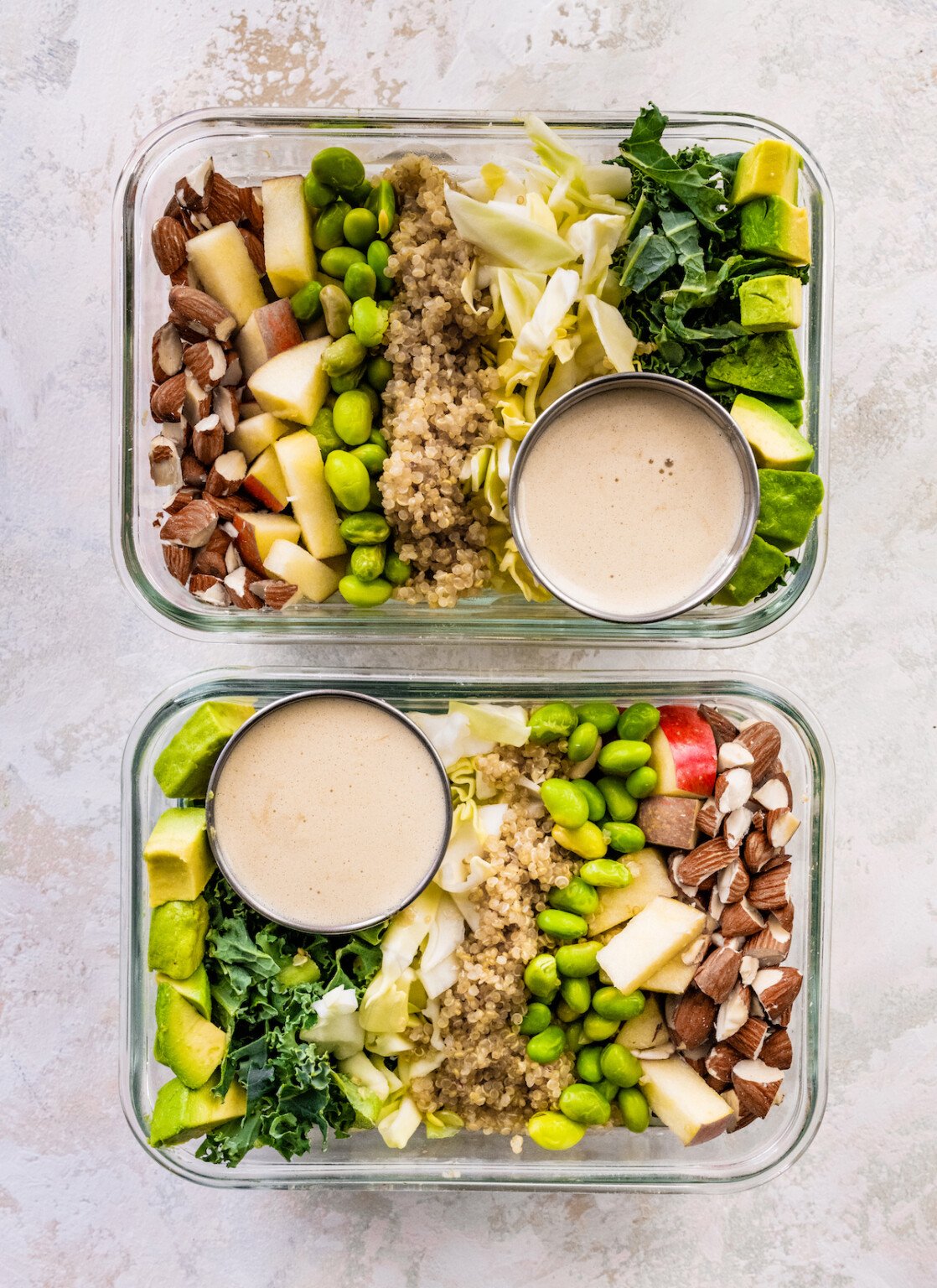 The sesame ginger dressing adds a burst of flavor to this nutrient-dense kale salad. It is packed with quinoa, avocado, almonds, apples, edamame, and cabbage. The combination of these ingredients creates a satisfying and refreshing meal that is perfect for meal prepping.
With its clean eating diet suitability and whole foods ingredients, this salad provides the nourishment your body craves. Add some Sriracha for an extra kick of spiciness if desired.
16. Easy Buffalo Chicken Salad Meal Prep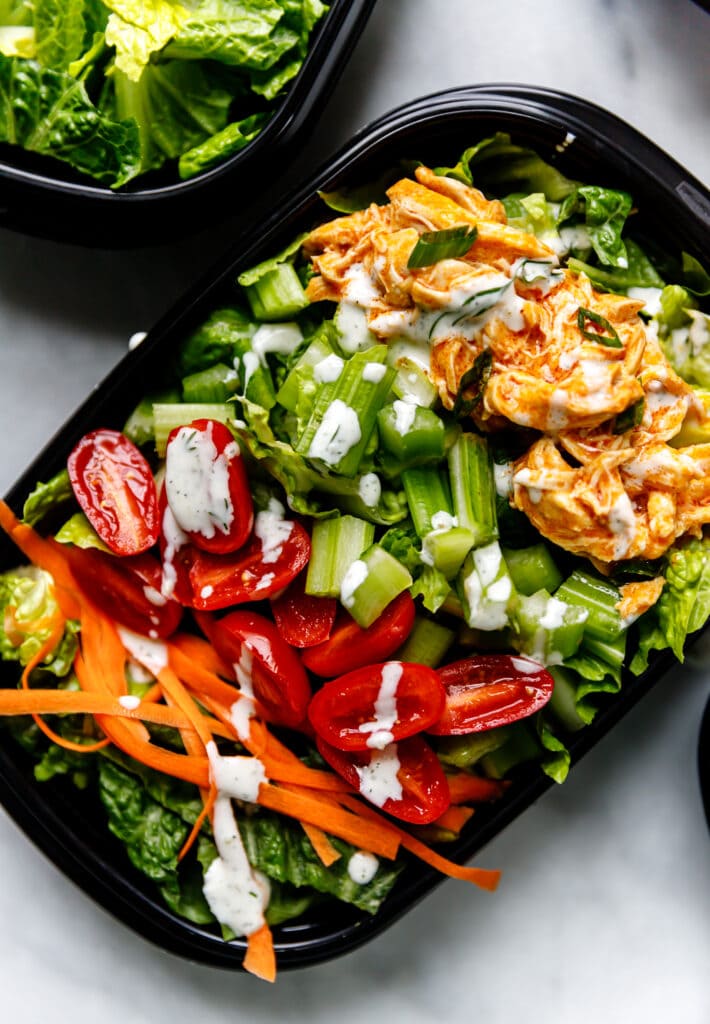 For a quick and convenient lunch option, try making this buffalo chicken salad with shredded chicken and spicy sauce.
It's the perfect combination of savory and tangy flavors that will leave you satisfied.
Start by layering crisp romaine lettuce, juicy tomatoes, crunchy carrots, and refreshing celery in a container.
Then, add the star ingredient: shredded chicken coated in a deliciously fiery buffalo sauce.
Don't forget to separate the creamy ranch dressing to prevent any wilting.
This salad is not only easy to make but also incredibly satisfying for your taste buds.
17. Roasted Vegetable Salad Meal Prep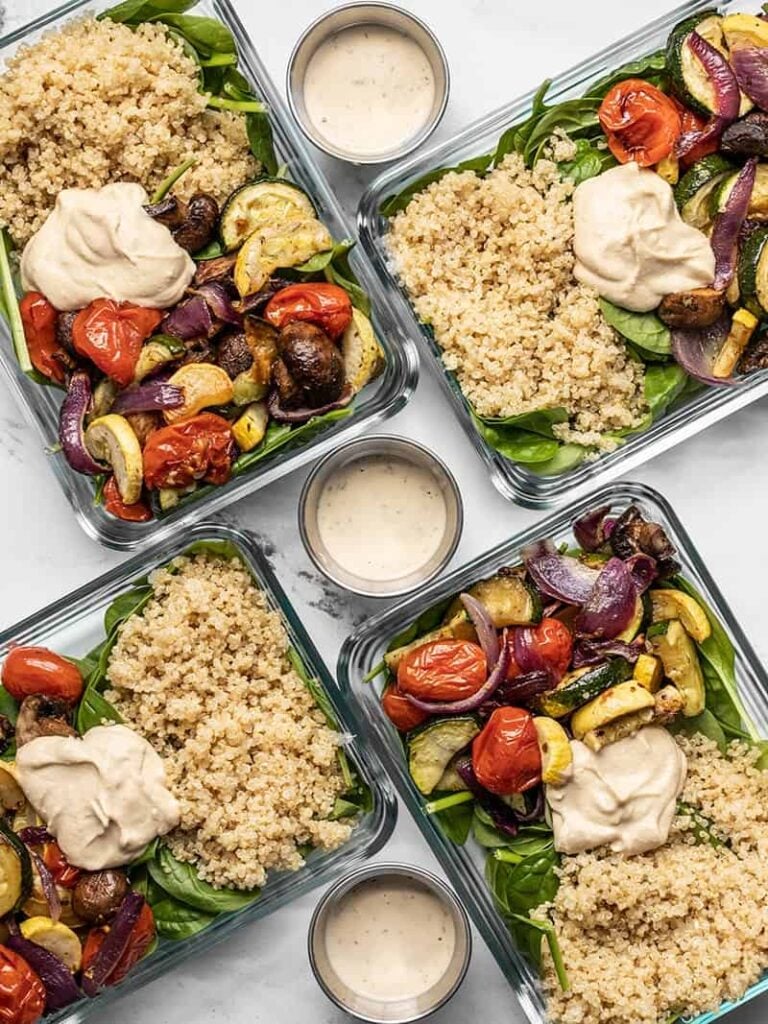 To create a delicious roasted veggie meal prep salad, start by roasting zucchini, squash, and tomatoes. Then, combine them with quinoa for added protein and affordability.
This salad is bursting with flavor and nutrients. The roasted vegetables bring out their natural sweetness, and the quinoa adds a satisfying chewiness. It's the perfect combination of textures and flavors.
Plus, it's an affordable option for those looking to eat healthy on a budget.
18. Mix and Match Mason Jar Salads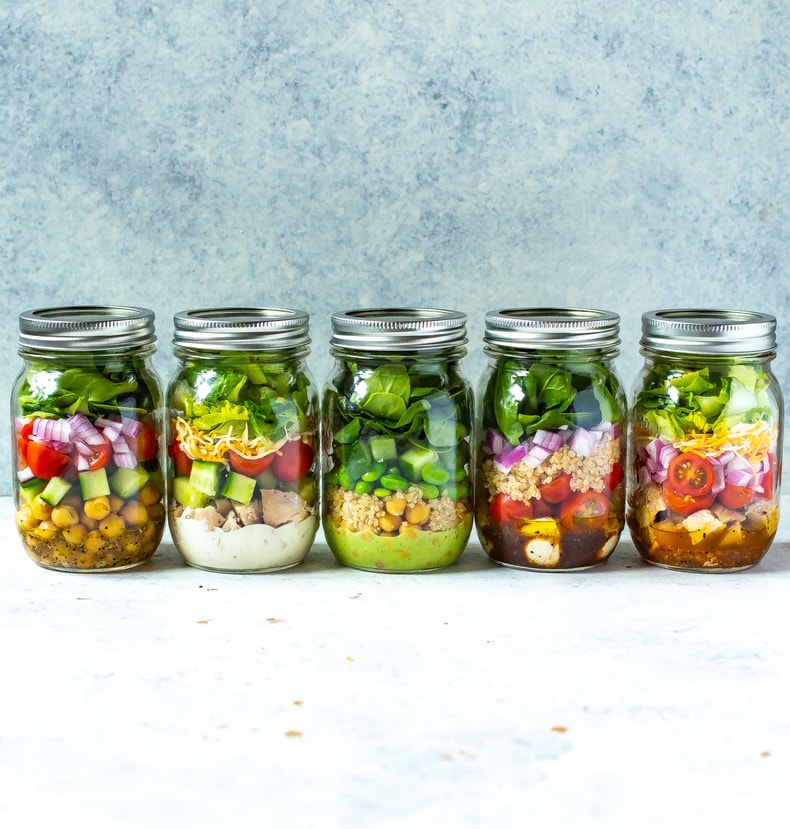 Get creative with your mason jar salads by mixing and matching different flavor combinations. Try Caprese, green goddess, Tex-Mex, ranch, or Greek. These customizable salads are a fun and convenient way to enjoy fresh and nutritious meals on the go.
Start by layering your favorite dressing at the bottom of the jar. Then, add delicious mix-ins like cherry tomatoes, cucumbers, olives, or avocado. Finally, top it off with crisp greens for that perfect crunch.
19. Caprese Chicken Salad Meal Prep Bowls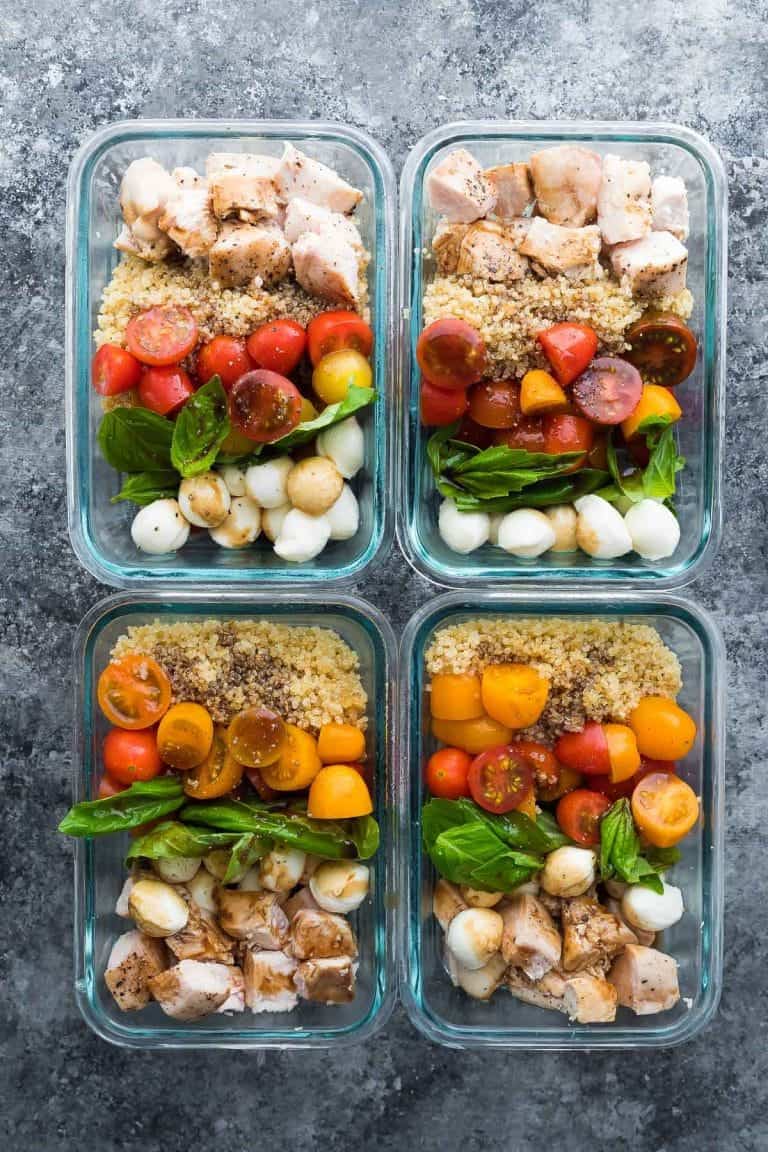 You can enhance the flavor and nutrition of your Caprese salad by adding chicken and quinoa for a protein-packed meal.
These Caprese Chicken Salad Meal Prep Bowls are the perfect combination of fresh ingredients and savory flavors.
Layered in a container, they are easy to prepare and even easier to enjoy.
Simply mix the ingredients with a balsamic vinaigrette before serving for a satisfying and delicious lunch option that will leave you feeling nourished and part of something special.
20. Italian Couscous Salad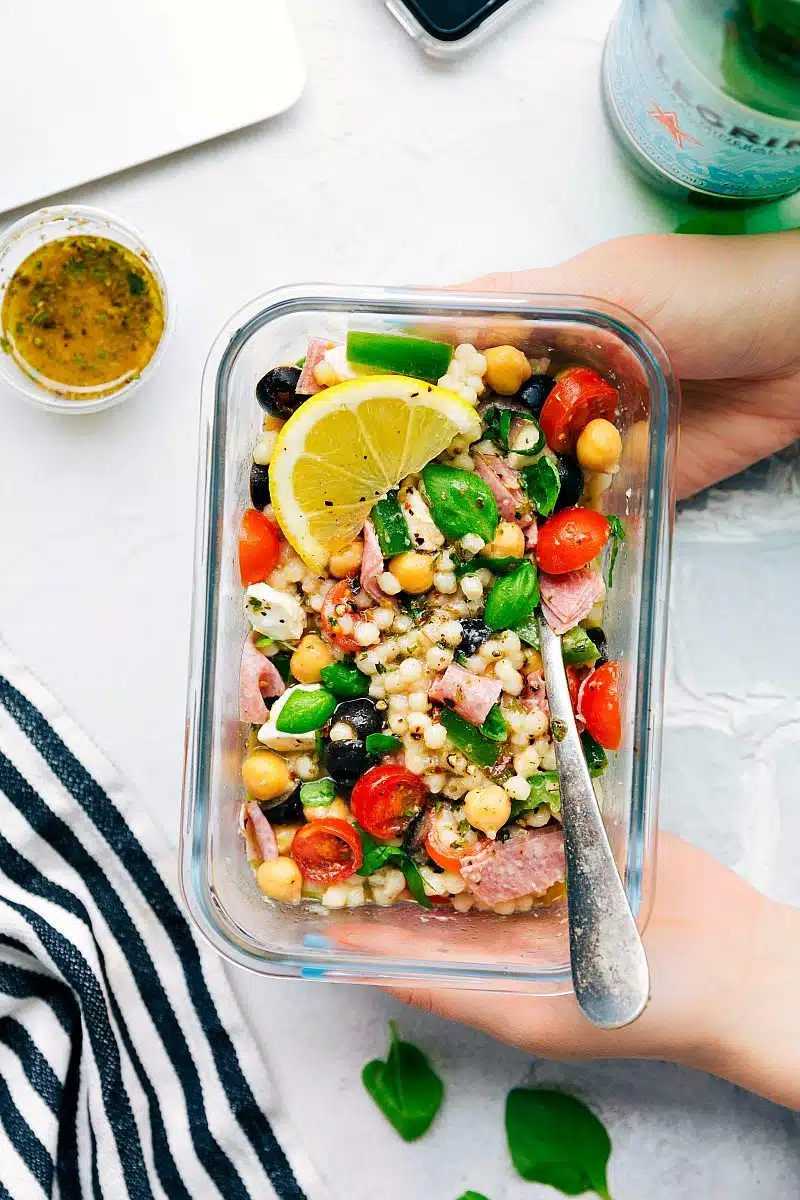 Indulge in the delightful combination of big couscous pearls, salami, olives, mozzarella, chickpeas, and more for a mouthwatering twist on Italian pasta salad.
This satisfying dish is a clever take on traditional recipes that will have you coming back for seconds.
The flavors mingle perfectly together, creating a harmony of tastes that is both refreshing and comforting.
21. Healthy Egg Salad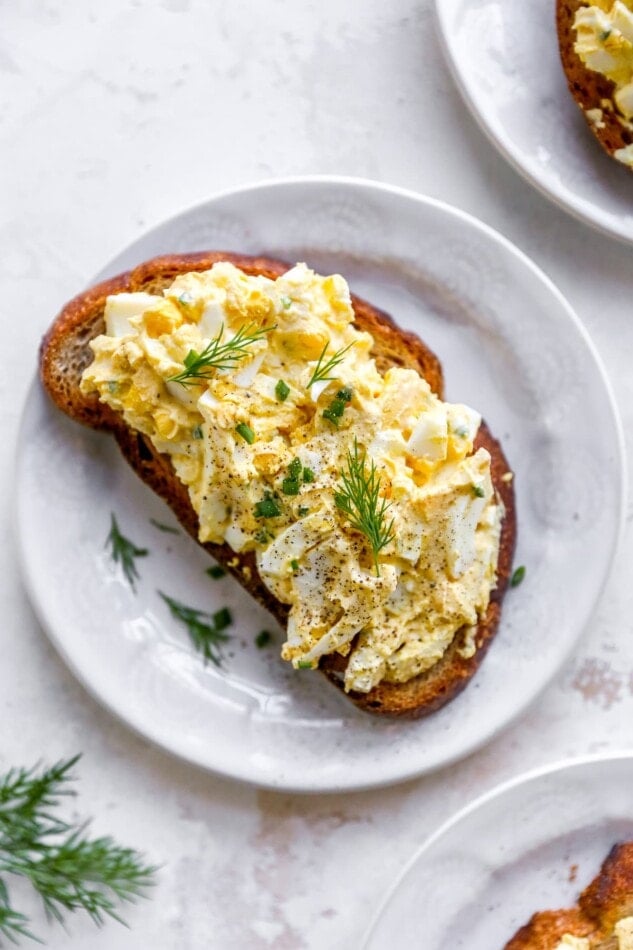 For a nutritious twist on a classic, try this quick and easy 20-minute egg salad packed with protein and under 200 calories per serving.
It's the perfect option for a healthy lunch or snack that won't derail your diet.
The boiled eggs are peeled and mixed with a creamy dressing, creating a delicious combination of flavors.
With just a few simple ingredients, you can whip up this satisfying salad in no time.
22. Easy Cobb Salad Meal Prep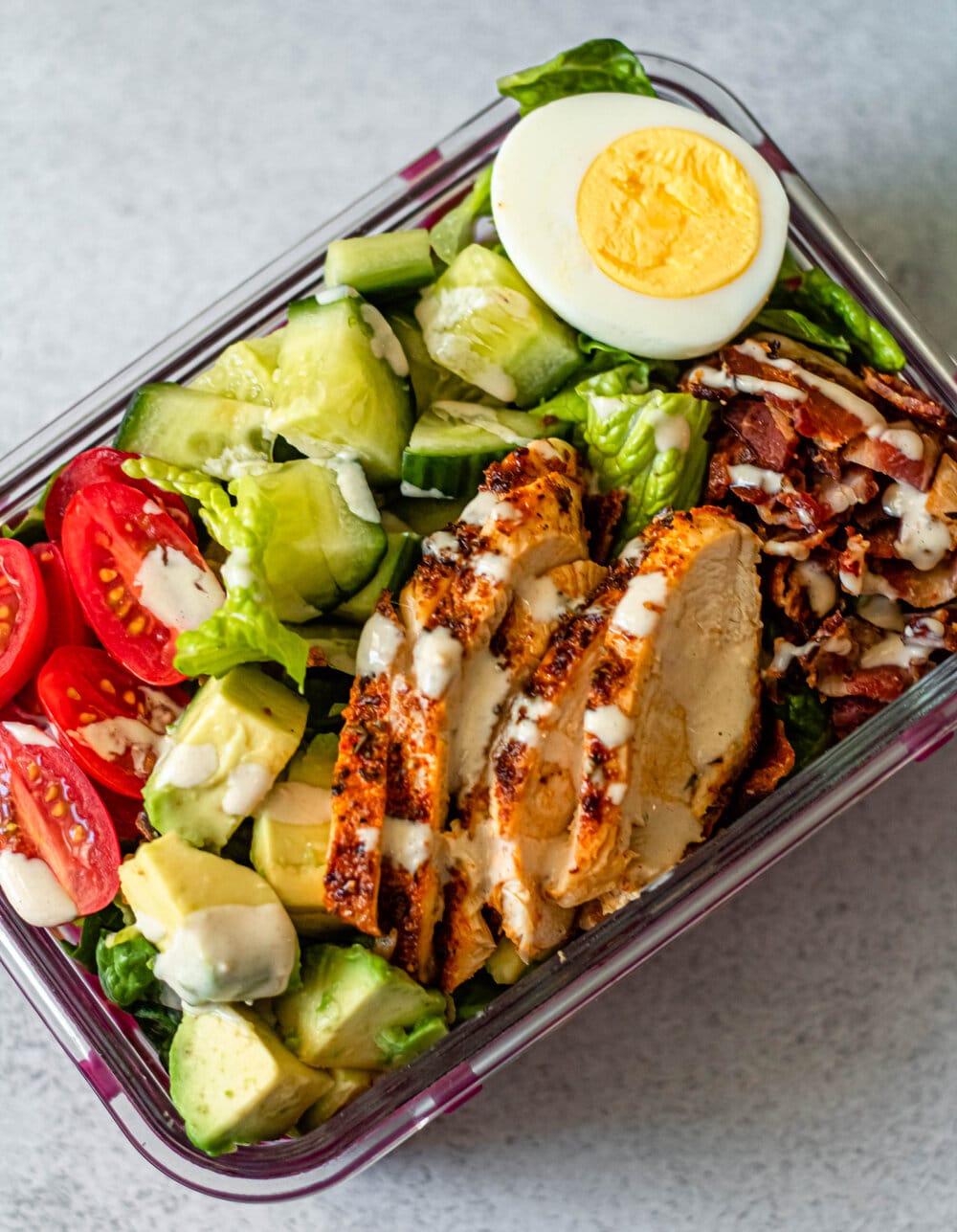 With just a few ingredients and minimal effort, you can create a satisfying and protein-packed Cobb salad.
Picture the perfect combination of tender chicken breast, hard-boiled eggs, crispy bacon, and creamy diced avocado. It's like a flavor explosion in every bite!
Plus, each serving provides an impressive 29 grams of protein to keep you feeling full and energized.
And the best part? This easy recipe is whole30- and paleo-friendly.
23. Kale Steak Power Salad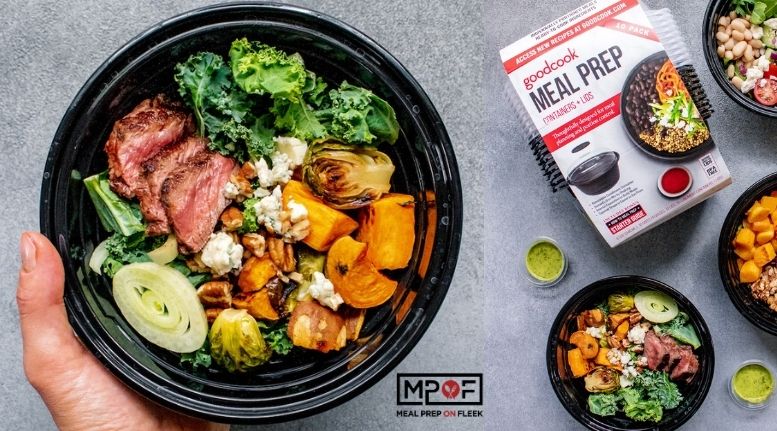 When you're craving a hearty and nutritious meal, try this power salad with tender sirloin steak and nutrient-rich kale. The combination of flavors and textures in this dish is sure to satisfy your taste buds.
The juicy sirloin steak pairs perfectly with the earthy kale, while the Brussels sprouts add a satisfying crunch. Topped with sweet potatoes, pecans, and blue cheese, this salad is packed with protein and nutrients to keep you feeling full and energized throughout the day.
It's the perfect option for those looking for a high-calorie meal that doesn't sacrifice flavor or nutrition.