Soup is the ultimate comfort food. When you're feeling under the weather or just need something warm and nourishing, soup always seems to hit the spot. The problem is, many favorite soup recipes can be loaded with sodium. Too much salt can lead to high blood pressure and other health issues over time.
Lucky for us soup lovers, it's easy to adapt recipes to be low-sodium without sacrificing any flavor. In this post, I'll share 10 of my go-to favorite soups that are naturally low in sodium.
Tomato Soup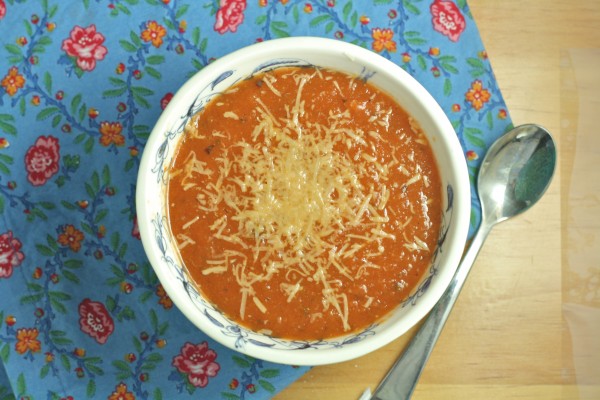 Craving something soothing and savory? This easy tomato soup hits the spot with its velvety texture and Italian herb flavors.
To keep it low-sodium, I use reduced-sodium vegetable broth and omit added salt. Almond milk adds creaminess without the cream, and a touch of garlic and onion round out the flavors.
I finish it with a swirl of unsweetened almond milk and a sprinkle of parsley for a pop of color. Enjoy this light yet hearty soup for lunch or dinner – it's sure to warm you up!
Low Sodium Black Bean Soup
Looking for an easy, nutritious soup to meal prep? This low-sodium black bean soup is just the ticket! It starts with a base of black beans, sautéed onion and garlic, and fire-roasted tomatoes for rich flavor.
A blend of cumin, paprika and chilli powder adds a tasty Tex-Mex flair. Simmer everything together in a slow cooker or Instant Pot until the beans reach your desired tenderness.
Top each bowl with fresh cilantro, a squeeze of lime, and a dollop of Greek yogurt for a creamy tang. The fiber-filled beans will keep you full and satisfied all week long.
Creamy Cauliflower Soup
If you're searching for a soul-soothing, creamy soup that's vegan, dairy-free and low in sodium, look no further!
This cauliflower soup fits the bill. It's made by simmering cauliflower florets in vegetable broth along with aromatics like onion, garlic and fresh thyme. Once tender, the cauliflower is blended until silky smooth.
I sometimes roast the cauliflower first to deepen its natural sweetness. For texture, top each bowl with crispy roasted chickpeas and a drizzle of extra virgin olive oil.
This nourishing soup never fails to warm me up on chilly days.
Carrot Ginger Soup
With its bright orange hue and zing of ginger, this lively soup is an instant mood booster! Carrots lend their natural sweetness, while fresh ginger packs a tangy, spicy punch.
Sauté the carrots and ginger before simmering in broth and non-dairy milk to infuse every spoonful with flavor. The milk provides creaminess without adding cream.
Topped with crunchy toasted pepitas and a swirl of maple syrup, this soup hits all the right notes – it's tangy, slightly spicy and subtly sweet.
For an extra nutrient boost, use the greens from your carrots too!
Turkey Noodle Soup
Nothing satisfies quite like a bowl of turkey noodle soup, especially when you've got leftover turkey from a holiday meal!
This version is quick, healthy and budget-friendly. Simply simmer turkey breast chunks, carrots, celery and onions in turkey broth seasoned with thyme, oregano and pepper. Towards the end, stir in egg noodles just until tender.
The broth keeps sodium in check, while the turkey provides a hefty helping of protein to keep you energized.
Serve this soothing classic with a squeeze of lemon and parsley. It's the perfect way to savor holiday flavors while keeping waistlines and wallets happy.
Cabbage Soup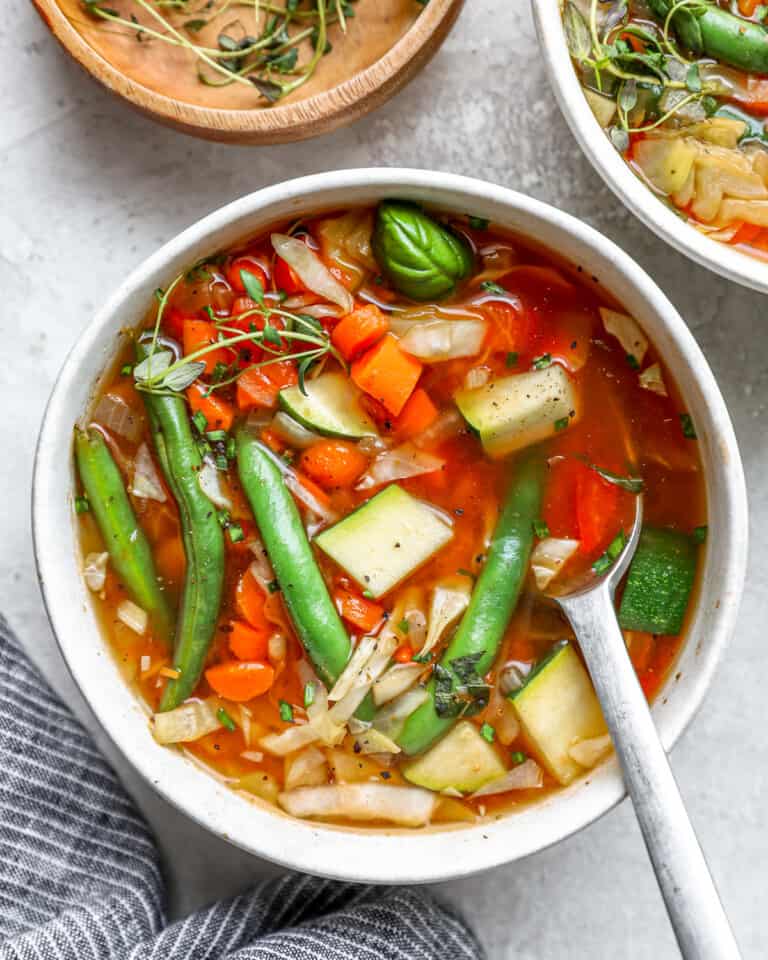 If you're seeking a soup that's supremely low in sodium but still packed with nutrition, look no further than this detox-friendly cabbage soup.
Packed with shredded green cabbage, carrots, zucchini and white beans, it delivers a powerful punch of antioxidants, fiber, vitamin K, vitamin C and manganese.
The assortment of vegetables provides a rainbow of colors and a bounty of textures. I use reduced-sodium beef broth for an added savory depth.
With its light, brothy base rather than a heavy cream, this soup truly nourishes without weighing you down.
Feel free to customize with your favorite seasonings and garnishes.
Low Sodium French Onion Soup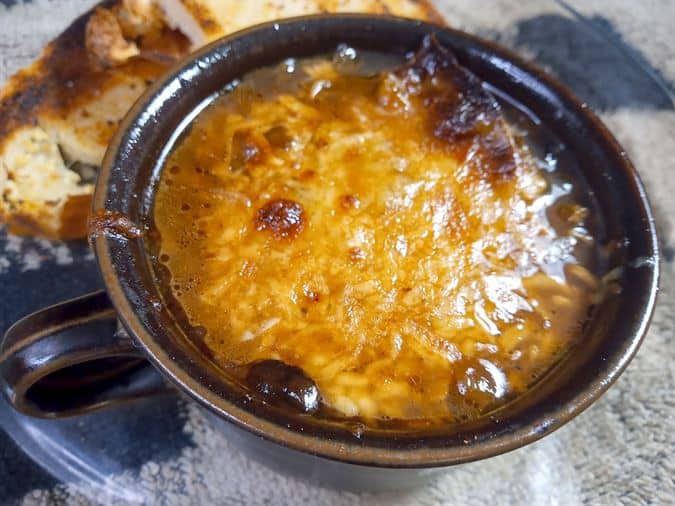 For a lighter take on the bistro classic, try this low-sodium French onion soup. It has all that sweet, soul-warming onion flavor without overloading your sodium intake.
The key is cooking down thinly sliced onions very slowly to caramelize their natural sugars and develop a deep, nuanced flavor. I add just a touch of reduced sodium broth, thyme and garlic to let the onions shine.
Top each bowl with a slice of crusty bread and melted Swiss cheese for that iconic ooey-gooey topping. This soup always feels cozy and celebratory, no matter the occasion.
Watermelon Soup
On sweltering summer days when you crave something cool and refreshing, look no further than this beautiful watermelon soup.
It's made simply by blending watermelon chunks with mint, lemon juice and a touch of honey for balancing sweetness. The melon provides a deeply hydrating dose of electrolytes like potassium and magnesium.
For a fancy presentation, serve the vibrant pink soup back in the scooped-out watermelon shell. Garnish with fresh berries and mint.
This antioxidant-rich soup allows the melon's bright flavors to dazzle your tastebuds.
Low Sodium Cream of Mushroom Soup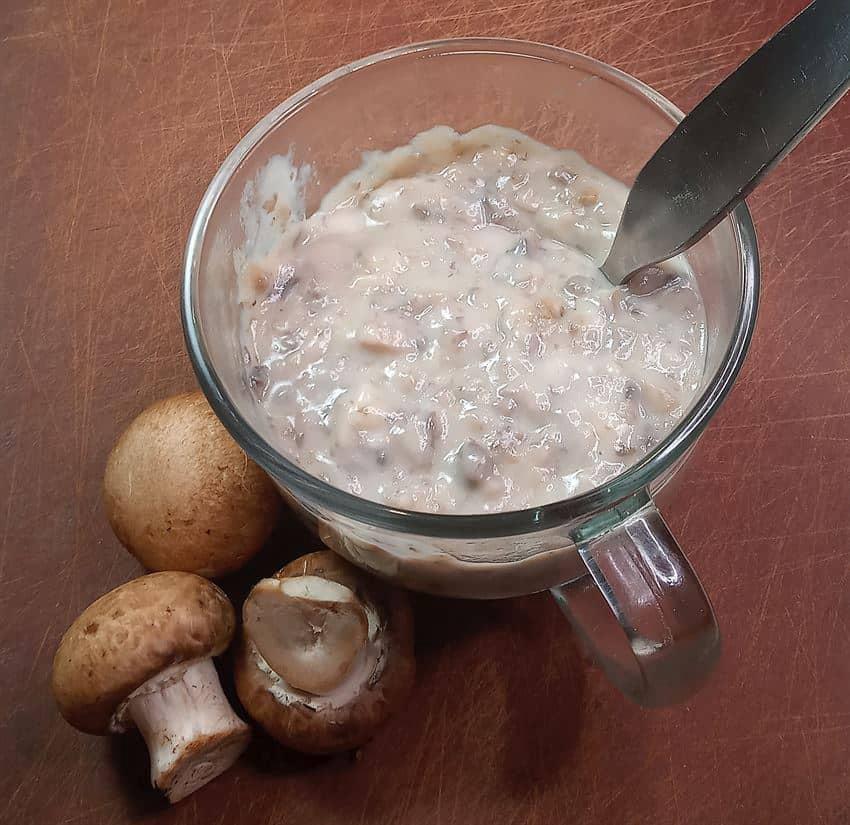 Craving the rich, earthy flavor of mushroom soup but want to keep sodium in check? This simple low-sodium version is the perfect substitute for canned soups pumped full of salt.
The umami flavor comes from sautéing a medley of mushrooms like cremini, shiitake and oyster. A touch of fresh thyme and garlic round out the woodsy notes.
Instead of heavy cream, I use oat milk to create a rich, creamy base without adding dairy. This versatile soup is endlessly customizable.
Try blending in roasted cauliflower or parsnips for more depth and nutrition.
Green Bean Casserole Soup
Get your holiday fix anytime of year with this fun twist on green bean casserole turned into a wholesome, low-sodium soup.
It has all the comforting flavors – green beans, mushrooms, onions – together in an easy one-pot soup. Instead of canned cream soup, I make my own creamy base by blending cashews with broth for rich texture without excess sodium.
Pepper, thyme and garlic add savory depth, while a touch of lemon brightens up the bean's natural flavor. Garnish with crispy fried onions for the full green bean casserole effect!
This soul-warming soup lets you enjoy Thanksgiving flavors without the sodium overload.