As summer's heat intensifies, nothing quenches thirst quite like a cold, fruity cocktail.
But many cocktails are loaded with added sugars that can lead to energy crashes. Not to worry – with a few easy substitutions, you can craft cocktails that taste decadent yet keep sugar to a minimum.
In this roundup, we'll explore 13 luscious low-sugar cocktails perfect for sipping any time of day.
1. Skinny Margarita
Channel the flavors of a classic margarita into a healthier frozen form with this Skinny Margarita.
Tequila, fresh lime juice, and orange extract replicate the sweet-tart taste of a restaurant-style margarita while keeping calories and carbs under control.
Simply blend tequila with ice, lime juice, and orange extract for an instant frosty cocktail that brilliantly balances sweet and sour. For an extra pop of flavor, rim your glass with lime zest and sea salt.
Sip this chilled treat after a hot day and feel instantly transported to a tropical oasis.
2. Keto Low-Carb Sugar-Free Lemon Drop Vodka Martini Cocktails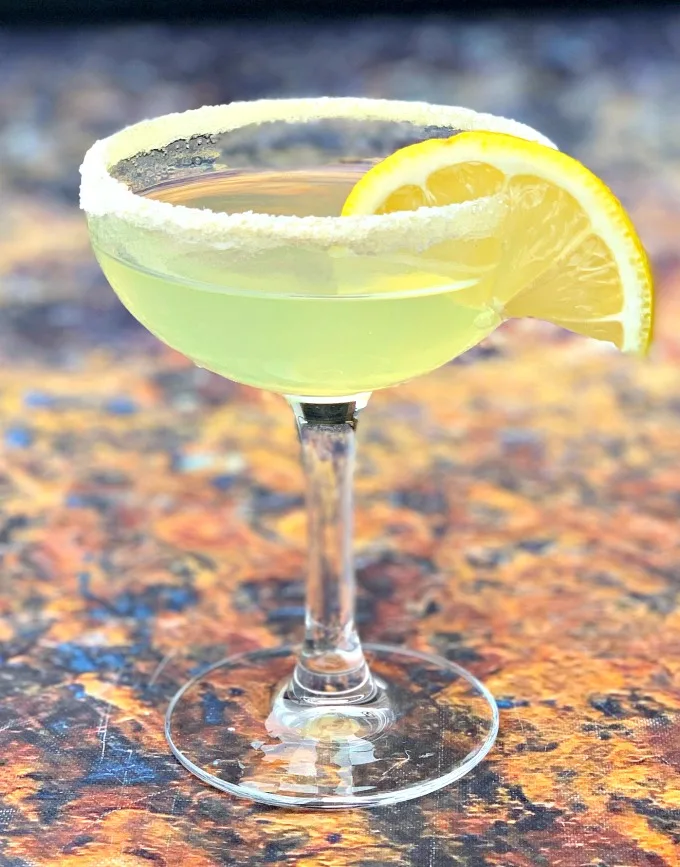 When life gives you lemons, make a sugar-free lemon drop martini! This keto-friendly cocktail swaps standard simple syrup for sugar-free lemon syrup, allowing you to savor the intense sour citrus flavor without the added sugars.
Just shake vodka, lemon juice, and sugar-free syrup with ice and strain into a chilled martini glass for a bright, puckering, guilt-free sip.
Garnish your lemon drop with a twist of lemon peel and feel that zesty sting hit your tastebuds. For an extra pop of lemony flavor, rim your glass with lemon zest.
With its playful balance of sweet and sour, this skinny martini proves you can craft a stellar cocktail sans the sugar overload.
3. Skinny Party Punch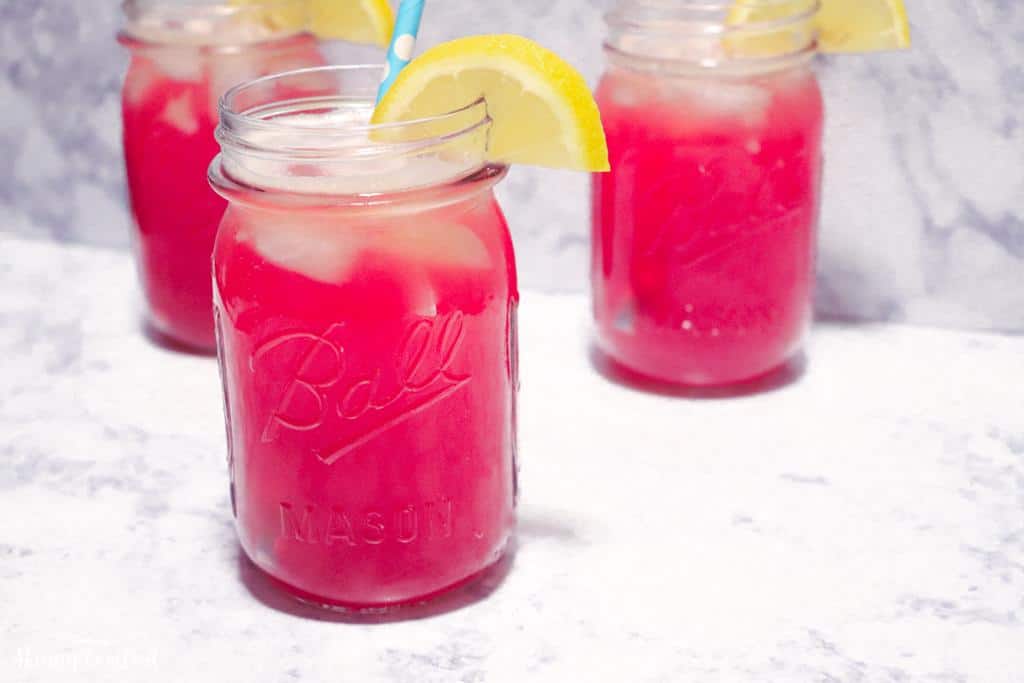 Why reserve punch for the holidays when this fruity Skinny Party Punch can liven up any gathering? This mocktail blends cranberry juice, pineapple juice, and diet ginger ale for a fun, fizzy concoction with just a hint of sweetness.
Best of all, it contains no added sugars, so you can sip to your heart's content. Garnish your punch with pineapple wedges, cranberries, and mint for a festive non-alcoholic drink the whole family will love.
Keep a batch chilling in your fridge for effortless outdoor entertaining all summer long.
4. Low-Carb Dark and Stormy Cocktail
When dark clouds loom, whip up a Low-Carb Dark and Stormy to wait out the weather in style. This refreshing rum cocktail combines zesty ginger beer and dark rum for a classic taste without the usual sugary mixer.
Just pour diet ginger ale over ice, add a hearty splash of dark rum, and garnish with lime. The bubbly ginger beer offers the perfect amount of spice to balance the rum's rich molasses notes.
Sip this drink anytime you crave a dark 'n stormy but want to avoid excess sugars. A splash of rum makes any storm much easier to weather!
5. Skinny Paloma (No Sugar Added)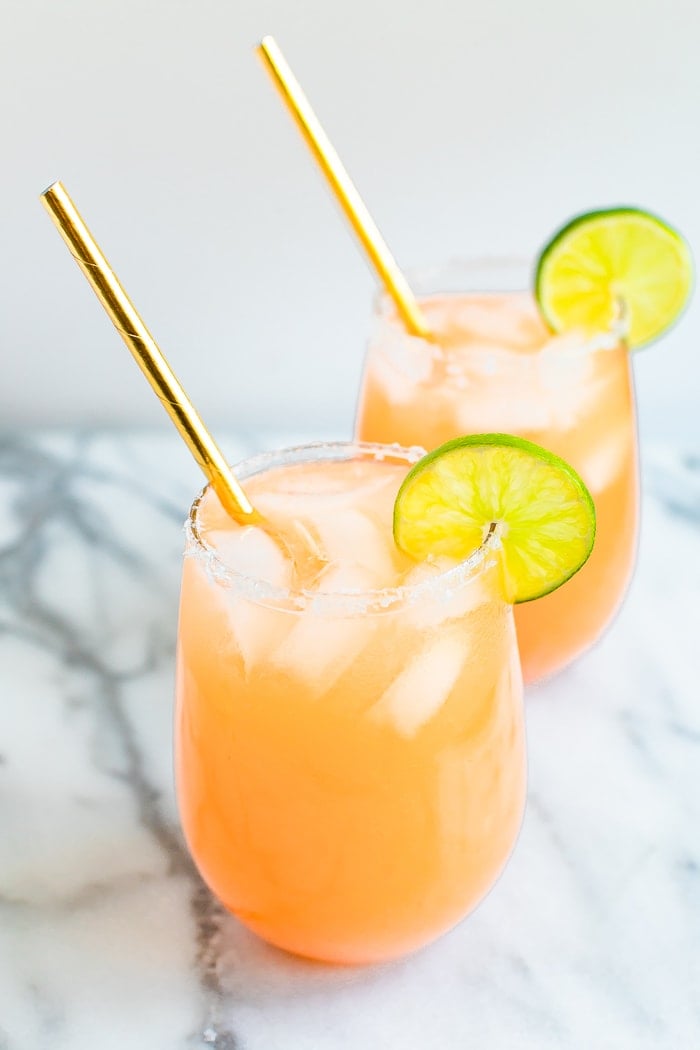 Say sí to this Skinny Paloma, a zesty tequila cocktail that skips the sugary grapefruit soda.
With bubbly water standing in for soda, this drink allows the grapefruit's natural tartness to shine.
Just muddle grapefruit and lime with tequila and a touch of stevia. Shake, strain over fresh ice, and top with sparkling water for a playfully fizzy, low-sugar sip.
Garnish your sugar-free paloma with a grapefruit wedge and feel instantly transported to sun-soaked Mexico. ¡Salud!
6. White Wine Skinny Mojito
Put a lighter spin on the classic mojito by swapping rum for crisp white wine. This skinny mojito maintains the classic combo of mint, lime, and soda water but uses Sauvignon Blanc instead of rum for a delicately refreshing sip.
Muddle mint leaves and lime wedges, then combine with white wine and a touch of stevia.
Finish with a splash of club soda and garnish with mint sprigs and lime wheels.
Savor this mojito on the porch swing or while picnicking at dusk, letting the interplay of tart citrus and verdant mint carry you blissfully into the evening.
7. Skinny Strawberry Mojito
Berries and rum unite in this gorgeous blush-hued Skinny Strawberry Mojito.
Muddling strawberries with lime and mint creates a syrupy base layered with bright, tangy flavors. Adding rum and just a touch of honey balances the drink's acidity with subtle sweetness.
Pour everything over crushed ice for a sublimely cooling effect. Sip this anytime you crave a fruity twist on a classic Cuban libation.
For endless variations, try subbing in raspberries, blackberries, mangoes or pineapples.
8. Skinny Bloody Mary
Skip sugary tomato mixes and vodka for this streamlined Skinny Bloody Mary. Swap vodka for zesty tequila and blend tomato with cucumber, jalapeño, and spices for a DIY mix that's tangy, naturally sweet, and has just the right kick of heat.
Pour your mix over ice and garnish with celery, olives, lime, and any other fun garnishes.
Sipped with brunch or during summertime cookouts, this lighter bloody mary recipe proves tequila brilliantly stands in for vodka in the classic morning cocktail.
It's just the thing for quelling a rumbling stomach without derailing your healthy eating goals.
9. Basil Whiskey Sour (Skinny Keto Cocktail)
Herbal basil and smoky whiskey unite to stellar effect in this Skinny Keto Cocktail. Making your own basil simple syrup allows you to control the sugar content while infusing the drink with rich, verdant flavor.
Just blend basil with water and a small amount of honey or monkfruit sweetener, then strain out the solids.
Mix the gorgeous green syrup with lemon juice and bourbon for a tangy, aromatic sip. The basil's subtle licorice notes play beautifully against the whiskey's oak and vanilla.
Garnish with basil leaves or lemon wheels. Keto dieters, rejoice! Here's proof you can savor spirit-forward cocktails without sabotaging your low-carb lifestyle.
10. Skinny Strawberry Mint Moscow Mule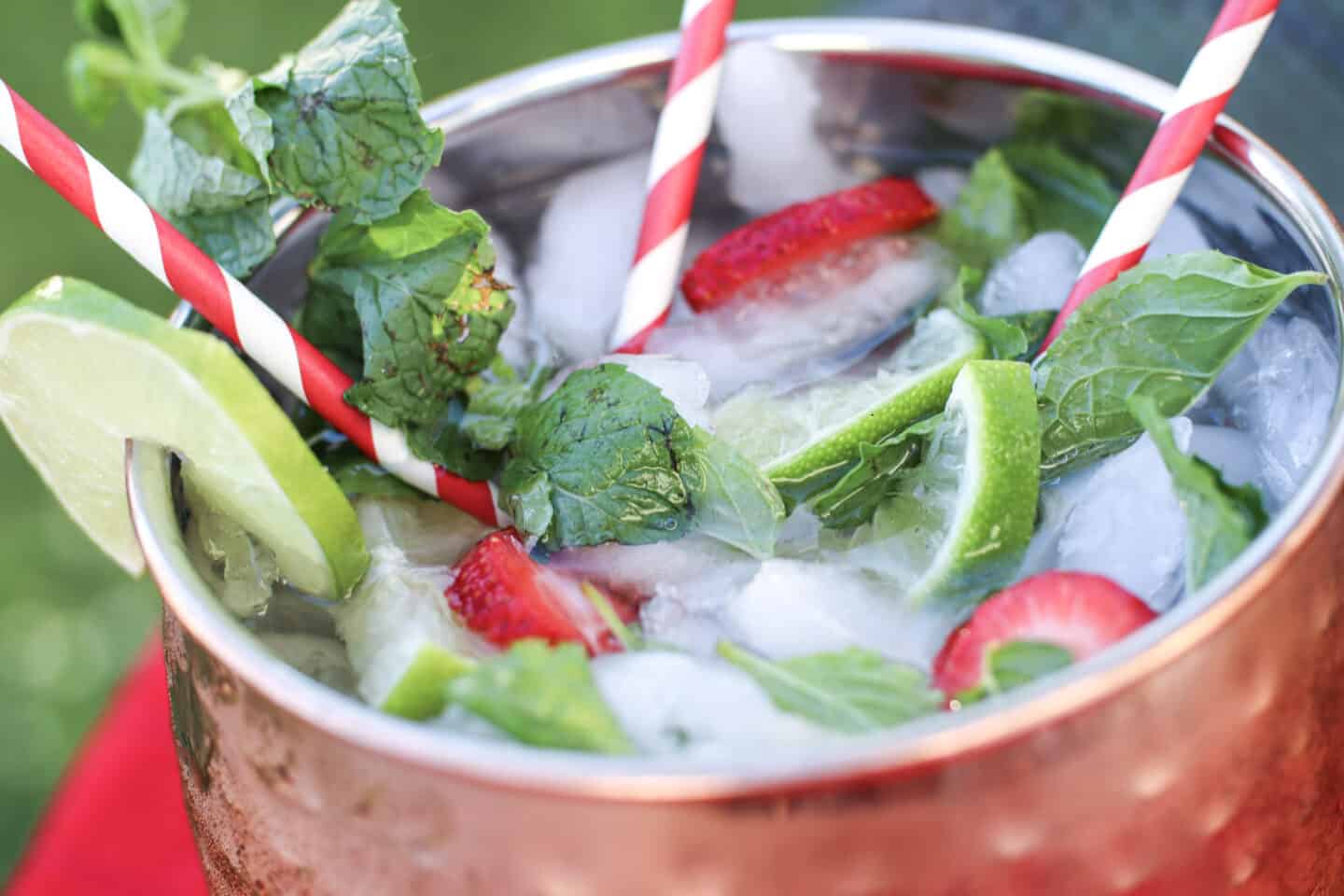 Juicy strawberries and verdant mint freshen up the classic Moscow Mule, creating a sweet, fruity rendition of the iconic copper mug cocktail.
Muddle strawberries with mint and lime, then pour in ginger beer and vodka for a pretty pink drink that's sweet but not too saccharine.
Sip this anytime you crave a fun twist on the quintessential vodka and ginger libation. The addition of strawberry and mint cuts the ginger's spice beautifully.
For an extra special touch, add your muddled strawberry-mint mixture to your copper mug first before filling with ice, ginger beer, and vodka.
The gorgeous red syrup clinging to the inside of the mug makes for an Instagram-worthy presentation.
11. Keto-Friendly Bourbon Old-Fashioned
You needn't bid farewell to bourbon just because you're avoiding sugar. This Keto-Friendly Old-Fashioned uses monkfruit sweetener in place of sugar for a classic whiskey cocktail that aligns with low-carb diets.
As with any good old-fashioned, you'll stir bourbon, bitters, and sweetener together and garnish with an orange twist.
But the sugar swap allows you to savor the velvety bourbon and bitter orange nuances without worrying about carbs. Sip this timeless whiskey drink straight up or on the rocks.
12. Lemon Mojito (Skinny Sugar-Free Low Carb Keto)
This sparkling Lemon Mojito proves you can still sip tropical cocktails on a low-carb diet. It stars fresh lemon in place of traditional lime for a zippy citrus twist.
Muddle lemon wedges and mint leaves, then combine with rum and a splash of stevia-sweetened lemonade. Top with soda water and stir gently to mix without losing effervescence.
The stevia-sweetened lemonade creates just enough sweetness to complement the tart lemon and herbaceous mint.
Garnish your sugar-free mojito with lemon wheels or a mint sprig. This crisp, fizzy take on the Cuban classic mixes up in just minutes, making it perfect for impromptu summer soirees.
13. Low-Carb Gin Fizz
Some cocktails shouldn't be overcomplicated with lavish garnishes and complex ingredients. Exhibit A: this streamlined Low-Carb Gin Fizz.
By blending just gin, fresh lime juice, club soda and a touch of stevia, you get a light, lively drink with just-right sweet-tart balance.
Pour all ingredients over ice and gently stir to mix and chill. For a touch of botanical flair, add cucumber slices and mint leaves.
The lime's natural tartness shines through beautifully thanks to the absence of added sugars. Sip this pared-down gin fizz before dinner to stimulate the appetite.