I'm always on the hunt for delicious, nutritious meal prep recipes that won't bust my macros.
That's why I've compiled this list of 25 macro-friendly meals you can prepare ahead of time.
Whether you're a gym-goer or just trying to eat healthier, these recipes are perfect for keeping your diet on track without sacrificing taste.
Let's dive in and discover how easy it can be to stick to your nutritional goals with smart meal prep!
Butter Chicken Meal Prep
Looking for a healthy meal that's both tasty and waistline-friendly? Well, check out this Butter Chicken Meal Prep! It's like a flavor explosion in your mouth, with tender chicken, yummy spices, and creamy coconut goodness.
And here's the kicker: it comes with cauliflower rice instead of the usual stuff, so you can enjoy it without feeling guilty about calories or carbs.
This dish is all about balance. With just 405 calories per serving, you're not overloading on the bad stuff. You've got 23 grams of fats, 36 grams of protein to keep you satisfied, and only 13 grams of carbs.
Plus, there's a solid 5 grams of fiber to keep things moving and a mere 5 grams of sugar, so you won't be bouncing off the walls later.
Lemon Roasted Salmon With Sweet Potatoes & Broccolini
You're going to love this Lemon Roasted Salmon with Sweet Potatoes and Broccolini; it's not only delicious but also packed with nutrients!
The salmon, tender and flaky from a garlic-butter marinade, is rich in omega-3 fatty acids that boost heart health. It's also high in B vitamins for brain function and selenium, a powerful antioxidant.
The accompaniment of roasted sweet potatoes tossed in cumin add a delightful flavor while providing beneficial fiber. And don't forget the broccolini! It adds crunchiness and freshness to your meal, but if unavailable, broccoli works just as well.
Each serving contains 282 calories, with a good balance of fats (14.7g), protein (20.6g), and carbs (17.6g). A macro-friendly meal indeed!
Sweet Potato & Black Bean Quinoa Bake
We're switching gears now to talk about the Sweet Potato & Black Bean Quinoa Bake, a wholesome casserole alternative that's chock-full of nutritious ingredients.
This hearty dish is made with sweet potatoes, quinoa, black beans, and corn for a meal that not only satisfies your taste buds but also nourishes your body.
One of the best parts? There's no need to pre-cook the quinoa, simplifying meal prep.
Every serving clocks in at just 273 calories, with a substantial 11g of protein and an impressive 10g of fiber. The carbs are high at 55.8g per serving, but remember these are complex carbs from whole food sources.
Plus, it only contains 2.5g fat and a moderate amount of sugar at 6.6g per serving—making it a macro-friendly choice for meal prepping!
Spicy Chickpea & Quinoa Bowls
These bad boys are not only gluten-free but also a nutrient-packed explosion of flavor for all you plant-based food enthusiasts.
The spicy chickpeas, they're like a flavor party in your mouth, bringing that essential dietary fiber, protein, and carbs to the table. And don't underestimate the quinoa – it's not just there to take up space.
No, it's soaking up all that veggie broth goodness, turning into a flavor powerhouse while loading you up with manganese, magnesium, and phosphorus for those strong and happy bones.
Here's the kicker: only 343 calories per serving and a measly 5.9g of fat. These bowls are like the mastermind of balanced nutrition, giving you all the good stuff without sacrificing taste or health benefits. It's a win-win for your taste buds and your well-being!
Garden Quinoa Salad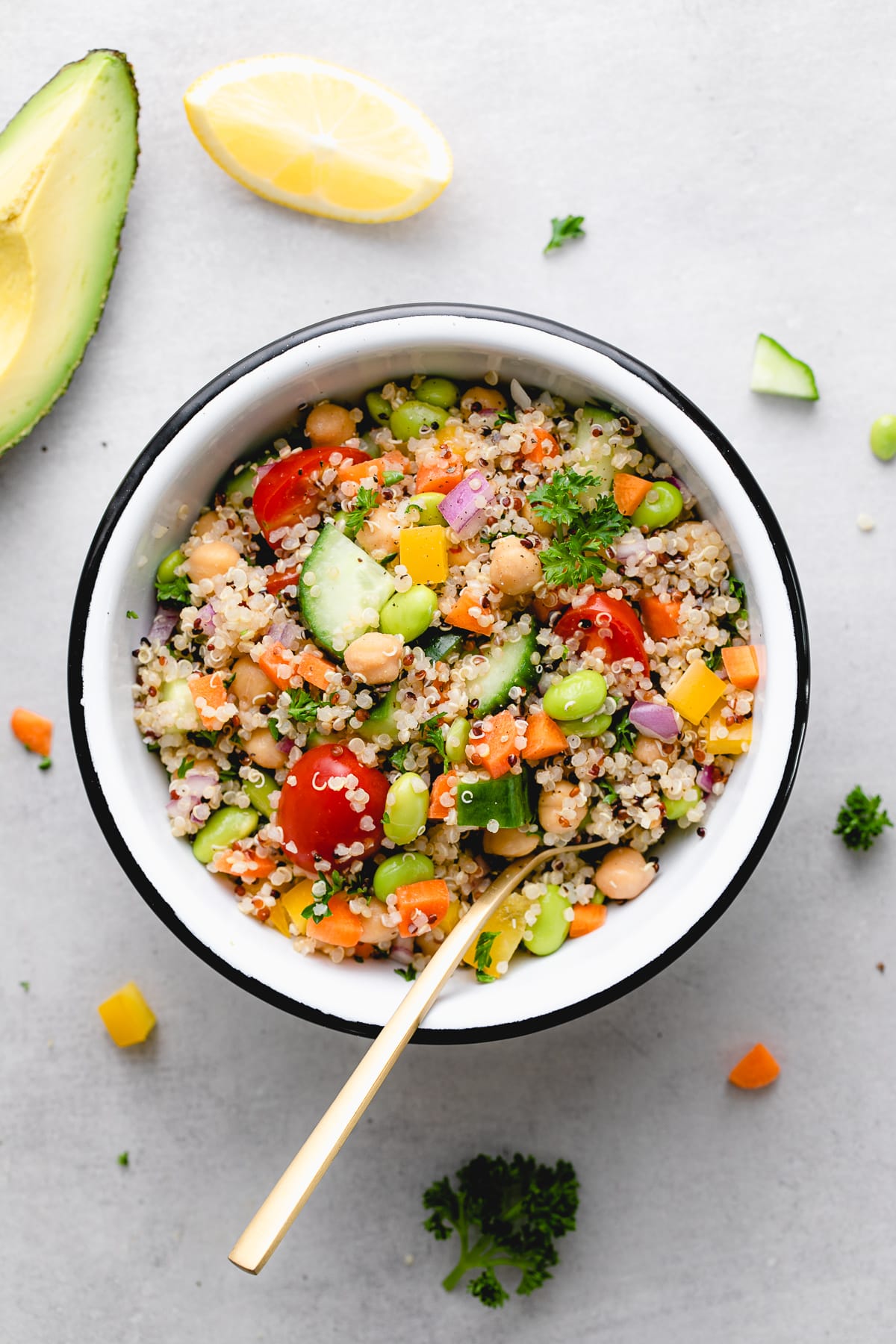 Garden Quinoa Salad is a perfect summer treat that brings together the best of both worlds. It's got that heartiness from the edamame and quinoa, and it's fresh as a daisy with cucumber, bell pepper, carrots, cherry tomatoes, and a dash of red onions. This salad is your go-to for meal prep that's friendly to your macros.
Now, when we talk numbers, we're looking at 304 calories per serving. That's the sweet spot. There's 8.5 grams of fat, 51.2 grams of carbs (with a hearty 9.5 grams of fiber), and a solid 12.4 grams of protein. It's like a balanced meal in a bowl!
But what really takes this salad to the next level is the homemade dressing. It's a little tangy, a little savory, and just the right amount of spicy. It takes this salad from a simple veggie mix to a flavor explosion.
And here's the best part – it's not a heavy, belly-busting affair. You can enjoy it straight from the fridge or let it come to room temperature, depending on your mood.
Healthy Egg Salad Bowls
When creamy avocado meets the zing of cherry tomatoes then you get this dish called healthy egg salad bowls. It's a match made in food heaven. But the best part? These bowls are like a treasure chest of essential nutrients.
Each serving packs a punch with a generous 31 grams of healthy fats, mostly thanks to the superstar avocado. You know what they say about avocados – they're like a love letter to your heart, keeping it in top-notch shape.
But that's not all – these bowls also deliver a solid 27 grams of protein and 23 grams of carbohydrates. It's like a balanced meal that's got your back.
And here's the kicker – one serving covers a whopping 40% of your daily fiber needs. We're talking 10 grams of fiber per serving! It's not just delicious and filling; it's a nutritional powerhouse that comes with a side of great taste. So, dig in and enjoy the goodness!
Protein Bowls
Protein bowls aren't just tasty, they're also packed with an impressive 25 grams of protein per serving. They're a well-rounded meal that is quick and easy to prepare in just 15 minutes, making them perfect for those busy days when you still want to maintain a balanced diet.
Now, let's break down what's inside – you've got hard-boiled eggs, chicken, quinoa, mixed greens, and a dash of salad dressing.
But here's the kicker – each serving not only brings you that muscle-loving protein but also serves up a side of antioxidants, thanks to those mixed greens.
And the numbers? A mere 249 calories, 13 grams of carbs, and 11 grams of fats per serving. It's like a macro-friendly meal prep that doesn't skimp on flavor or that feeling of fullness.
Crispy Sesame Tofu With Zucchini Noodles
Crispy sesame tofu with zucchini noodles is a dish you're sure to enjoy, providing robust flavors and an impressive 18 grams of protein per serving. As a plant-based protein source, tofu offers health benefits such as manganese and phosphorus that aid in bone health.
This meal becomes even more flavorful when enhanced with ginger's heat, the sweetness of maple syrup, soy sauce's umami, and garlic's savoriness.
The use of zucchini noodles is a light alternative to traditional pasta, easily prepared using a spiralizer. With each serving containing only 397 calories but packing 31g fats, 16g carbs, 3g fiber and just 10g sugar, this recipe fits perfectly into any macro-friendly meal prep plan.
Quick Beef & Zucchini Skillet Meal Prep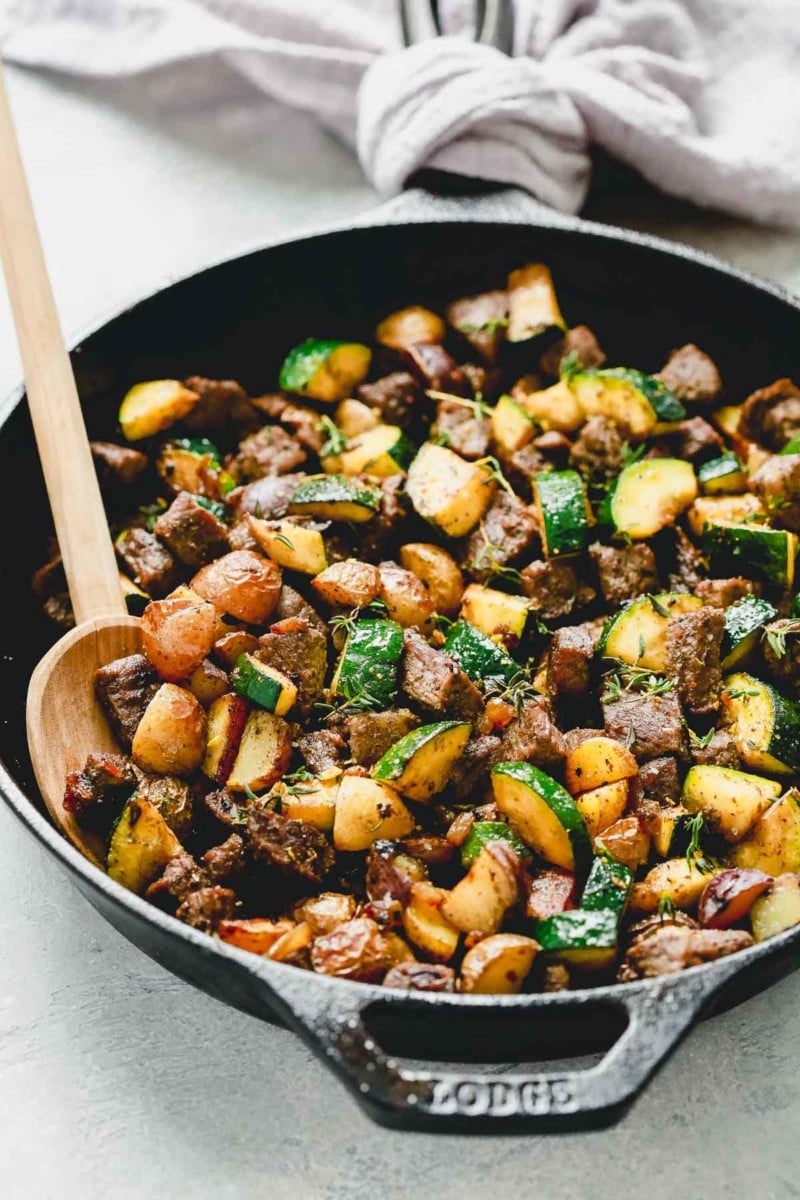 This meal prep recipe is ideal for meat and potatoes lovers. It features juicy, tender charred steak paired with oven-roasted potatoes.
The zucchini is seared in beef grease, butter, and garlic adding mouthwatering flavor.
Consuming this dish not only delights your taste buds but also provides you with 380 calories per serving along with balanced macros: fats (21g), protein (27g), carbs (24g), fiber (3g) and sugar (3g).
However, note that beef steak has a large carbon footprint – it might be beneficial to consider consuming it less frequently.
Enjoy this delicious way to incorporate zucchini into your diet while maintaining macro-friendly nutrition values!
Buffalo Chicken Ranch Meal Prep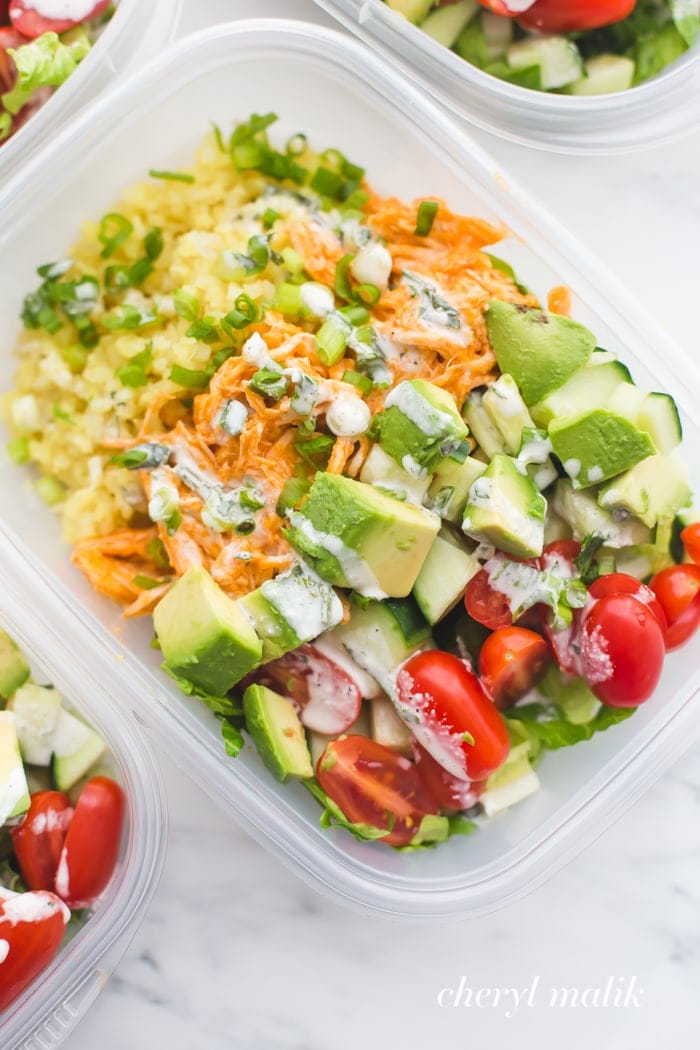 Let's move on to the Buffalo Chicken Ranch dish, a tantalizing mix of spicy chicken and creamy avocado served with crisp vegetables. This meal is not just packed with flavor, but also with an abundance of nutrients.
Each serving provides over 200% of your daily Vitamin A needs and is rich in Vitamin C, essential for boosting the immune system.
The chicken is tenderly cooked using either an Instant Pot or slow cooker, ensuring succulence in every bite. Paired with fluffy cauliflower rice, celery, cucumber and sweet tomatoes – it's a feast for the senses!
Moreover, it's macro-friendly with 287 calories per serving: 21g fats, 13g protein and 13g carbs. The fiber content stands at 8g while sugar is restricted to 3g only.
Garlic Butter Chicken Meatballs With Cauliflower Rice
Switching gears now, we're diving into the delicious world of garlic butter chicken meatballs served with cauliflower rice.
This comfort food is not only juicy, cheesy, and flavorful but also well balanced. The cauliflower rice, rich in fiber, provides a lighter alternative to pasta and keeps you feeling full longer. Whether you opt for prepackaged or choose an easy homemade preparation method for your cauliflower rice, it's a great addition to this dish.
Nutritionally speaking per serving, you're looking at 342 calories packed with 26g protein and only 8g carbs.
The fat content sits at 24g while the sugar barely touches 2.5g and fiber comes in at around 2g. It's a macro-friendly meal that doesn't skimp on taste!
Stir-Fried Pork Meal Prep With Ginger & Soy
We're now moving onto our stir-fried pork dish infused with ginger and soy, a true delight for those who enjoy Asian-inspired cuisine. This meal features crispy pork paired with vibrant veggies like bell peppers, snow peas, and spring onions, providing an irresistible burst of flavors.
It's a macro-friendly recipe that yields two servings – perfect for meal prep! If you're cooking for more, consider doubling or tripling the recipe.
The nutritional stats per serving are impressive: 409 calories, 19g fats, 32g protein, 29g carbs, 6.8g fiber and just 8g sugar. I recommend using a large non-stick skillet or wok to ensure even cooking and crispiness of the ingredients.
Enjoy this as your main course or pack it up for lunch; either way it's guaranteed to satisfy your taste buds!
Greek Couscous Salad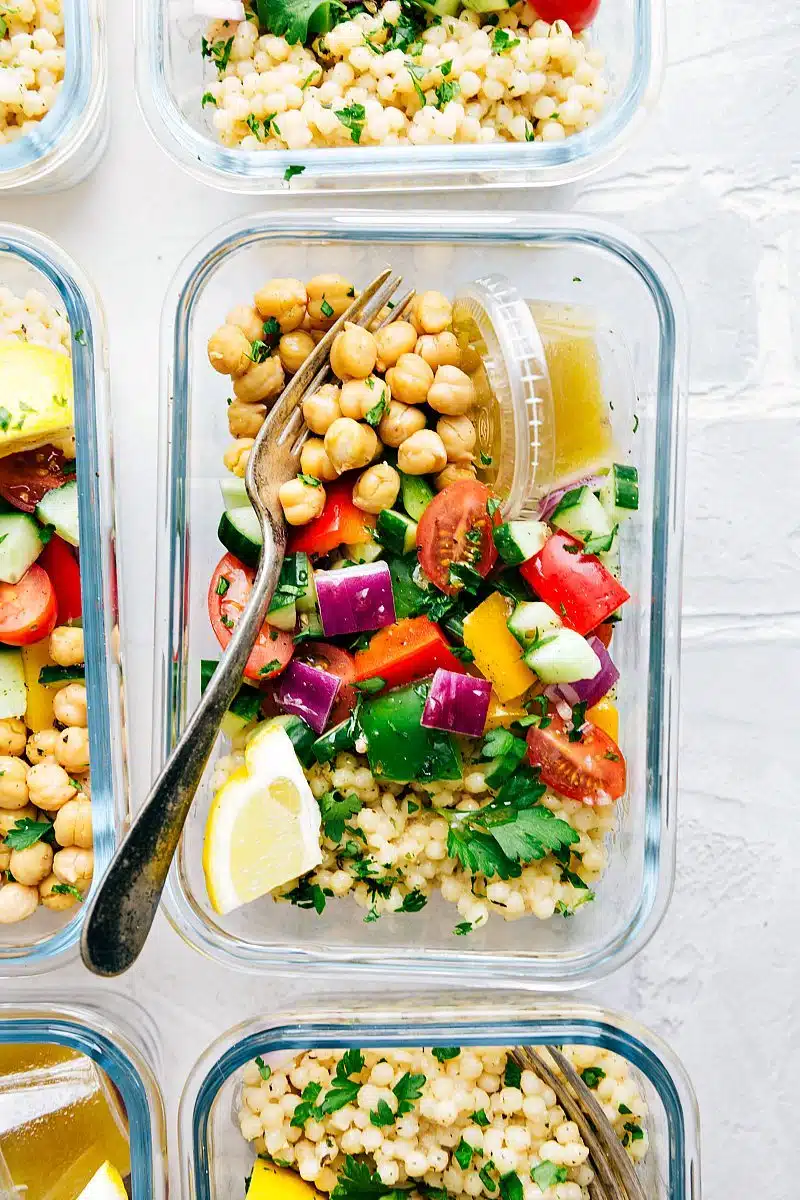 If you want a Mediterranean twist then don't miss this Greek-style couscous salad. It's packed with all those zesty flavors. We're talking about juicy cherry tomatoes, colorful bell peppers, snappy red onion, creamy feta cheese, hearty chickpeas, and, of course, fluffy couscous.
And let's not forget the homemade dressing that brings it all together – it's got that zingy lemon juice, a dash of Dijon mustard, a sprinkle of oregano, and a hint of garlicky goodness.
But this salad isn't just tasty; it's also pretty darn good for you. The olive oil in there? It's like a secret health weapon. It's all about those monounsaturated fats that are known for being super friendly to your heart, helping to keep that pesky bad cholesterol in check.
Now, let's break down the numbers for you. In each serving, you're looking at a balanced meal that rings in at 378 calories. You've got 25.9 grams of fats, 9 grams of protein, and 31.2 grams of carbs.
But wait, there's more! You've got a generous dose of 10.3 grams of fiber and just a smidge of 4.9 grams of sugar.
Mexican Meal Prep Bowls With Cauliflower Rice
This Mexican-inspired bowl features cauliflower rice and a blend of eight amazing spices. If you're after a speedy meal prep option that's good for your macros, you've hit the jackpot!
We're talking a flavor explosion here – sweet, savory, with just a hint of spicy goodness. It's a fiesta for your taste buds!
And let's not forget the health factor. In each serving, you're getting a satisfying 406 calories. But here's the kicker – it's a balanced mix of fats (17g), protein (48g), carbs (17g), and fiber (8g).
Oh, and we can't overlook the creamy avocado that brings some smoothness to the party and cools down those spicy spices. Plus, there's wild rocket salad in the mix, giving you a fresh boost of nutrients.
The best part? These Mexican meal prep bowls are ready to roll in just 20 minutes.
Tofu & Veggie Spring Roll Bowls
Let's shake things up with deconstructed spring roll bowls featuring sautéed tofu cubes, udon noodles, and colorful veggies like purple cabbage, carrots, and cucumber.
This dish provides a delightful mix of flavors and textures that'll surely satisfy your palate. Besides being delicious, it's also abundant in nutritional value.
Each serving contains 302 calories, 14g of fats and protein each, 33g of carbs, 6g of fiber, and only 8g sugar.
The peanut sauce not only complements the dish but also adds an extra layer of depth to its taste profile.
Best part? You can prepare this meal in just about 20 minutes making it perfect for those who are always on the go yet still want to stick to their macro-friendly diet plan.
Mason Jar Overnight Oats Meal Prep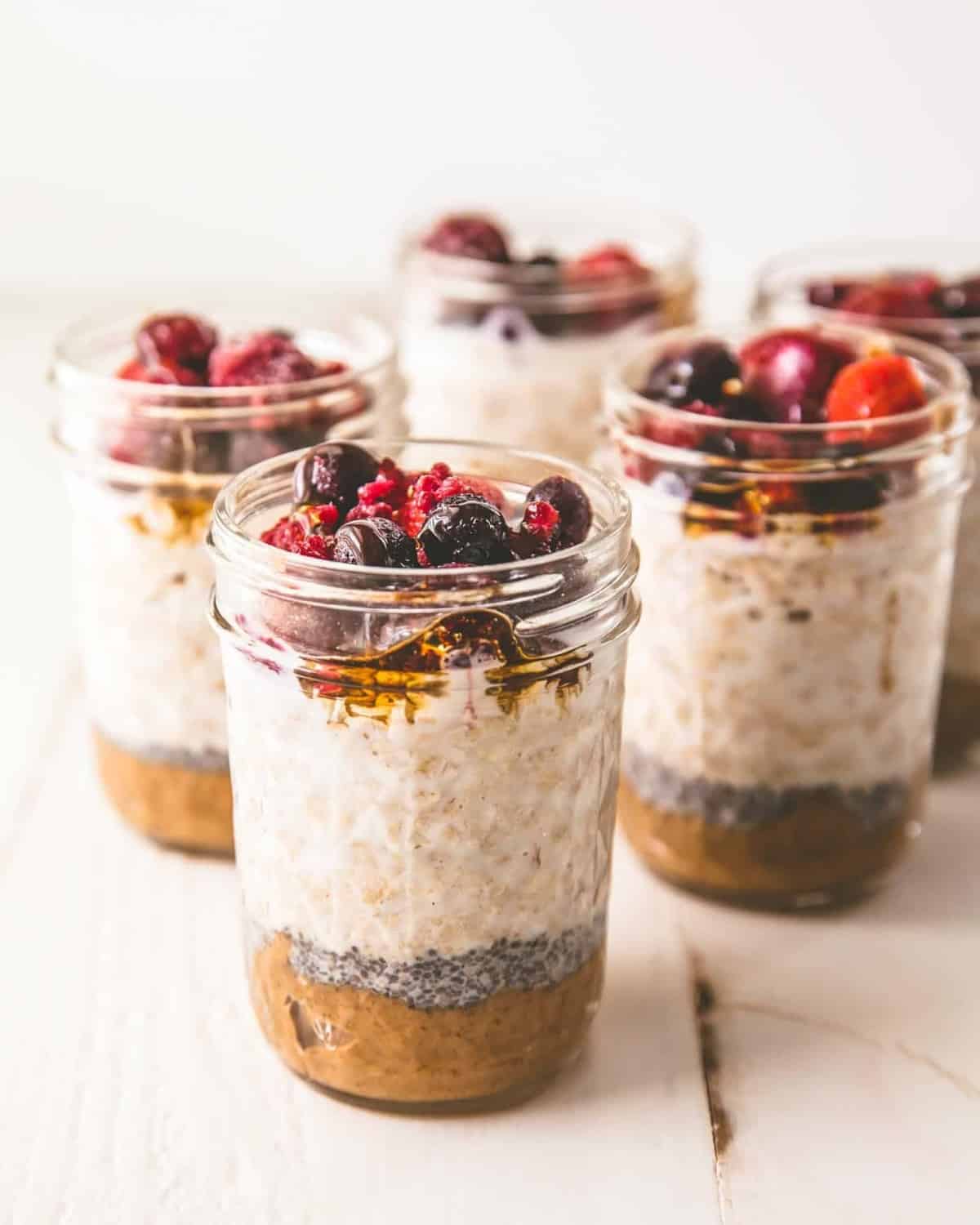 Switching gears, we've got a breakfast option that's both quick and delicious: mason jar overnight oats.
This meal prep idea is perfect for those busy mornings when you need a nutritious, grab-and-go breakfast. It's prepared in Mason jars – which makes storage easy – and takes only 10 minutes to make five servings.
The ingredients include almond butter, chia seeds, oats, milk, and frozen berries; a combination that offers a balance of protein, carbs, and fats.
Each serving contains 390 calories with 12g of fat, 15g of protein, 45g of carbs including 9g fiber (which aids digestion), and only 10g sugar. A macro-friendly choice indeed!
Sweet Potato Fajitas Meal Prep
Moving on to lunch, we're featuring a delightful meatless fajita dish that's chock-full of seasoned roasted veggies such as sweet potatoes, red onions, and bell peppers. This vibrant meal offers a variety of textures and flavors that will definitely keep your palate entertained.
To beef it up with extra protein without adding meat, you have the option to include black beans or tofu. Each serving packs a healthy 376 calories with just 2g fat content while providing an impressive 6g of protein. Its high fiber content (9g) aids in digestion and keeps you feeling full longer.
With its carb count at a manageable 60g per serving, this is an ideal choice for those who are following a macro-friendly diet plan.
Lemon Chicken With Veggies Meal Prep
This meal boasts juicy, tangy, and savory chicken breasts alongside roasted sweet potatoes and broccoli that bring out their natural sweetness through caramelization. Topping off this healthful medley are cherry tomatoes garnished with dill.
This dish is nutritionally balanced, providing 40 grams of protein per serving. It's particularly suitable after a vigorous workout or for growing kids needing essential nutrients.
Each serving comes with just 500 calories yet keeps you satiated with its good fats (23g), carbs (35g), fiber (7.3g), and minimal sugar content (11g).
Ground Turkey Stir Fry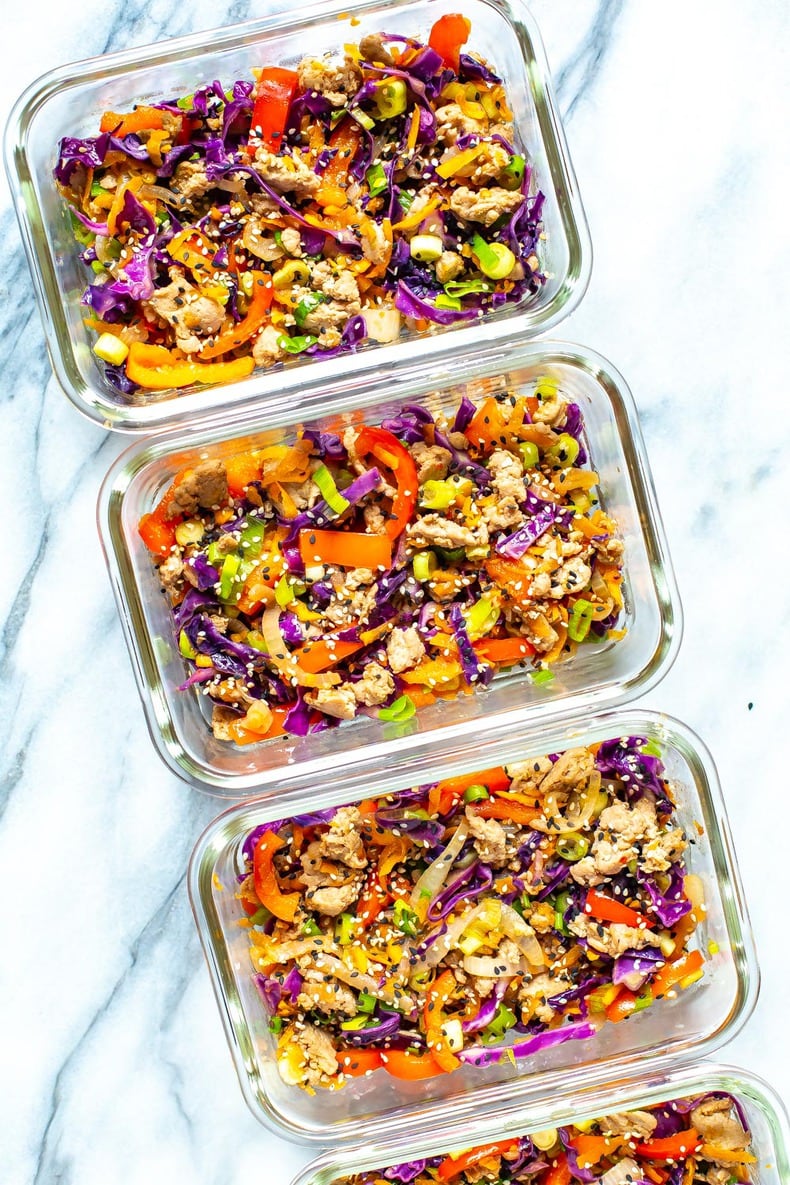 You're gonna love this ground turkey stir fry, it's packed with nutrition and flavor. The key to this meal is the homemade sauce, combining low sodium soy sauce for that umami taste, honey for a touch of sweetness, ginger for its digestive benefits, and sriracha sauce adding a hint of heat.
The veggies included are red pepper, red cabbage, green onions, and carrots but feel free to modify based on what you have on hand. This dish can be served with brown rice or cauliflower rice depending upon your dietary preference.
Per serving, it contains only 237 calories while providing a hefty 30g of protein. Additionally, it has just 18g of carbs and an impressive 5g of fiber which makes it a truly macro-friendly meal.
Taco Lettuce Wraps Meal Prep
Our next macro-friendly meal prep recipe is Taco Lettuce Wraps. This lighter lunch option incorporates low-carb lettuce wraps filled with a delightful mix of ground turkey, black beans, corn, and fresh vegetables like lettuce and tomato.
The key to its authentic Mexican flavor lies in the homemade taco seasoning which contains a blend of eight different spices.
Each serving offers an impressive nutrient profile – 325 calories, 11.6g fats, 26.4g protein, 33.2g carbs, along with significant amounts of fiber (9.9g) and minimal sugar (6.9g).
It's an ideal choice for those seeking balance between nutrition and enticing flavors in their meals.
Vegan Sweet Potato & Black Bean Bowl
This meal is not just a treat for the taste buds but also a nutritional powerhouse.
The black beans add heartiness to the bowl and are an excellent source of plant-based protein. Sweet potatoes lend their natural sweetness while providing a substantial amount of Vitamins A and C, essential for boosting our immune system during the fall season.
The pine nuts offer an appealing crunch to balance out the textures, and sautéed kale adds freshness and additional nutrients.
With 439 calories per serving, it's ideal for those mindful of their macronutrient intake: fats at 20.8g, proteins at 13.4g, carbs at 53.9g, and only 4g of sugar.
Sesame Noodle Bowls Meal Prep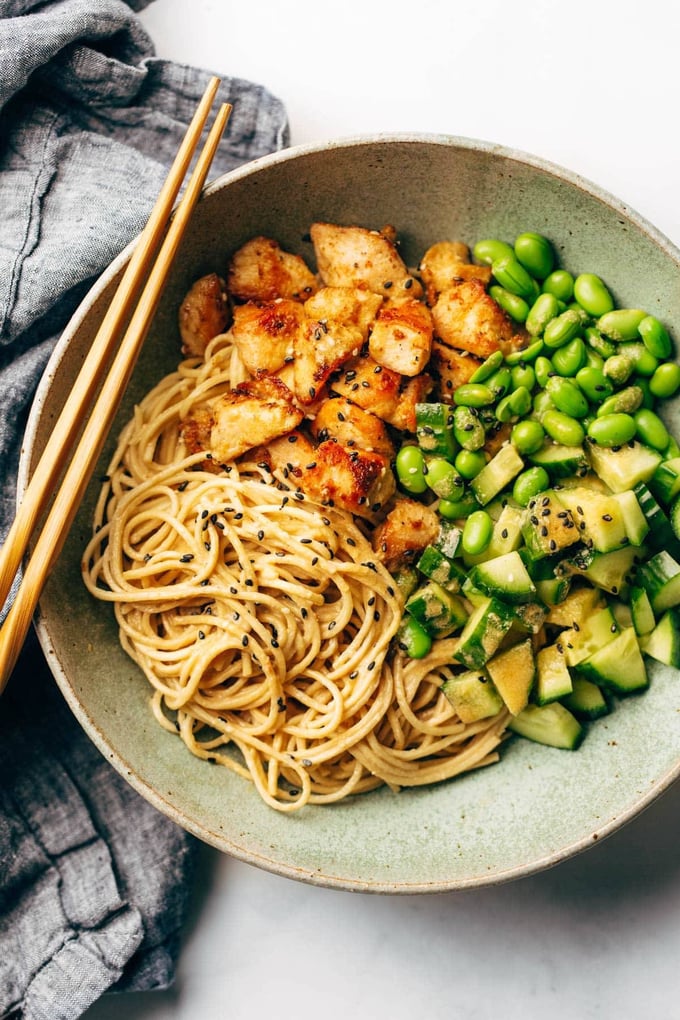 This dish is not just an easy meal prep option for those busy evenings but also a healthy one.
It includes tender chicken, noodles, salted edamame, cucumber, all drenched in a creamy sesame sauce – combining all these elements provides you with a balanced meal having 395 calories per serving.
It's impressive how this bowl packs in 15.1g of fats, 8.3g of protein and 57.3g carbs which contribute to energy and muscle building. With 4.3g fiber content promoting digestion and the same amount of sugar keeping the sweetness in check, it's truly macro-friendly!
All achievable within just 15 minutes of preparation time!
Meal Prep Chicken Patties
Next on our list are the drool-worthy chicken patties. They are not just moist and seared to perfection, but also low in calories. These patties hit all your taste buds with the perfect balance of creamy avocado, sweet tomatoes, and a kick from spicy chipotle aioli.
What's more impressive is that they're macro-friendly. Each serving clocks in at only 157 calories! They also deliver a good dose of protein, providing 14.47g per serving which is essential for muscle recovery and growth.
With 11.28g carbs, 6.9g fats, 2.02g fiber, and minimal sugar content of just 5.69g per serving, you've got a well-rounded meal that satisfies without the guilt!
California Sushi Roll Bowls With Cauliflower Rice
These deconstructed California sushi roll bowls feature crab meat, creamy avocado, cucumbers, cauliflower rice, and sesame seeds.
The shredded nori is not only delicious but also packed with vitamins, minerals, and omega-3s which contribute to brain and heart health.
This dish is a powerhouse of nutrients; each serving has 312 calories with 18.1g of fats, 9.9g of protein, 25.3g of carbs and a healthy dose of fiber at 6.5g.
It's an ideal choice for people looking for macro-friendly meal prep recipes as it strikes the right balance between taste and nutrition without spiking your sugar levels excessively given its moderate sugar content at 8.4g per serving.
Paleo Breakfast Meal Prep Bowls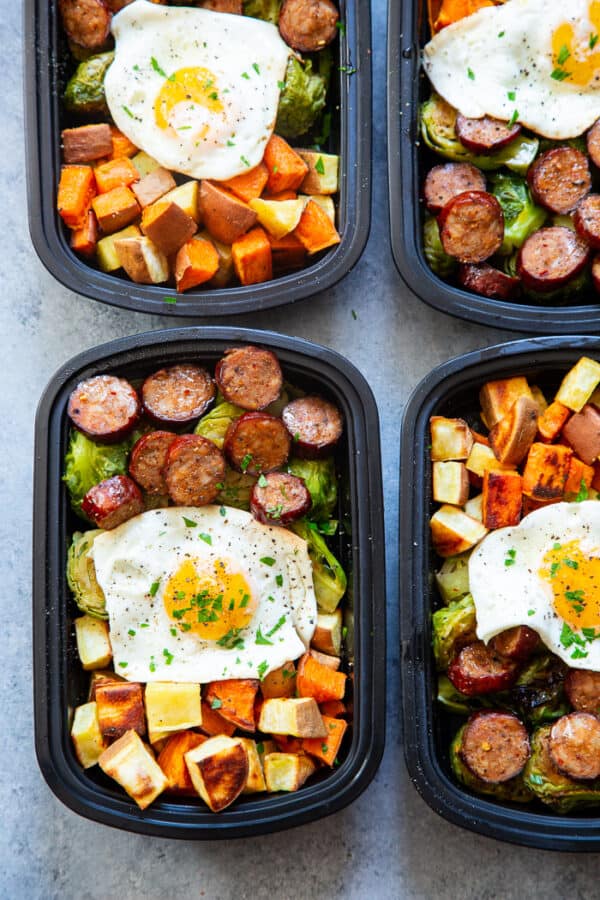 If you're craving a breakfast that's hearty and totally satisfying without the fuss, these Paleo Breakfast Bowls are the way to go.
Picture this: roasted sweet potatoes, Brussels sprouts caramelized to perfection, a kick of spicy sausage, and a crowning glory of a fried egg. It's not just delicious; it's also super friendly to your macros.
The secret sauce here is simplicity. Pop that sausage and those veggies in the oven, and you're good to go. Now, let's talk numbers – each serving packs a punch with 326 calories. That's 21 grams of fats, 17 grams of protein, 19 grams of carbs, and a respectable 5 grams of fiber. And the sugar? It's just a tiny 4 grams.
This nutritious combo makes it a top pick for anyone aiming to keep things balanced without giving up on flavor or convenience.