Are you in the mood for a Mexican salad that's both easy to make and absolutely delicious? I've got you covered!
In this blog post, you'll find 10 simple Mexican salad recipes that are perfect for anyone looking to add a little excitement to their mealtime.
1. Tomato and Tomatillo Salad
Here's a simple recipe that's perfect for you: Tomato and Tomatillo Salad.
For the ingredients, pick up ripe tomatoes, tangy tomatillos, creamy avocado, crumbled Cotija cheese, and fresh cilantro as the main ingredients.
These are tossed in a refreshing cilantro-lime dressing that perfectly balances the lime juice and cilantro flavors.
It's an easy yet delicious salad that will make you feel right at home in my kitchen.
2. Mexican Fruit Salad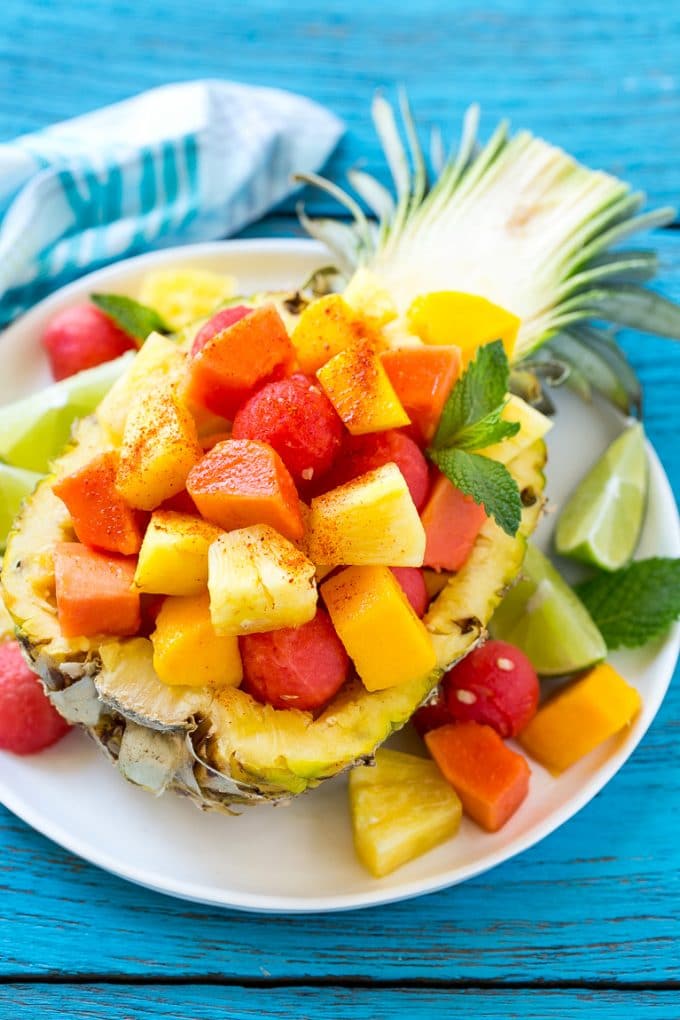 You're going to love this tropical fruit medley served in a hollowed-out pineapple and sprinkled with chili lime seasoning!
You can prepare this simple salad recipe with juicy watermelon, ripe mango, fresh pineapple, and sweet papaya for this feast.
A squeeze of zesty lime juice brings it all together.
3. Cucumber Tomato Salad
Next up, we're diving into a cool and refreshing Cucumber Tomato dish that'll surely tantalize your taste buds.
Imagine cherry tomatoes and crunchy cucumbers mixed with finely chopped red onions, crumbled Cotija cheese, and fresh cilantro.
Drizzled with a zesty dressing of olive oil, red wine vinegar, Mexican oregano, minced garlic, salt, pepper, and sugar for an extra pop.
4. Ensalada Navideña
Ensalada Navideña is a festive fruit medley often enjoyed during Christmas celebrations in Latin America.
This salad sings with the vibrant flavors of apples, pineapples, and maraschino cherries. Each bite is enlivened by crunchy pecans and sweetened coconut.
The creamy dressing binds it all together for a delightful taste experience. For an extra touch of indulgence, consider adding mini-marshmallows!
5. Mexican Street Corn Salad with Avocado
This chunky salad bursts with the vibrant colors of fresh veggies and offers a light yet hearty taste with a kick of spice.
It's made with corn and avocado mixed with tangy lime juice, creamy mayo, hot chili powder, and crumbled cheese.
This dish is easy to whip up and perfect for adding an exciting touch to any gathering!
6. Taco Salad
You're sure to love this customizable Taco dish, packed with beef filling that's seasoned perfectly with chili powder, fire-roasted salsa, cumin, pepper, and fresh cilantro. It's a favorite at my table!
The robust flavors of the hearty beef blend beautifully with the cool crunch of lettuce and burst of ripe tomatoes. Topped off with creamy avocado slices and zesty cheese – it's your personal fiesta in a bowl!
7. Mexican Shrimp Salad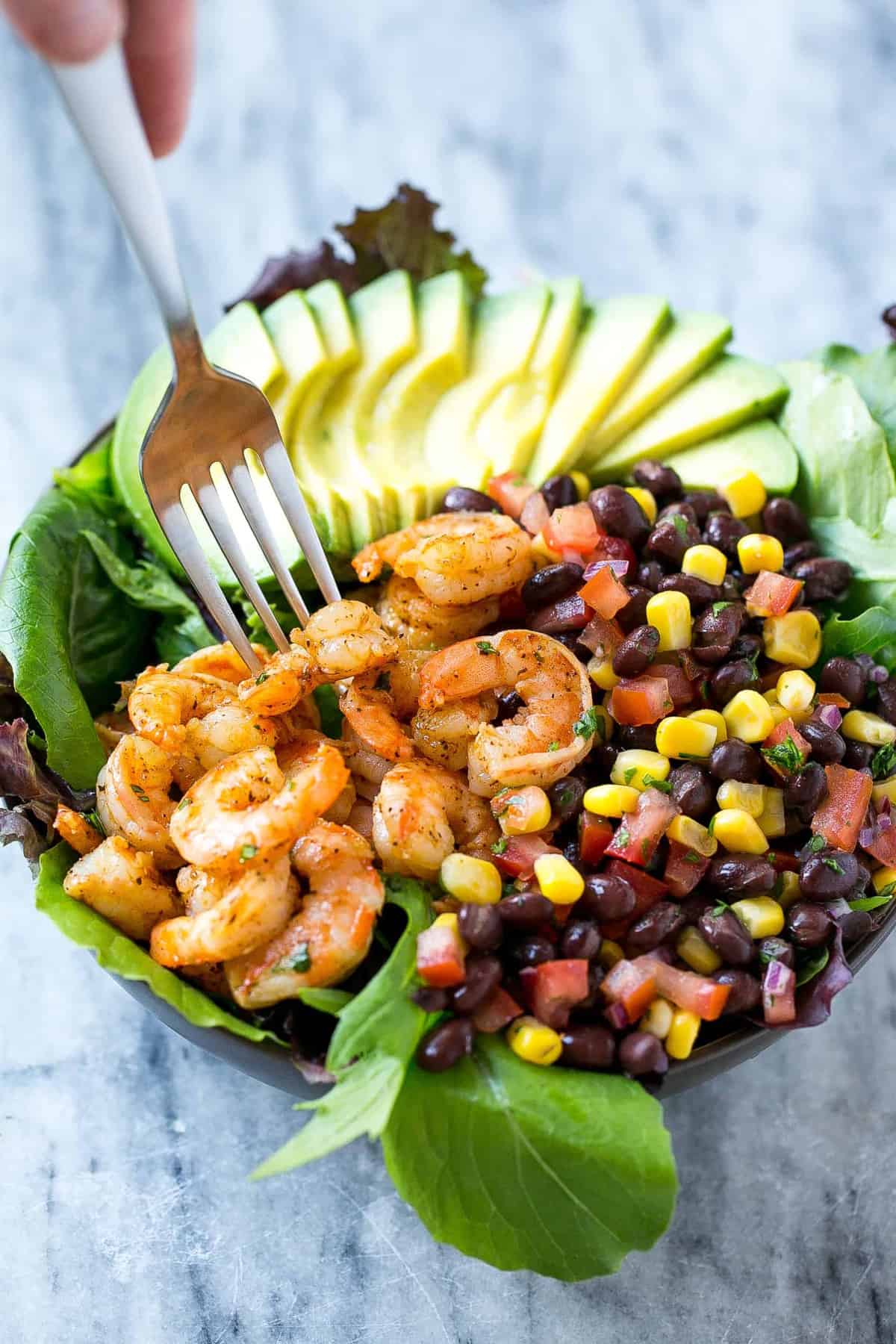 We're switching gears to a seafood delight. This Mexican Shrimp Salad features peeled shrimp tossed with black bean salsa and corn, all amplified by the umami flavor.
It's vibrant yet comforting, with a sprinkle of chili powder that adds a bite and elevates the dish.
8. Black Bean Salad
It's time to prepare a chunky black bean dish that requires no cooking at all and is bursting with flavor from fresh veggies, spices, oil, and seasonings.
Imagine the crisp crunch of peppers mixed with the earthy undertone of beans, heightened by a zesty blend of spices.
9. Chicken Quesadilla Salad
Moving on from the hearty black bean salad, let's dive into my take on Chili's Quesadilla Explosion salad.
You can prepare this recipe using fresh garden veggies, tender grilled chicken, and crispy quesadillas. It's a delightful fusion of textures and flavors that'll transport you straight to Mexico.
You'll find it easy to prepare in just 30 minutes, excluding marination time.
10. Mexican Chopped Salad
Let's switch gears to a lighter fare, the Mexican Chopped Salad. It's bursting with fresh radishes, black beans, avocado, and feta cheese, all tossed in a tangy honey-lime vinaigrette.
With each bite, you'll appreciate the crunch of radish and creamy avocado. These flavors are balanced by the salty nuances of feta.
The dressing is a delightful blend of sweet honey and zesty lime. It ties all these vibrant flavors together beautifully.