Are you looking for a way to simplify your mornings while still enjoying a delicious breakfast? If so, you're in the right place. With our hectic lifestyles, it's often challenging to prepare breakfast from scratch every morning. But, what if you could prep the night before and wake up to an aromatic, ready-to-eat treat?
Here are 25 overnight breakfast recipes that are not only scrumptious but will also let you hit the snooze button one more time.
Banana Nut Overnight Oats With Walnuts
You'll love the rich and nutty flavor of these Banana Nut Overnight Oats with walnuts.
The creamy oats soak up the sweetness of ripe banana slices, while the buttery walnuts add a satisfying crunch.
To enjoy this delicious breakfast, simply pour the overnight oats into a bowl and top them off with toasted granola for extra texture.
For an added touch of sweetness, drizzle some honey on top.
Vegan Breakfast Grain Bowls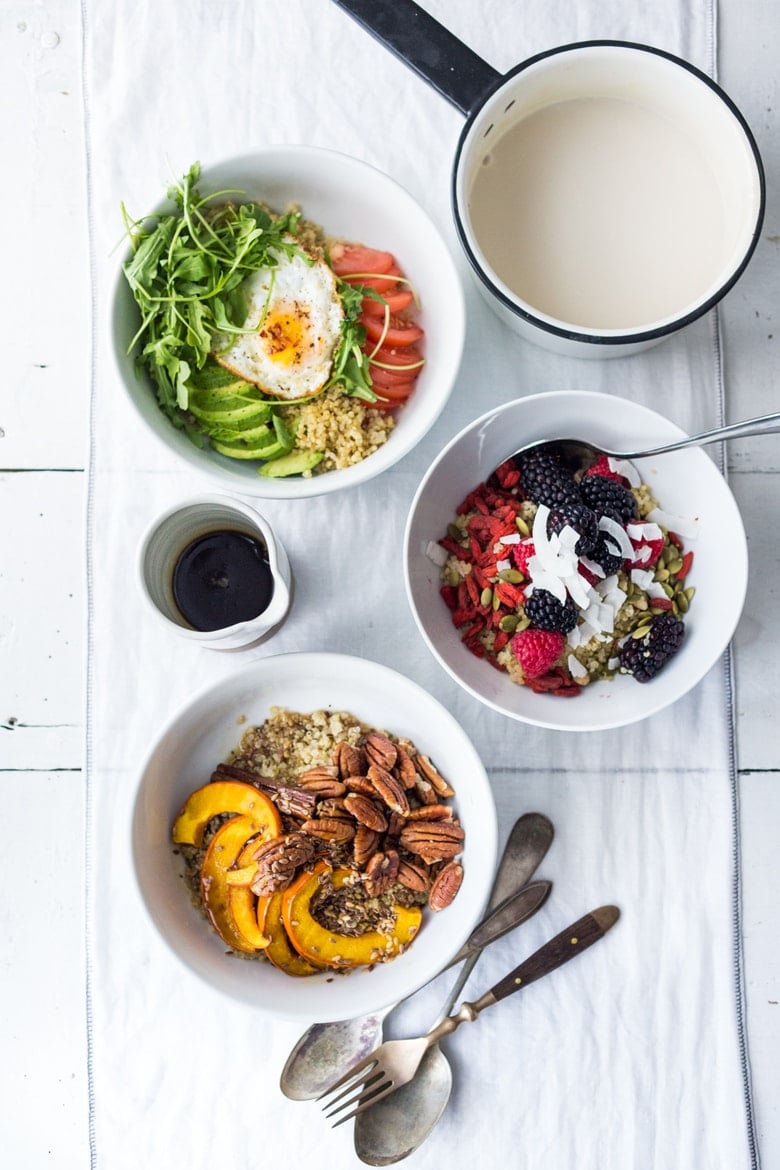 Using a variety of grains like buckwheat, millet, and brown rice, these vegan breakfast grain bowls are packed with nutrients and will keep you full until your next meal.
These bowls are a delicious way to start your day with an abundance of goodness. You can choose from sweet or savory variations, making it easy to switch things up and find the perfect combination that satisfies your taste buds.
Peanut Butter Banana Oatmeal Breakfast Bars
These peanut butter banana oatmeal breakfast bars are a delicious and convenient option for busy mornings. They're creamy, dreamy, and sweet, making them the perfect way to start your day.
Whether you enjoy them warm or cold, these bars are excellent for on-the-go or when you're traveling.
Plus, they're healthier with whole wheat flour and unsweetened applesauce instead of white sugar. You can even use almond butter as an alternative for added flavor.
Baked French Toast Casserole
If you're in the mood for a decadent breakfast, try making a baked French toast casserole. It's the perfect way to use up leftover bread and create a delicious indulgence for your Sunday morning.
The recipe is simple: layer slices of bread with a custard mixture, then top it off with a spiced sugary topping. For an extra touch of sweetness, you can add chocolate chips or soaked raisins.
Incredible Fluffy Overnight Buttermilk Pancakes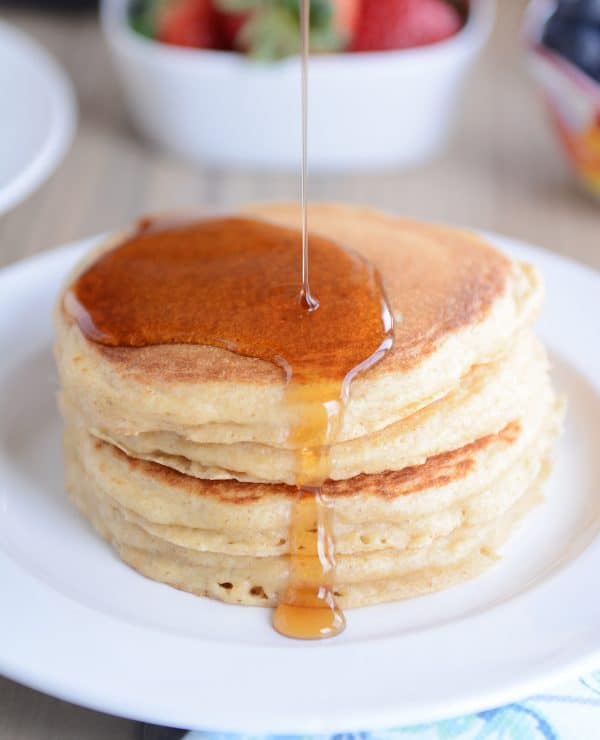 For a mouthwatering twist on traditional pancakes, try making incredible fluffy overnight buttermilk pancakes.
This recipe takes the classic pancake to new heights by incorporating a bread-making technique. By allowing the dough to rest overnight in the fridge, the flavors and texture develop even further, resulting in an incredibly light and fluffy pancake.
Don't worry about the yeast flavor, it's not noticeable at all!
Overnight Sausage Breakfast Casserole
After indulging in fluffy overnight buttermilk pancakes, I discovered another fantastic make-ahead breakfast recipe: Overnight Sausage Breakfast Casserole.
This savory dish combines the comfort of bread pudding with the deliciousness of sausage and peppers.
The stale bread cubes soak up a milk and egg mixture, creating a custard-like texture that is perfect for breakfast.
Make-Ahead Banana Nut Baked Oatmeal Cups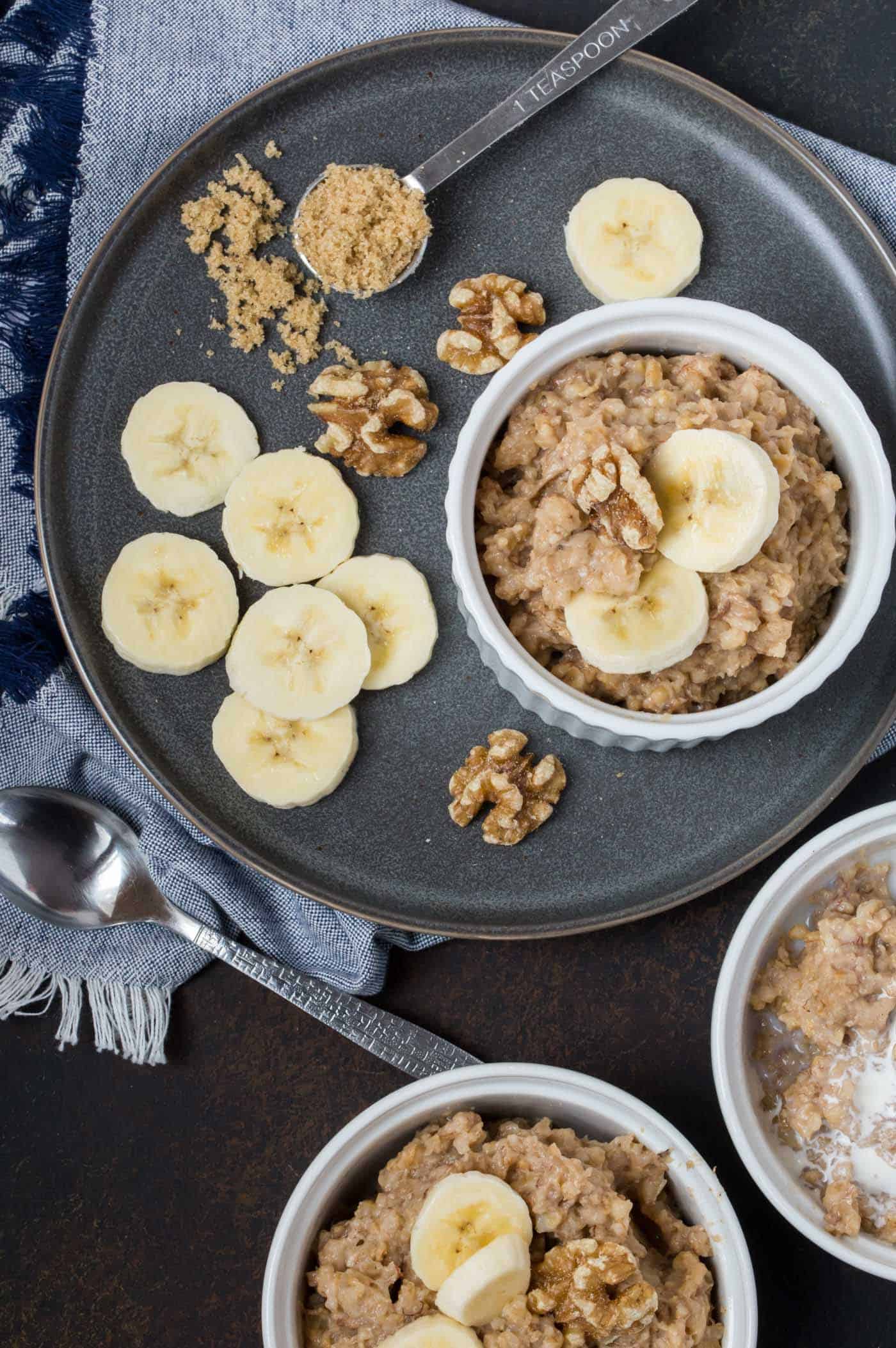 To achieve a muffin-like appearance and soft texture, you can use mini ramekins for easier handling of the banana nut baked oatmeal cups.
These little cups are perfect for a quick and satisfying breakfast. The combination of ripe bananas and crunchy nuts creates a deliciously sweet and nutty flavor.
They are also incredibly easy to make ahead of time, allowing you to have a nutritious breakfast ready to go in the morning.
Plus, they freeze well, so you can always have some on hand whenever you need them!
Chocolate Peanut Butter Granola Bars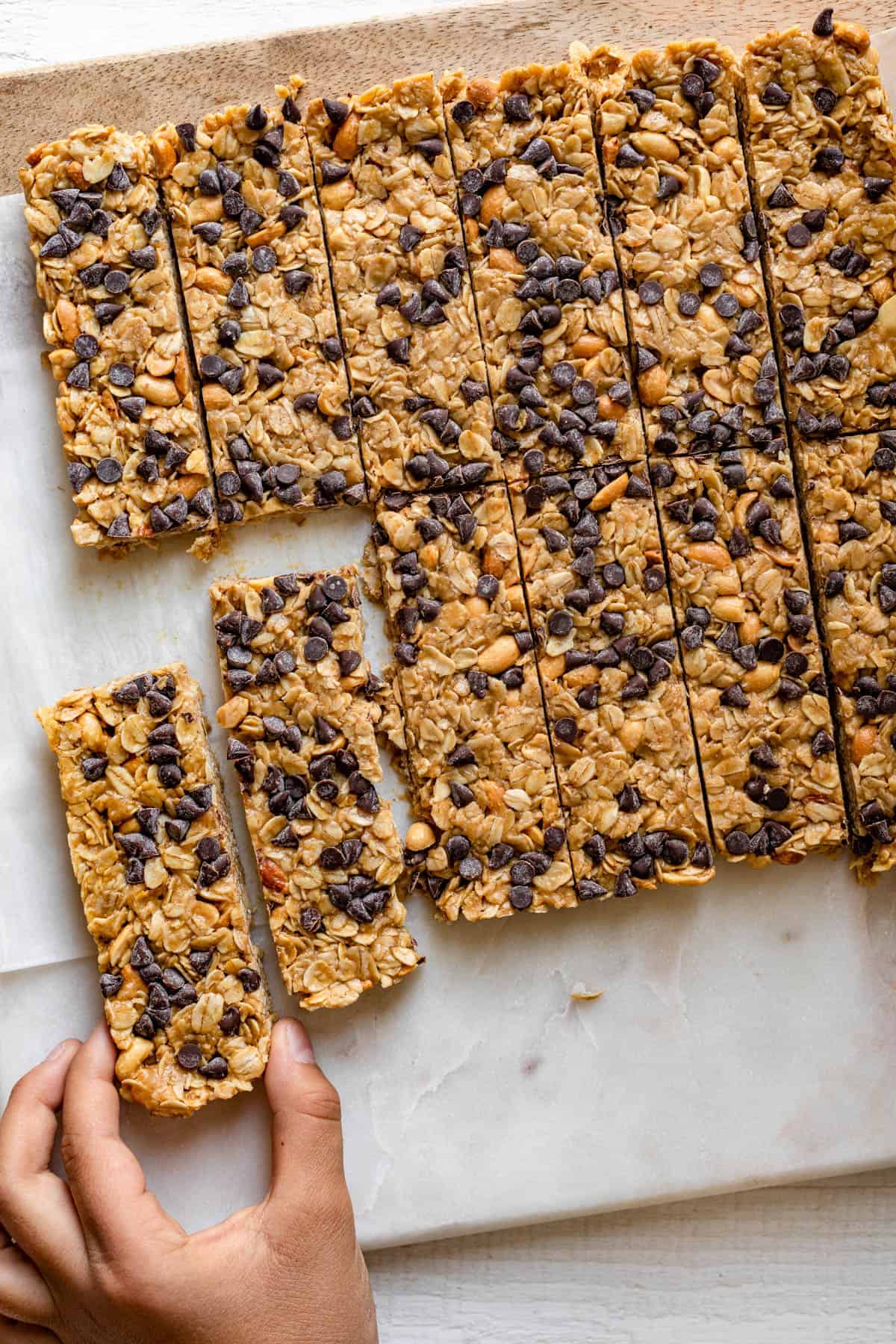 If you're craving a sweet and nutty snack, try these homemade chocolate peanut butter granola bars. They're packed with flavor and perfect for on-the-go!
These bars are a delicious combination of rich chocolate and creamy peanut butter, making them the ultimate treat. They are filled with crunchy nuts and sweet dried fruits, creating a satisfying texture.
They're easy to make ahead of time, so you can always have a tasty snack ready whenever you need it.
Make-Ahead Breakfast Frittata Muffins
These frittata muffins are a great option for busy mornings when you need a quick and satisfying breakfast. Packed with protein and veggies, they'll keep you full and energized all morning long.
The best part is, you can make a big batch ahead of time and freeze them for later. Just pop one in the microwave or oven to reheat, and you're good to go.
Say goodbye to rushed mornings and hello to delicious convenience.
Make-Ahead Fruit & Yogurt Breakfast Parfaits
The key to these creamy fruit and yogurt parfaits is the increased dairy quantity for extra richness and texture. By combining milk and yogurt, these parfaits create a velvety smoothness that will satisfy your morning cravings.
The convenience of making them ahead allows you to enjoy a delicious breakfast any day of the week. Prepare them up to three days in advance, ensuring a hassle-free morning routine.
Apple Cinnamon Overnight Oats
The combination of the warm, comforting flavors of apple and cinnamon with the cool creaminess of the yogurt creates a breakfast that is both satisfying and indulgent.
It's like having a bowl of apple crisp topped with a scoop of vanilla ice cream, but in a convenient make-ahead form.
Spinach and Bacon Quiche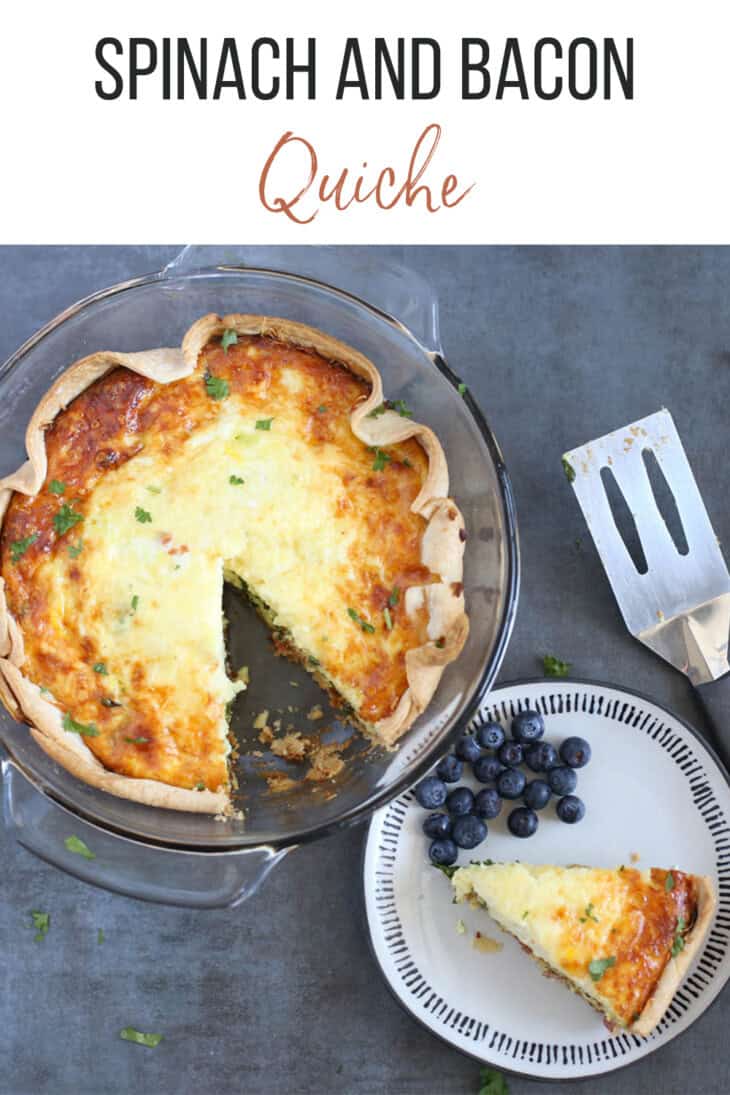 This make-ahead breakfast combines fluffy eggs, gooey cheese, crispy bacon, and nutritious spinach all nestled in a delicate pastry crust.
The recipe's simplicity allows me to prepare it the night before, ensuring a stress-free morning.
I highly recommend adding onions and using high-quality cheese like Gruyere for an extra burst of flavor.
Healthy Apple Pancakes
When I'm in the mood for a healthier breakfast option, I love whipping up a batch of these delicious apple pancakes. They're the perfect balance of fluffy and flavorful, with just the right amount of sweetness.
Made with fresh apples and whole wheat flour, they provide a nutritious twist on a classic favorite. Top them off with a drizzle of maple syrup or a dollop of Greek yogurt for an extra touch of indulgence.
You'll feel satisfied and energized all morning long!
Make-Ahead Breakfast Sandwiches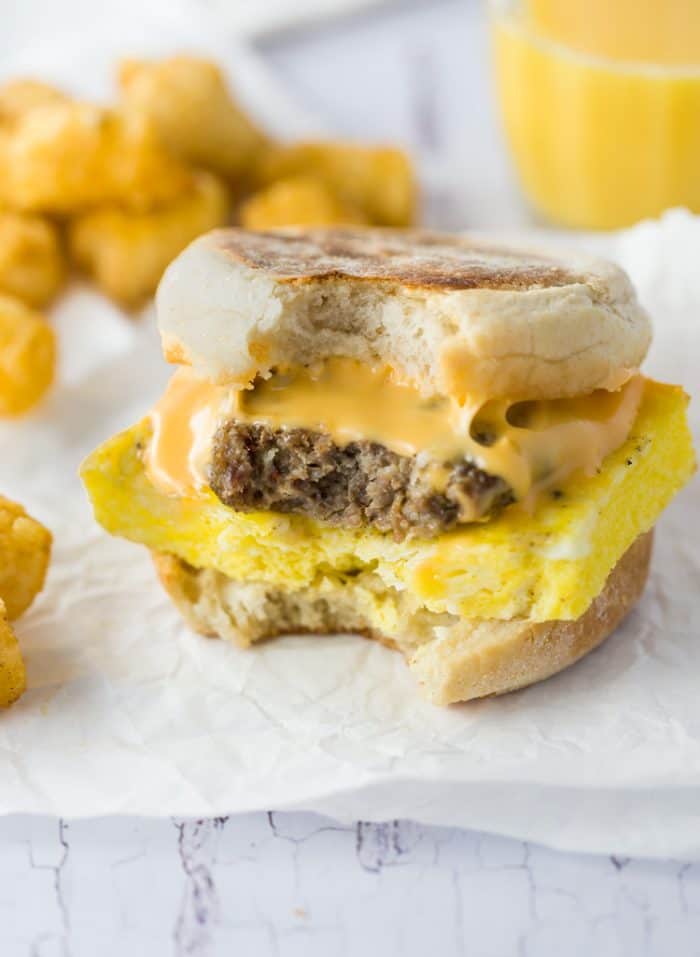 I love how versatile and convenient make-ahead breakfast sandwiches can be. They're a lifesaver on busy mornings when I need a quick and filling meal.
I like to prepare a batch using a sheet tray, baking them in the oven until perfectly toasted. After they cool down, I wrap each sandwich individually and store them in the freezer.
In the morning, all I have to do is pop one in the microwave for a delicious and satisfying breakfast. The best part is that you can customize your sandwiches with different meats, cheeses, and veggies.
My personal favorite combination includes crispy bacon, fluffy eggs, melted mature cheddar cheese, sautéed onions, and a dollop of smoky chipotle mayo. Yum!
Triple Berry Overnight Oats
To enjoy a refreshing and nutritious breakfast, try making a jar of triple berry overnight oats.
These delightful oats are packed with the goodness of three berries: strawberries, blueberries, and raspberries.
Simply mix rolled oats, your choice of milk (dairy or plant-based), Greek yogurt, honey for sweetness, and a generous handful of mixed berries in a jar.
Leave it to soak overnight in the fridge for a creamy and flavorful morning treat that will keep you energized throughout the day.
It's like having dessert for breakfast!
Oven Roasted Breakfast Potatoes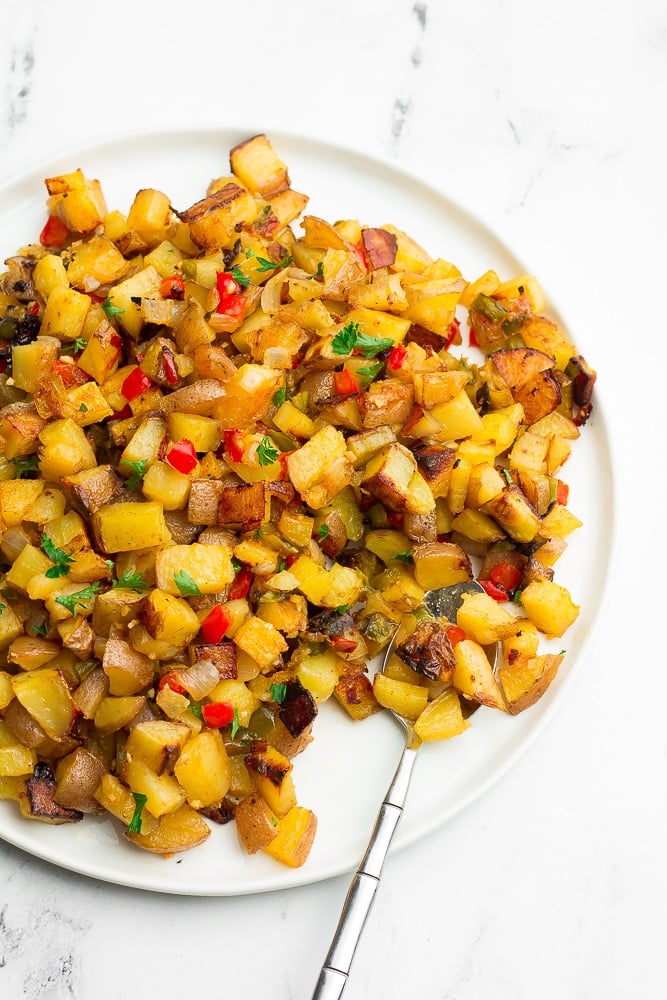 After enjoying a hearty bowl of Triple Berry Overnight Oats, I like to pair it with some delicious Oven Roasted Breakfast Potatoes. These golden-brown spuds are the perfect addition to my morning meal.
Thanks to the clever method of preparing a large batch and refrigerating them overnight, I can quickly fry up these crispy potatoes whenever I need them. It's a time-saving solution that adds a substantial component to my breakfast routine.
Make-Ahead Carrot Cake Baked Oatmeal
With its blend of warm spices and sweet carrots, this baked oatmeal is a flavorful twist on traditional breakfast options. The texture is like a cross between a cookie and a granola bar, making it satisfyingly chewy.
I love how the carrot cake flavors are perfectly suited for breakfast. Despite its indulgent appearance, this dish is actually quite healthy with wholesome ingredients.
Personally, I enjoy adding raisins and chopped nuts for extra flavor and crunch, but feel free to omit them if you prefer.
Blueberry Pancake Breakfast Squares
Start by preheating your oven to 350°F and greasing a baking dish with non-stick cooking spray.
These Blueberry Pancake Breakfast Squares are a game-changer for busy mornings. Imagine waking up to the smell of warm, fluffy pancakes without having to stand at the stove flipping them one by one.
With this recipe, you can simply pour the batter into a baking dish and let it bake to perfection. The result? Delicious squares of pancake goodness that can be easily enjoyed by everyone in the family.
Freezer Breakfast Burritos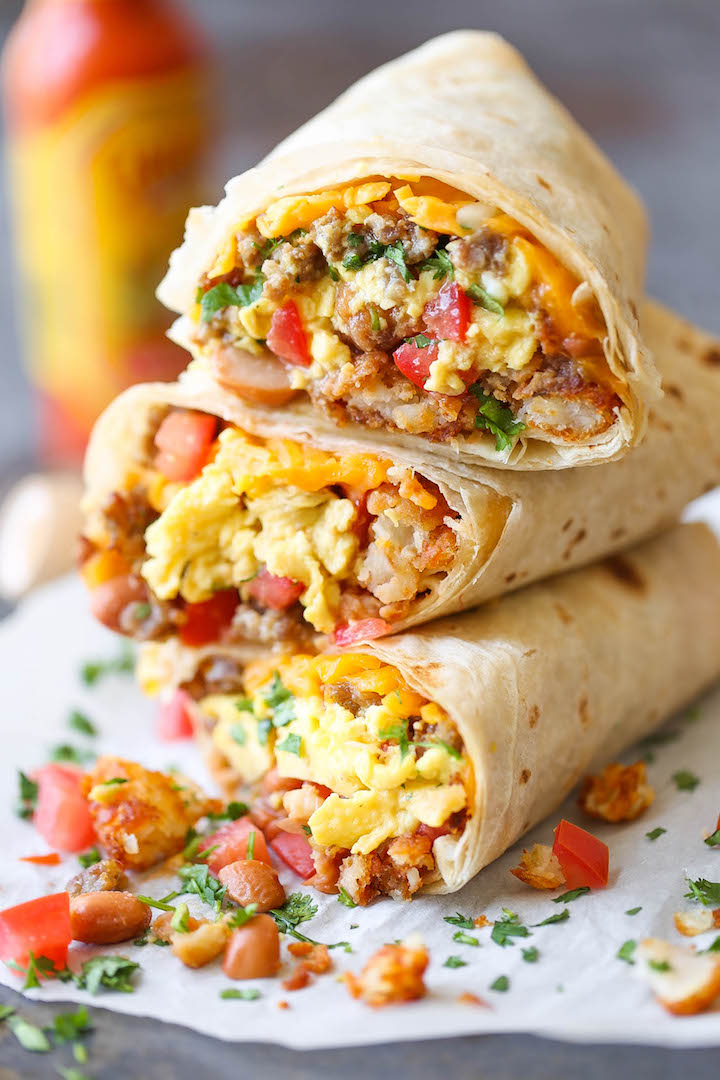 You can easily prepare freezer breakfast burritos by filling tortillas with scrambled eggs, potatoes, refried beans, and cheese. These hearty burritos are the perfect make-ahead option to start your day right.
The combination of fluffy eggs, crispy potatoes, creamy beans, and gooey cheese creates a satisfying and flavorful bite.
Plus, you can customize the fillings to your liking – add some crispy bacon or spicy jalapeños for an extra kick.
Apple Hand Pies
After exploring the convenience of freezer breakfast burritos, let's shift our attention to a sweet and delightful morning treat: apple hand pies.
These little pastries resemble round pop tarts and are perfect for busy mornings. With store-bought pie dough and canned pie filling, they're incredibly easy to make.
Ham and Cheese Breakfast Casserole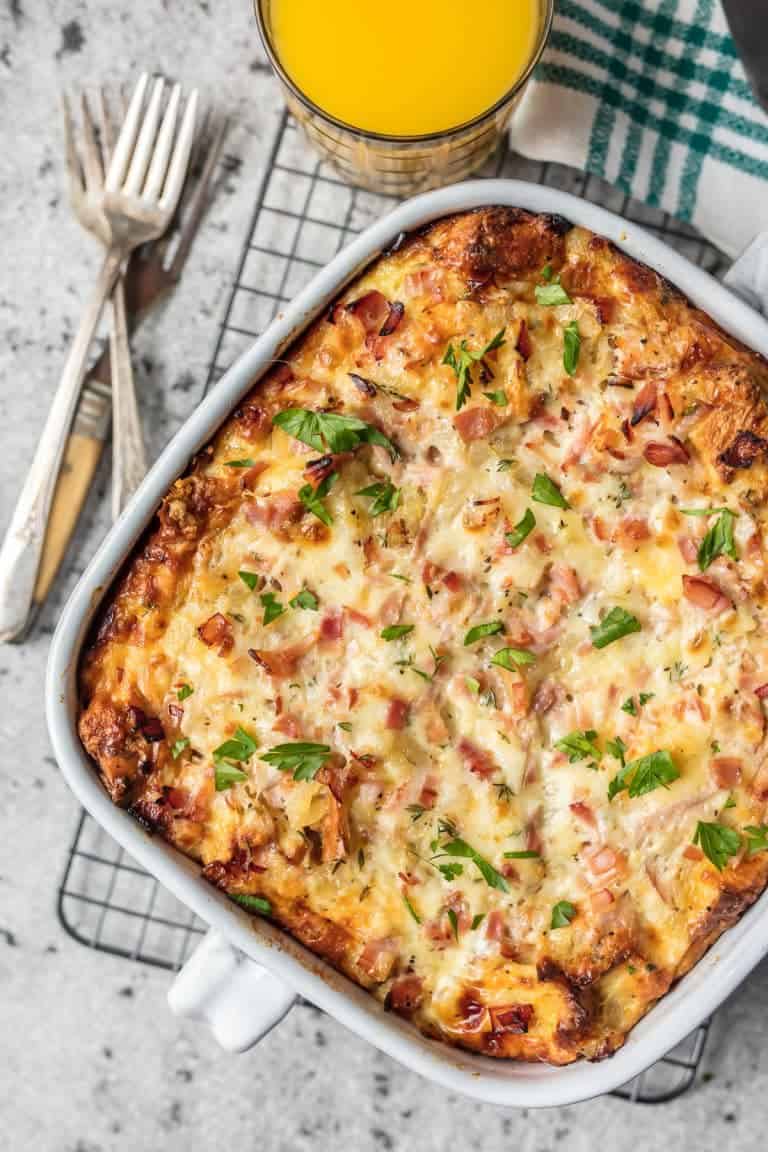 Let's dive into the savory goodness of a ham and cheese breakfast casserole, a delicious way to start your day.
Picture this: layers of crusty bread soaked in a rich custard, studded with chunks of salty ham and pockets of gooey melted cheese. Each bite is like a warm hug for your taste buds.
This make-ahead recipe is perfect for busy mornings or lazy weekends when you want something hearty and satisfying without all the fuss.
Cinnamon Raisin French Toast Bake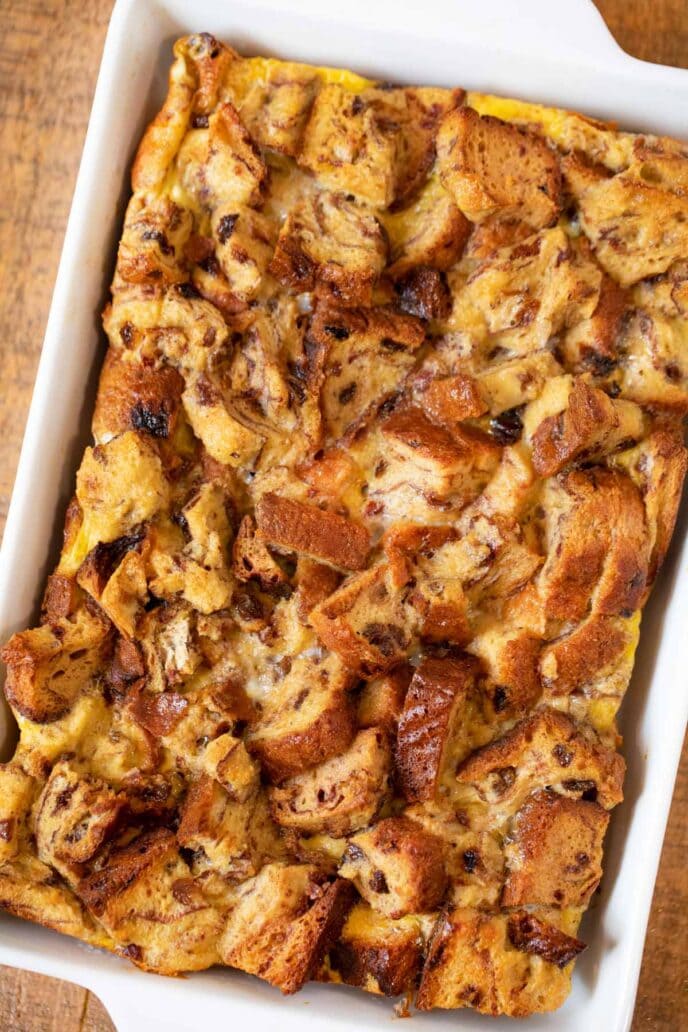 This make-ahead breakfast treat boasts a creamy middle and a toasted, crunchy top that will make you feel like you've found your breakfast soulmate.
Get ready for a taste sensation that will leave you craving more.
Banana Breakfast Cookies
If you're looking for a guilt-free breakfast option, these banana breakfast cookies are the perfect choice.
Made with wholesome ingredients like oats, bananas, raisins, and walnuts, they're packed with fiber and nutrients to keep you energized all morning long.
These cookies are a great alternative to traditional baked goods and can be enjoyed on the go or paired with a cup of coffee for a satisfying start to your day.
For an extra treat, add some optional chocolate chips for added indulgence.
Make-Ahead Frittata Squares with Spinach, Tomatoes, and Feta
You can easily prepare these delicious frittata squares by combining fresh spinach, tomatoes, and feta cheese for a flavorful breakfast option.
The recipe is simple and resembles a crustless quiche. Start by sautéing the vegetables on the stove, then pour in the whisked eggs and cheese mixture.
Transfer to the oven to finish cooking. This make-ahead dish is perfect for busy mornings or brunch gatherings with friends.
Make-Ahead Banana Bread Coffee Cake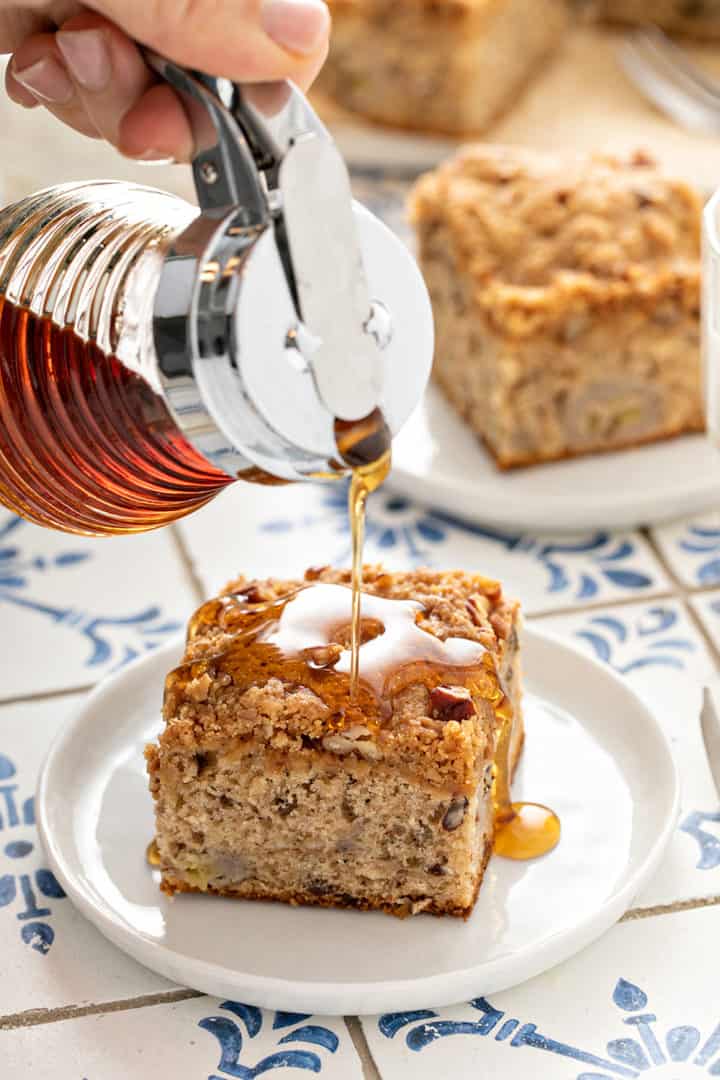 The best part about making this banana bread coffee cake is that it's so easy to prepare in advance.
Imagine waking up to the sweet aroma of freshly baked banana bread, with a hint of rich coffee flavor.
The cake itself is tender and moist, with a crunchy streusel topping that adds a nutty texture.
For an extra indulgence, you can even sprinkle some chocolate chips into the batter.
And don't forget to drizzle it with caramel for the ultimate breakfast treat.