I'm a massive fan of Asian cuisine and being vegan doesn't mean I've to miss out!
I've gathered 25 easy vegan Asian recipes that'll make your taste buds dance. They're quick, delicious and perfectly suited for any home cook.
Whether you're craving dumplings or miso soup, there's something here for everyone.
So let's dive in and discover the vibrant flavors of vegan Asian cooking.
1. Vegan Summer Rolls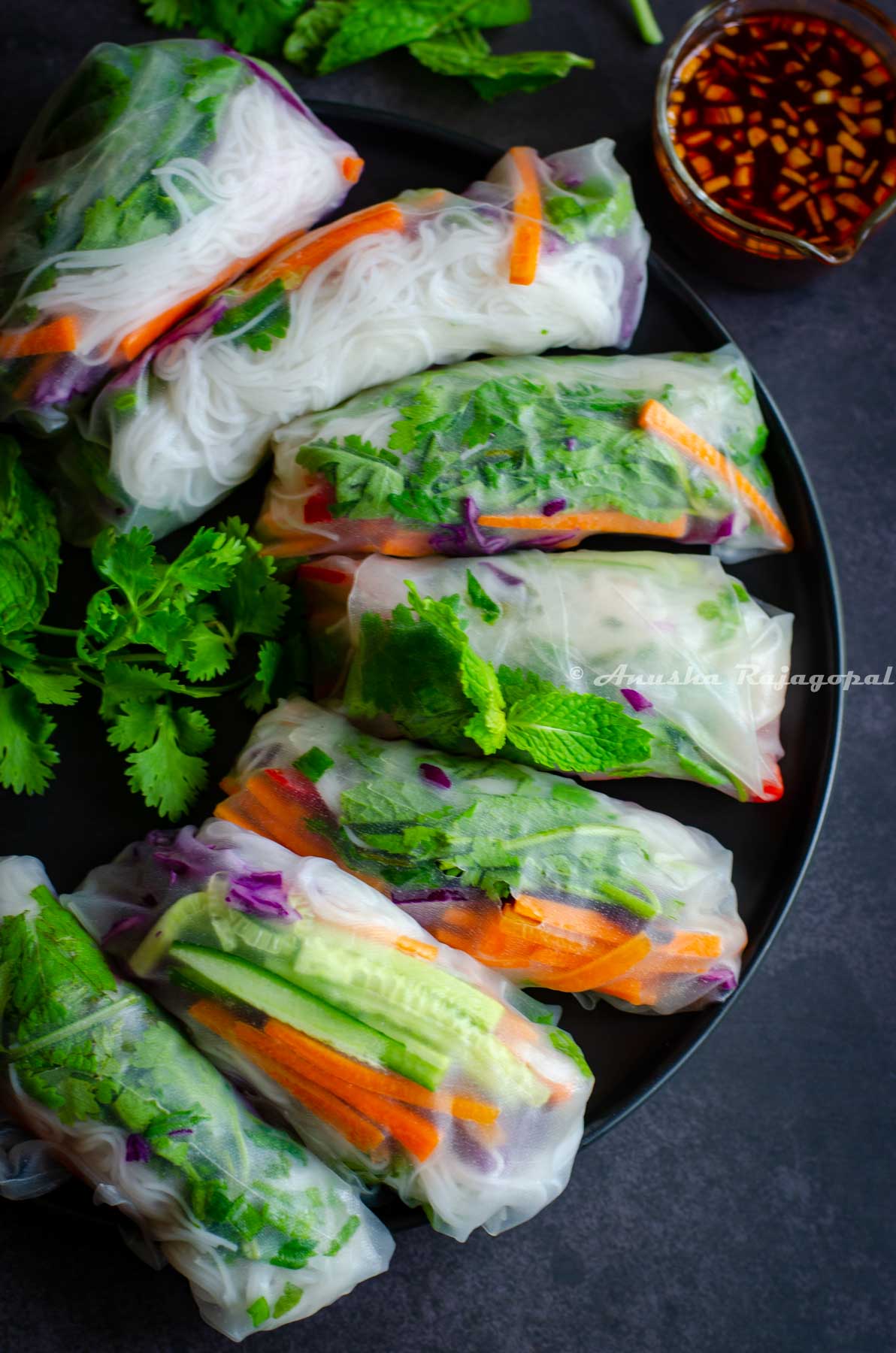 Packed with crunchy veggies like cabbage, carrots, and bell peppers, they are perfect for crafting your own perfect bite.
There's nothing quite like the freedom of enjoying them dipped in vegan ponzu sauce with a splash of Sriracha for that extra kick.
It's an effortless treat that truly celebrates the vibrant flavors of summer.
2. Crispy Vegetable Tofu Dumplings
In your quest for a delectable bite, you won't be disappointed with these crispy vegetable tofu dumplings. Packed with carrots, cabbage, mushrooms, and tofu, they're a sensational vegan delight.
Perfect as an appetizer or dinner, they're sure to satisfy any cravings. And the best part? You're free to enjoy them without any guilt.
Dive in and embrace the delicious freedom of easy vegan Asian recipes!
3. Authentic Chana Masala
Chana Masala's a game changer. It features chickpeas in a South Asian recipe that'll tempt every taste bud with its flavorful coating and extra kick from garam masala and ginger.
As a vegan, it gives me the freedom to enjoy rich, exotic flavors without compromising my dietary choices.
It's easy to prepare, perfect for those seeking liberation from complicated cooking processes.
4. Vegan Red Curry Noodle Bowls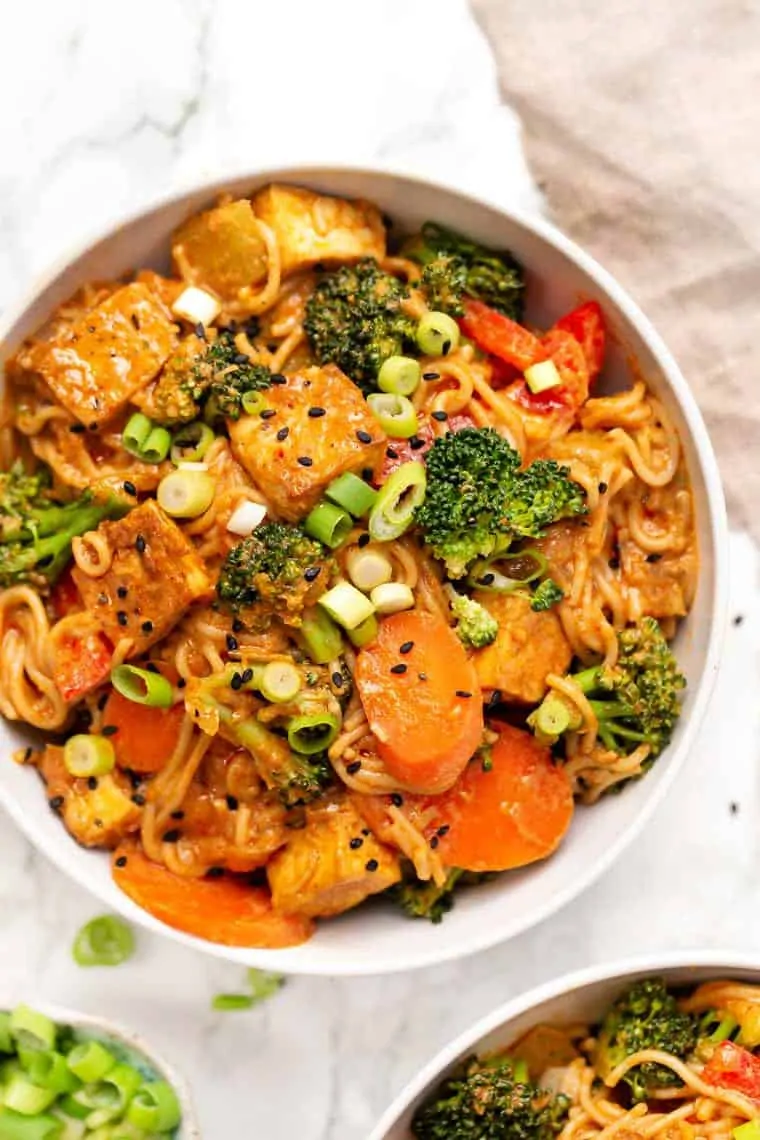 Red Curry Noodle Bowls aren't just for carnivores. This tasty dish includes tofu and a variety of veggies for added texture and nutrients.
I love how it liberates me from the kitchen in just 30 minutes, giving me more time for myself.
The creamy red curry sauce envelopes everything beautifully, making it an easy favorite in my vegan Asian recipe repertoire.
5. 15-Minute Miso Soup with Greens and Tofu
It's time to talk about our next dish, Minute Miso Soup with Greens and Tofu, a healthful concoction that'll nourish your body from within.
This 15-minute detox recipe offers freedom from complicated cooking. Infused with miso broth, green chard, tofu, green onions, and seaweed; it's rich in vitamins, minerals, and plant-based protein.
Embrace this easy vegan Asian recipe for a wholesome meal!
6. 15-Minute Vegan Chili Garlic Noodles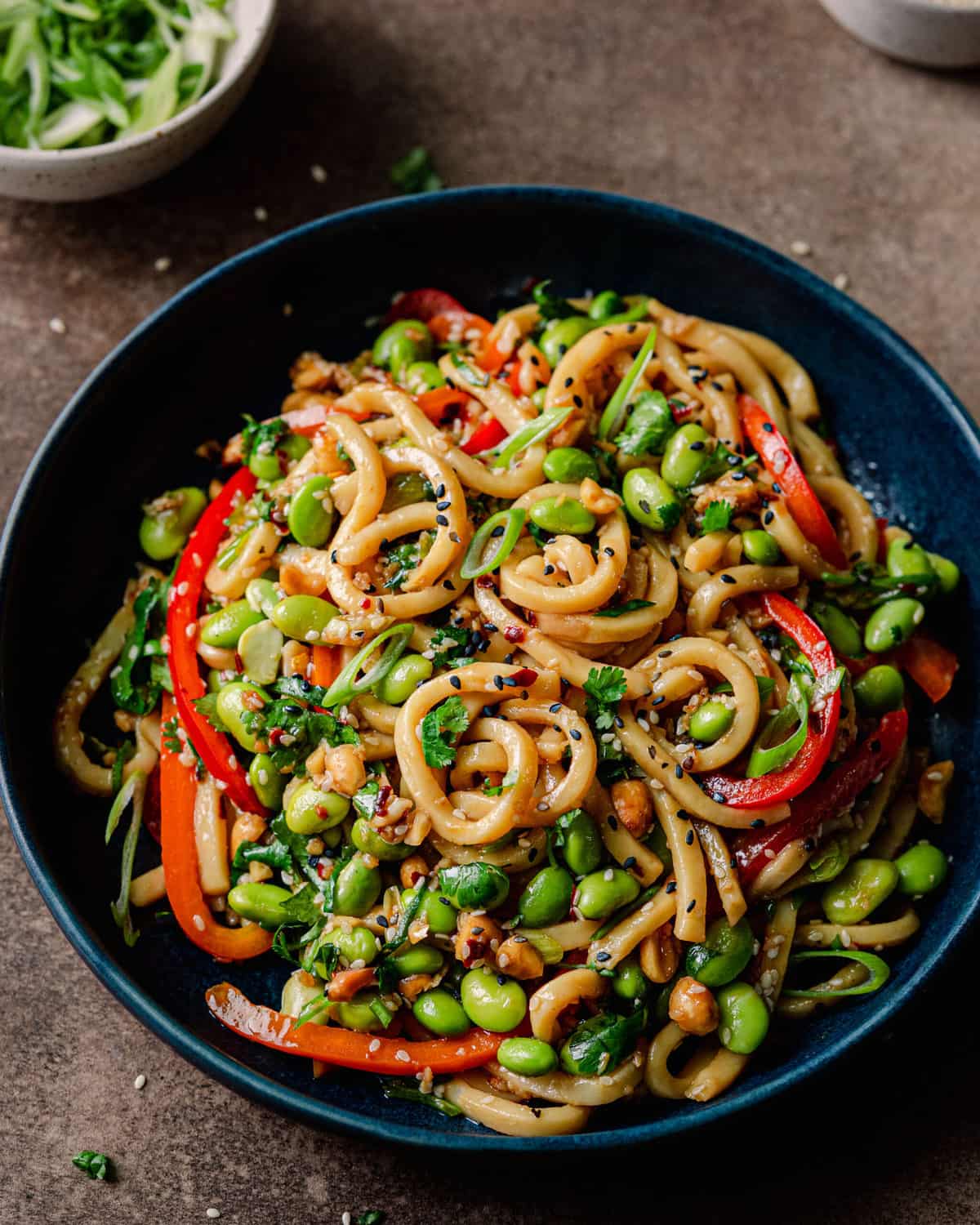 We're moving on to our Minute Chili Garlic Noodles, a spicy and garlicky dish that's sure to excite your taste buds.
These succulent udon noodles are tossed in garlic chili oil with an abundance of fresh veggies.
Crave more heat? Add extra chili flakes!
This quick, easy vegan recipe gives you the freedom to customize the spice level to your liking.
7. Teriyaki Tempeh Stir-Fry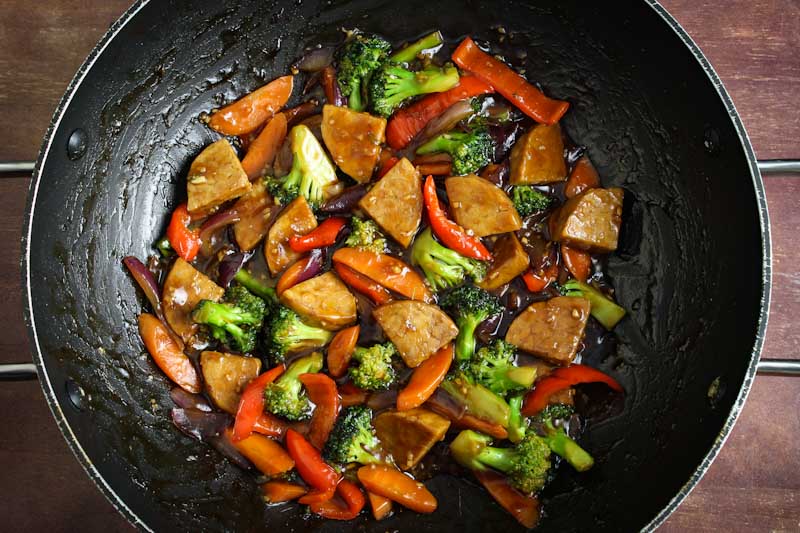 You're gonna love this Teriyaki Tempeh Stir-Fry. It's a dish where fermented soybeans meet fresh veggies and delicious teriyaki sauce.
This easy-to-make stir-fry gives you the freedom to choose your favorite veggies. And if gluten's not your thing, just swap regular flour for cornflour in the sauce.
Go ahead, liberate your taste buds with this simple yet flavorful Asian vegan delight!
8. Thai Pineapple Fried Rice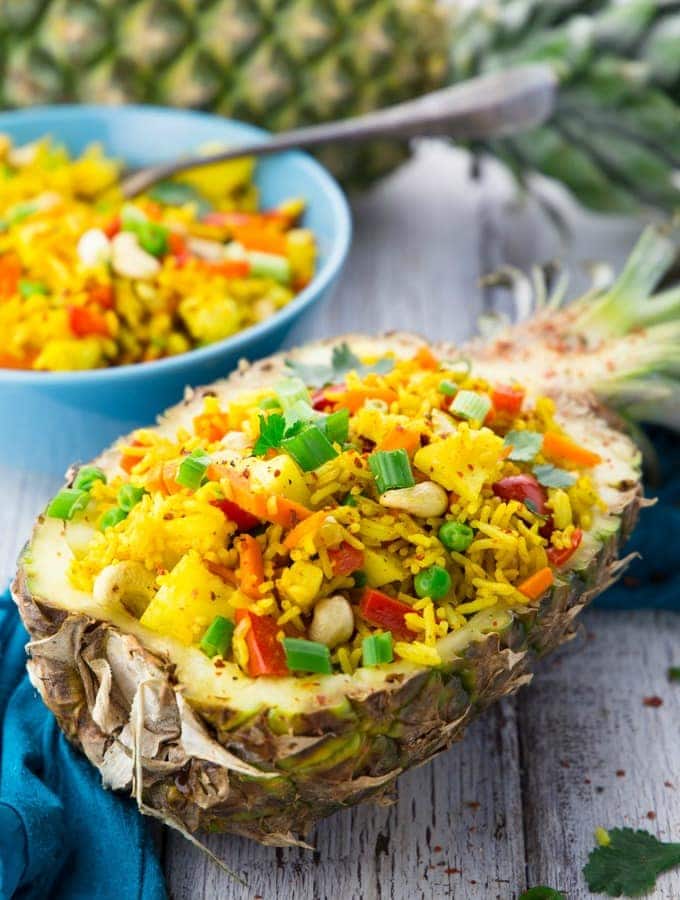 After exploring the savory delight of Teriyaki Tempeh Stir-Fry, let's shift gears to something more tropical.
Imagine liberty in savoring a blend of crunchy veggies, juicy fruit, fresh herbs, and cashews mingling with rice! My Thai Pineapple Fried Rice recipe gives us just that – a tangy sweetness from pineapple and an extra kick from curry powder, all served up in a pineapple bowl!
9. Sweet and Sour Tofu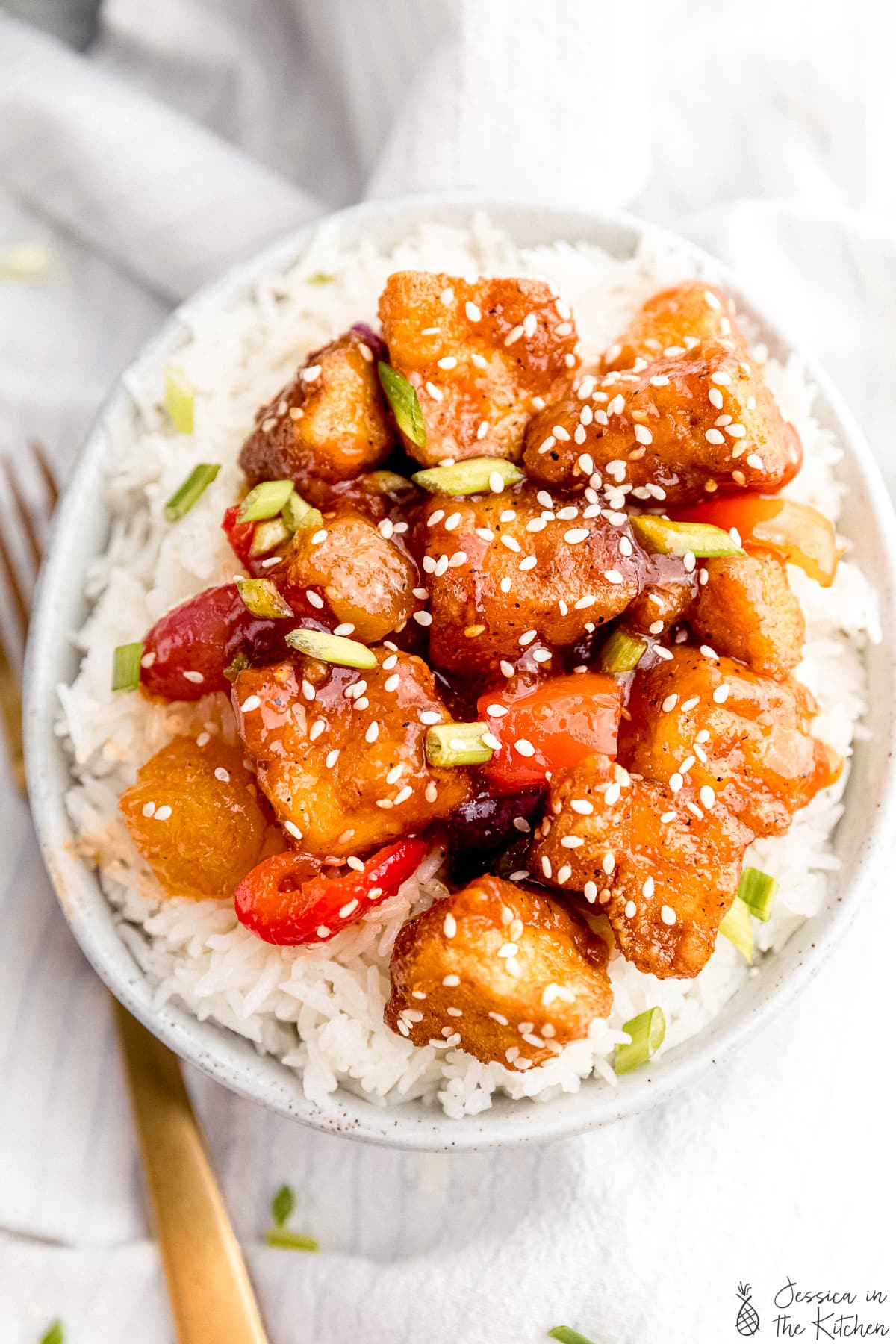 Sweet and Sour Tofu is a dish that can win over even the most skeptical of tofu eaters with its crispy exterior and tangy sauce.
This recipe offers you the freedom to be creative by substituting or adding veggies. Though it requires several ingredients, nothing is outlandish.
Feel liberated in your kitchen as you prepare this easy vegan Asian delight!
10. Vegan Thai Green Curry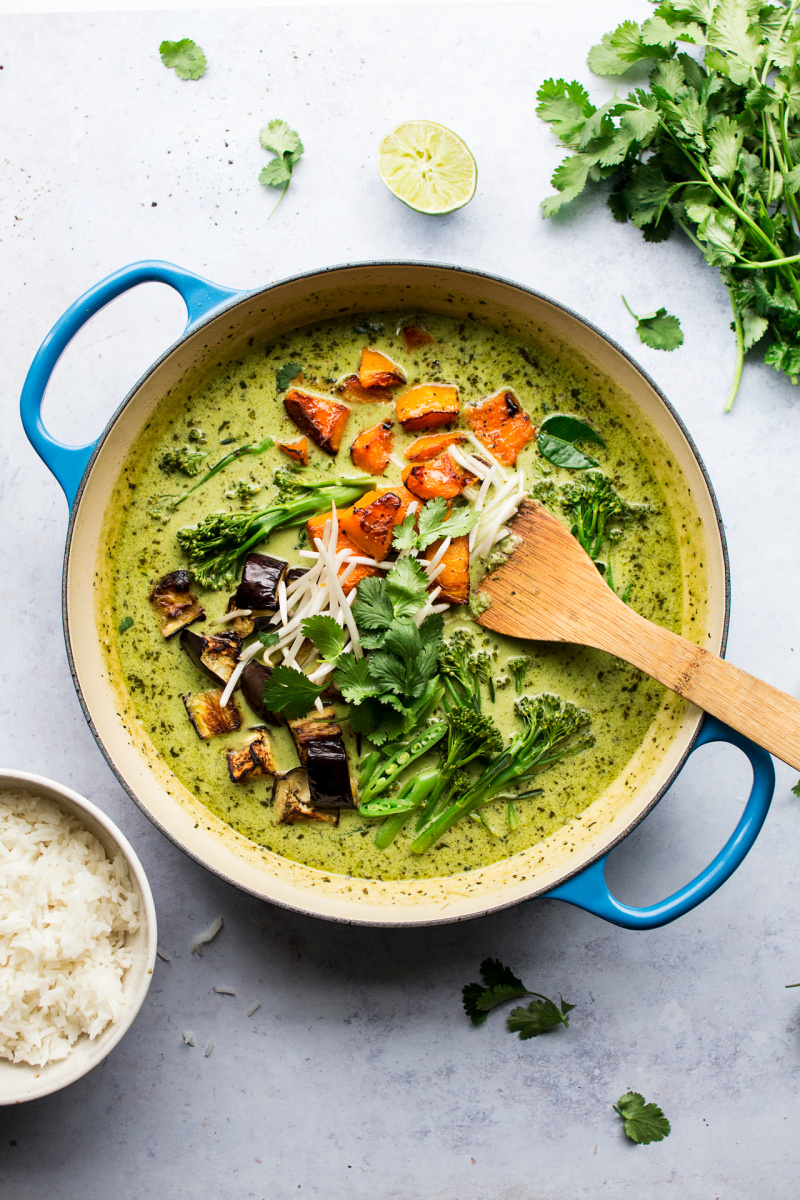 Thai green curry, where a mild spice meets an aromatic blend of lemongrass and cilantro.
I'll guide you on how to create this zesty, luscious vegan delight. We'll use butternut squash, eggplant, snap peas, bathing in umami sauce.
It's your chance to explore culinary freedom with this easy Asian recipe that balances nutrition and taste effortlessly!
11. Vegan Thai Noodle Salad with Peanut Sauce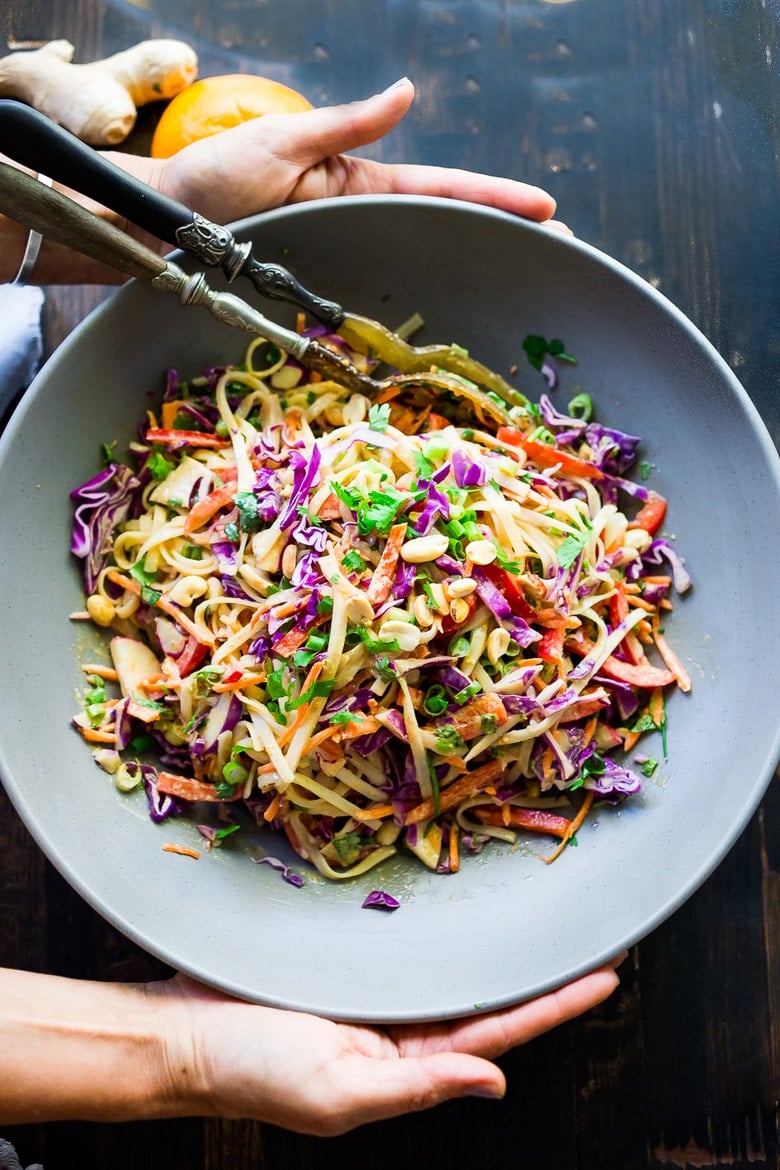 Thai noodle salad is chock-full of colorful veggies and rice noodles, all drenched in a creamy peanut sauce.
It's a liberating dish for those who crave variety, without the need for meat. Topped with crunchy peanuts, this salad presents boundless flavors and textures, freeing your palate from mundane meals.
Embrace this easy vegan recipe and taste the freedom!
12. Vegetable Stir-Fry Noodles
Vegetable stir-fry noodles, a quick 25-minute dish that's bursting with freshness and flavor.
Imagine the freedom of effortlessly cooking your own meal without compromising on taste or nutrition!
The tangy Asian sauce adds a zesty punch to it all.
This recipe liberates you from mundane meals, offering an exciting vegan alternative that doesn't skimp on satisfaction.
13. Vegan Sesame Tofu Dumplings
You're about to fall in love with these sesame tofu dumplings. They've got a tender, crisp wrapper enveloping a savory tofu filling that'll make your tastebuds dance.
They're part of my journey towards freedom, breaking away from animal products without sacrificing flavor. This easy vegan recipe liberates your palate and your conscience.
If you're yearning for culinary independence, these dumplings are your passport to delicious freedom.
14. Vietnamese Vegan Hot Pot
It's a communal cooking experience that'll surely tickle your tastebuds.
Imagine an umami broth bubbling away in the center, surrounded by fresh bok choy, bean sprouts, and mushrooms. We're talking liberty in a pot; you choose what to cook and when.
It's fun, engaging, and delicious – a culinary freedom express!
15. Vegan Egg Rolls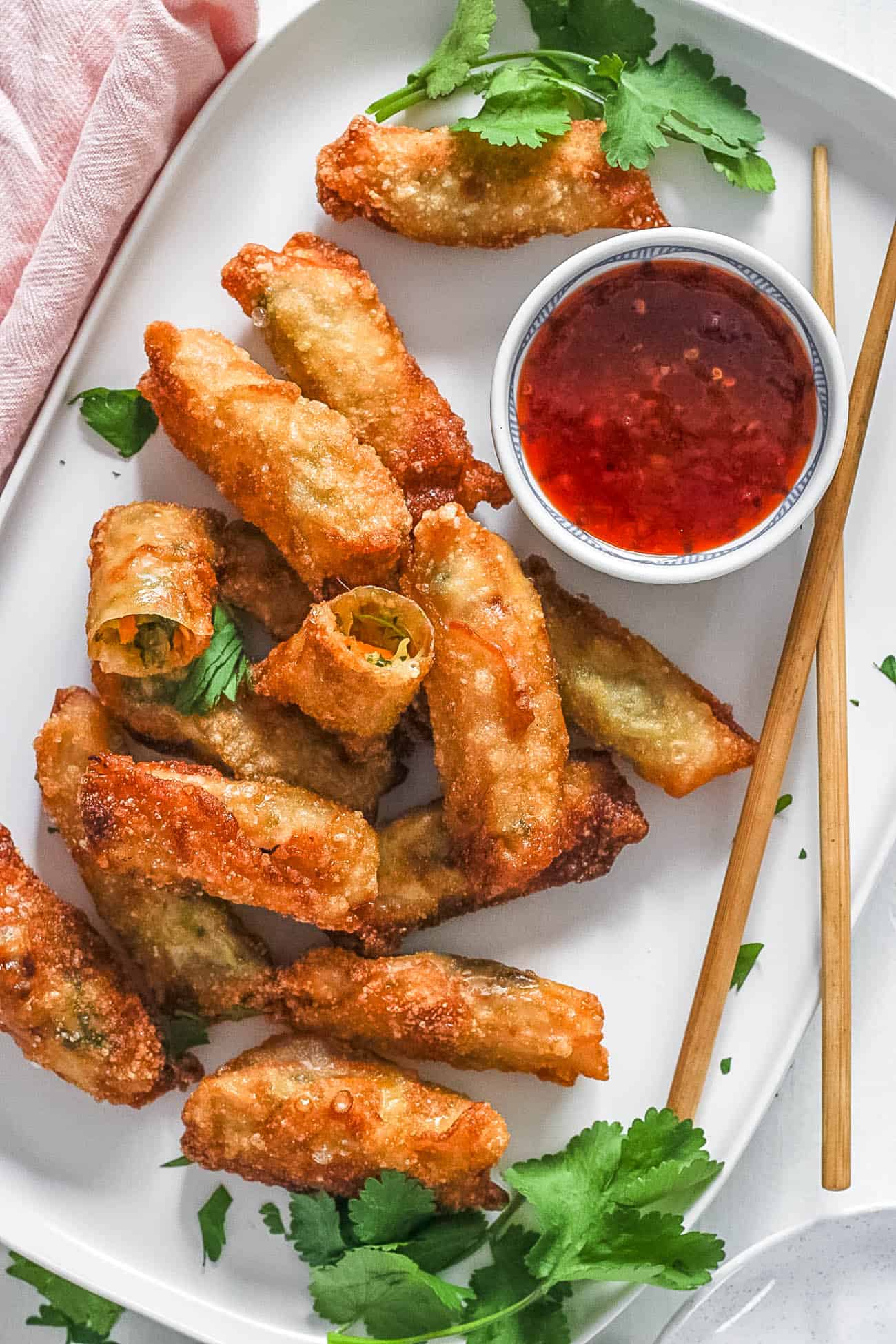 Homemade crispy egg rolls are filled with tender veggies like mushrooms, cabbage, and carrots – they're so good you won't even miss the takeout!
These scrumptious parcels of joy are a cinch to make. You're free from preservatives or unknown ingredients.
Relish in the liberty of creating your own flavors while embracing an empowering vegan lifestyle.
16. Thai Green Curry with Spring Vegetables
Green curry bowl, a dish that is loaded with garden-fresh veggies like carrots, asparagus, and baby spinach. It's creamy and flavorful without being overly spicy.
Looking for freedom in your diet? This Thai Green Curry recipe is a liberating option. It gives you the choice to experiment with different vegetables while maintaining the essential rich taste of Asian cuisine.
17. Vegan Mapo Tofu
Continuing with our culinary adventure, we're exploring a delightful twist on a traditional Chinese dish: mapo tofu. In this version, succulent shiitake mushrooms replace the pork, and silken tofu is bathed in a piquant fermented black bean sauce.
Delighting in this vegan version liberates you from dietary restrictions, letting you savor complex flavors while respecting your lifestyle choices.
18. Chinese Vegetable Stir-Fry
Switching gears, we're now moving on to a Chinese Vegetable Stir-Fry that's loaded with nutritious veggies and served over fluffy white rice.
I love this recipe because it offers the freedom to use any leftover veggies in your fridge. Plus, it's a healthier alternative to take-out, allowing you to maintain control over your nutrition while enjoying a deliciously easy vegan Asian dish.
19. Vegan Orange Tofu
Vegan Orange Tofu: it's freedom in food form! It perfectly replicates orange chicken's taste without the meat, using fresh orange juice and zest over crispy tofu.
This sweet, sticky delight is not just an easy vegan Asian recipe; it's liberation for your taste buds.
20. Rice Paper Rolls with Mango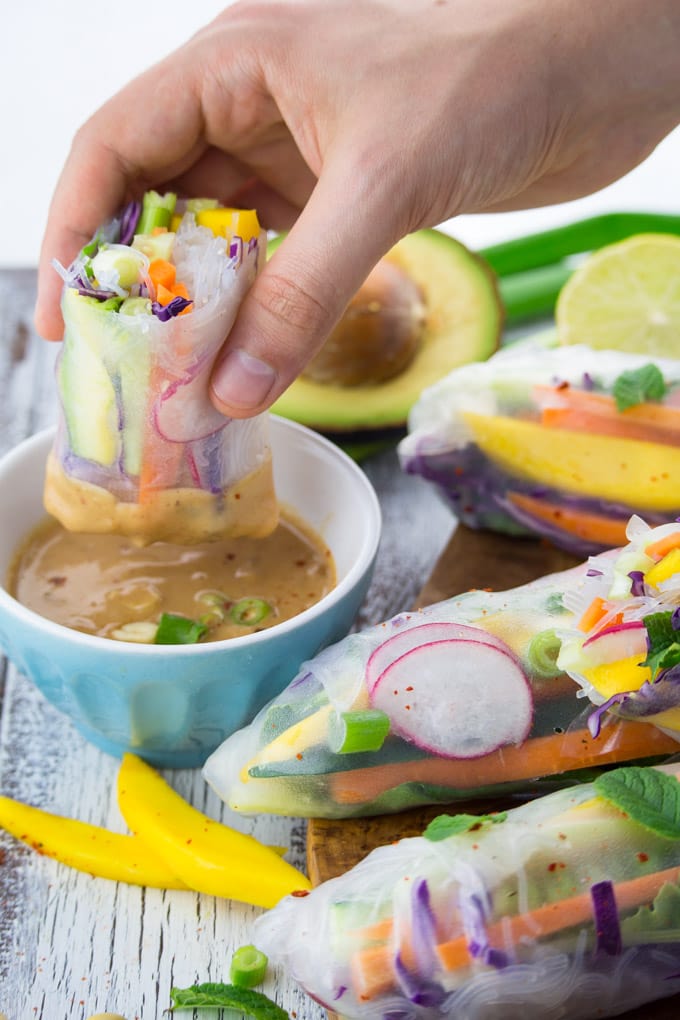 Let's take a detour to the realm of refreshing summer rolls. Here, juicy mango pairs beautifully with crunchy veggies, creamy avocado, rice noodles, and fried sesame tofu.
These gluten-free delicacies are my go-to all summer long. They're fully plant-based and easy to customize.
But for me, mango is non-negotiable! So free your taste buds and dive into this delightful fusion of flavors.
21. Vegan Bibimbap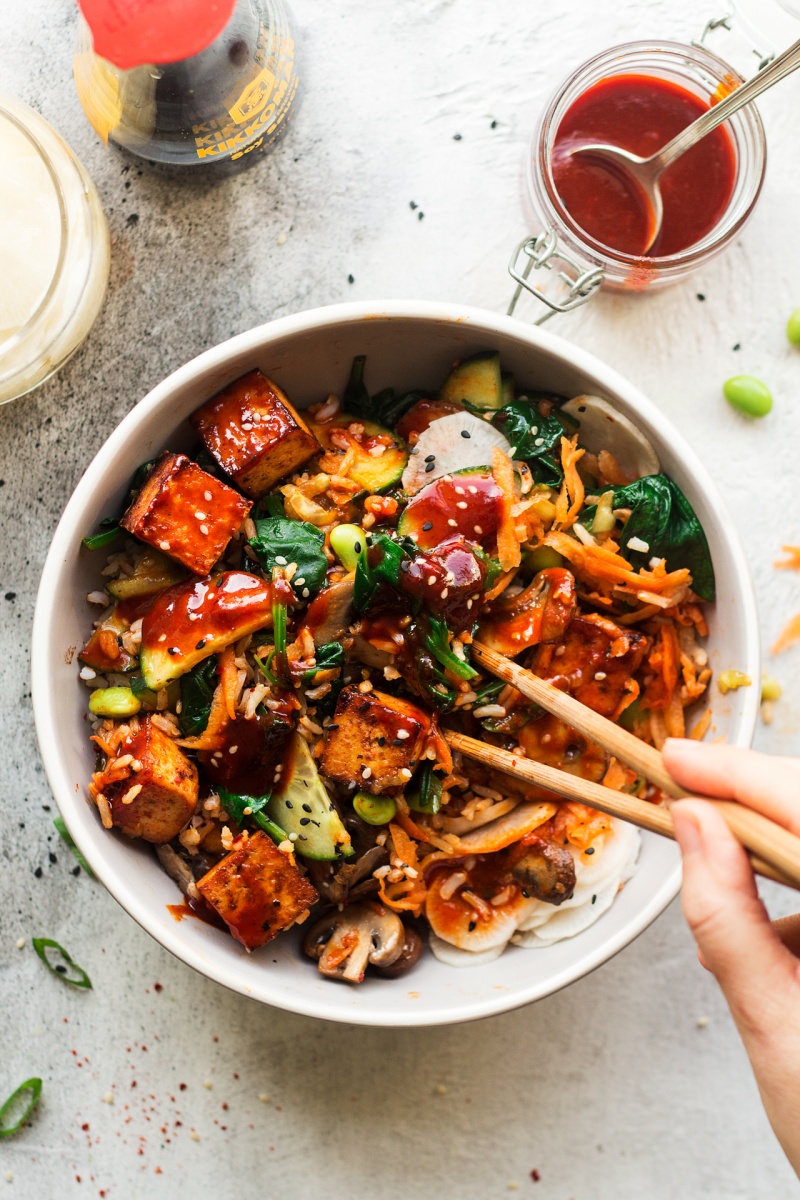 Bibimbap is a Korean dish that's delightfully customizable and can be readily made without any animal products.
With ingredients like edamame, tofu, pickled daikon, and a fiery Gochujang dressing, I've got the freedom to switch things up!
This recipe gives me control over my meal while staying true to my vegan lifestyle.
22. Veggie Lo Mein
Switching gears, we're diving into a delightful bowl of veggie lo mein next. It can be made with egg-free noodles for those following stricter dietary rules. The vibrant veggies add a splash of color and crunch to the dish.
And don't feel confined – use vegan lo mein or rice noodles if you prefer. This recipe is all about crafting your own culinary freedom!
23. Easy Vegan Fried Rice
Moving on to our next dish, it's a meatless fried rice covered in a slightly spicy peanut butter sauce.
This easy vegan recipe gives you the freedom to choose your veggies; I'd suggest peas and carrots.
The sauce doesn't discriminate, coating everything evenly, including tofu.
24. Steamed Vegetable Buns
You're going to adore these steamed vegetable buns. They're packed with a mouth-watering blend of mushrooms, bok choy, and bean curd wrapped in succulent dough.
They're an easy vegan treat that you can enjoy anytime you desire. Free from animal products, they're a liberation for your tastebuds and a testament to the freedom of culinary exploration without boundaries.
25. Spicy Vegan Hot Pot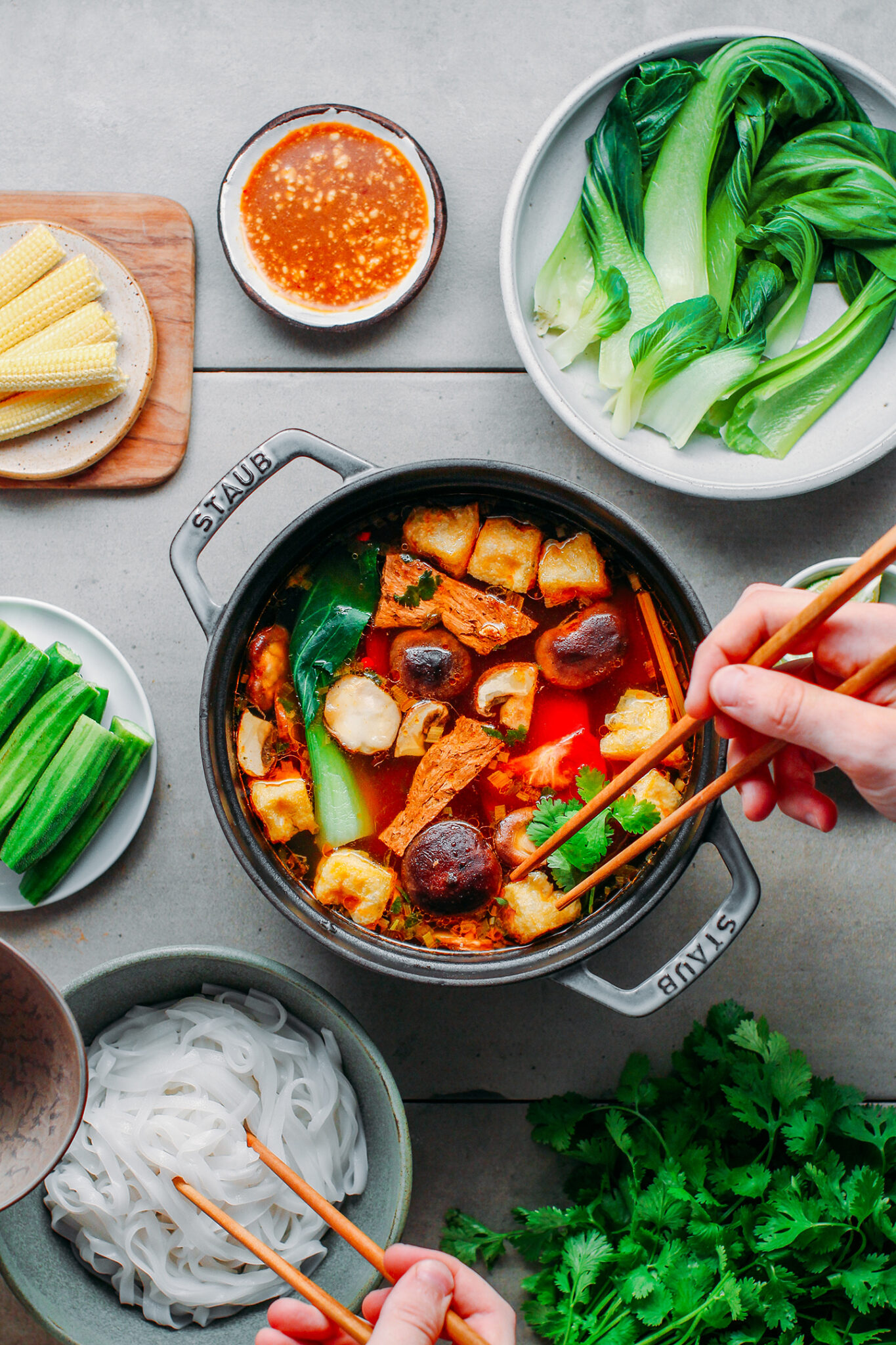 If you've got a craving for something hot and spicy, this lemongrass-infused vegan hot pot's going to hit the spot.
It's an explosion of sweet, spicy, tangy, and umami flavors that scream freedom!
The broth's so versatile – add whatever your heart desires. Thai chilies, pineapple, tomato…the world's your oyster.
Break free from restrictions and embrace the heat with this easy Asian recipe.