Are you on the hunt for some fantastic taco side dishes to make your Taco Tuesday a fiesta to remember? Well, look no further, my friend!
I'm a big fan of Mexican food, and I've put together a list of 25 delicious sides that will make your tacos truly outstanding.
1. Mexican Crispy Roasted Potatoes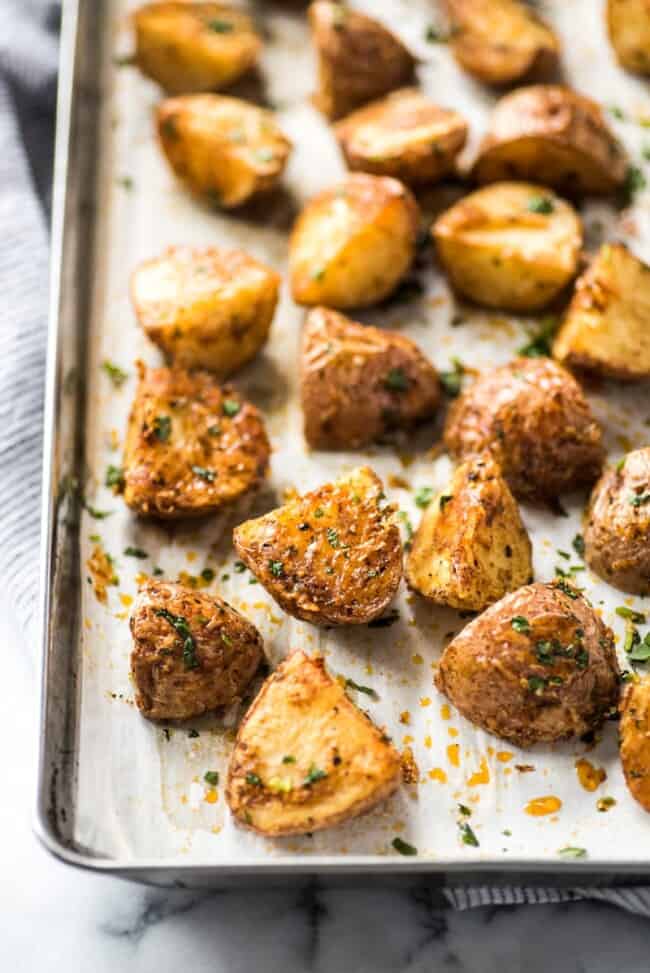 You'll absolutely love these Mexican Crispy Roasted Potatoes. They're a quick and easy side dish that's perfect for Taco Tuesday.
With a mere 10 minutes of prep time, I toss them in a zesty blend of parmesan cheese, chili powder, salt, garlic, and other spices. Then into the oven they go!
In under an hour, you've got yourself a crispy, savory addition to your taco feast.
2. Spanish Rice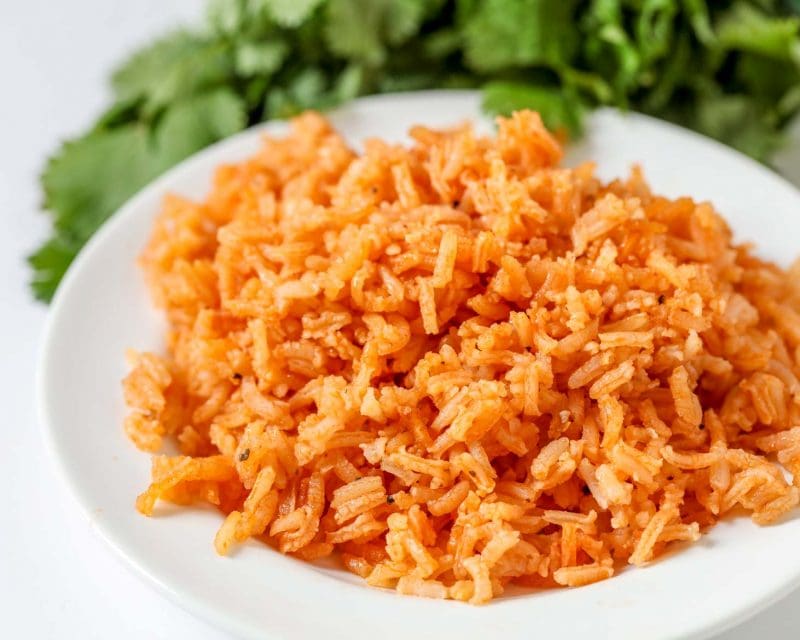 When it comes to Spanish rice, it's a classic addition that can really elevate your meal.
You're free to get creative – stir in black beans, bell peppers, cilantro, cumin and lime for an enticing flavor boost.
Or try a richly-layered casserole with chilies and cheese.
For health-conscious foodies, quinoa offers an incredible substitute packed with nutritious goodies like corn and zucchini!
3. Grilled Corn on the Cob
Grilled corn on the cob isn't just a summer favorite—it's a versatile dish that pairs well with everything from burgers to grilled chicken. Its charred flavor enhances its natural sweetness, making it a perfect addition to Taco Tuesday.
Whether you prefer it slathered in butter or sprinkled with chili powder, this delectable side dish gives you the freedom to customize your taco night feast.
4. Chipotle Guacamole
It's the king of guacamole recipes: a Chipotle copycat version that uses fresh avocados, cilantro, lime juice, red onion, and jalapeno.
This side dish is an essential addition to any Taco Tuesday feast. The zesty lime complements the creamy avocado perfectly while the jalapeno provides a thrilling kick.
Paired with crunchy tortilla chips, it's a party in every bite!
5. Roasted Vegetables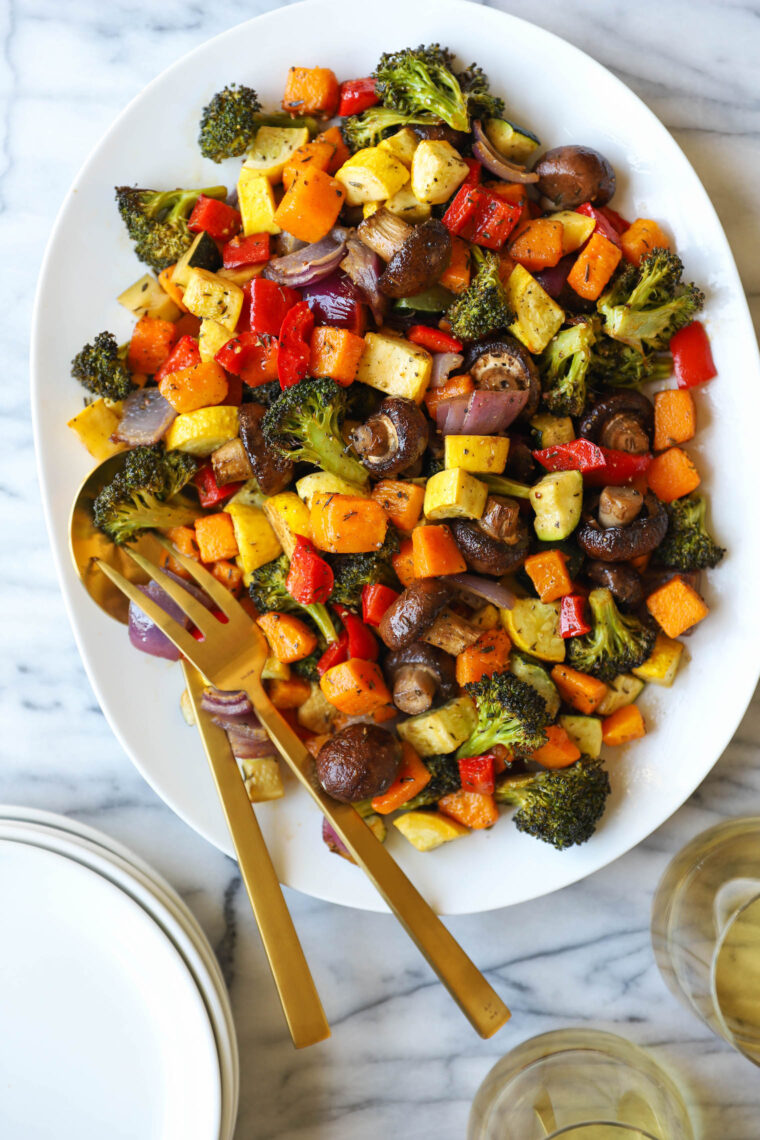 You'll love how simple yet nutritious this oven-roasted vegetable recipe is. It uses ingredients like broccoli, squash, mushrooms, onions, and peppers. It's a perfect side dish for Taco Tuesday! For variation, consider adding zucchini or tomatoes.
Each bite is a celebration of flavors that complement your tacos wonderfully. Enjoy the freedom to customize this recipe according to your dietary needs and taste preferences.
6. Easy Refried Beans
Pairing any meal with easy refried beans can't go wrong. Especially when they're made from scratch with ingredients like onions, pinto beans, lime juice, cilantro, garlic, and chili powder.
This Mexican staple is a dance of flavors in your mouth. The tangy lime juice playing off the savory beans and spices—it's a simple side that elevates Taco Tuesday to an experience of culinary freedom!
7. Mexican Sweet Potatoes
This dish can comfortably hold its own as a main or complement other dishes as an enticing side.
I love roasting these tubers with avocado oil, salt, and garlic powder. Then they're served alongside grilled broccoli and topped with a fiery sriracha sauce made from mayo, sriracha, and honey for bold flavor.
8. BBQ Baked Beans
BBQ baked beans aren't just for burgers anymore. They're a sweet and spicy addition that'll transform your meals. Imagine biting into a taco, the heat of the filling offset by the smoky sweetness of these beans.
They add depth and complexity to each mouthful, making every Taco Tuesday an adventure.
9. Mexican Coleslaw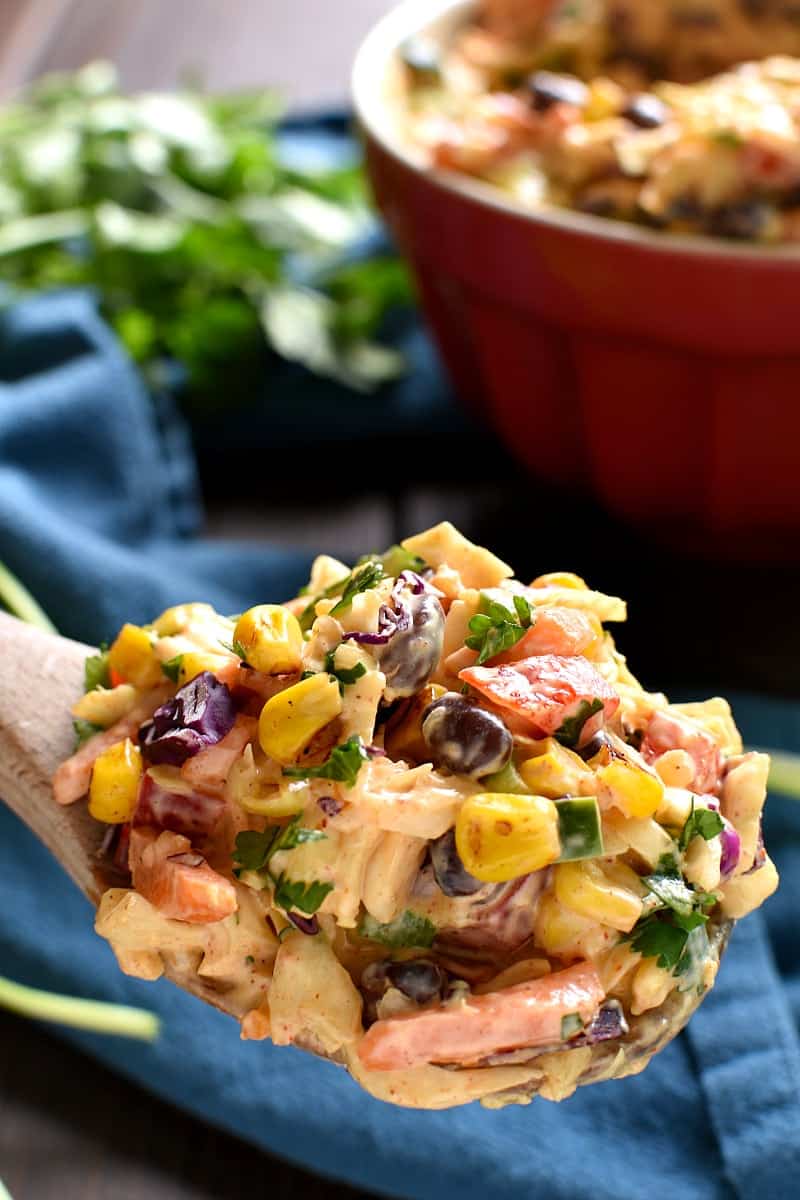 You'll find that Mexican coleslaw offers a refreshing contrast to heavier dishes. With its unique vinaigrette dressing and vibrant mix of ingredients like cabbage, red onion, corn, and black beans, it's not just salad; it's freedom in every crunchy, tangy bite.
The jalapeno and cumin give it a kick while the avocado adds creaminess. Try it on taco Tuesday for an explosion of flavors!
10. Chips and Salsa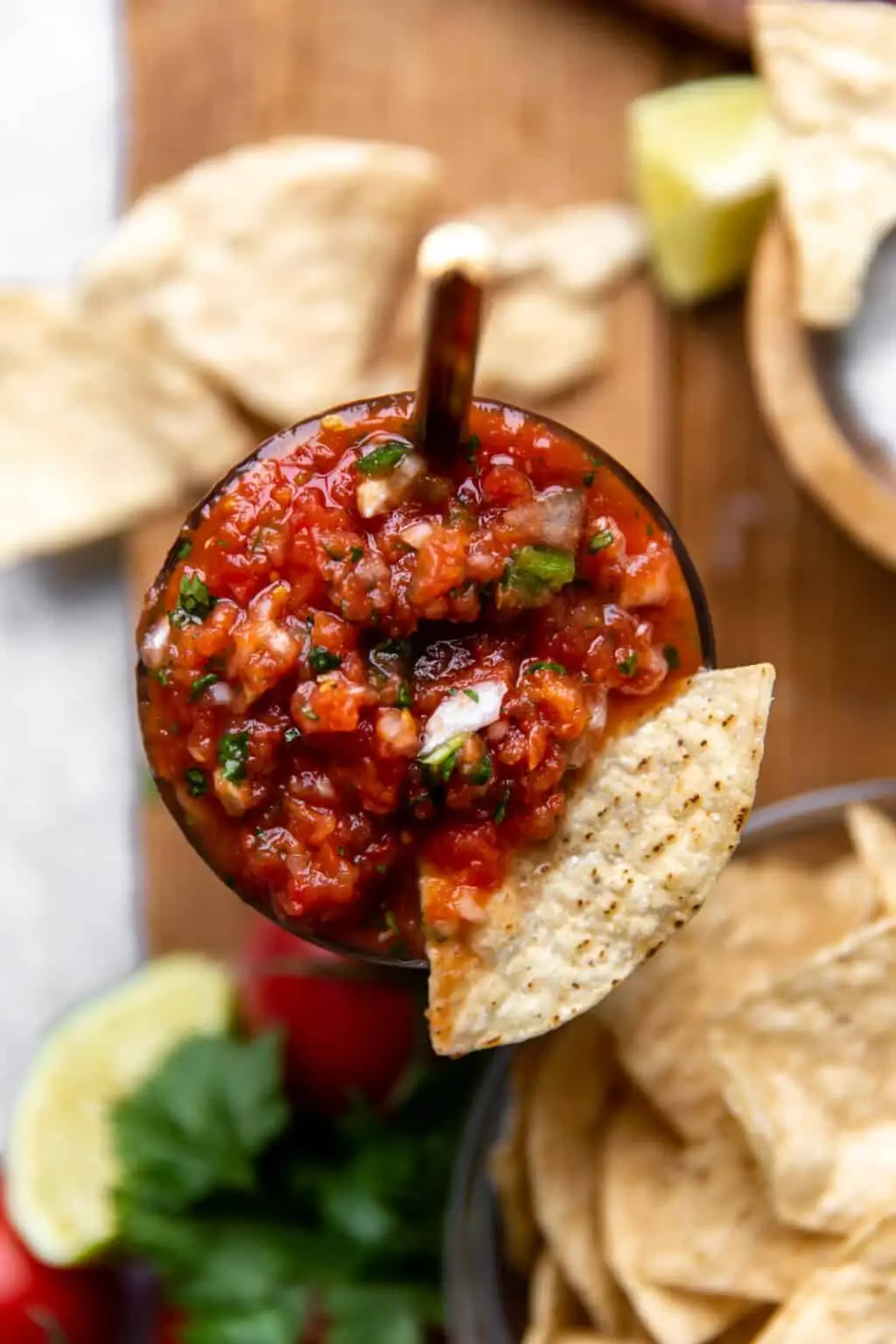 Don't forget the chips and salsa, it's a must-have for any Mexican-themed feast with minimal effort needed if you've got some prepared already.
These crunchy delights paired with zesty salsa are perfect, keeping your guests content while they wait for the main course.
Optionally, jazz things up with a cheese dip or guacamole.
11. Mexican Cauliflower Rice
Switching gears, let's talk about Mexican cauliflower rice. It's a fantastic choice for those following a keto diet or anyone who wants a lighter alternative.
This side dish is lean, yet rich in flavor. It provides the satisfaction of traditional rice without the carbs.
Even if you're on Whole30 or paleo diets, this versatile delight will cater to your dietary freedom.
12. Jicama with Mango Slaw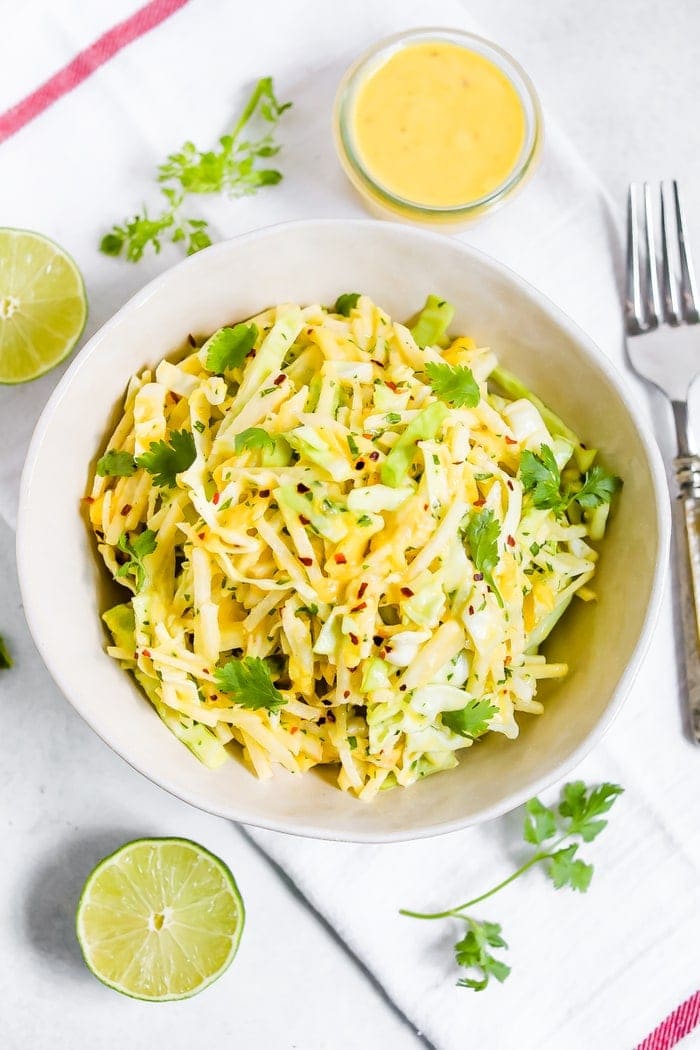 Jicama with mango slaw—it's a mouthwatering combination that'll surely win your heart!
Imagine biting into crispy jicama, a Mexican yam tasting uniquely like pear and potato. Paired perfectly with sweet, luscious mangoes, zesty lime juice, and a hint of red onion.
This vibrant slaw is an ideal side for Taco Tuesday. It's freedom on a plate!
13. Cowboy Caviar
Cowboy caviar is a flavor-packed blend of black beans, corn, black-eyed peas, tomatoes, and jalapenos. It can instantly jazz up your meal.
It's a fresh and zesty side dish that screams freedom with every crunch.
Whether you're topping off your taco Tuesday feast or serving it as an appetizer to kickstart the fiesta, this colorful medley is sure to delight all your senses.
14. Easy Tex-Mex Salad
Easy Tex-Mex salad is a versatile dish that can complement any protein. Whether it's chicken, shrimp, or vegetables, this salad is perfect for taco Tuesday or as a standalone vegetarian feast over lettuce.
Its simplicity doesn't compromise its robust flavors. This salad is the ultimate freedom in crafting an easy yet flavorful meal!
15. Mexican Black Beans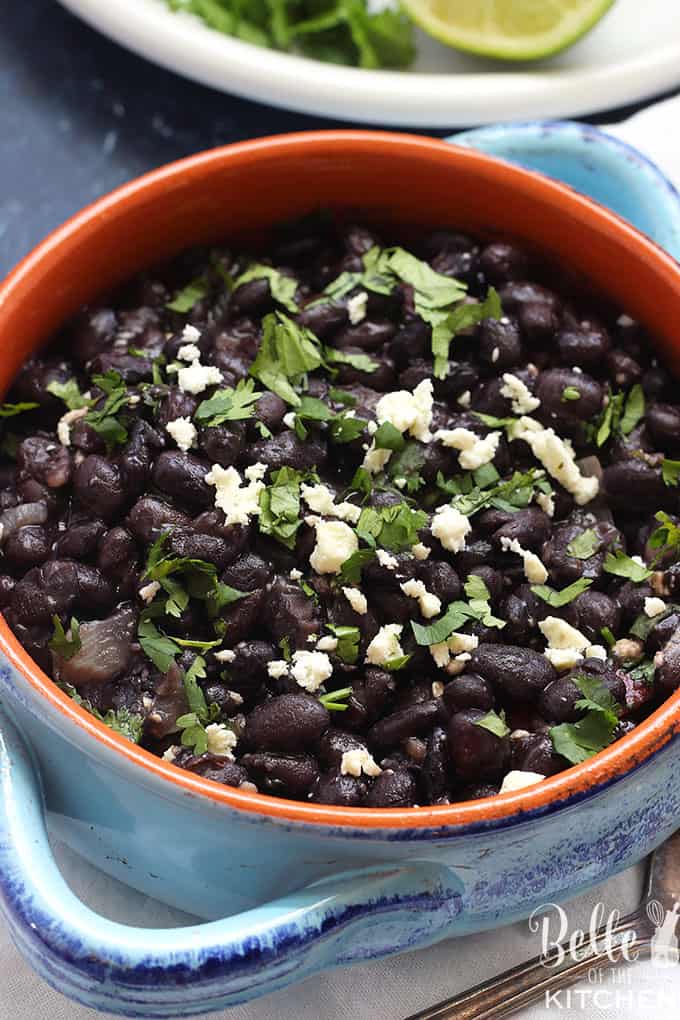 Mexican black beans aren't just a great plant-based protein option, they're also incredibly tasty and filling.
Perfectly simmered with spices, they add a bold flavor to tacos or as a dip for chips.
Their rich, velvety texture when refried, often misunderstood to be 'fried twice', enhances the taste of any dish.
They're not only nutritious but also serve as a versatile side on Taco Tuesdays.
16. Pineapple Salsa
You'll find that pineapple salsa can really perk up your fajitas with its sweet and tangy flavor.
It's a liberating twist from traditional salsas, offering an exotic punch that balances out spiciness beautifully.
Whether you're grilling meat or just snacking on chips, it brings a fresh vibe to your Taco Tuesday.
17. Roasted Mexican Sweet Potatoes
They're oven-baked and spiced with cumin, oregano, and garlic powder. Roasted sweet potatoes are a healthier starch option that balances the heat from jalapeno or hot pepper toppings.
Ideal for Taco Tuesdays, their savory-sweet profile adds depth to every bite.
Satisfying yet light, they're the perfect nod to traditional Mexican cuisine while freeing you from calorie-heavy sides.
18. Corn Pudding
In the realm of comfort food, it's hard to beat a bowl of corn pudding. Especially when it's made with fresh, sweet kernels and a generous helping of cheese.
It pairs perfectly with tacos on Tuesday nights, adding an extra layer of richness and balance to your meal. Its creamy texture and subtle sweetness provide a perfect counterpoint to savory taco fillings.
19. Elote (Mexican Street Corn)
Elote – an irresistible Mexican street food that you can easily whip up at home.
Picture this: sizzling grilled corn, slathered in creamy mayo and sour cream, dusted with fiery chili powder, then crowned with crumbly Cojita cheese.
It's a tantalizing flavor fiesta that will elevate your Taco Tuesday to the next level!
20. Drinks to Serve with Tacos
Let's dive into the variety of beverages you can pair with your Mexican feast for an enhanced dining experience.
A classic lemon iced tea cools and refreshes, while a lemon mint mojito brings a touch of Mexican-inspired zest.
For a sophisticated twist, try red wine mixed with brandy and orange slices.
Each drink adds its own charm, transforming your taco Tuesday into an exotic culinary adventure.
21. Easy Mexican Rice (Restaurant-Style)
You'll find that making restaurant-style Mexican rice at home isn't as hard as you might think. Especially when it's flavored with chicken broth, tomato sauce, garlic, and cumin.
This delightful side dish creates a harmonious balance with the spicy toppings of your tacos.
22. Authentic Pico de Gallo
Authentic Pico de Gallo isn't just a condiment, it's an explosion of fresh flavors that can elevate any dish.
Composed of tomatoes, onions, jalapenos, cilantro, and lime juice; it's bursting with refreshing zestiness.
It's my go-to for Taco Tuesdays – its versatility extends beyond tacos to chicken and salads.
23. Cilantro Lime Rice
It's a simple twist to your regular rice, but the flavorful combination of lime juice and cilantro in this Chipotle-inspired recipe will surely wow your palate.
Ideal as a side for Taco Tuesday or nestled within your taco filling, it adds an unexpected zing.
This easy-to-make dish exudes freshness, turning ordinary taco night into a culinary adventure that blends Mexican tradition with modern flair.
24. Pepper Salad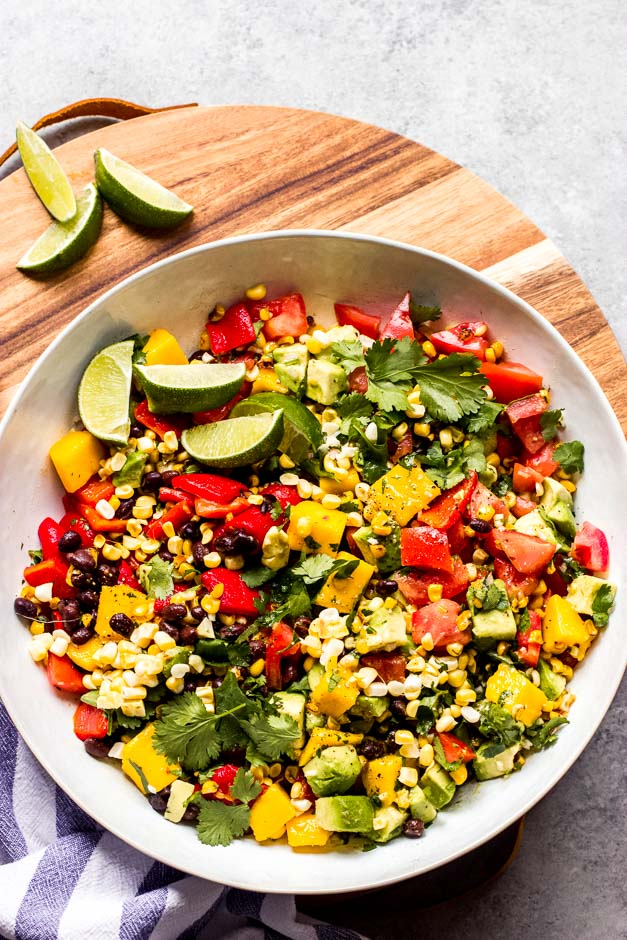 Mexican pepper salad is both visually appealing and packed with essential vitamins and minerals.
A blend of colorful red, yellow, and green peppers diced with red onion presents a lively spectacle.
The zesty dressing is made from minced garlic, olive oil, vinegar, salt, pepper along with either red wine or champagne.
Topped off with crumbly Cotija or feta cheese and fresh cilantro – it's freedom in every bite!
25. Homemade Salsa Verde
You'll love the customizable heat of a homemade salsa verde. It features cilantro and lime juice for a tart and refreshing flavor. Perfect on Taco Tuesday. It's easily tailored to your heat preference by adjusting jalapenos.
Liberatingly versatile as a chip dip or taco topping.