I'm no weather forecaster, but I can predict a cold winter ahead with 100% accuracy.
Why? Because I've got a list of 25 hot and hearty breakfast ideas that'll warm you right up!
With everything from zesty enchiladas to cozy casseroles, I've got your mornings covered.
So let's forget about the frosty forecast and focus on filling our bellies with deliciousness instead!
Easy Breakfast Skillet
It's a real crowd-pleaser, this Easy Breakfast Skillet, loaded with sausage, potatoes, and eggs.
With its stovetop start and quick oven finish, it's a perfect brunch dish to warm you up this winter.
It gets rave reviews every time – loved for being packed full of hearty ingredients.
Breakfast Enchiladas with Leftover Chicken
You'll love using leftover rotisserie chicken to create filling breakfast enchiladas that'll warm everyone up on a chilly winter morning.
Prepare it the night before and simply bake in the morning, saving clean-up time.
This hearty meal will not only feed a crowd but also bring them together, creating a cozy sense of belonging as you share this delicious dish.
Lemon Sour Cream Pound Cake
There's nothing quite like the moist texture and zesty flavor of a lemon sour cream pound cake. This easy-to-prepare loaf is perfect for chilly winter mornings.
The tangy lemon and creamy sour cream create a unique, crave-worthy taste. It's popular for good reason, and once you've tried it, you'll find yourself revisiting this recipe again and again to share with loved ones.
Ham and Cheese Breakfast Casserole with Tater Tots
We're moving on to a delightful dish that's both filling and easy to whip up – a Ham and Cheese Casserole, made even tastier with tater tots.
This casserole is not only scrumptious but also perfect for serving large groups or families.
Imagine the smiles as they bite into warm, cheesy goodness spiced with ham pieces, all nestled within crispy tater tots.
Truly, it's a winter breakfast masterpiece!
Orange and Cranberry Nut Bread
You're going to love the festive, tangy flavor of this Orange Cranberry Nut Bread, perfect for holiday mornings or a work potluck.
It's moist, easy to make, and packed with fresh cranberries and oranges.
Made with spelt flour for added health benefits, it has a moist bread texture that everyone adores.
Stuffed French Toast
After savoring the zesty Orange and Cranberry Nut Bread, let's venture into another cozy winter breakfast delight.
Imagine fluffy Brioche stuffed with cream cheese and your favorite jam, soaked overnight for an explosion of flavors.
In the morning, you'll just pop it in the oven and voila! A perfect Stuffed French Toast awaits to make your frosty mornings warm and delightful.
Vegan Shakshuka or Tofu in Purgatory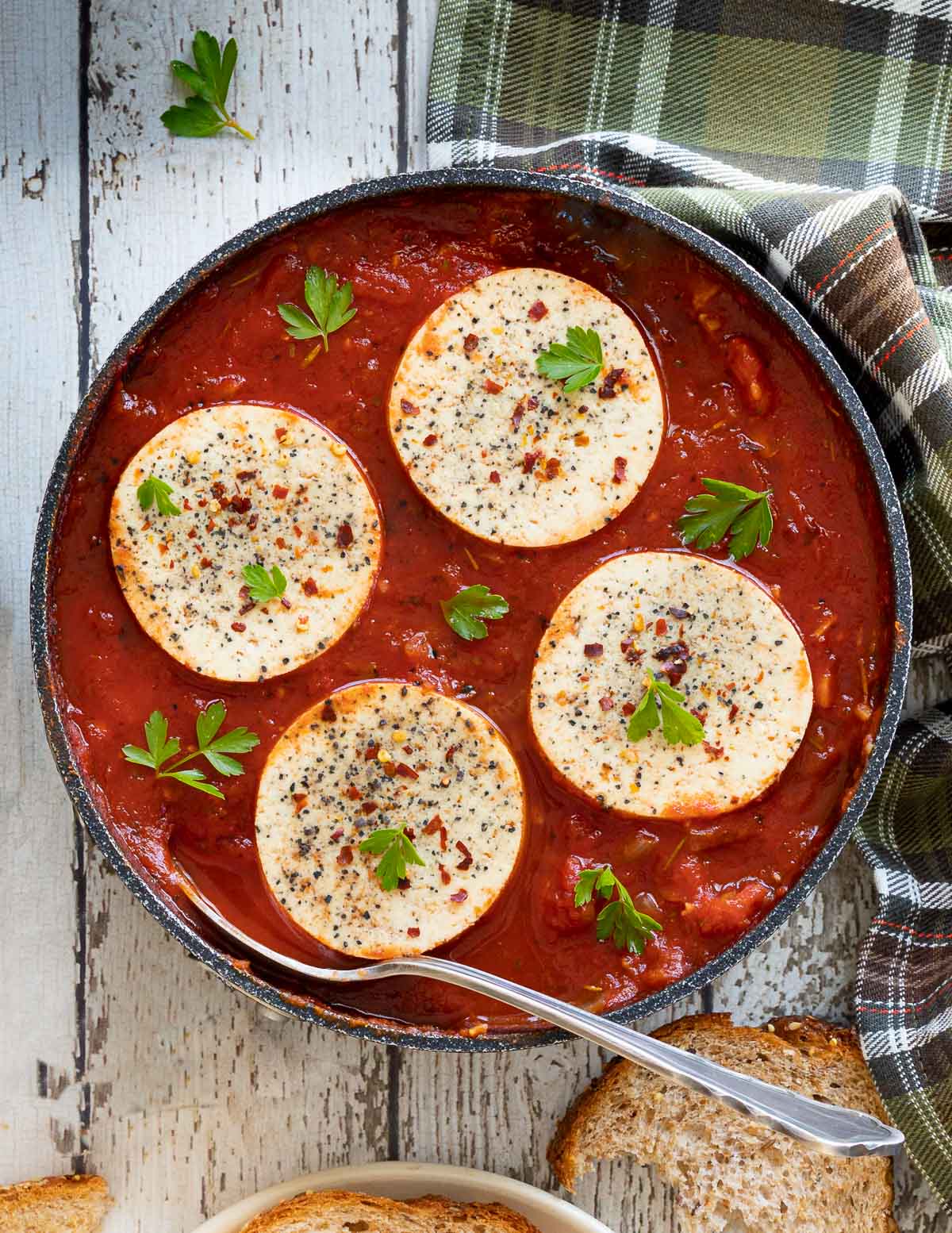 Next on your delightful journey is the Vegan Shakshuka, also known as Tofu in Purgatory.
This dish is sure to tantalize your taste buds with its fiery, garlicky, chunky tomato base and soft, silky tofu rounds.
Gently cooked to perfection, it's a brunch delight that'll warm you up this winter.
Chinese Steamed Eggs
Switching gears, let's dive into the art of making Chinese Steamed Eggs. This simple yet unique dish is sure to impress and is a healthy breakfast option that's ready in just 15 minutes.
The preparation method is what sets Chinese Steamed Eggs apart – steaming eggs Chinese style!
Norwegian Waffles (Heart Shaped)
Moving on from the delicate Chinese steamed eggs, let's journey to Norway with heart-shaped waffles.
These aren't your typical crispy waffles. They're soft and eggy, carrying a hint of sweetness and a whisper of vanilla. The recipe is easy to follow, making them perfect for cozy winter breakfasts.
Imagine us all in warm sweaters, savoring these delicious Norwegian treats together. It's pure hygge!
Instant Pot Baked Beans on Toast
Let's dive into the heart of Southern-style cuisine with Instant Pot Baked Beans on Toast, a dish that'll leave you wanting more with its rich and savory flavors.
This dish, boasting a thick texture and sticky sweetness from molasses and brown sugar, is perfect for winter breakfasts.
It yields a huge pot suitable for feeding large crowds, creating an inviting sense of belonging.
Slow Cooker Oatmeal with Steel Cut Oats
You're going to love this slow cooker oatmeal, especially since it's made with steel cut oats and requires minimal prep in the morning.
Just set up your slow cooker overnight, and wake up to a warm, hearty breakfast that's perfect for those chilly winter mornings.
It's not just about ease; the slow cooking process brings out an amazing texture and flavor in the oats.
Medjool Date and Orange Scones
Switching gears to another delicious treat, the Medjool date and orange scones will certainly be a hit with their soft yet crunchy texture, and unique blend of sweet dates and tangy oranges.
They're perfect for winter breakfasts, with autumn spices adding warmth. The glistening sugar gives them a delightful crunch.
Paired with morning coffee, it's an inviting start to your day!
Sweet Potato Hash
Sweet potato hash is a delightful dish that's sure to become a family favorite. It features a delicious mix of sweet and savory flavors from the creamy sweet potatoes and crispy bacon.
This hearty breakfast warms you up on cold winter mornings, making it an ideal addition to your collection of winter breakfast ideas.
Challah French Toast Casserole
As we move from savory Sweet Potato Hash, let's indulge in a luxurious winter breakfast idea – Challah French Toast Casserole.
This decadent recipe is perfect for a cozy weekend brunch. What's more, it can be prepped the night before, making your morning hassle-free.
The star of this dish? Challah bread! Its rich taste and texture take this casserole to the next level of comfort food.
Vegan Breakfast Potato Polenta Bowl
You're going to adore this Vegan Breakfast Potato Polenta Bowl. It's not only delicious but also easy to whip up on a lazy Sunday morning or after late nights out.
The key components are creamy polenta and a fried potato mixture. This mixture includes green pepper, zucchini, and blistered cherry tomatoes.
It's vegan, comforting, and simple to make – the perfect winter breakfast for those craving warmth and wholesomeness.
Apple Cinnamon Oatmeal
Switching gears to Apple Cinnamon Oatmeal, it's a quick and healthy dish that's loaded with nutrients and can be prepared in no time.
I opt for fresh, crisp apples, dicing them into small pieces for even cooking.
Rolled oats give the best texture, while a pinch of salt balances the sweetness.
I love adding nuts or dried fruits for extra flavor and crunch!
Bone Broth Savory Oatmeal
Bone broth savory oatmeal is a dish that'll truly elevate your oatmeal game with its rich flavors and hearty consistency.
This winter breakfast option is filling and satisfying.
Using homemade bone broth is preferred, but chicken or vegetable broth can work too.
Raisin Bread French Toast
Moving on to our next dish, we've got a sweet alternative for brunch – Raisin Bread French Toast. Ideal as a winter breakfast or when you have leftover raisin bread. Its sweetness pairs perfectly with a dollop of butter on top.
Want to switch it up? Try adding seasonal berries for an extra burst of flavor. Let's make breakfast something to look forward to!
Peruvian Quinoa Porridge with Amaranth
You're going to love this Peruvian Quinoa Porridge with Amaranth. It's a delightful blend of grains that you can customize with your choice of fruits and berries.
Ideal for cold winter mornings, its simplicity is perfect for lazy days. Just toss in pomegranate seeds or berries.
Feeling creative? Load it up with seasonal fruits. It's your breakfast, make it yours!
Toasted Coconut Pecan Steel Cut Oats
It's hard to resist the allure of Toasted Coconut Pecan Steel Cut Oats. This hearty dish has a chewy texture that keeps you satisfied till lunchtime. Even in summer, its warmth and richness beckon.
With fiber-rich oats cooked in lightly sweetened coconut milk, it's a delicious and nourishing breakfast option. The dish is topped with toasty coconut and pecans, adding a delightful crunch and nutty flavor.
Toasted Coconut Pecan Steel Cut Oats is more than just a breakfast—it's an invitation into a nourishing morning ritual. It's a comforting and satisfying way to start your day, providing you with the energy and nutrients you need.
Chicken and Ginger Congee
Leaving behind the hearty, nutty delight of toasted coconut pecan steel cut oats, let's cuddle up with a comforting bowl of Chicken and Ginger Congee.
This delicious, nourishing dish is not only easy to prepare in one pot but also warms your soul on frosty mornings.
Simmered chicken and ginger create an inviting aroma that makes you feel right at home.
Savoury Buckwheat Breakfast Bowl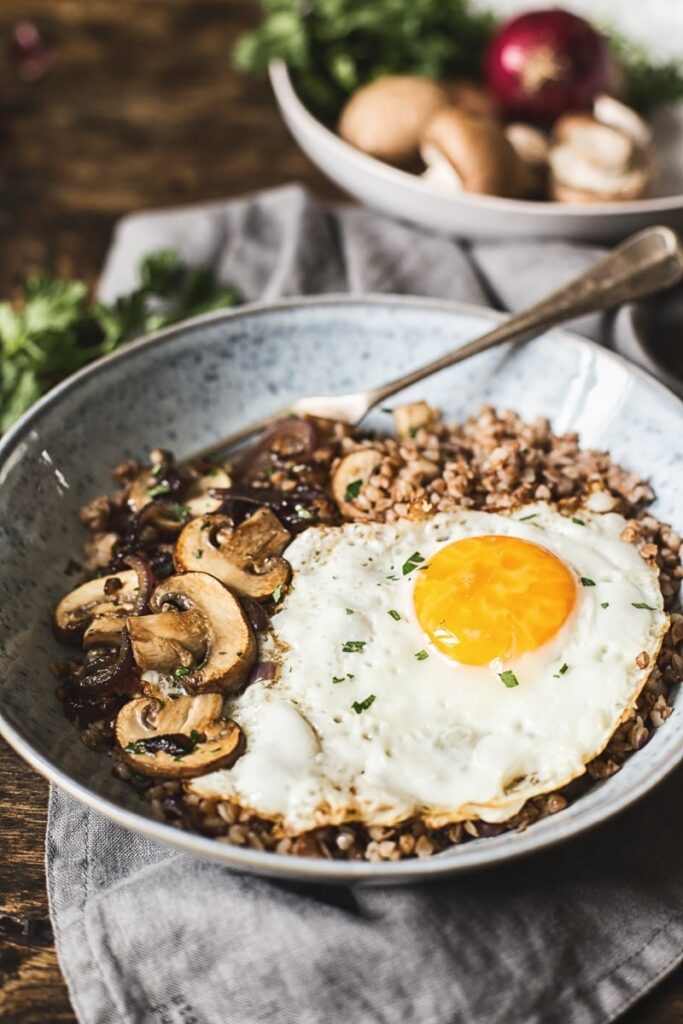 Shifting gears to another wholesome option, let's delve into the savoury buckwheat porridge. It's not just nutrient-rich but also a gluten-free delight.
Buckwheat is our star ingredient here, offering a filling meal that'll keep you energized throughout winter mornings.
Zucchini Spinach Frittata with Mini Heirloom Tomatoes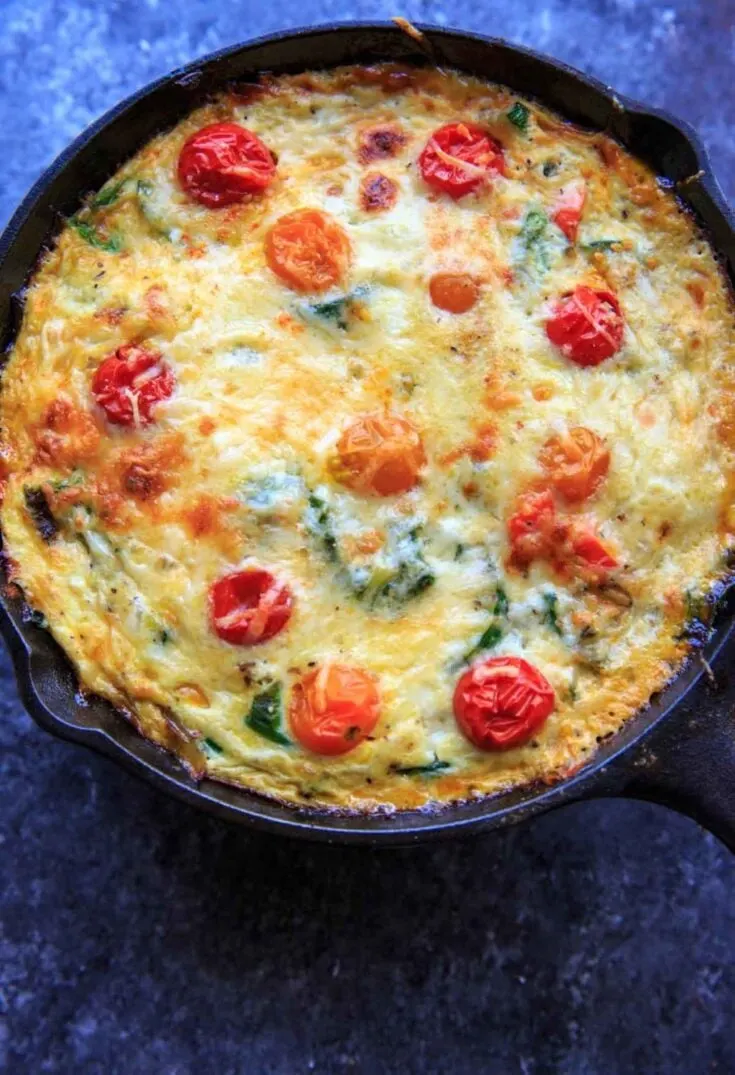 You're going to love this quick and easy Zucchini Spinach Frittata with Mini Heirloom Tomatoes. It's perfect for a leisurely brunch or a fun breakfast-for-dinner.
Not only is it delicious, but it's also packed with nutritious zucchini, spinach, and tomatoes.
This dish is more than just a meal; it's an invitation to belong in a community that values healthy, flavorful food.
Chorizo and Chickpea Stew with Baked Eggs
Transitioning to a heartier option, let's explore the Chorizo and Chickpea Stew with Baked Eggs recipe next. This dish is as satisfying as it is easy to prepare.
Perfect for a winter brunch gathering, it's a one-pot dish filled with flavorful chorizo, protein-rich chickpeas, and perfectly baked eggs. It's filling, yet simple to make.
Invitingly warm and wonderfully communal, it brings us together in shared culinary delight.
Sausage and Egg Breakfast Casserole
If you're looking for a dish that'll feed a crowd and impress your guests, then the sausage and egg breakfast casserole is definitely one to consider.
It's hearty with sausage, eggs, and cheese; the perfect comfort food on winter mornings.
Best part? You can prepare it the night before!
Easy to make yet impressive, it's sure to create a sense of belonging around your breakfast table.