Almond flour creates magic in the world of baking. With its subtly nutty flavor and light, airy texture, almond flour gives cakes a delightful taste and texture without any gluten or grains.
Whether you are avoiding gluten, grains, or just want to indulge in a healthier cake packed with protein, fiber, and nutrients, almond flour is a wonderful alternative to traditional wheat flours.
In this roundup, we share 10 of the very best almond flour cake recipes to add to your baking repertoire. Ranging from light and fruity to decadent and chocolatey, these cakes prove you can have your cake and eat it too!
Read on for almond flour cake inspiration.
Honey Lemon Almond Flour Cake
This delightful honey lemon almond flour cake is an absolute treat for the senses. The tangy, bright flavor of lemon pairs beautifully with the rich sweetness of honey and the subtle nuttiness of almond flour.
This cake is the ultimate summer dessert, with a fluffy, moist texture that simply melts in your mouth. It's perfect for any festive warm weather occasion and is delightful served with a dollop of fresh whipped cream or lemon curd.
The genius of this cake lies in the combination of contrasting flavors. The acidic lemon provides tangy freshness while the honey lends a syrupy sweetness.
The texture of this cake also contributes to its enjoyment. The almond flour gives it a marvelously fluffy and moist crumb. Each bite seems to disappear on your tongue.
Almond Cardamom Sponge Cake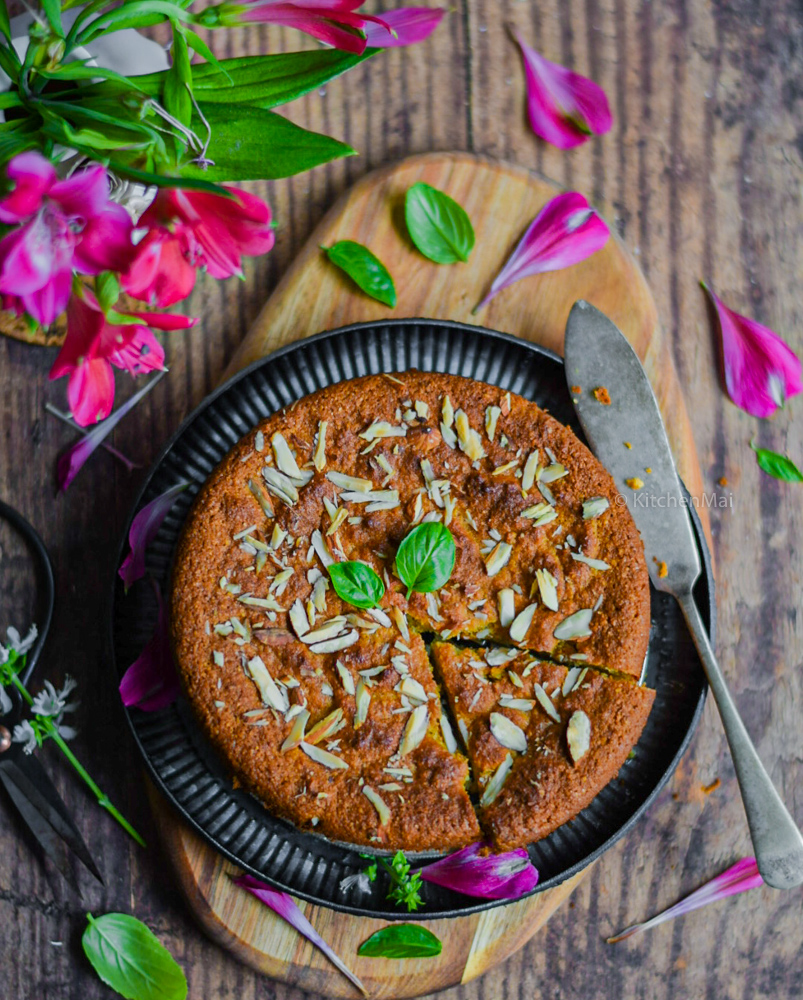 This tried-and-true almond cardamom sponge cake is a delectable, sure crowd-pleaser. The nuttiness of the almond flour pairs perfectly with the exotic warmth of cardamom in this simple yet sophisticated cake.
The genius of this cake is in its simplicity that yields incredibly complex flavors. With just a handful of humble ingredients, it creates something truly extraordinary.
The neutral sweetness of the almond flour allows the cardamom to take center stage.
Just a touch of cardamom provides a lovely lingering warmth, with slight hints of citrus and pepper. The end result is a comforting, almost spiced honey-like flavor.
Almond Flour Carrot Cake
This delightfully tempting yet nourishing carrot cake features the lovely subtle toastiness of almond flour paired with the natural sweetness of fresh carrots.
Hints of cinnamon, ginger, and nutmeg add comforting warmth and spice flavors. It's the ideal treat to enjoy with a hot cup of tea for a mid-afternoon pick-me-up.
Or enjoy a thick slice for a healthy breakfast paired with yogurt or as a wholesome dessert. For variety, try substituting the carrots with grated apples or zucchini.
This cake contains the nostalgic flavors of classic carrot cake in a gluten-free, grain-free package.
The carrots blend into the batter, creating a moist texture while adding fiber, vitamins, and minerals. A touch of maple syrup, coconut sugar, or honey lends just the right sweetness.
Almond Flour Red Velvet Sheet Cake
This amazing gluten-free almond flour red velvet sheet cake proves you can indulge in decadence without it being dry, dense, or bland.
It bakes into a remarkably moist, tender crumb. All of this is perfectly balanced by a tangy cream cheese frosting for a textural and flavor sensation. Every bite is a party with complementary flavors dancing on your tongue!
Unlike traditional red velvet cakes made with chemical dyes and bleached white flour, this version uses wholesome beet powder to achieve the signature red-brown hue.
The beets lend a subtle earthiness that pairs nicely with the chocolate and almonds. A bit of natural cocoa powder provides a hint of chocolate without overpowering the other flavors.
Almond Flour Strawberry and Yogurt Cake
The nutty richness of almond flour paired with juicy fresh strawberries makes this simple cake a true delight. A colorful strawberry topping lends bright fruit flavor and texture contrast, unified by a luscious yogurt drizzle.
This versatile cake works beautifully for breakfast, a snack, or light dessert any time of year.
The springy, moist crumb provides the perfect canvas for the strawberries. Macerating the berries with sugar and lemon juice boosts the flavor and creates tasty syrup. Roasted almond slices add crunch.
Finally, greek yogurt drizzled over the top or whipped into a frosting provides a tangy creaminess that brings all the elements together. Its creaminess perfectly complements the fluffy texture of the cake. For more decadence, use full fat coconut yogurt.
When summer strawberries aren't in season, swap for other fruits. Sliced peaches, plums, or apricots would be delicious. Or use frozen berries off season. Just about any fruit pairs nicely with the almond base.
Mocha Coffee Cake with Almond Flour
Indulge your cravings in the best way with this perfectly flavorful and baked mocha coffee cake made guilt and gluten-free by using nutritious almond flour.
As the cake bakes, your kitchen will fill with the heavenly aroma of freshly brewed coffee and chocolate. The end result is a decadent treat that perfectly satisfies a chocolate and coffee fix without the downsides of gluten or refined sugar.
This cake uses bright, premium coffee to provide an authentic, robust flavor without any bitterness. Cocoa powder provides rich chocolate notes. To take it over the top, consider adding a swirl of chocolate-espresso ganache or chocolate chips into the batter.
The almond flour lends a nuttiness that grounds all the strong flavors perfectly. It yields a remarkably moist, tender crumb while providing a neutral base. For an equally delicious result, try substituting the almond flour with coconut or oat flour.
Peach Almond Flour Cake
This delectable peach almond cake is a dessert that will have your tastebuds tap dancing with joy. Juicy ripe peaches pair perfectly with the nutty sweetness of almond flour for a heavenly, summery treat.
The main ingredient of this cake is fresh, ripe, in-season peaches. Their sweet juiciness and perfumed aroma make all the difference in this cake.
Peel and slice them thinly to bake into the batter where they release juice and flavor. Or top the cake with peach slices for a pretty presentation.
Spoon some whipped cream or ice cream alongside for even more decadence! Crushed almonds, toasted coconut, or vanilla buttercream make tasty finishing touches.
Italian Orange Ricotta Cake
This delightful Italian orange ricotta cake combines the tangy brightness of fresh orange with rich, creamy ricotta and almond flour for a symphony of flavors.
The citrusy sweet-tartness of the orange provides beautiful top notes grounded by the neutral nuttiness of almond flour.
Every slice delivers a flavor experience that feels indulgent yet light at the same time. For variation, try substituting lemons or blood oranges based on the season.
The ricotta creates a remarkably moist, tender crumb while lending a creamy tang. Whole milk ricotta provides rich flavor; part-skim has a bit more firmness when sliced. Just be sure to drain excess liquid from the cheese so the cake isn't soggy.
Toasted sliced almonds sprinkled on top provide nice crunch and texture contrast to the velvety crumb. A dusting of powdered sugar or glaze makes the cake look extra polished for serving.
Almond Rhubarb Cake
This stellar springtime treat combines the familiar sweet nuttiness of almond flour with the exciting tart bite of fresh rhubarb. The puckering tartness of the rhubarb plays against the mild sweetness of the almond for a delightfully bright, balanced flavor.
The key to success is using fresh field-grown rhubarb at the peak of season. The hothouse variety simply can't match the complex flavor with notes of citrus and honey. Tender pink-red stalks have the best flavor.
Chop the rhubarb into small pieces before folding into the batter to allow the juices to mingle. Or layer sliced rhubarb pieces on top of the cake for a pretty presentation. A sprinkle of coarse sugar mellows and balances the tartness.
The almond flour establishes a solid base with a delicate nutty sweetness. Eggs lend richness and structure. Vanilla, almond, and orange zest add layers of flavor. A touch of maple syrup or honey provides just enough additional sweetness to balance the rhubarb.
Gluten-Free Almond Flour Chocolate Cake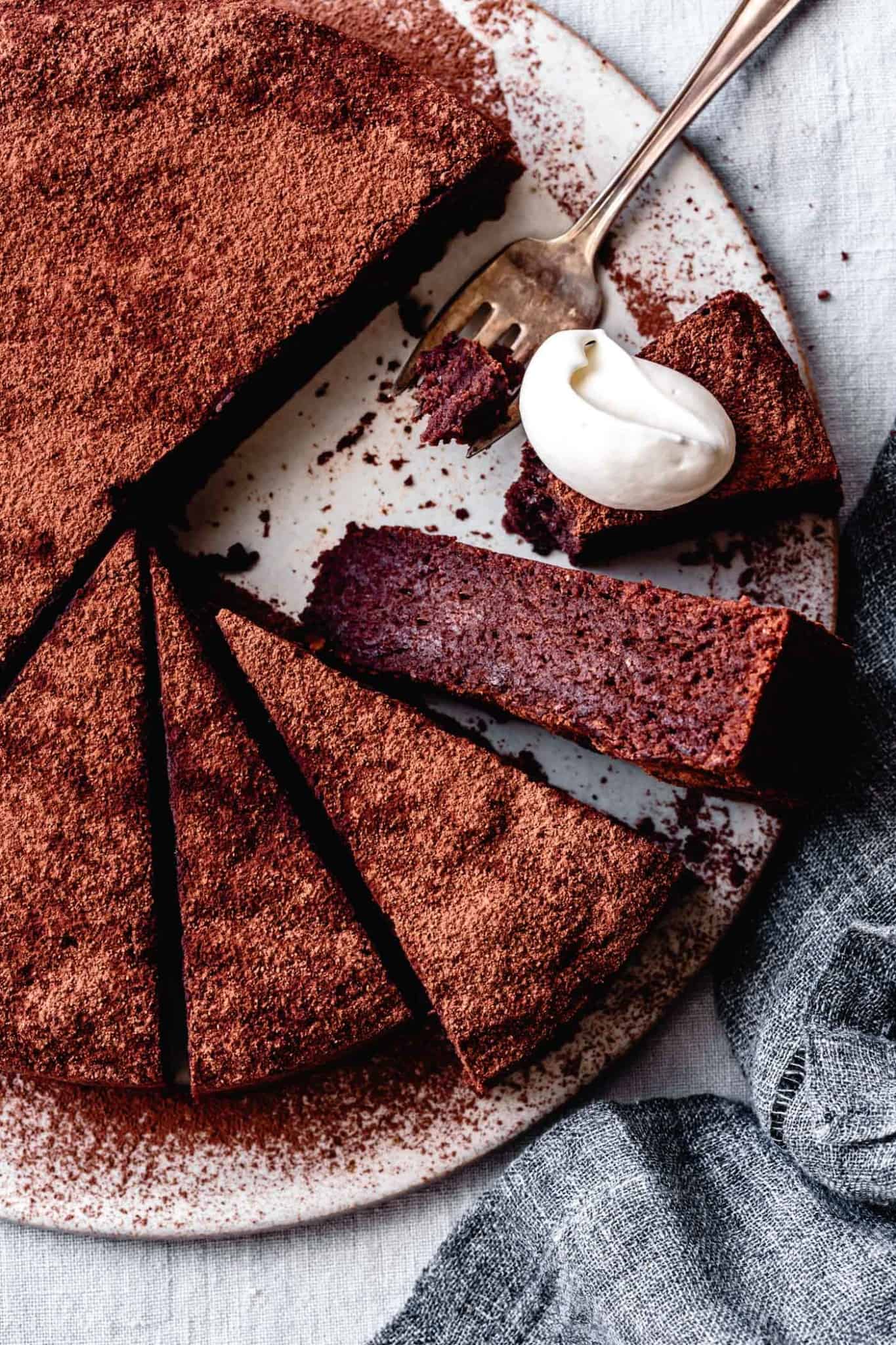 Indulge in this decadently moist chocolate cake that just happens to be gluten-free and full of nutrition thanks to its star ingredient – almond flour.
The nuttiness of almond flour paired with rich, premium chocolate makes for a mouthwatering flavor combination with a perfectly satisfying, fudgy texture.
The almond flour provides a neutral, mildly sweet base that allows the chocolate to shine. It yields a remarkably moist yet dense and fudgy crumb – similar to traditional flour but without the gluten.