Pesto is one of my favorite ingredients to incorporate into vegan cooking. The classic basil sauce can easily be made dairy-free for a bold, herby flavor boost. In this blog post, I'm sharing a roundup of 12 delicious vegan recipes that feature pesto.
Whether you're a pesto purist or want to experiment with new flavors, this post has a recipe idea for you. Get ready to enjoy pesto in both traditional and creative ways on a plant-based diet!
1. Pesto Spaghetti with Vegan Meatballs
Let's start with a fun, family-friendly pasta dish. These tender chickpea-based vegan meatballs are coated in an easy walnut and nutritional yeast pesto.
The pesto adds so much herby flavor to the meatballs. Be patient when forming the meatballs – the mixture needs time to bind together.
Your patience will be rewarded with meatballs that hold their shape while cooking and taste absolutely scrumptious. Twirl the pesto-coated meatballs and spaghetti together for a cozy, comforting bowl of pasta.
2. Vegan Pesto Grilled Cheese Sandwich
Growing up, grilled cheese sandwiches were my favorite comfort food. I've veganized this classic by using Follow Your Heart gouda-style slices and making a quick sun-dried tomato pesto spread.
The pesto, melty vegan cheese, and sweet sun-dried tomatoes grilled between slices of rustic sourdough bread make this an incredibly satisfying sandwich.
I drizzle the sandwich with thick aged balsamic glaze before serving to add a touch of sweetness. This pesto grilled cheese is perfect for any vegan craving a little nostalgic comfort food.
3. Vegan Pesto Lasagna
Lasagna was one of the recipes I missed most after going vegan. I've solved that by developing a vegan pesto lasagna that 100% satisfies my cheesy lasagna cravings.
The secret is mixing cashews into a rich, creamy ricotta layer that bakes up perfectly. Fresh pesto made with basil, spinach, and walnuts adds so much flavor.
Layer the pesto-cashew ricotta mixture with vibrant sun-dried tomato marinara, lasagna noodles, and more pesto.
This lasagna is impressive enough for a dinner party yet easy enough to throw together for a weeknight family meal.
4. Pesto Zoodles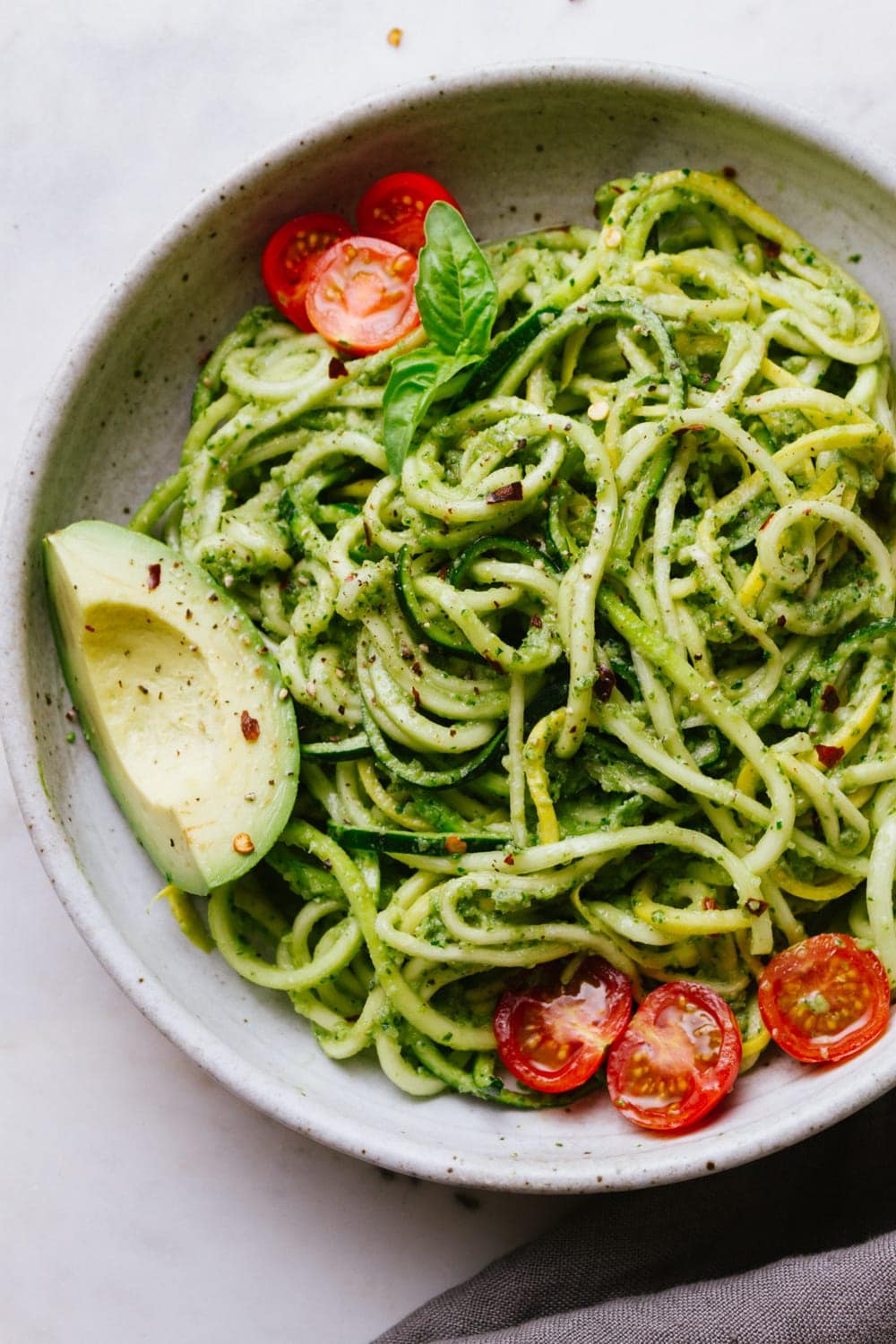 On nights when I want a quick, easy meatless dinner, pesto zoodles are my go-to. Simply spiralize zucchini into noodle-like strips, toss with vegan pesto sauce, and dinner is served!
The pesto infuses so much flavor into raw zucchini. Feel free to add sliced cherry tomatoes, roasted chickpeas, or vegan chicken for extra protein.
For picky eaters, pesto zoodles are a great way to sneak more veggies in. The pesto coating makes them taste almost like real noodles!
5. Vegan Pesto Pizza
My quest for the perfect vegan pizza led me to this winning combination – thin crust dough topped with homemade pesto sauce, sliced tomatoes, toasted pine nuts, and vegan mozzarella-style shreds.
I finish it off with peppery baby arugula and a drizzle of thick balsamic glaze after baking. The interplay of the bright pesto, sweet tomatoes, nutty pine nuts, and tangy balsamic makes this pizza incredibly vibrant and flavorful.
The soft dough with crispy chewy edges provides the perfect base for all the delicious toppings.
6. Avocado Pesto Pasta
When I want an easy, no-cook pasta sauce, avocado pesto is my new favorite. Simply blend Hass avocados, basil, garlic, lemon juice, olive oil, and salt in a food processor until smooth and creamy.
Toss the rich, green sauce with any short pasta shape like farfalle or penne. Top with halved cherry tomatoes for a pop of sweetness and color.
This 15-minute pesto pasta comes together in minutes and satisfies pasta cravings without weighing you down. The avocado makes it extra creamy without any dairy.
7. Baked Vegan Pesto Pasta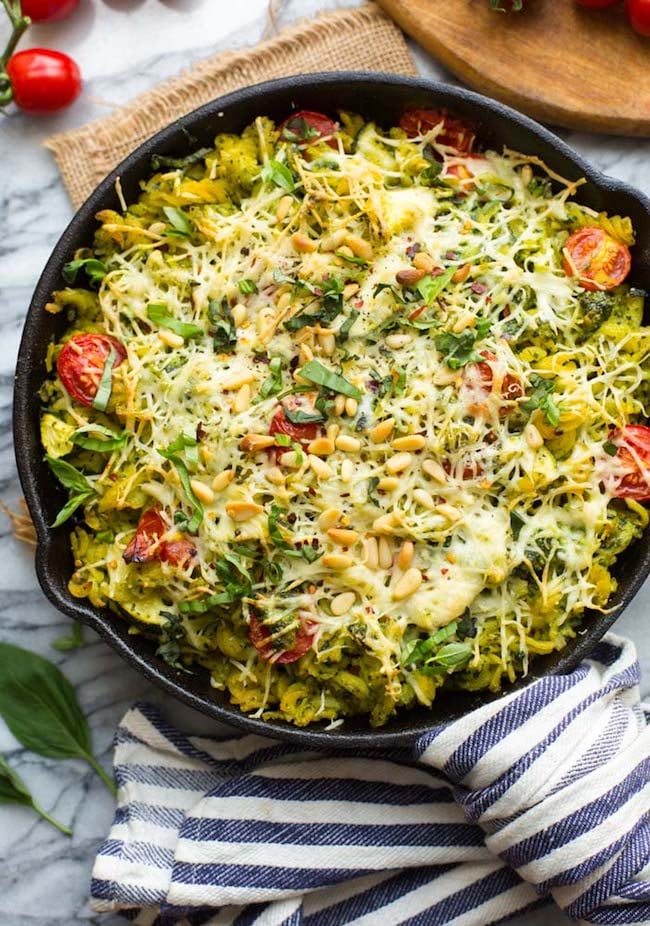 This baked pasta dish is my go-to meal for easy summer entertaining. While the pasta bakes, I roast cherry tomatoes and zucchini to sweet, caramelized perfection.
Then everything gets tossed with a vegan pesto made GREEN with kale and cashews. I add just a touch of dairy-free mozzarella shreds for stretch, but nutritional yeast also works.
The pesto permeates the veggies and pasta as they bake together into an irresistible casserole.
Serve warm or at room temp – this gluten-free pasta dish always gets gobbled up!
8. Creamy Vegan Linguine with Pesto Breadcrumbs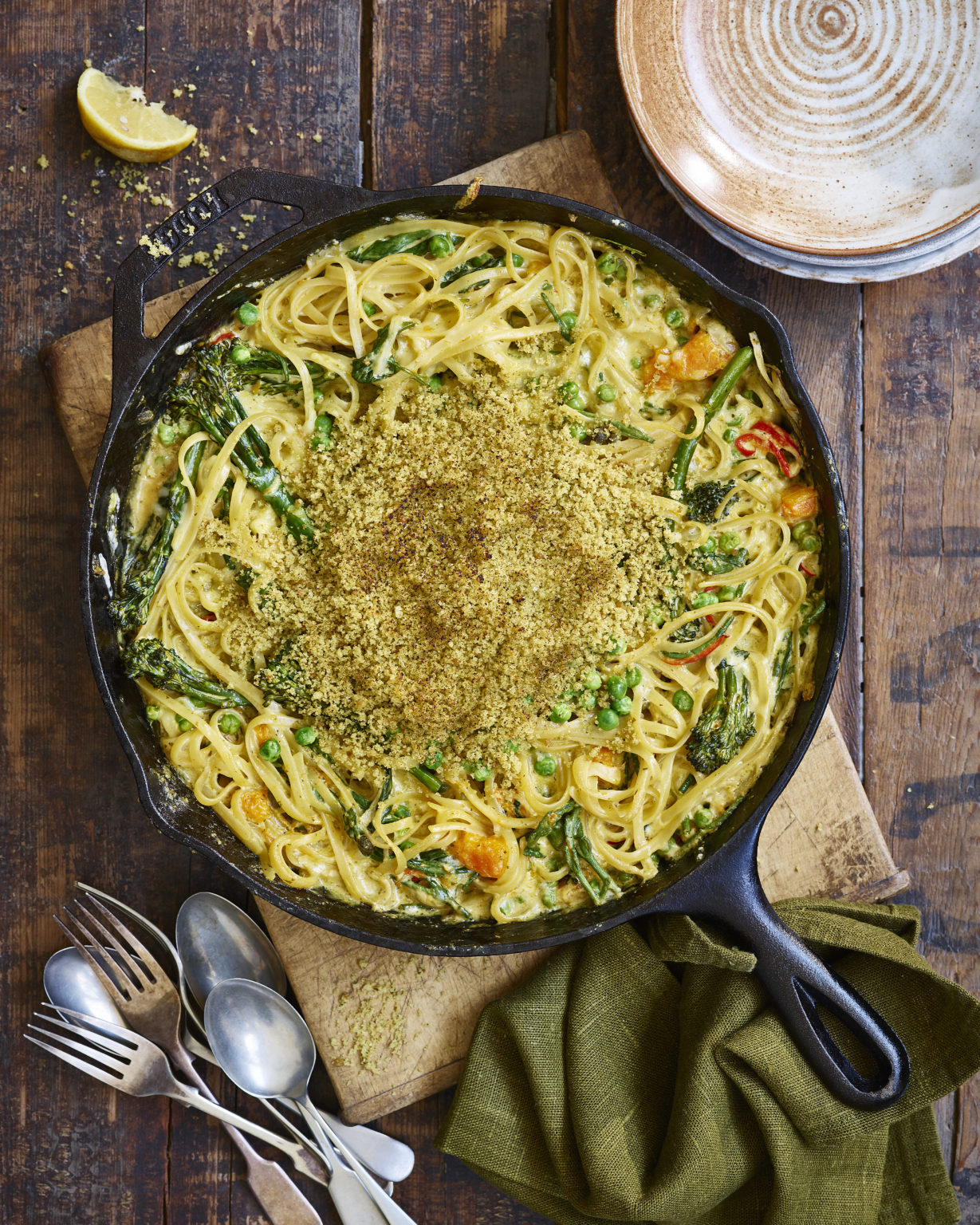 This decadent linguine dish is perfect for date nights or when you want to treat yourself to a restaurant-worthy meal at home.
Start by coating panko breadcrumbs with a lemon-kale pesto. Roast them into crispy, herby croutons.
Meanwhile, sauté squash, broccoli, chili peppers, capers, and alliums in olive oil. Simmer in a rich white wine and vegan cream sauce spiked with veggie stock and lemon.
Toss the linguine with the creamy pesto-veggie sauce. Top generously with the pesto breadcrumbs before serving. Each bite is a flavor and texture sensation!
9. Mediterranean Pesto Flatbread
This easy flatbread topped with pesto, tomatoes, and pepperoncini is perfect for summer BBQs and parties. I love this Mediterranean-inspired combination of flavors.
The convenience of using pre-made pizza dough makes this so doable for weeknights too. Slather on the vegan pesto, add juicy cherry tomatoes, tangy pepperoncini, and thinly sliced red onions. Sprinkle with crushed red pepper flakes if you like some heat.
Bake until the flatbread is crispy around the edges and slice into squares. The fresh flavors and colors make this a gorgeous, crowd-pleasing appetizer or light meal.
10. The Ultimate Vegan Buddha Bowl
Buddha bowls are my favorite way to create nourishing, plant-based meals on busy days. The formula is simple: grain + protein + roasted veggies + sauce/dressing + crunchy toppings. This bowl starts with a base of quinoa and chickpeas for protein.
Next come roasted sweet potatoes and crispy kale for texture. Here's where things get really interesting – instead of tahini dressing, I use a creamy cashew pesto sauce flavored with miso, garlic, and nutritional yeast.
The pesto sauce drizzled over everything adds so much flavor. Finally, cashew parmesan adds a savory, salty crunch.
This versatile bowl comes together quickly and will leave you feeling totally satisfied but not stuffed.
11. Tomato Chickpea Salad with Pesto Dressing
This easy chickpea salad is one of my go-tos for healthy lunches and picnics. The star ingredients are juicy tomatoes, tender spinach, crunchy Persian cucumbers, and protein-packed chickpeas.
It's delicious on its own, but the miso pesto dressing takes it over the top. Instead of mayo, I blend white miso, olive oil, lemon, garlic, and parsley into a bright, flavor-packed pesto.
The creaminess from the miso eliminates the need for any dairy. Shake up a batch to drizzle over this salad – or use as a dip or sandwich spread. This oil-free dressing can make any salad feel special.
12. Vegan Pesto Pasta
Nothing satisfies my pasta cravings quite like a bowl of spaghetti tossed with homemade pesto.
Over the years, I've honed my favorite weeknight recipe using cashews, miso, basil, olive oil, and garlic. It comes together quickly in the food processor. Compared to traditional pesto alla Genovese, my vegan pesto has a richer, cheesier flavor from the cashews and umami miso.
I blanch cherry tomatoes to add some sweet pops of color and juice. The pesto permeates into the hot pasta, creating an incredibly flavorful – but not heavy – bowl.
This fast, fresh pasta feels like an elegant dinner but is easy enough for my busiest nights.