I'm absolutely nuts about butternut squash! It's probably the most versatile veggie in my kitchen. Whether I'm roasting it for a savory side, blending it into creamy soup, or baking it into sweet bread, there's no limit to its kitchen charms.
If you're as smitten with this autumn gem as I am, you'll love exploring these 25 best butternut squash recipes. They'll make your taste buds dance and leave everyone begging for seconds!
Butternut Squash Carbonara Pasta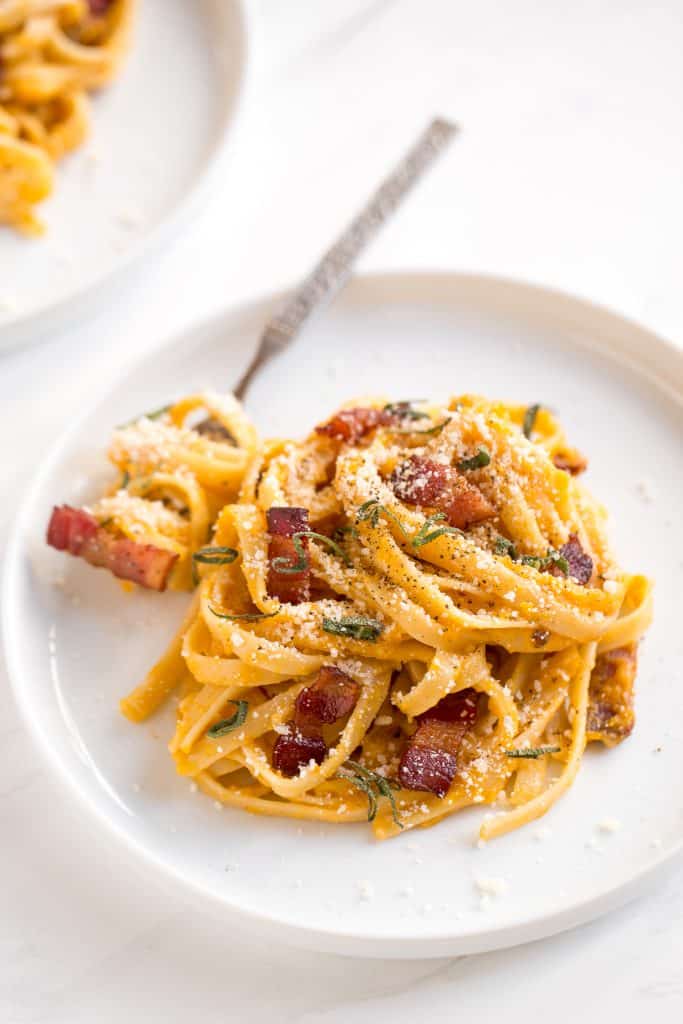 You're gonna love this Butternut Squash Carbonara Pasta. It's creamy with Parmesan, bacon, and sage. Perfect when served with no-knead bread.
I roast the squash until it's sweet and tender, then blend it into a luscious sauce. Crispy bits of bacon add a savory contrast, while fragrant sage brings an earthy nuance.
Butternut Squash Quesadillas with Chicken and Kale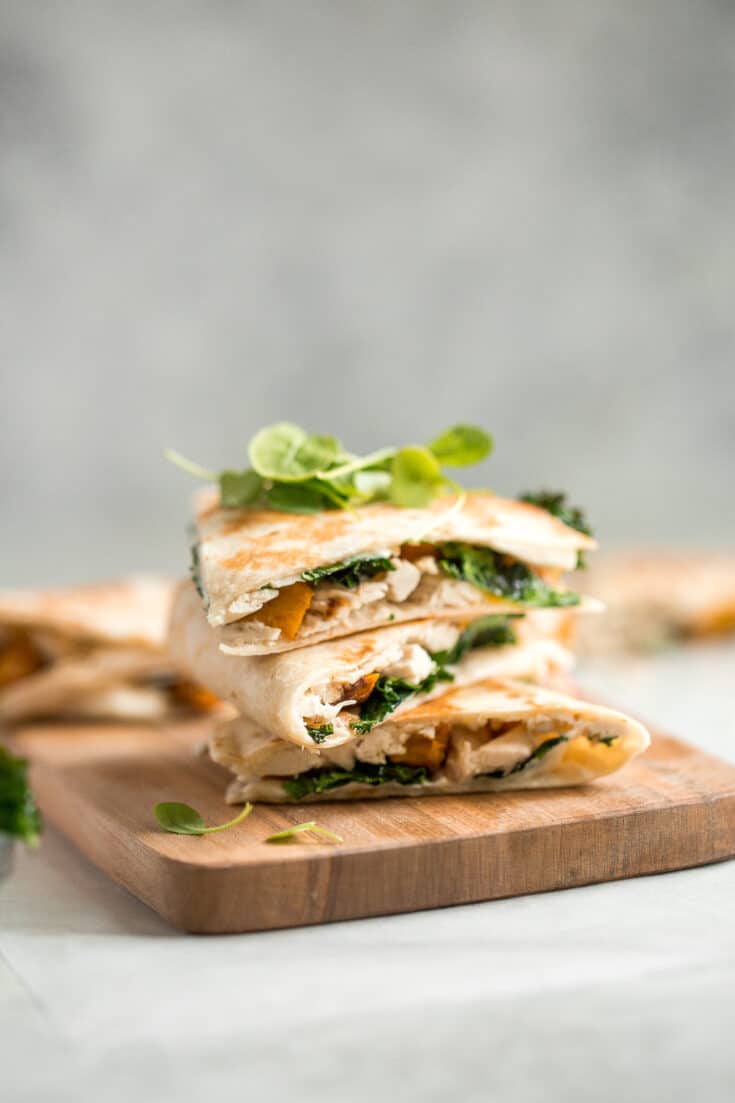 Incorporating chicken and kale into your quesadillas, you'll find a cheesy delight with the perfect crunch. The sweet, fleshy butternut squash melds beautifully with the savory chicken, while the robust kale adds a needed touch of earthiness.
Gently toasted tortillas wrap this medley up, giving it that satisfying crunch. It's not just a meal—it's an invitation to be part of a warm and vibrant culinary experience.
Butternut Squash and Apple Soup with Toasted Croutons
It's a creamy blend of sweetness and spice. This soup pairs the natural sugars of apple and carrots with the bold kick of onions and curry powder. The butternut squash lends a velvety richness, making it an ideal comfort food.
Topped with crispy toasted croutons for a satisfying crunch, this guilt-free delight is as heartwarming as feeling part of a loving community.
Butternut Squash Curry with Chickpeas
Next on your culinary journey, we're exploring a flavorful Butternut Squash Curry with Chickpeas. This dish will warm your belly and soul. It's a one-pot wonder, ideal for cozy weeknight dinners.
The curry's aromatics meld with the butternut squash, creating an invitingly sweet yet spicy base. Chickpeas add protein richness, making it satisfyingly hearty.
This meal is more than sustenance; it's love in a bowl shared among togetherness seekers like you.
Butternut Squash Bread
You're about to discover the joy of baking bread using a tasty autumnal ingredient, aren't you?
Let me guide you in crafting Butternut Squash Bread.
Imagine this: moist and fluffy texture paired perfectly with your favorite non-alcoholic eggnog.
The butternut squash's sweet, nutty flavor will transport your taste buds into a cozy autumn day.
Air Fryer Butternut Squash
Let's dive into the world of air frying, where your favorite autumnal ingredient takes a crispy and quick twist.
Picture this: diced butternut squash tossed in aromatic spices, then air-fried to perfection. The result? A scrumptious side dish with a crunchy exterior and soft interior that's ready quicker than an oven roast.
Butternut Squash Salad
After exploring the crispy delight of air-fried butternut squash, let's transition to another culinary masterpiece – Butternut Squash Salad.
Imagine tender chunks of roasted squash mingling with baby kale, crunchy walnuts, and tangy dried cranberries. The crowning glory? A generous sprinkle of crumbled feta that melts slightly over the warm squash.
Butternut Squash Lasagna
Moving on to yet another delight, imagine sinking your teeth into a hearty slice of lasagna where the traditional meat layer has been replaced with a creamy blend of our star ingredient.
Butternut squash lasagna is not only comforting but also rich in flavors. The slightly sweet, nutty notes of the squash marry perfectly with the tangy tomato sauce and melted cheese, creating an irresistible vegetarian meal that's perfect for cozying up.
Instant Pot Butternut Squash Soup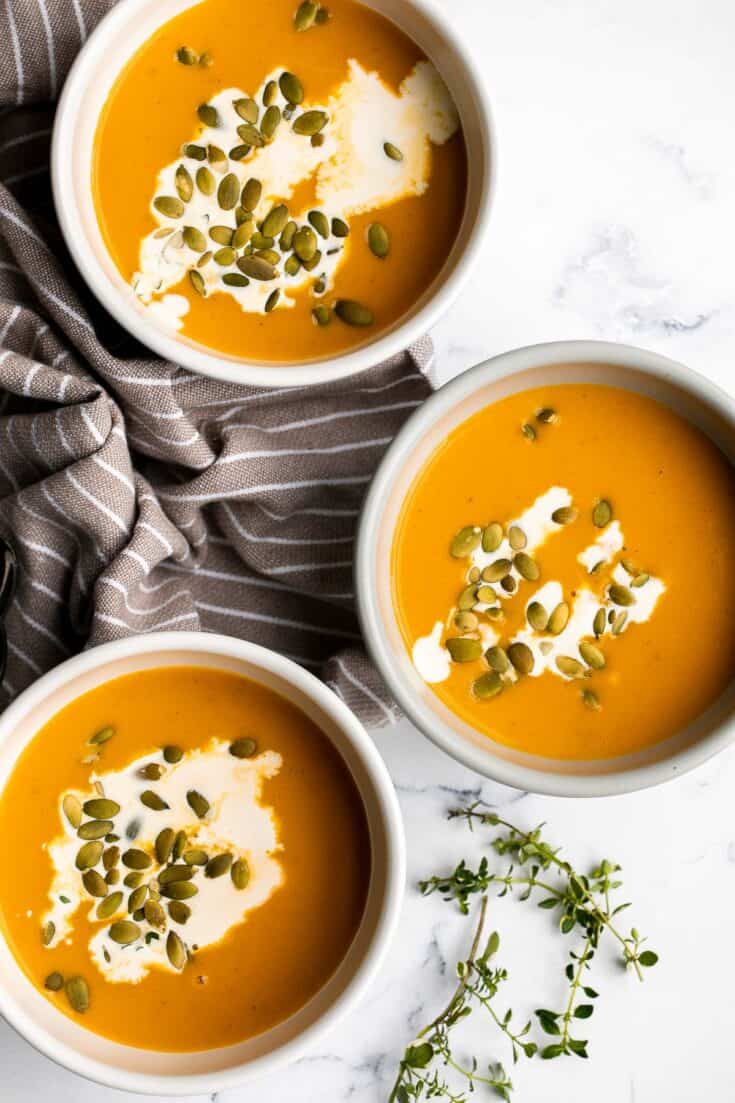 You're going to love the convenience of this next dish: Instant Pot soup featuring our key ingredient.
Just imagine the creamy richness of butternut squash, gently pressure-cooked until it's tender and aromatic.
A dash of nutmeg adds a hint of warmth while a swirl of cream gives it that indulgent finish.
It's comforting, delicious, and ready in just 15 minutes – perfect for those cozy nights in!
Roasted Butternut Squash Soup
If you're looking for a soup with deeper flavors, try the roasted version of this dish. The roasting process caramelizes the butternut squash, bringing out its natural sweetness and enhancing the flavor profile.
It's a popular choice on Pinterest during holidays and pairs wonderfully with crusty ciabatta rolls.
Butternut Squash Mac and Cheese
Let's not forget about the comforting classic, mac and cheese. It gets an autumnal update with a smooth and flavorful veggie twist. Picture tender pasta smothered in a creamy butternut squash sauce, accented by aromatic herbs.
It's an innovative way to incorporate this seasonal favorite into a beloved dish. The result? A satisfyingly delicious meal that'll make you feel right at home this fall.
Mashed Butternut Squash
Mashed up, it's a delightful side dish that'll turn even the pickiest eaters into fans.
Start by roasting the butternut squash until it's caramelized and tender. Then, blend it in a food processor with butter, cream, and a pinch of nutmeg for added warmth.
The result? A velvety, savory-sweet mash that brings everyone together at the dinner table. It's pure comfort food magic!
Pumpkin Chickpea Coconut Curry
You're going to love this Pumpkin Chickpea Coconut Curry. It's a vegan and gluten-free dish that pairs perfectly with coconut rice.
I've replaced the traditionally used butternut squash with pumpkin, enhancing the curry's rich flavors. The chickpeas add protein and texture, while the coconut milk gives it a creamy, dreamy finish.
Maple Roasted Brussels Sprouts and Butternut Squash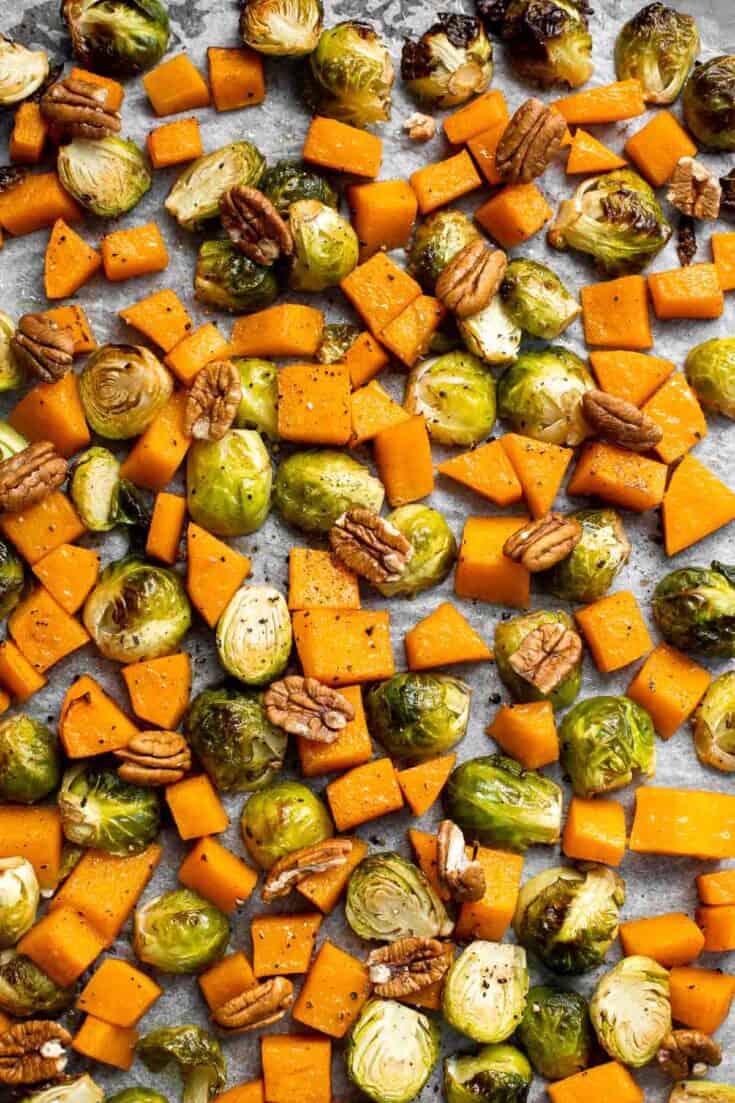 Maple Roasted Brussels Sprouts and Butternut Squash is a sweet and savory side dish that's sure to become a fall favorite. The caramelized edges of the squash meld perfectly with the crisp sprouts, all generously coated in a tantalizing maple glaze.
It's an easy one-pan dish, ideal for those cozy nights in. Serve it up alongside skillet chicken thighs for the ultimate comfort food experience.
Roasted Butternut Squash and Cauliflower Soup
It's time to talk about Roasted Butternut Squash and Cauliflower Soup, a wonderfully hearty dish that becomes even more flavorful with the addition of roasted veggies.
This vegan, gluten-free soup is comforting, nourishing, and bursting with fall flavors. The roasting brings out the natural sweetness of the butternut squash and gives the cauliflower a delightful nutty edge.
Fall Harvest Salad with Butternut Squash and Apple
As I wrap up my divine roasted butternut squash and cauliflower soup, let's take a flavorful leap into another fall favorite – the Fall Harvest Salad.
This isn't just any salad; it's bursting with sweet apples and carrots, beautifully balanced with the spicy kick from onions and curry powder.
It's an artful culinary blend that sings of autumn while inviting everyone to partake in its rich bounty.
30-Minute Butternut Squash Soup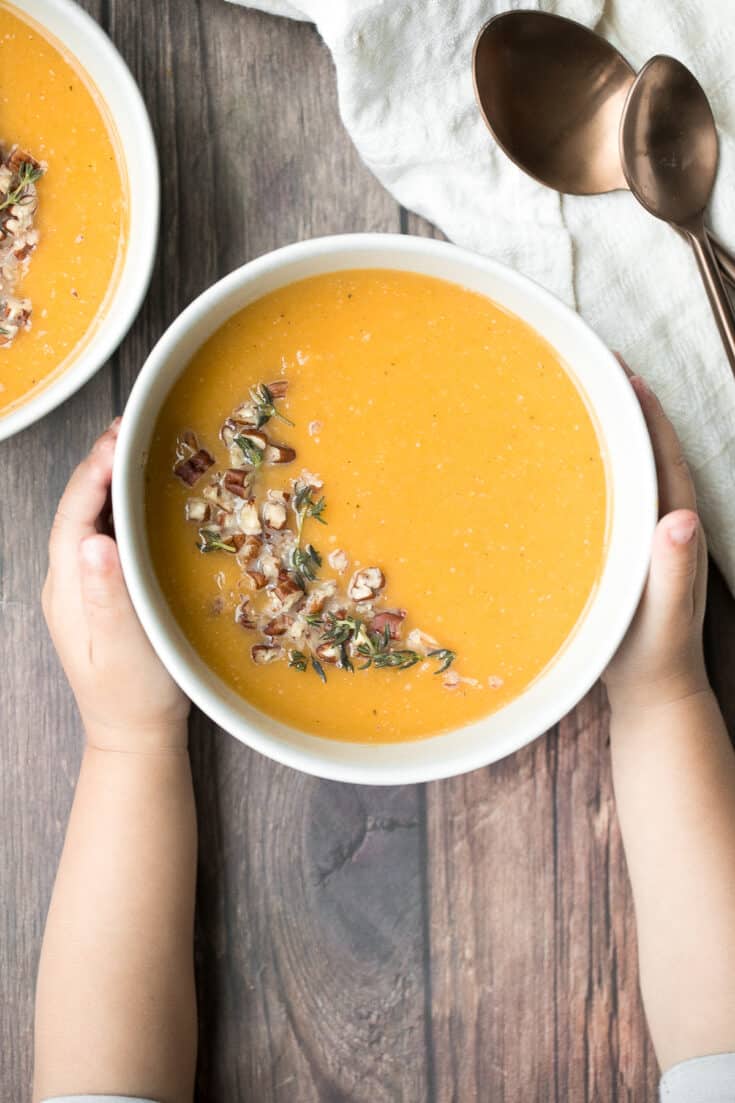 You're gonna love this next dish. It's a quick and easy soup that's absolutely perfect for those chilly autumn evenings. It's called Minute Butternut Squash Soup, and it's vegan and gluten-free.
This soup dances with earthy flavors and has an inviting golden hue. It's so delicious that you'll want to pair it with crunchy toasted sourdough bread to mop up every last drop.
Butternut Squash Galette (Free-Form Tart)
Having savored the warmth of our minute butternut squash soup, let's move onto a delightful culinary masterpiece – the Butternut Squash Galette.
It's a rustic, free-form tart that encapsulates the autumnal flavors of butternut squash. Golden and crisp, its charm lies in its simplicity and versatility.
Enjoy it with scrambled eggs for a hearty breakfast or pair it with a winter kale salad for a light lunch.
Creamy Pumpkin Hummus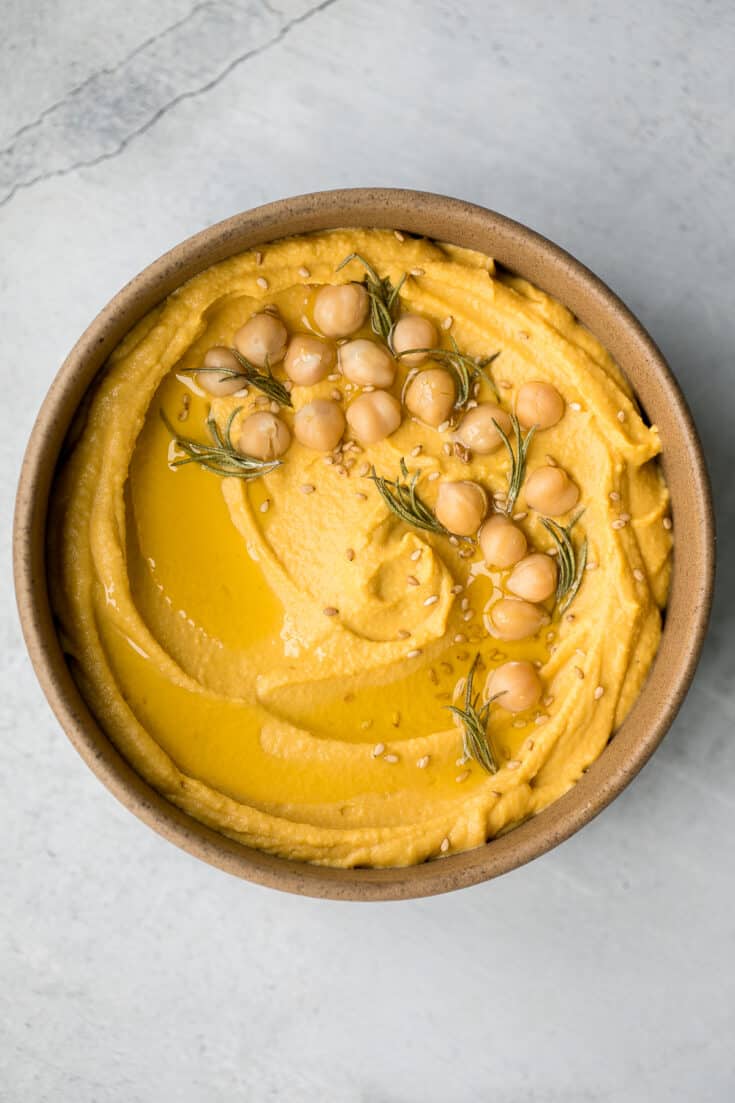 Let's not forget about our creamy pumpkin hummus. It's an innovative twist on the classic chickpea spread that'll wow your guests every time.
Substituting pumpkin for butternut squash lends a unique sweetness that pairs perfectly with the nuttiness of tahini.
It's so easy to whip up in less than 5 minutes and serves as a wonderful accompaniment to pita or crackers.
One Pan Roasted Harvest Vegetables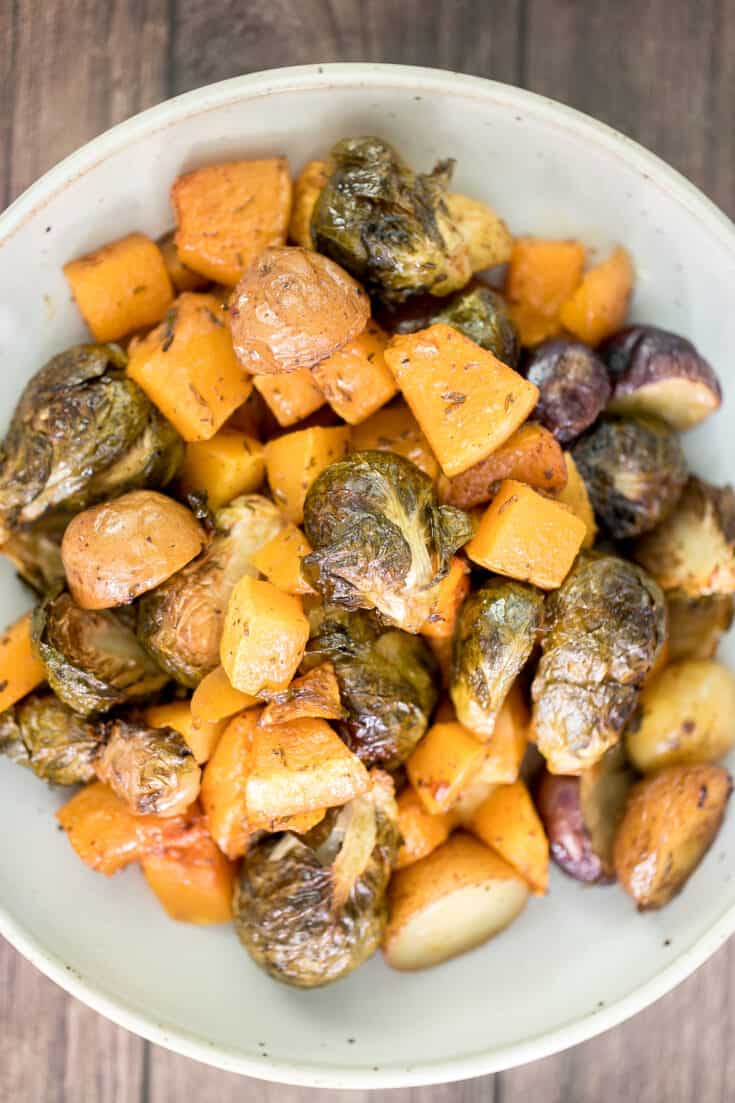 As we bid adieu to the creamy pumpkin hummus, let's move onto a heartier fare. Imagine sweet butternut squash mingling with earthy root veggies, all caramelized to perfection in one pan.
It's not just a side dish, it's an invitation to join in the celebration of autumn's bounty.
Roasted Butternut Squash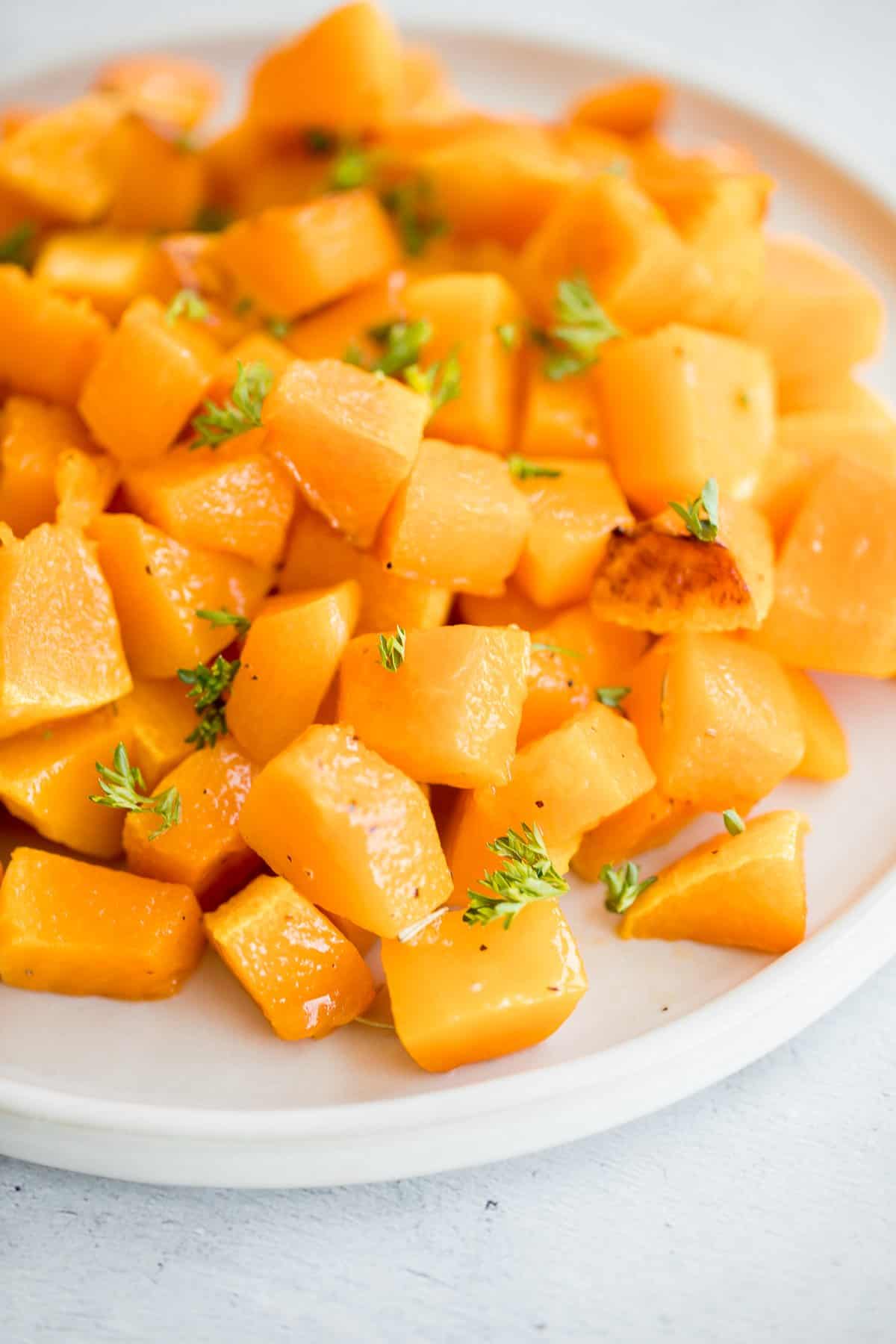 You're about to discover the magic of roasting this orange-fleshed gourd until it's caramelized and tender.
With just a few simple steps, you'll transform humble butternut squash into a divine dish that oozes flavor and warmth.
The rich, sweet taste perfectly complements roast chicken or mashed potatoes, creating an inclusive meal where everyone feels welcome at the table.
Butternut Squash Quinoa Salad
Moving on from the delightful warmth of roasted butternut squash, let's explore a healthier twist: Butternut Squash Quinoa Salad.
I adore how the nutty quinoa harmonizes with sweet, tender chunks of butternut squash. It's not just tasty, but also nutrition-packed and ready in under an hour!
You're included in this culinary adventure where we celebrate wholesome ingredients and invite vibrant health to our table.
Stuffed Butternut Squash with Wild Rice
It's time to delve into our next dish: Stuffed Butternut Squash with Wild Rice, a hearty and satisfying meal that'll impress even the most discerning diners.
This vibrant, meat-free marvel is brimming with flavor. We roast the squash to caramelized perfection, then stuff it with wild rice – nutty, chewy and full of earthy goodness.
It pairs beautifully with roasted turkey breast for a well-rounded feast.
Coconut Curry Pumpkin Soup
Leaving behind the nutty, earthy flavors of stuffed butternut squash with wild rice, I'm now diving into an exotic blend of spices.
Coconut Curry Pumpkin Soup, a quick under-30-minute recipe that uses pumpkin as a smooth substitute for butternut squash. This creamy soup is a warm embrace on cool days.
The rich curry fragrance lures you in; you're part of our culinary family now.