As the weather gets cooler and autumn leaves start to fall, nothing satisfies quite like a warm, comforting bowl of soup. From classic chicken noodle to hearty stews and chowders, these 27 fall soup recipes are sure to hit the spot.
1. Broccoli Cheddar Soup
This broccoli cheddar soup is inspired by the famous version from Panera Bread. The addition of cheese makes broccoli irresistible when blended into a creamy soup.
It's made with a simple base of butter, flour, milk, and broth, then loaded with broccoli and carrots and finished with shredded cheddar.
The soup is thickened with a roux and the broccoli is cooked just until tender – not mushy. Everything gets blended until smooth and creamy before mixing in the cheese at the end.
This is comfort food at its finest! It's easy to make at home and satisfies just like the restaurant version.
2. Roasted Cauliflower Soup
This epic roasted cauliflower soup has a deep, smoky flavor from roasting the cauliflower, which caramelizes its natural sugars. It's thick and creamy without the need for cheese. Roasting is the key to amplifying the flavor of the cauliflower.
To make this soup, simply toss cauliflower florets with olive oil, salt, and pepper and roast at 425 degrees F until browned. Then blend the cauliflower with broth, garlic, and a touch of cream for a smooth and creamy soup.
Garnish with extra olive oil, parsley, and roasted cauliflower florets for texture. It's elegant yet simple.
3. Tomato Parmesan Soup
Craving tomato soup and grilled cheese? This tomato parmesan soup is for you. It's sweet, creamy, refreshing, and irresistible – especially when dunking that grilled cheese sandwich into it.
The tomato flavor shines thanks to fresh basil and the richness of heavy cream and parmesan cheese. Sautéed onions add sweetness while the broth and tomato paste amplify the savory tomato flavors.
Blend until smooth and garnish with more fresh basil and parmesan. Enjoy this simple yet impressive soup all autumn long. It's easy to make yet feels special.
4. Chicken Tortilla Soup
Get your fix of Chick-fil-A's famous chicken tortilla soup with this easy copycat recipe you can make at home. It's loaded with juicy chicken breast, tomatoes, corn, black beans, tender noodles, and Mexican spices.
The flavorful base starts with sautéed onions, garlic, cumin, and chili powder cooked in olive oil. Chicken broth, fire-roasted diced tomatoes, chicken breast, and corn simmers until the chicken is cooked through.
Finally, tortilla strips and cheese gets stirred in just before serving. Make a big batch to enjoy all week long. It's simple, hearty comfort food.
5. Chicken Noodle Soup
Chicken noodle soup is the ultimate comfort food. This homemade version is creamy, hearty, and delightful. It uses leftover rotisserie chicken to save time and maximize flavors.
The chicken broth cooks the vegetables and egg noodles while the chicken meat gets chopped and added back in at the end.
This soup comes together easily and is perfect for make-ahead meals and freezing too. Just prepare the soup then portion it out and refrigerate or freeze it.
Reheat individual portions as needed for an easy lunch or dinner when you need some warmth and comfort. It's simple, yet so satisfying.
6. Spinach Artichoke Soup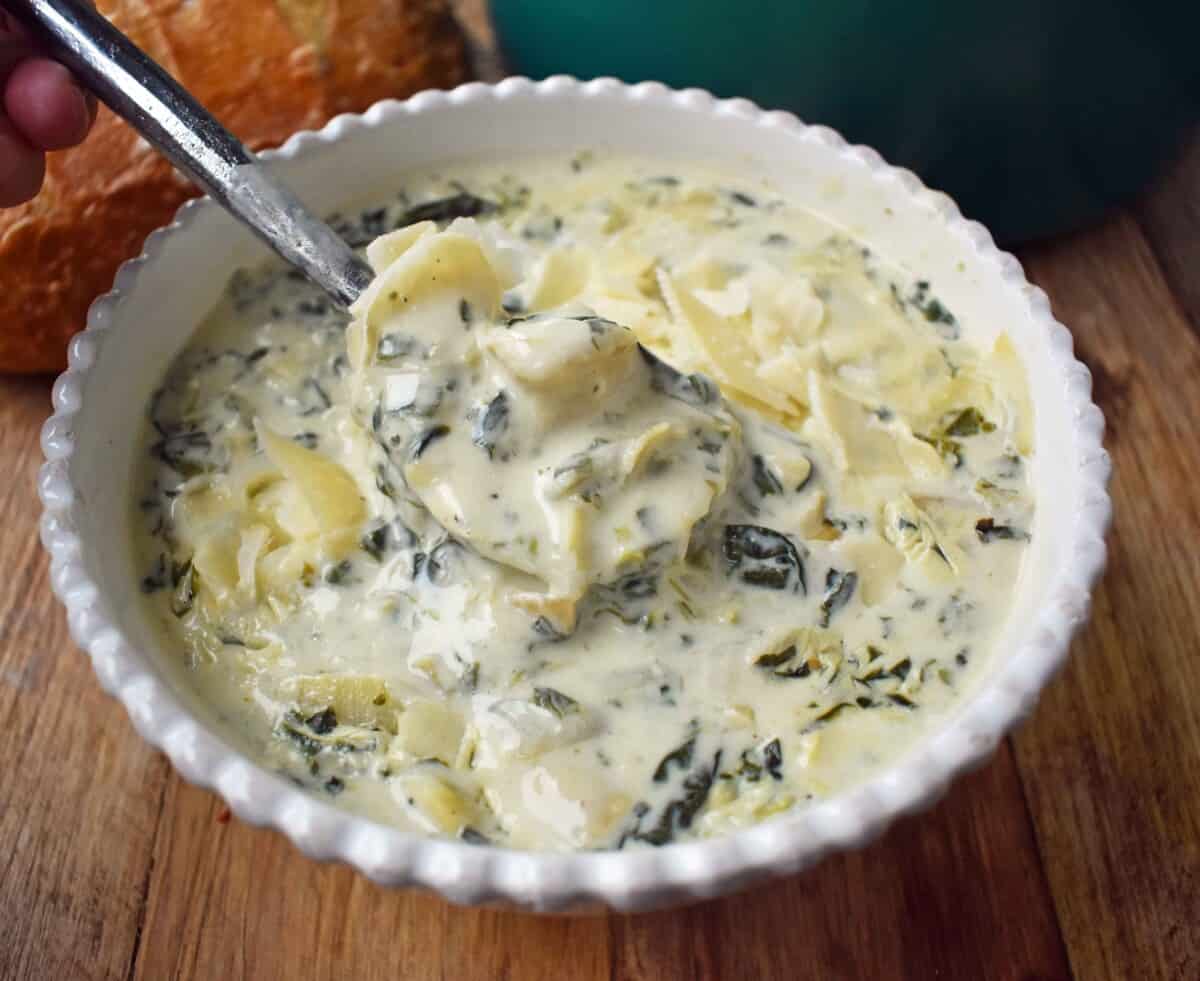 Fans of spinach artichoke dip will love this soup. It captures all the flavors of the classic dip in soup form. Spinach, artichoke hearts, onions, garlic, cream, cream cheese, and parmesan blend into an irresistible creamy soup.
Though it may sound sinful, this soup is loaded with spinach, artichokes, and parmesan, so you can feel good about the vegetables. The key is not overcooking the spinach, just until wilted.
Blend until smooth and creamy, adding more broth to thin if needed. Garnish with Parmesan crisps and lemon wedges. Enjoy this rich, savory soup all season long.
7. 15 Bean Soup
This 15 bean soup is loaded with, you guessed it, 15 varieties of beans! It's a melting pot of navy, kidney, pinto, black, white, lima, great northern, split peas, lentils, and more. simmered in a savory broth with ham, herbs, and seasonings.
With so many types of beans, every spoonful delivers a variety of shapes, sizes, and textures. This soup is hearty and comforting, with the beans becoming melt-in-your-mouth tender after simmering.
Pick your favorite beans or use a premixed blend from the store to simplify preparation. This bean-lover's soup is total comfort food.
8. Nacho Soup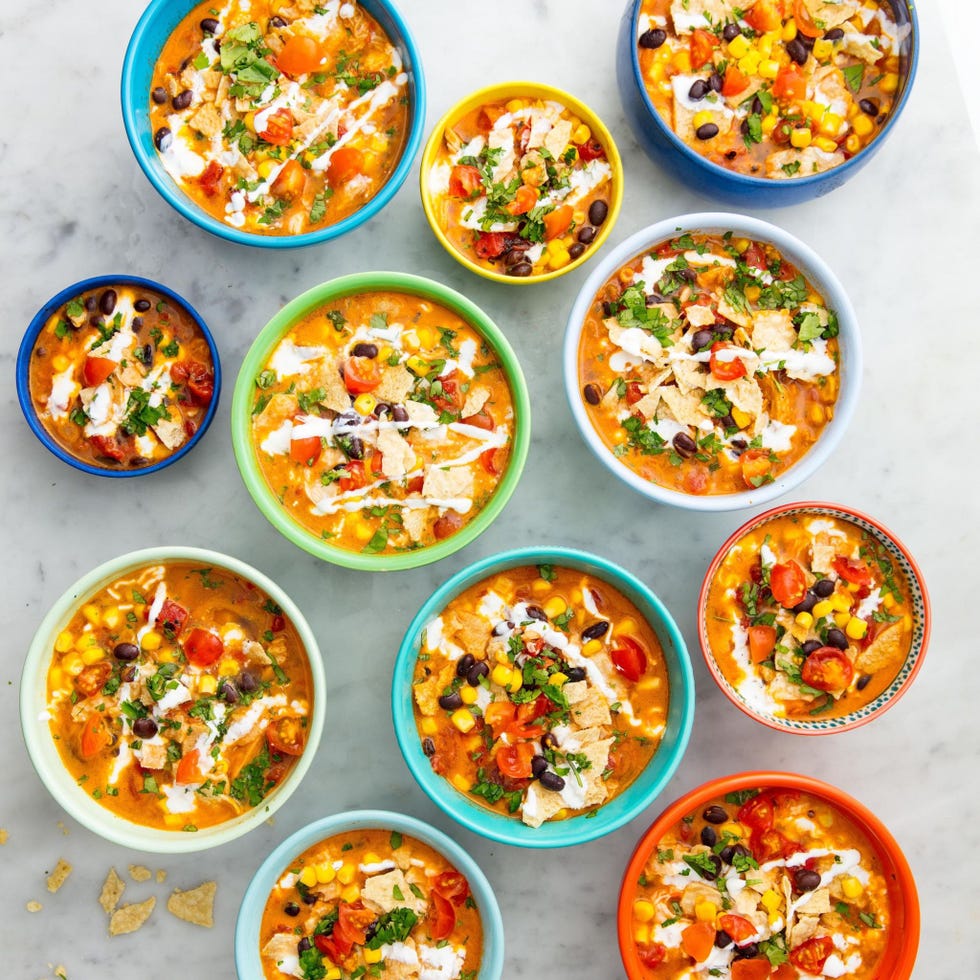 This Mexican-inspired nacho soup is perfect for fall. It's loaded with all your nacho favorites like corn, black beans, chicken, cheese, and of course, tortilla chips. A fire-roasted tomato broth provides deep, smoky flavor.
Sauté onion, garlic, chili powder, and cumin as the base. Then add broth, tomatoes, corn, beans, and chicken. Top each bowl with crispy tortilla strips, shredded cheese, sour cream, and guacamole. Mix and match toppings to customize each bowl.
This soup makes great leftovers too. The flavors just get better overnight.
9. Tortellini Soup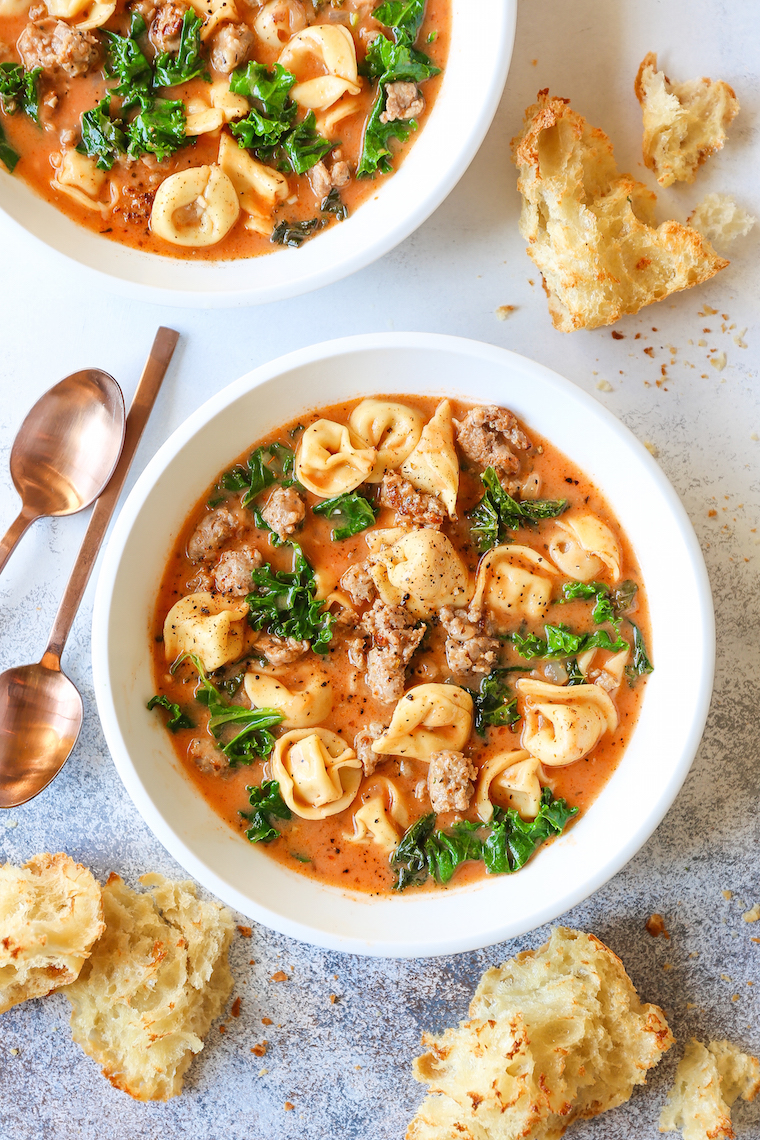 Tortellini soup is fast, flavorful comfort food. Packed with cheese tortellini, Italian sausage, kale, and herbs, this soup comes together in just 30 minutes.
Start by sautéing onion, garlic, and sausage to render the delicious sausage fat and flavors. Chicken broth simmers the tortellini nestled between kale leaves. The starchiness of the pasta thickens the broth as it cooks.
Finally, wilt the kale and stir in heavy cream or half and half for a rich, silky soup. Enjoy with freshly grated parmesan and crusty bread for dipping. So simple yet so satisfying!
10. Pasta e Fagioli Soup
Also known as pasta fazool, this Italian soup is made with pasta and beans. It starts with sautéed aromatic vegetables like onion, celery, carrots, and garlic. Ground beef and beans simmer in a seasoned tomato broth along with ditalini pasta.
The small tubular pasta is traditionally used, but any small pasta shape works. Finish the soup with grated romano and parmesan for a hit of savory, salty flavor.
This is one of those crave-worthy soup recipes that gets even better as leftovers. Each bite is packed with hearty flavors.
11. Lobster Bisque
Indulge in the succulent sweetness of lobster in this irresistible lobster bisque. Creamy yet light broth lets the lobster flavor and texture shine.
First, cook lobster tails in simmering broth to impart flavor. Remove tails, then blend the shells with onions, tomato paste, cognac, and cream to form a luxuriously smooth base. Dice the lobster meat and fold it back in just before serving.
Top with fresh chopped parsley and a drizzle of cream. Every spoonful delivers sweet, tender lobster in harmonious broth. Special enough for any occasion.
12. Clam Chowder
Nothing says autumn like a piping hot bowl of creamy clam chowder. This New England clam chowder recipe is loaded with potatoes, bacon, and clams simmered in a heavy cream broth.
Traditional clam chowder starts with sautéed onion, celery, bacon or salt pork, and flour. Clam juice, chicken broth, potatoes, bay leaves and finally the chopped clams cook until the potatoes are fork-tender.
Finish with cream and a splash of sherry. Sprinkle with parsley and serve with oyster crackers. It's the ultimate comfort soup full of briny, savory seafood flavors.
13. Beef Stew
When you need warming comfort food, look no further than beef stew. Hearty chunks of beef become fall-apart tender after slow cooking in a seasoned broth loaded with vegetables.
Stick-to-your-rib ingredients like potatoes and carrots soak up the rich flavors of the beefy broth. Searing the beef first adds deeper flavor. Tomato paste, red wine, fresh herbs, and beef broth infuse this stew with savory goodness.
Let it simmer away to build the most irresistible flavors. Perfect on cold days when you need something substantial and satisfying.
14. Irish Parsnip Soup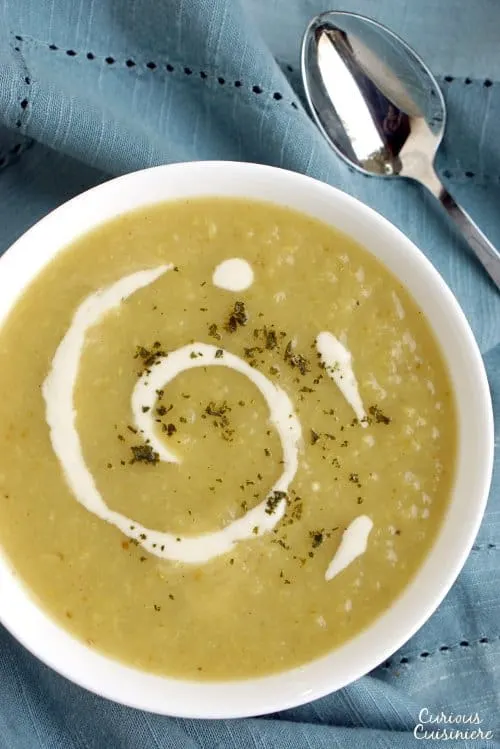 Parsnips become incredibly sweet, nutty, and irresistible when cooked. This creamy Irish parsnip soup highlights their natural sweetness balanced with warm spices like cumin, curry, and coriander.
Simply simmer chopped parsnips and potatoes in broth seasoned with curry powder until very tender. Blend until silky smooth then finish with heavy cream, coriander, and a dash of cayenne if you like heat.
Garnish with fresh parsley. The parsnip flavor shines through with its earthy sweetness in this satisfying soup.
15. Fall Vegetable Quinoa Soup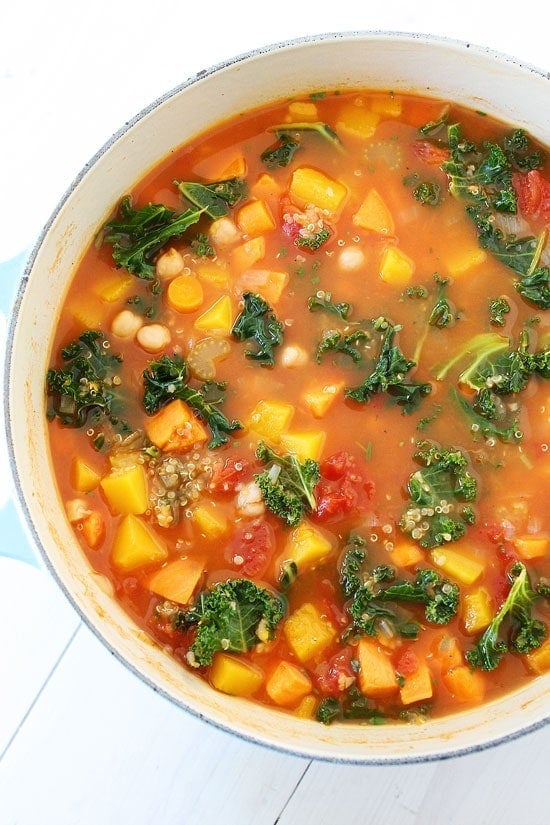 This vegetarian fall vegetable quinoa soup is a one-pot wonder, packed with the best produce of autumn. Sweet potatoes, butternut squash, carrots, tomatoes, and kale simmer in a savory broth with quinoa for added protein.
Quinoa bulked up with vegetables makes this a hearty, nutritious soup that's perfect for Meatless Mondays. Sauté onion and garlic then add broth, vegetables, and quinoa.
The quinoa swells and thickens the broth while the veggies become perfectly tender. Top with pumpkin seeds for crunch. This nourishing soup makes the most of fall's bounty.
16. Wendy's Chili
This Wendy's chili copycat recipe recreates the famous hearty chili made with premium ground beef, beans, and vegetables. Its signature sweetness comes from adding light corn syrup.
Start by browning ground beef with onions and garlic. Then simmer with tomato sauce, kidney beans, corn syrup, and spices. Ladle the chili into bowls and serve with diced onions, shredded cheddar, and oyster crackers, just like the original.
This chili is even better the next day as the flavors continue to develop. Enjoy the homemade version of this classic any day of the week.
17. Potato Soup
Whip up this thick, creamy potato soup from Paula Deen in just 10 minutes of prep time. It's made for the slow cooker so the potatoes break down and thicken the soup as it cooks all day long.
Russet potatoes, onion, celery, chicken broth, cream cheese, sour cream, and bacon cook to creamy perfection.
This shortcut recipe couldn't be easier. Simply prep the ingredients then let them simmer away in the slow cooker for 8 hours on low.
The potatoes create a luscious base while the bacon and cheeses add indulgent flavor and creaminess. Garnish with extra bacon and green onion. It's heavenly comfort in a bowl!
18. Cream of Mushroom Soup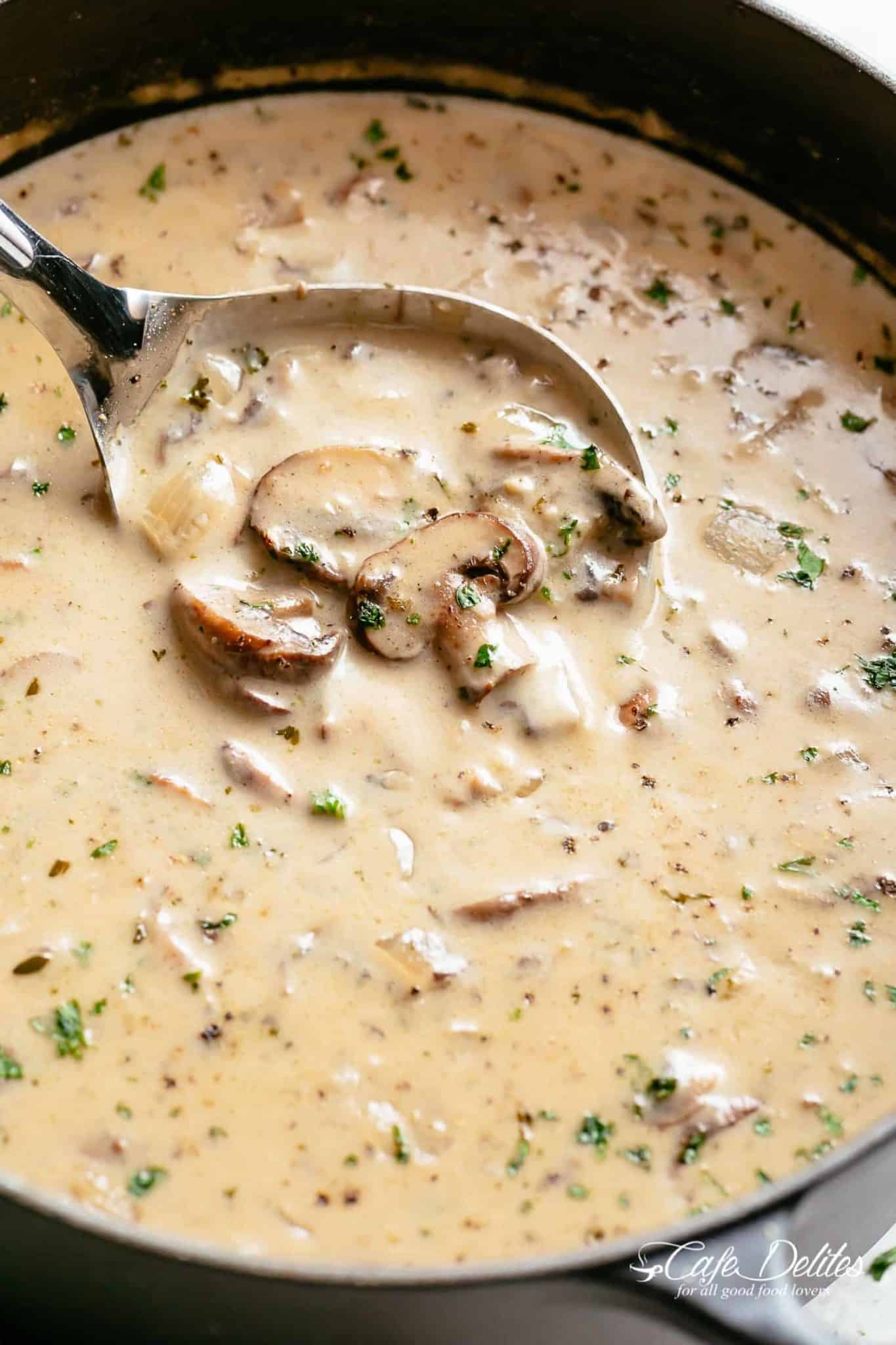 Skip the canned soup and make this easy homemade cream of mushroom soup instead – it blows the storebought version out of the water. Sautéed mushrooms simmered in broth and cream make an elegant, restaurant-worthy soup.
Fresh mushrooms – like white, cremini, and shiitake – add complex, earthy flavor. Chicken broth and just a touch of cream create a stunningly silky base enriched with mushroom flavor. Thyme and sherry round it out.
Blend until velvety smooth. You'll never go back to canned soup again after whipping up this sensational recipe.
19. Butternut Squash Soup
Butternut squash becomes the star of the show in this sweet, creamy fall soup. It's simple yet comforting, with savory aromatics like onion and garlic balancing the natural sweetness of squash.
Roast cubed squash with olive oil to caramelize it and intensify its flavor before pureeing with broth. Finish with a swirl of cream or coconut milk for added richness.
Top with pepitas, sage, and a drizzle of maple syrup for sweetness. Each creamy spoonful highlights the flavors of autumn.
20. Sweet Potato Soup
This easy sweet potato soup celebrates the flavor of autumn's sweetest sidedish. Sweet potatoes break down into a luscious, smooth puree lightly seasoned with warm spices like cinnamon and nutmeg.
Simmer sweet potato chunks in broth flavored with onion and garlic. Blend until completely smooth, then finish with a splash of cream and a garnish of roasted sweet potato slices.
The enticing golden orange color looks stunning in a bowl while the mildly sweet flavor warms you from the inside out. Simple, seasonal, satisfying.
21. Taco Soup
Forget basic chili – this loaded taco soup is even better. It takes chili to the next level with additions like corn, black beans, avocado, Ranch dressing mix, and garnishes galore.
Brown ground beef with taco seasoning then simmer in tomato sauce and broth along with corn, black beans, and more spices. Top with crispy tortilla strips, shredded cheese, diced avocado, sour cream, and cilantro.
Customize each bowl with your favorite taco toppings. This soup makes ordinary weeknights extraordinary.
22. French Onion Soup
This French onion soup uses Julia Child's legendary recipe. It starts by caramelizing onions into a deep, rich jammy base.
Beef broth simmers with sherry, thyme, and bay leaves for a savory broth that's poured over the onions. Top with crusty bread and melted Gruyere or Comte cheese for the iconic soupe a l'oignon.
The process of slowly caramelizing the onions really builds incredible flavor. The trick is to cook them uncovered for 2 to 3 hours over very low heat.
Be patient and you'll be rewarded with sweet, meltingly tender onions in beefy broth under that blanket of melted cheese. It's worth the effort for this elegant classic.
23. Golden Coconut Lentil Soup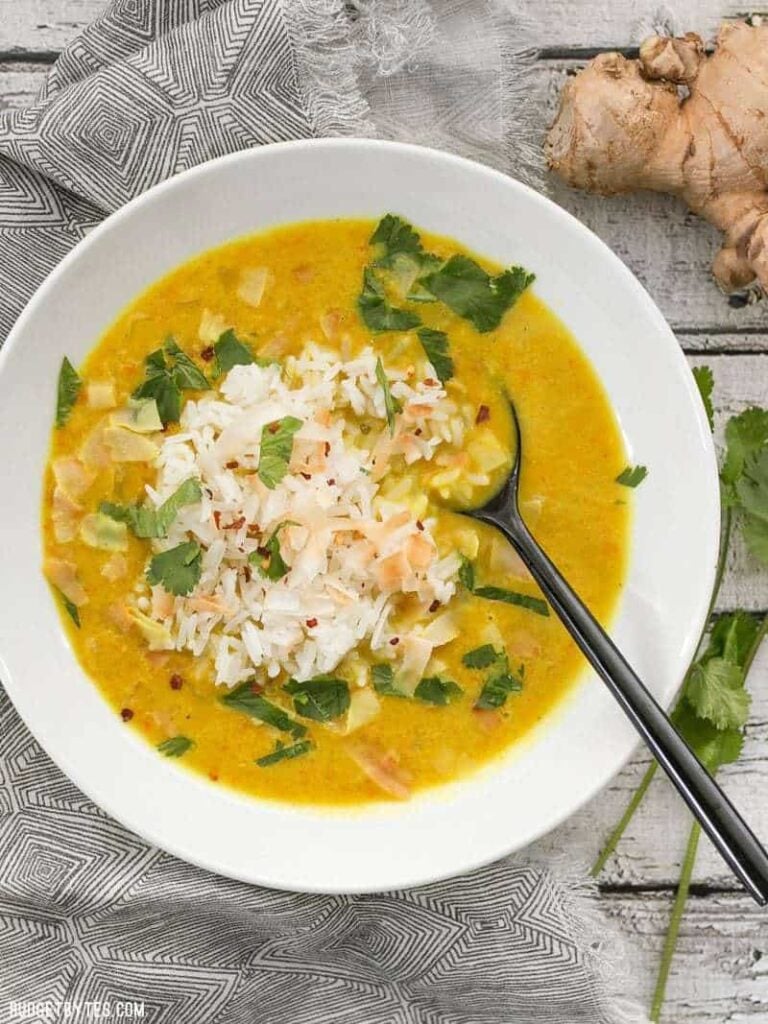 Coconut milk and red lentils meld into a luscious, savory soup punctuated with the bright flavors of turmeric, ginger, and lemon. It's hearty yet delicate and soothing.
Red lentils break down as they simmer, thickening the coconut milk broth into a creamy consistency. Turmeric, curry powder, cumin, and ginger add interest.
Blend half the soup to make it ultra-creamy. Top with fresh cilantro. This nourishing meat-free soup feels comforting yet light.
24. Chicken Gnocchi Soup
This Italian-inspired chicken gnocchi soup is irresistibly comforting. Tender dumplings, chicken, spinach, and carrots float in a creamy, gingery broth for a soup that's satisfying yet light.
Gnocchi have a starchy, chewy texture that pairs perfectly with the vegetables and chicken. Sauté onion, garlic, ginger, and chicken, then add broth, carrots, gnocchi, and spinach.
The starch from the gnocchi thickens the broth into a lush sauce. Sprinkle with parmesan cheese to serve. It's like chicken noodle soup with an Italian twist.
25. Chicken and Rice Soup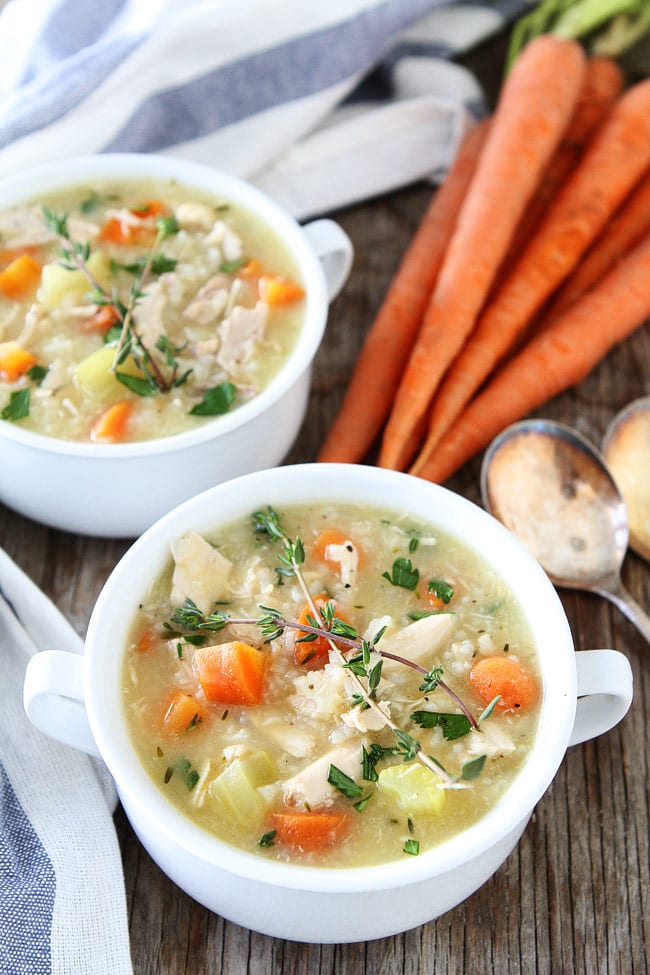 Chicken and rice soup is comfort in a bowl. An aromatic base of onion, carrots, and celery simmers with rice and shredded chicken in a savory broth. It's a one-pot meal with protein, carbs, vegetables, and broth – everything you need to warm up.
Use leftover cooked chicken or quickly bake or poach boneless, skinless breasts just for the soup. Cook the rice right in the broth for extra flavor.
Season simply with poultry seasoning and bay leaves. Finish with a squeeze of lemon juice for brightness. This soothing soup satisfies on chilly nights.
26. Orzo Vegetable Soup
This one-pot orzo vegetable soup hits all the right notes. Orzo pasta, fresh vegetables, Italian seasonings, and chicken broth create a symphony of textures and bright, balanced flavors.
Sauté onion, carrots, zucchini, and garlic, then add broth, orzo, spinach, and seasonings. Everything cooks together in one pot for easy cleanup. Fresh parsley adds color and brightness at the end.
Feel free to swap in your favorite vegetables too! This simple soup makes an easy, nourishing meal any night of the week.
27. Pumpkin Soup
Celebrate pumpkin season with this simple yet decadent pumpkin soup. It's made with just 9 ingredients including pumpkin puree, onion, garlic, broth, and cream.
Saute the aromatics then simmer with the pumpkin puree and broth until heated through. Transfer to a blender to puree until completely smooth.
Swirl in cream and garnish with roasted pepitas and fresh sage. It tastes like liquid pumpkin pie in the best way. Sweet, creamy, and golden, this is the ultimate fall comfort soup.