As the chef and writer behind this beloved food blog, I'm always on the lookout for easy appetizer recipes that can be made gluten-free.
Appetizers are essential for entertaining, potlucks, and parties. Whether you're hosting a casual game night, an elegant dinner party, or a holiday feast, you'll need an arsenal of delicious gluten-free appetizers to start off any gathering right.
In this roundup, I'm sharing 23 of my favorite easy gluten-free appetizers. You'll find classic crowd-pleasing dips and finger foods as well as creative appetizers that put a gluten-free twist on popular recipes.
1. Veggie Tray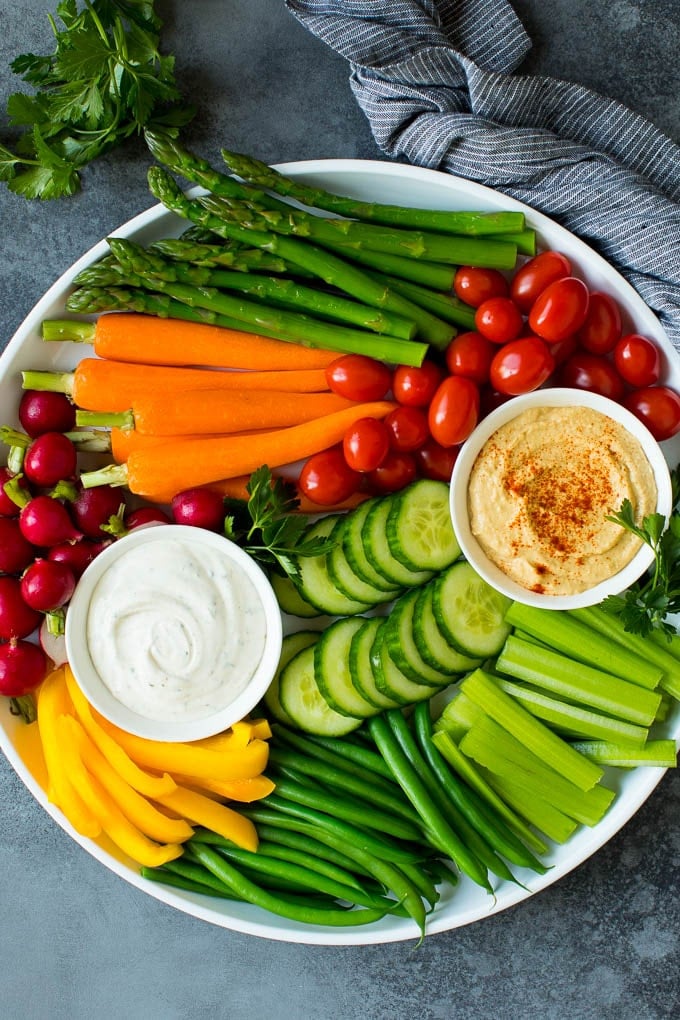 A veggie tray is one of my go-to appetizers for feeding a crowd. The colorful array of fresh raw and blanched vegetables is pleasing to the eye and can serve as a lighter, healthier option alongside any other appetizers.
I like to include carrots, cucumbers, broccoli, cauliflower, grape tomatoes, bell peppers, and anything else that's in season.
Served with hummus, ranch, or another favorite dip, this simple appetizer always disappears fast.
For a pretty presentation, arrange the vegetables in rows on a serving platter.
2. Pizza Pinwheels
These pizza pinwheels put a fun twist on classic gluten-free pizza flavors. I make an easy gluten-free pizza dough using a blend of almond and tapioca flours.
Then I roll it out, spread on pizza sauce, pepperoni, and mozzarella before tightly rolling up the dough.
Sliced into pinwheels and baked until golden brown, you get all the flavors of pizza in easy-to-eat, pick-up bites.
Feel free to customize these with your favorite pizza toppings like mushrooms, olives, or spicy sausage.
3. Gluten-Free Chex Mix
This gluten-free version of the classic salty, crunchy snack mix is dangerously addictive! With corn and rice cereals, pretzels, nuts, and seasonings, it has the perfect crunchy-chewy texture.
I use brown rice syrup and olive oil to coat the mix before baking until perfectly crisp. This is a great make-ahead appetizer for parties, game days, or anytime you need a salty gluten-free snack.
4. Sweet Potato Bites
These sweet potato appetizers are a fresh and delicious gluten-free option. I roast sweet potato slices until tender, then top them with creamy avocado, crispy bacon, and a garnish of fresh cilantro.
The combo of sweet potato, savory bacon, and cool avocado makes these bites irresistible. They're easy to pick up and eat with your hands, making them ideal party food.
5. Asian Chicken Lettuce Wraps
Chicken lettuce wraps are one of my favorites for an easy gluten-free appetizer. They're light and fresh yet packed with flavor.
I sauté chicken with classic Asian flavors like garlic, ginger, sesame oil, hoisin, and chili sauce.
Serving the flavorful chicken mixture tucked into cool, crisp lettuce leaves makes for fun handheld appetizers.
The lettuce cups can be assembled just before guests arrive.
6. Orange Walnut Stuffed Dates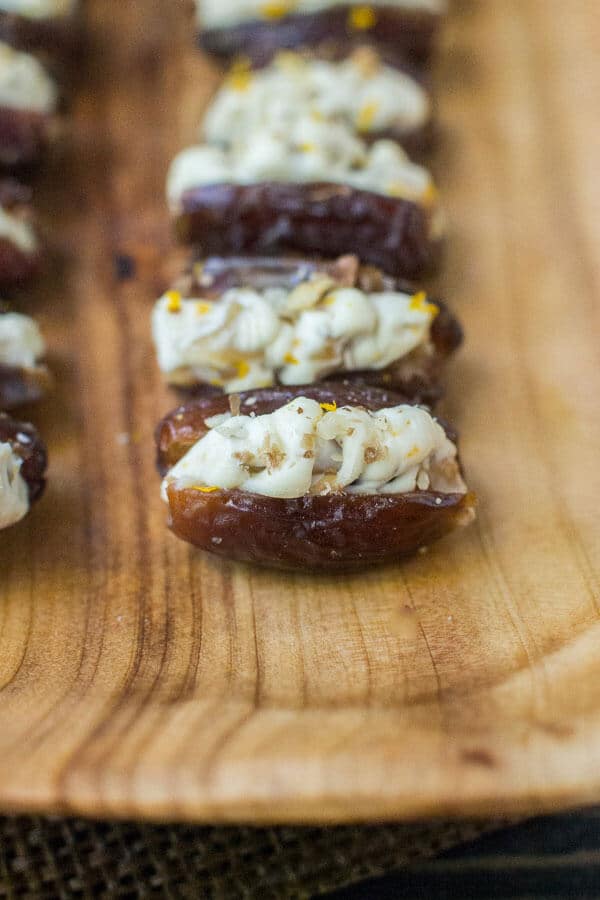 Dates stuffed with a sweet orange and creamy cheese filling are an elegant appetizer with wonderful flavors.
Pitted dates get slathered with a mixture of cream cheese, orange zest, and orange juice before being topped with crunchy walnut pieces.
The combination of soft, sticky dates, tangy-sweet citrus cream cheese, and walnuty crunch makes these little bites irresistible.
They're easy to make ahead for parties and the leftovers make a healthy snack too.
7. Fruit Kabobs
Who doesn't love fruit kabobs? They're a light and refreshing appetizer for summer parties and potlucks.
I load bamboo skewers up with bite-sized fresh fruit like pineapple, melon, grapes, berries, and kiwi.
Brushing the fruit lightly with lemon or orange juice prevents browning. The sweet juicy cubes of fresh fruit make these kabobs a fun finger food to nosh on before a meal.
Adjust the fruit according to what's in season.
8. Bacon-Wrapped Smokies
Bacon-wrapped smokies are a go-to crowd-pleasing appetizer in my household. Little smokie sausages get blanketed in slices of bacon before getting baked or grilled until the bacon gets perfectly crispy.
The combination of savory bacon with the sweet and salty smokie sausage is hard to beat. For a fun twist, try wrapping the smokies in brown sugar-coated bacon or use bacon weave blankets for extra crispiness.
Adding a toothpick or pineapple chunk can make them easier to eat.
9. Gluten-Free Tortilla Chips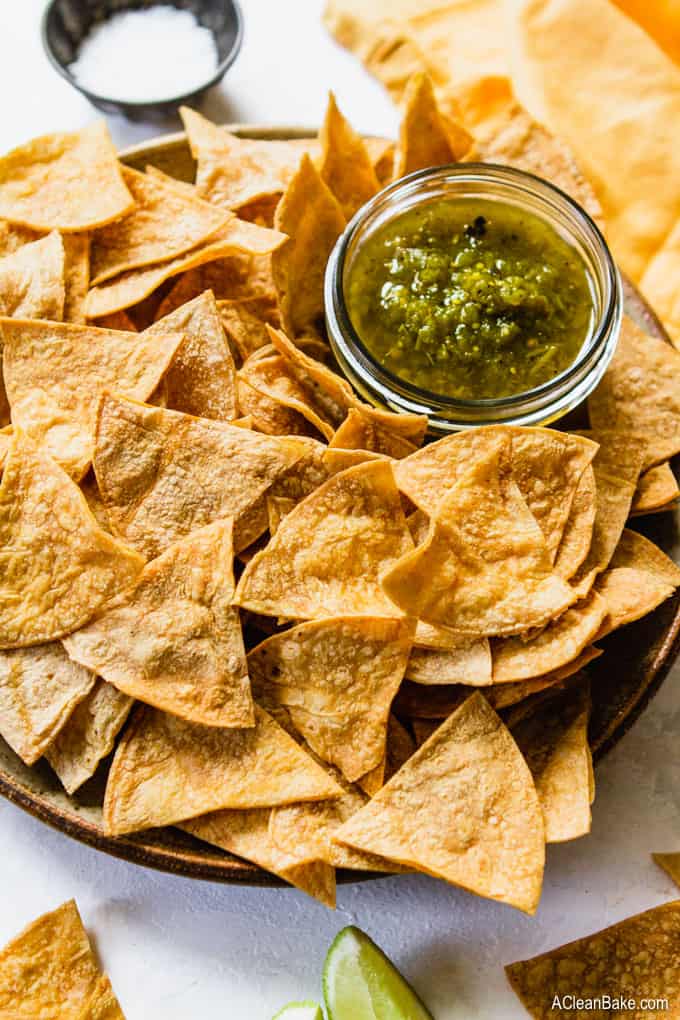 You can easily make gluten-free tortilla chips right at home. I take corn or brown rice tortillas, cut them into wedges, and bake them with a sprinkle of salt until crispy.
Adding garlic powder, chili powder, or other seasonings takes these chips up a notch. Making them at home lets you control the ingredients.
They're sturdy enough for scooping salsa, guacamole, or dips. And much cheaper than buying bags of gluten-free chips from the store.
10. Cowboy Caviar
Cowboy caviar is one of my favorite quick appetizers to throw together for a barbecue, potluck, or picnic. It's packed with fiber and flavor.
I combine beans, corn, tomato, peppers, and red onion in a fresh chunky salsa. A sweet and tangy apple cider vinaigrette coats the mix.
Scooped up with tortilla chips, this veggie-loaded salsa is always a hit. You can make it ahead and it keeps well, making it ideal for taking to parties.
11. Deviled Eggs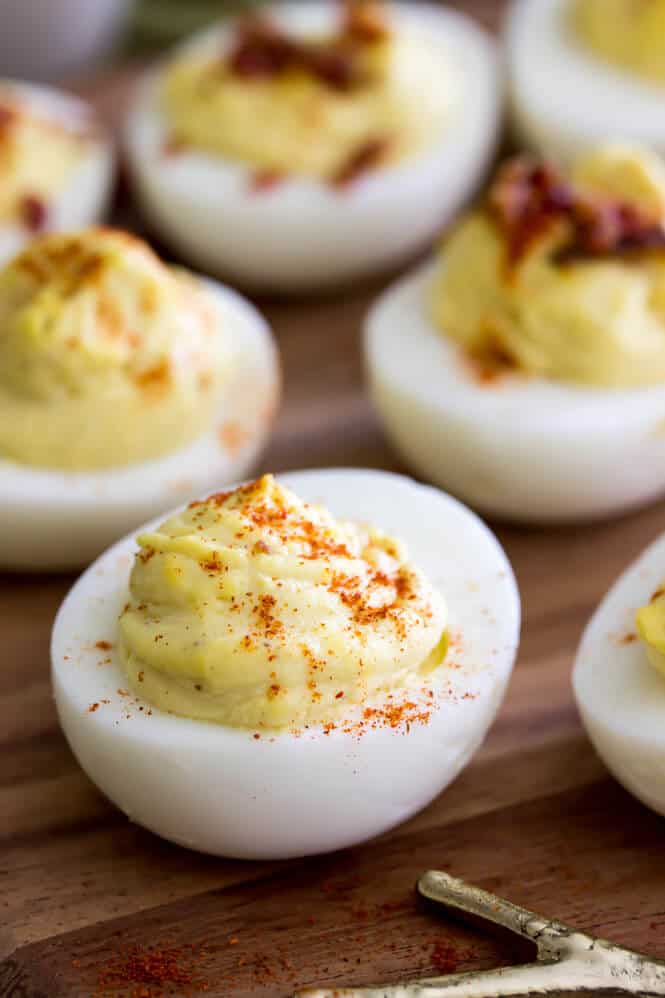 Deviled eggs are a classic favorite, but these are no ordinary deviled eggs. My recipe has a special "million dollar" filling with a unique secret ingredient – crumbled bacon!
Egg yolks get blended with mayonnaise, Dijon, salt, and pepper before being scooped into the whites.
I top them off with crispy crumbled bacon bits and a sprinkle of smoked paprika for irresistible flavor and crunch in every bite.
The bacon renders these eggy bites richer, creamier, and more filling than ever.
12. Greek Salad Sushi
For a fun twist on classic sushi, these Greek salad rolls are loaded with bright Mediterranean flavors. They're easy enough to assemble for a sushi beginner.
I spread a layer of hummus on seaweed sheets, then load on cucumbers, red onion, red bell peppers, and crumbled feta cheese.
Tightly rolled up and sliced, you get colorful spirals bursting with cooling cucumber, sweet peppers, and briny feta.
Drizzled with tangy tzatziki sauce, they make a light and fresh summer appetizer.
13. Chocolate Hummus
This chocolate hummus puts a dessert spin on classic hummus with amazing results. It takes just minutes to blend up chickpeas, cocoa powder, maple syrup, and vanilla into a rich, silky chocolate puree.
Served with fresh strawberries or apple slices, this chocolatey dip is sure to be a crowd-pleaser.
It's dairy-free and gluten-free, making it a great option for many diets. The leftovers might not make it to the next day!
14. Queso
Warm, melty, spicy cheese dip is a must for any party. But traditional queso contains wheat flour. My version uses cornstarch and tapioca flour to thicken it perfectly.
I load the dip with gooey melty cheese, spicy pickled jalapeños, salsa, cumin, and chili powder.
The amaranth flour helps make an incredibly smooth, dense, and creamy dip that's served warm with tortilla chips.
It's got all the cheese pull and spice of restaurant queso but without the gluten.
15. Grilled Cheese Skewers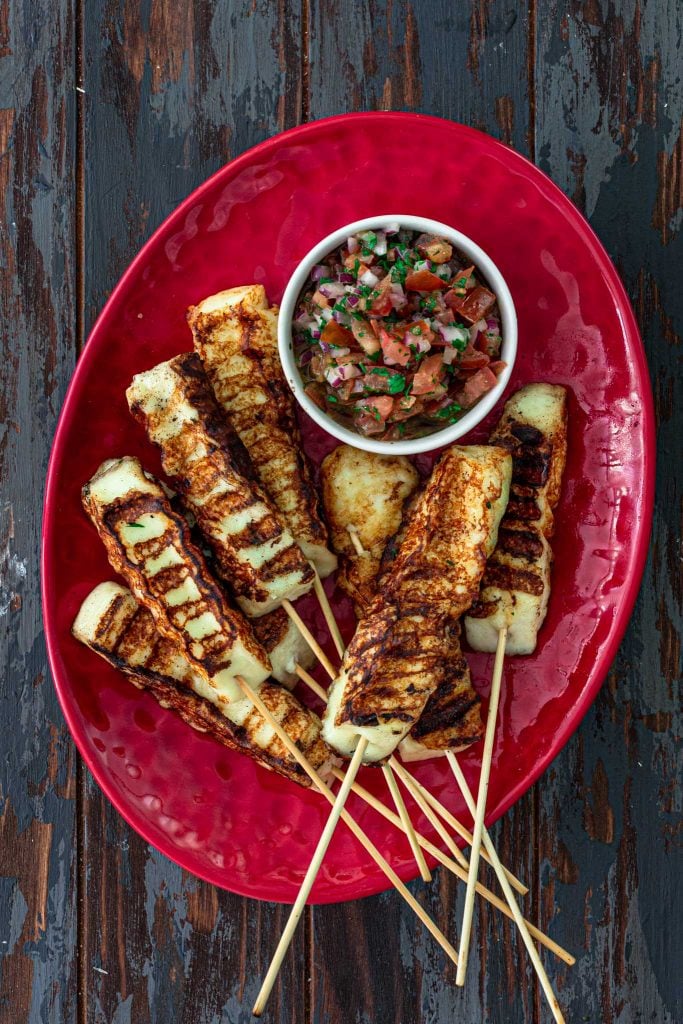 Everybody loves grilled cheese sandwiches, so why not serve them on a stick? These grilled cheese skewers are the perfect party food.
I take bite-sized squares of bread and sandwich chunks of cheese in between them before skewering.
Grilled or broiled until the cheese melts and the bread is toasty and golden, you get all the classic flavors of a grilled cheese sandwich in easy-to-eat handheld form.
Serve with tomato or cheese sauce for dipping.
16. Guacamole
Homemade guacamole is a staple at my get-togethers. While guacamole is naturally gluten-free, my recipe adds a twist by using diced mango for a tropical flavor.
After mashing up creamy Hass avocados with lime juice, cilantro, and spices, I gently fold in fresh mango.
The sweet fruit perfectly complements the cool, creamy avocado.
With just the right amount of heat, this mango guacamole is sure to become a favorite.
17. Cucumber Bites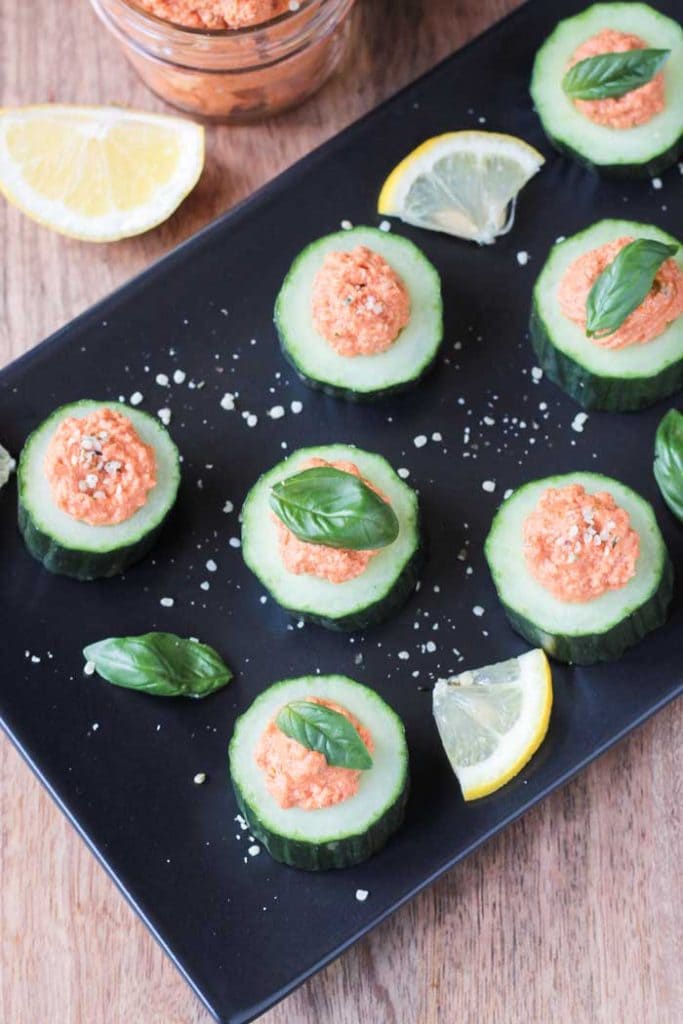 These refreshing cucumber appetizers are perfect for summer parties and potlucks. I top sliced cucumbers with a tangy sun-dried tomato spread flavored with lemon juice, garlic, and Greek yogurt.
Garnished with fresh basil, these bites are crisp, cooling, and delicious. The sun-dried tomato spread can also be served with gluten-free crackers.
But using fresh cucumber slices makes a great gluten-free option for vegan and vegetarian guests too.
18. Caramelized Onion Dip
This thick, creamy caramelized onion dip is a crowd-pleasing classic. Sautéed onions lend incredible depth of flavour.
Once they're completely broken down and caramelized, I blend them into a dip along with mayonnaise, sour cream, garlic, and spices.
Served with potato chips or gluten-free crackers, this dip always disappears in a hurry. The dip can be made 1-2 days in advance for easy party prep.
19. Spinach Dip
Spinach dip is the perfect easy appetizer for any occasion. My recipe combines frozen spinach with Greek yogurt, mayonnaise, sour cream, Parmesan, and spices.
Just a few ingredients make an ultra creamy, flavorful dip that looks beautiful too. I garnish it with halved cherry tomatoes and fresh chives.
Served with crunchy gluten-free crackers or vegetables, this bright green dip never fails to impress guests.
20. Gluten-Free Salsa
Homemade salsa is one of the easiest appetizers for a gluten-free diet. My recipe starts by dicing up fresh tomatoes, bell pepper, onion, garlic, and jalapeño (if you like the heat).
After tossing everything together, I add lime juice, cilantro, and a dash of gluten-free soy sauce for a savory flavor boost.
The result is a chunky, vibrant salsa for scooping up with tortilla chips. Make it as mild or spicy as you prefer by adjusting the jalapeños.
21. Lemon Herb Feta Dip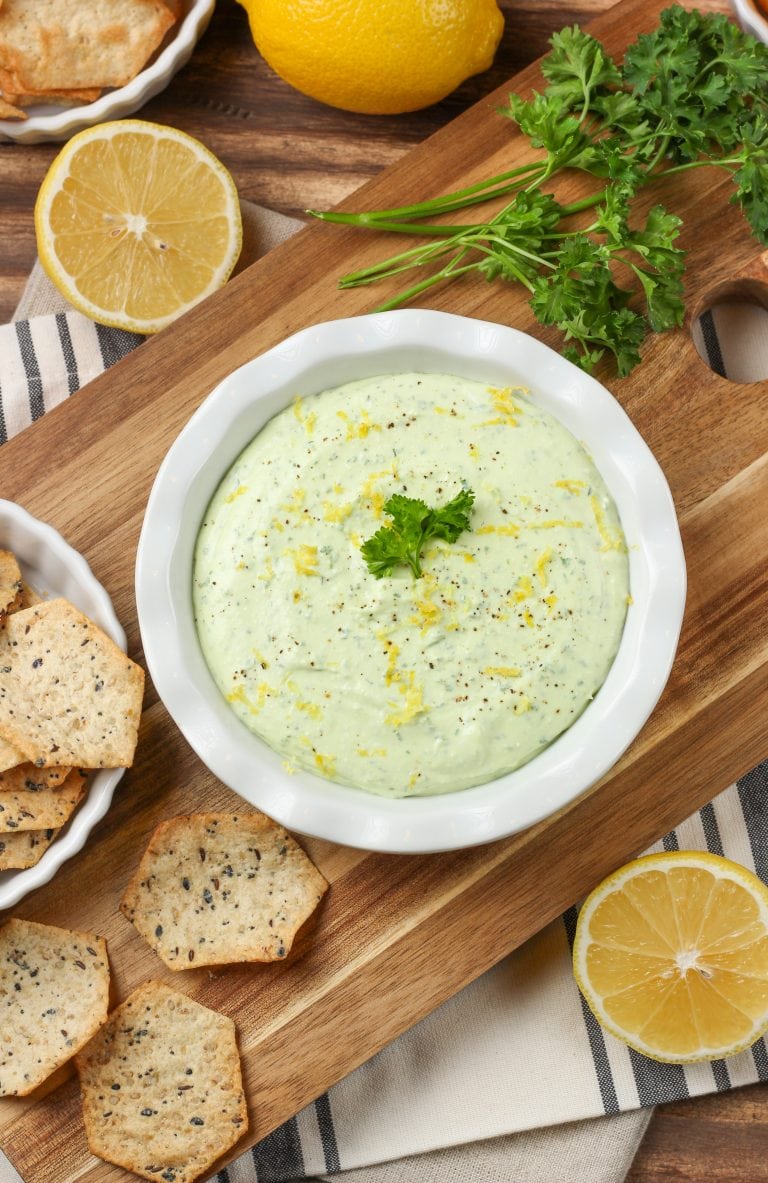 This tangy, creamy feta dip gets its flavor from lemon juice and herbs. I blend feta cheese, cream cheese, plain Greek yogurt, lemon juice, and seasonings like dried parsley, dill, chives, and garlic powder into a dip with spreadable texture.
Garlicky and bright thanks to the lemon, this dip is fresh and addictive. I serve it with an assortment of raw vegetables and gluten-free crackers.
It also works nicely as a sandwich spread or veggie topper.
22. Almond Flour Crackers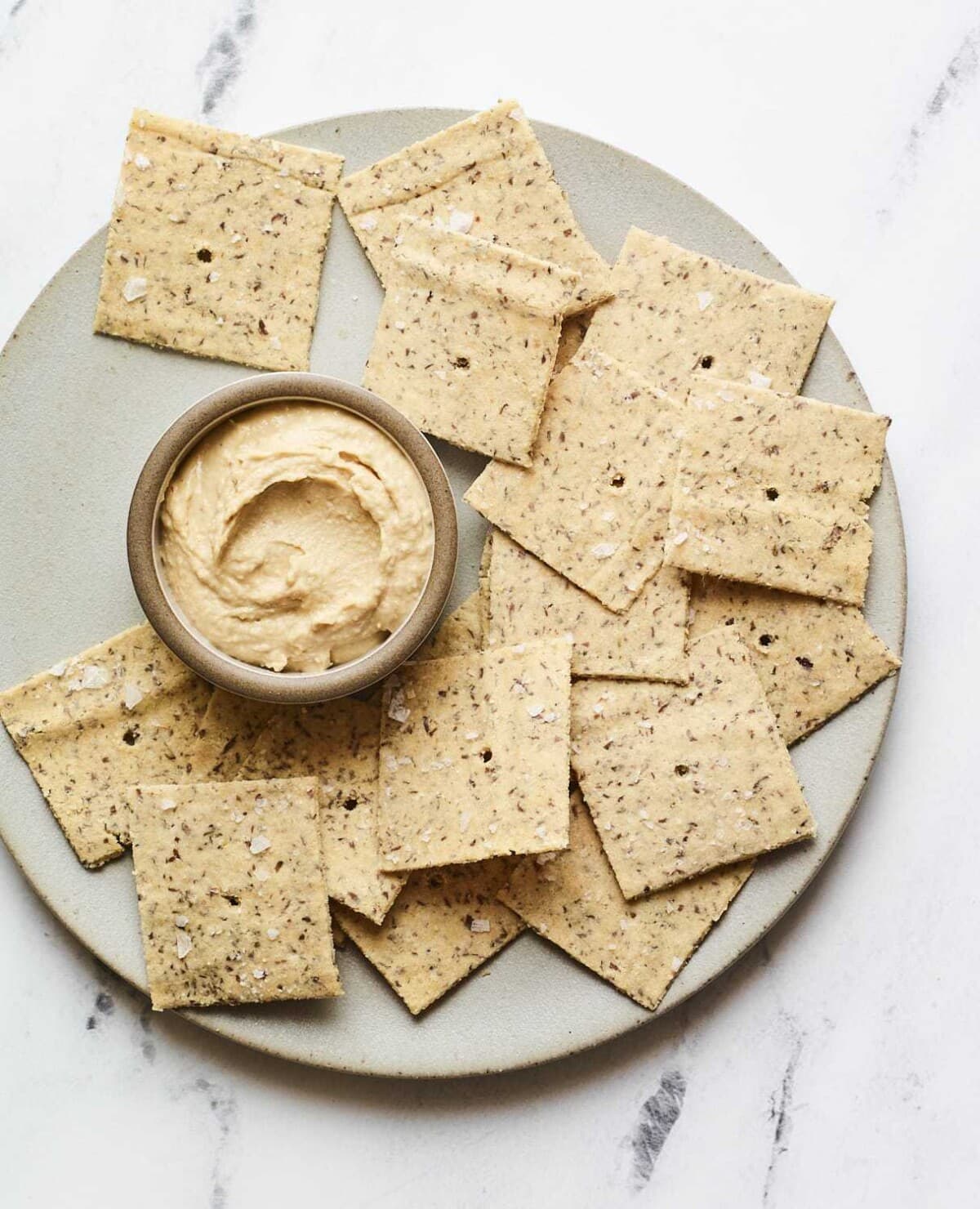 Having gluten-free crackers on hand is a must. But store-bought ones can be expensive. My homemade almond flour crackers cost just pennies apiece!
With just almond flour, flaxseed, water, and salt, these crackers bake up crispy and flavorful. Rolling and scoring the dough into cracker shapes before baking gives them an artisanal look.
Make a batch to always have gluten-free crackers for dipping, cheese plates, or snacking.
23. Caprese Skewers
Caprese skewers are an elegant and easy gluten-free appetizer for any special occasion. Cherry tomatoes, fresh mozzarella balls, and basil leaves stack onto short skewers, alternating the ingredients.
Then they're drizzled with good quality balsamic glaze. The flavors of creamy mozzarella, sweet tomatoes, fragrant basil, and tangy balsamic are a match made in heaven.
These pretty skewers work for parties, bridal and baby showers, or date nights.