As a parent, one of the biggest challenges is making sure your child gets tasty, nutritious meals, especially if they have food allergies or sensitivities.
When my daughter was diagnosed with celiac disease, our family had to overhaul our diet and learn to love gluten-free cooking. After much trial and error, I've honed a collection of kid-approved gluten-free recipes that don't sacrifice any flavor or appeal.
In this roundup, I'm sharing 30 of our family's best gluten-free recipes that are sure to please kids of all ages – and grownups too! From fun snacks and sweet treats to family dinner favorites, these allergy-friendly recipes cover all the bases.
I hope they provide inspiration and deliciousness to your gluten-free kitchen adventures!
1. Gluten-Free Orange Chicken
As a parent of a child with gluten sensitivity, I'm always on the hunt for kid-friendly recipes that don't compromise on flavor. This sweet and sour orange chicken checks all the boxes – it's a gluten-free version of a classic Chinese takeout dish that kids love.
The chicken is coated in a mixture of gluten-free flour and cornstarch which gives it a deliciously crispy exterior. I use tamari or coconut aminos instead of soy sauce to ensure it's gluten-free.
The sauce features orange juice, rice vinegar, sesame oil, and other gluten-free pantry staples. It comes together quickly for a fast weeknight dinner, ready in under 30 minutes.
My kids devour this orange chicken every time I make it. The combination of crunchy chicken and sticky sweet-and-sour sauce is irresistible. It's the perfect kid-pleaser meal that also happens to be allergy-friendly. This will definitely stay in my regular rotation.
2. Gluten-Free Donuts (Krispy Kreme Copycat)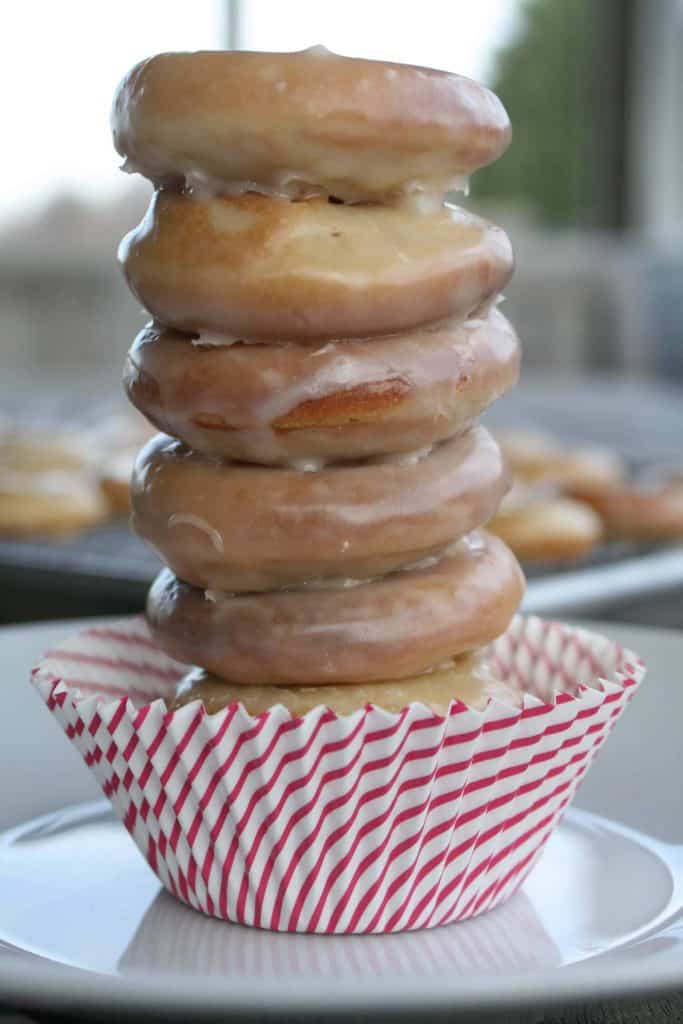 Is there anything better than a fresh, warm donut? This gluten-free copycat recipe recreates the magic of Krispy Kreme donuts at home. They're light, fluffy, and deliciously glazed – you'd never know they were gluten-free!
The donuts are made with a simple blend of gluten-free flour, milk, eggs, sugar, baking powder, and vanilla. After a short rise, they get fried to golden brown perfection. While they cool, I whip up an easy vanilla glaze for that signature shiny, crackly topping.
These copycat donuts are spot-on. The interior is pillowy soft while the exterior stays crispy. My kids ask for them every weekend. I love that I can treat them to their favorite indulgence without worrying about gluten or preservatives. This recipe is getting filed away in my "mom win" folder!
3. Gluten-Free Vanilla Bean Cupcakes
These tender gluten-free vanilla cupcakes are as good as any bakery treat. They have the perfect texture – fluffy yet moist, with a delicate crumb. The vanilla bean flavor is subtle and aromatic without being overpowering.
I use a blend of gluten-free flour, cornstarch, baking powder, and xanthan gum to create the light, airy texture. Milk, butter, and eggs lend richness and moisture.
After baking, I top them with a creamy vanilla frosting that puts these over the top.
The cupcakes are wonderful on their own or customizable with sprinkles or decorations.
4. Gluten-Free Macaroni and Cheese
This homemade gluten-free macaroni and cheese is ultra creamy comfort food at its finest. With just a few pantry staples, you can make an insanely delicious mac and cheese that rivals the boxed stuff.
I use gluten-free elbow macaroni, sharp cheddar, and evaporated milk to form the creamy cheese sauce base. Spices like dry mustard, paprika, and cayenne add flavor depth without making it spicy for kids. Topping with crunchy panko breadcrumbs gives it a delicious golden crust.
This mac and cheese is always a crowd pleaser. The smooth, velvety sauce coats each piece of pasta perfectly. My kids love customizing it by adding cooked broccoli or ham.
It's their ultimate comfort food, and an easy gluten-free dinner option for busy weeknights. This might become your new favorite macaroni and cheese recipe!
5. Gluten-Free Meatballs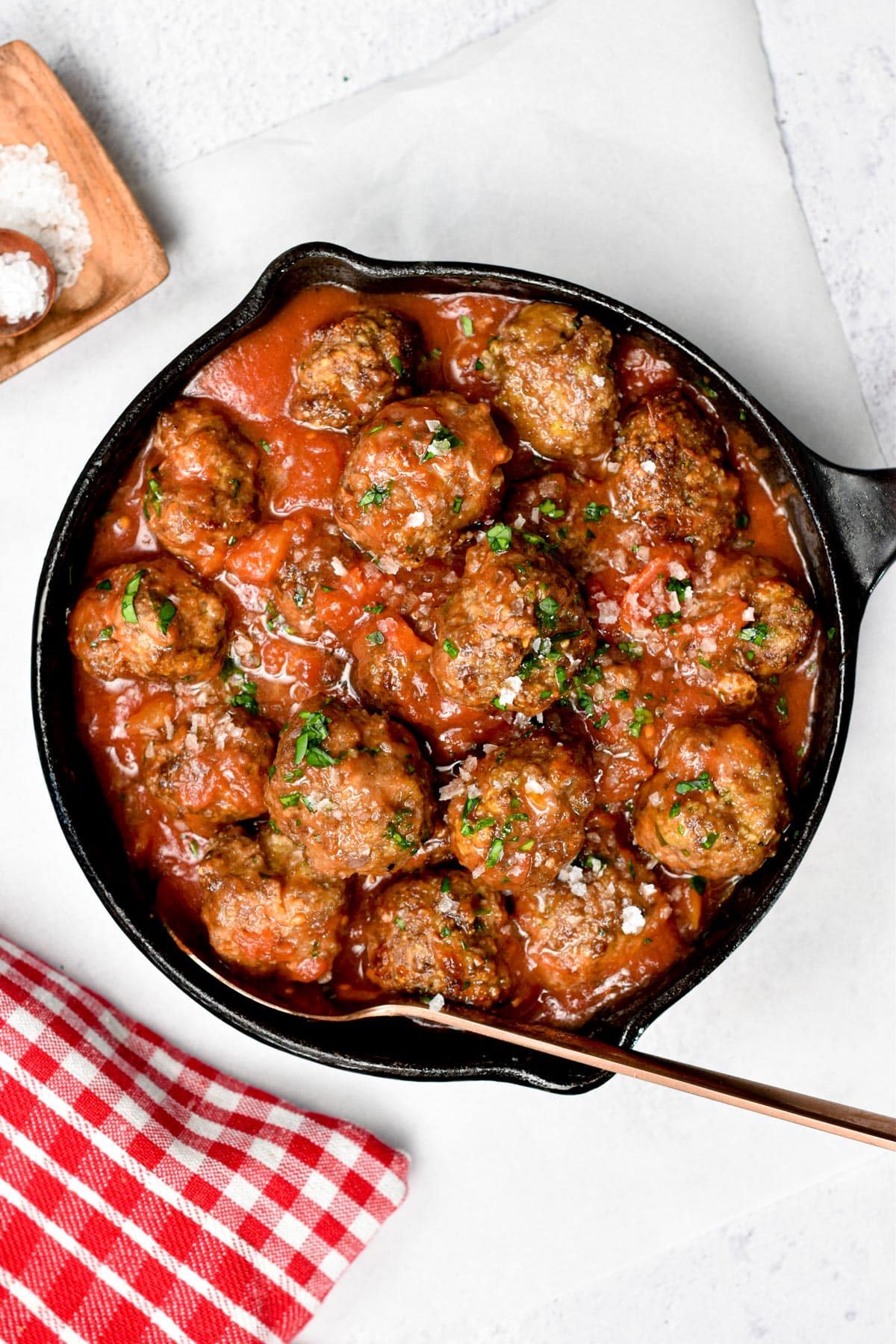 These simple gluten-free meatballs are a hit with kids and adults alike. They're tender, juicy, and packed with flavor. The small size makes them perfect for little hands to pick up and dip in sauce.
I use a combo of ground beef and ground pork for depth of flavor. Italian seasoning, garlic, egg, and gluten-free breadcrumbs bind it all together. After a quick bake in the oven, the meatballs turn out tender on the inside and slightly crispy on the outside.
For serving, I keep things classic with marinara sauce and grated Parmesan. They're great over pasta or zucchini noodles for a gluten-free meal. You can also turn them into meatball subs by topping with marinara and mozzarella on gluten-free buns.
These meatballs are simple to throw together and fun for kids – the perfect gluten-free dinner!
6. Gluten-Free Ravioli
Homemade ravioli is surprisingly easy to make gluten-free. The tender pasta dough comes together quickly in the food processor. I use a simple blend of gluten-free flour, olive oil, salt, and eggs.
Once the dough is made, the fun part is deciding on the filling. My kids love using a classic ricotta, spinach, and nutmeg blend. But we've also done fun flavors like chicken bacon ranch and pepperoni pizza. The filling possibilities are endless!
After filling and sealing the ravioli, they cook up in just 2-3 minutes. Served with marinara or alfredo sauce, they make an impressive and satisfying meal.
This is a fun cooking project to do together as a family. And knowing the ravioli is safe for gluten-free loved ones makes homemade pasta night that much sweeter.
7. Gluten-Free Mozzarella Sticks
These gluten-free mozzarella sticks are crispy on the outside and oozing with melty cheese on the inside. kids go crazy for them! Making them at home is easy and allows you to control the ingredients.
I use string cheese cut into sticks and coated with a mixture of gluten-free flour, corn starch, spices, and egg. The gluten-free breadcrumbs add crunch once fried.
These come together quickly and can be frozen after frying for easy weeknight appetizers. We love dunking them in warm marinara sauce for dipping. They disappear fast, so I always make extra! Gluten-free comfort food at its finest.
8. Easy Gluten-Free Tacos
Tacos are one naturally gluten-free meal that my kids beg for weekly. Corn tortillas make the perfect base for building the ultimate customized taco.
I cook ground beef or chicken in a skillet with taco seasoning to start. Then we build our tacos with all the favorite toppings like shredded cheese, diced tomatoes, lettuce, and salsa.
For the seasoning, I make sure to use a gluten-free taco blend or whip up my own mix of chili powder, cumin, garlic, and other spices.
I fill up shells with the meat mixture and let the kids go wild topping their own. Tacos are such a fun, interactive meal for kids and work for all diets.
9. Gluten-Free Chicken Nuggets
These homemade gluten-free chicken nuggets are a major win for kids and parents! They're crispy and tender, plus you control the ingredients.
I coat chicken breast chunks in whisked eggs and a gluten-free flour blend before coating them with crushed gluten-free corn flakes or panko. Baking instead of frying makes them healthier too.
These are ready in under 30 minutes – way faster than takeout! We love dipping them in ketchup, ranch, or barbecue sauce.
The gluten-free coating stays crispy even when sauced. This recipe is in regular lunchbox and dinner rotation in our household.
10. Gluten-Free Pizza Dough
This gluten-free pizza dough recipe yields a crust that's chewy, crisp, and kid-approved. Having a dough ready to go in the freezer makes whipping up a homemade pizza so easy.
I use a simple blend of gluten-free flour, yeast, olive oil, salt, sugar, and xanthan gum for stretch and chew. The dough comes together quickly in the stand mixer. After rising, I divide it into balls for freezing.
When pizza night comes around, I just pull a dough ball from the freezer to thaw slightly. The kids love topping their own personal pizzas with sauce, cheese, and lots of toppings. The group effort makes dinner fun!
This versatile dough works great on the grill or baked in the oven too.
11. Soft & Chewy Gluten-Free Pretzels
For a fun gluten-free snack, you can't beat homemade soft pretzels. Making them from scratch lets you control the ingredients so they're safe for those with allergies.
This easy dough starts with gluten-free flour, yeast, brown sugar, salt, butter, and milk. After kneading and rising, the dough gets shaped into pretzel knots and boiled briefly before baking.
The two-step cooking process gives that delicious chewy, shiny pretzel texture on the outside with a soft interior.
I top them with coarse salt for an extra savory crunch. Serve them warm with creamy mustard for dipping and try not to eat them all!
12. Gluten-Free Perogies
Perogies are the ultimate comfort food, and this gluten-free homemade version doesn't disappoint. Kids and adults alike will devour these cheesy potato dumplings.
The tender gluten-free dough wraps around a hearty mashed potato and cheddar filling. Boiling then pan frying gives them a delicious crispy edge. They're served up with sour cream, green onions, and crispy bacon bits.
This is a fun recipe to get the whole family involved in making. Kids can help fill and seal the perogies before cooking.
The reward is dipping into a mountain of warm, cheesy perogies straight from the pan. This cozy dish is pure comfort on a plate!
13. Perfect Gluten-Free Brownies
Fudgy, chewy, and decadent – these brownies are gluten-free perfection! They come together with just 8 simple ingredients you likely have on hand.
I use almond flour, cocoa powder, chocolate chips, eggs, butter, sugar, vanilla, and salt. After a quick 30 minutes in the oven, the edges get crackly and fudgy while the middle stays perfectly tender and moist.
Once cooled, I sprinkle them with a touch of coarse sea salt for even more chocolaty richness. My kids devour these endlessly – they're the perfect treat for school parties or packed lunches too.
14. Gluten-Free Homemade Chicken Noodle Soup
Nothing beats a cozy bowl of homemade chicken noodle soup. This gluten-free version is ready in just 30 minutes using pantry staples.
I start by simmering chicken thighs in broth with aromatic veggies like onion, carrot, celery, and garlic. Once the chicken is cooked, I shred it and toss it back into the broth along with dried gluten-free noodles. A handful of parsley adds freshness.
The gluten-free pasta soaks up all the delicious flavors for the perfect hearty yet comforting soup. With simply pantry ingredients, you can have this nourishing bowl on the table quickly. It's the coziest way to warm up on a chilly day!
15. Easy Gluten-Free Pancakes
Fluffy gluten-free pancakes are a weekend breakfast staple in our home. This simple batter comes together in just 5 minutes and cooks up golden.
To make them gluten-free, I use an all-purpose blend plus xanthan gum for structure. Baking powder helps them rise nice and fluffy. Milk, egg, butter, and vanilla add richness and moisture.
I love customizing them by mixing in chocolate chips, blueberries, or banana slices. The options are endless! Drizzle them with maple syrup or fresh fruit compote.
These easy, allergy-friendly pancakes please a crowd. Any extras can be frozen for quick breakfasts down the road.
16. Gluten-Free Muffins
These tender gluten-free muffins are my savior for busy school mornings. I make a big batch on Sunday so I have breakfast and snacks ready for the week.
The base batter starts with gluten-free flour, baking powder, eggs, milk, yogurt, oil, vanilla and lemon zest. Then you can stir in mix-ins like blueberries, apples, chocolate chips, or cinnamon crumble topping.
I pour the batter into lined muffin tins and have freshly baked muffins in just over 20 minutes. They last all week in the fridge or freezer and toast up perfectly.
Having breakfast and snacks ready to grab and go makes our morning routine so much smoother.
17. Best Gluten-Free Chocolate Chip Cookies
These gluten-free chocolate chip cookies are thick, chewy, and loaded with melty chocolate – everything a cookie should be! My kids insist they're just as good, if not better, than the gluten version.
To make them gluten-free, I blend almond flour with potato starch, tapioca flour, baking soda, and xanthan gum. Brown sugar and melted butter lend chewy texture and toffee-like flavors.
After a scoop of chocolate chips, they're ready for the oven. They turn out thick and soft in the center with crisp edges and crackly tops.
These are the perfect after-school snack or care package treat. No one suspects they're gluten-free!
18. Easy Gluten-Free Corn Casserole
This is my easy go-to side dish for busy weeknights. The moist, flavorful gluten-free corn casserole bakes up golden while the main dish cooks.
I mix together creamed corn, whole kernel corn, eggs, butter, gluten-free cornbread mix, onion, and red bell pepper. After baking for 30 minutes, it comes out with a crispy top and creamy, moist interior.
This corn casserole is the perfect pairing with saucy dishes like chicken nuggets or meatloaf. I love that it's ready with just a few pantry staples and bakes unattended. This will become your new favorite corn dish once you try it!
19. Gluten-Free Lasagna
This hearty gluten-free lasagna loaded with meat, cheese, and savory tomato sauce is total comfort food bliss. Making it at home lets you control the ingredients so it's allergy-friendly.
I make a quick meat sauce with ground beef, onion, garlic, tomatoes, and Italian seasoning. Gluten-free lasagna noodles get layered between the meat sauce, ricotta, mozzarella, and parmesan.
It takes a little time to assemble, but the wait is worth it! Once baked, this lasagna is total cheesy, saucy perfection. The edges get crispy and the cheese perfectly melted.
20. Best Gluten-Free Burgers
These craveable gluten-free hamburgers are a summer grill staple. They hold their shape on the grill and have great meaty flavor. The fluffy gluten-free buns complete the tasty package.
The beef patties are seasoned with Worcestershire sauce, coconut aminos, onion powder, garlic, and eggs as a binder. Crushed gluten-free crackers add texture and flavor.
I top them simply with melty cheddar cheese and all the classic fixings. Served on gluten-free buns, these burgers don't feel like a sacrifice at all.
Even my most skeptical family members agree these are some of the best gluten-free burgers ever!
21. Mini Strawberry Pop Tarts
Kids will flip when they try these homemade gluten-free Pop Tarts. You can customize the fruity filling flavors to their taste.
I use store-bought gluten-free puff pastry dough for easy assembly. Just thaw, cut into rectangles, and fill with your choice of jam, Nutella, or vanilla pudding. Seal shut, poke holes to vent, brush with egg wash and sprinkle decoratively with sanding sugar before baking.
These mini Pop Tarts are ready in under 30 minutes. My kids have fun customizing their own filled pastries and picking the topping combos. It's an easy gluten-free treat that makes mornings more fun!
22. Gluten-Free Fruit Pizza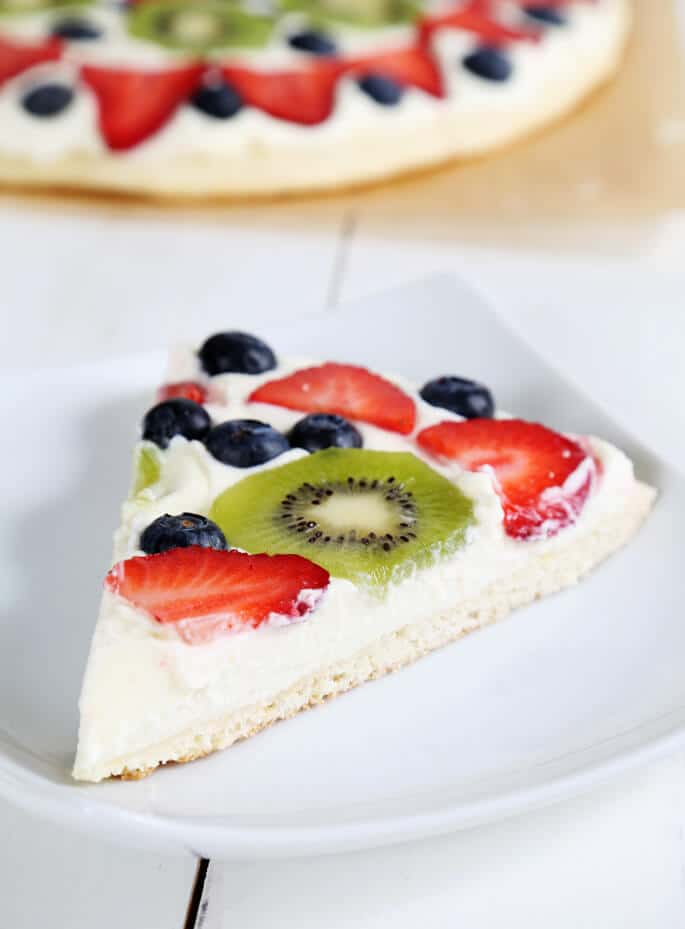 This colorful fruit pizza makes a fun dessert for summer parties or school celebrations when you need a guaranteed gluten-free treat.
To start, I use my homemade gluten-free sugar cookie dough or a store-bought version. Press into a greased pizza pan and bake until lightly golden.
Once cool, I spread with sweetened cream cheese frosting and artfully arrange fresh fruit like kiwi, strawberries, blueberries, and mandarin oranges. It's such a bright, cheery dessert that's sure to impress kids and adults.
23. Gluten-Free French Toast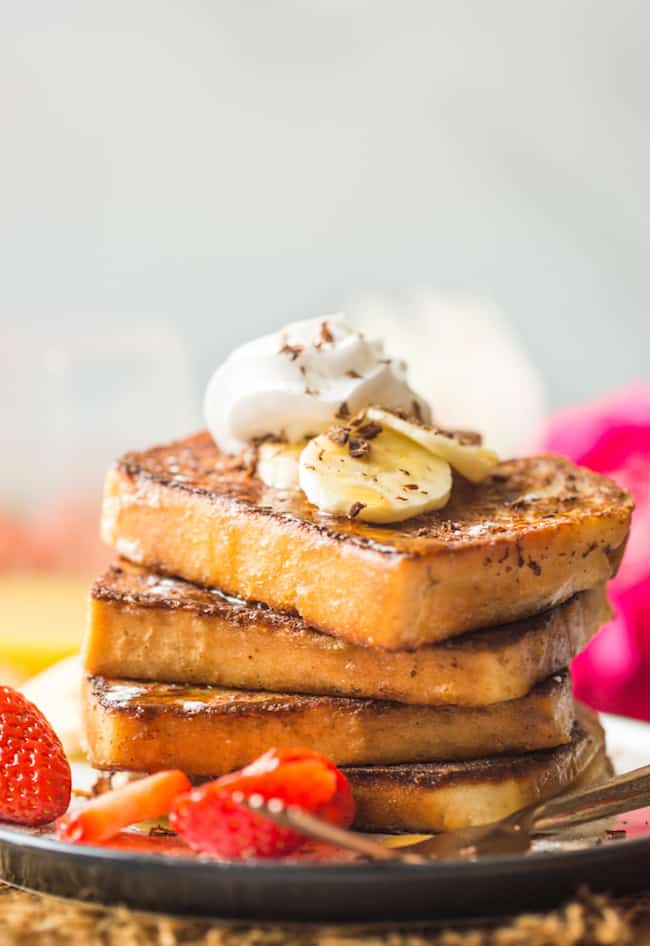 This gluten-free French toast recipe delivers crisp edges, fluffy texture, and melty cinnamon-vanilla flavor. It uses just six simple ingredients for easy morning magic.
Whisk together eggs, milk, vanilla, cinnamon, and sugar for the soaking batter. I use gluten-free bread and let it soak on both sides before frying in butter on the stovetop.
Topped with maple syrup, banana slices, or fresh fruit, this French toast hits the sweet spot. I love having an allergy-friendly version to make for leisurely weekend mornings. This will become your new favorite gluten-free breakfast!
24. Easy Gluten-Free Waffles
These easy gluten-free waffles are deliciously crispy on the outside and fluffy inside. Making the dry mix ahead of time means you can have waffles on the table in under 15 minutes anytime.
Just blend gluten-free flour, baking powder, salt, and sugar. Store in an airtight container until waffle time! Add milk, butter, egg, vanilla, and water and mix until smooth.
The batter pours perfectly into a preheated waffle maker. My kids love customizing their waffles with different fresh fruit toppings and syrups. Having this gluten-free recipe up my sleeve makes mornings stress-free.
25. Apple Crepes with Cinnamon
These naturally gluten-free apple crepes make an elegant breakfast or dessert. The chewy coconut crepes are a blank canvas for sweet apple filling and cinnamon.
Blend coconut flour, eggs, milk, coconut oil, vanilla, and honey for the crepe batter. Cook thin crepes in coconut oil and fill with sauteed apples, raisins, cinnamon, and maple syrup.
Roll up the crepes and top with powdered sugar, nuts, and caramel sauce for a showstopping presentation. The combo of warm apples and light, tender crepes is absolute perfection. These impressive gluten-free crepes will wow any crowd!
26. Soft, Gluten-Free Sandwich Bread
Having gluten-free sandwich bread makes lunches and breakfast so much easier. This soft loaf is simple to make at home.
It uses gluten-free flour, yeast, xanthan gum, honey, milk, eggs, and olive oil. After mixing and kneading, it proofs for 60-90 minutes before baking.
The result is a nicely domed loaf with a tender, moist crumb – perfect for slicing. I love using it for grilled cheese, PB&J, and breakfast sandwiches. Make a few loaves on the weekend so you have sandwich bread ready all week.
27. Gluten-Free Pizza Bites
These gluten-free pizza bites are perfect pop-in-your-mouth finger food. They're easy to make in a muffin tin for kid-friendly fun.
Press gluten-free pizza dough into greased tins and top with marinara, cheese, and pepperoni or veggies. Bake 15-20 minutes until crust is crispy and cheese melty.
Let kids help top their own mini pizzas for an interactive dinner or party food. The mini size makes them easy to pick up and dip in marinara sauce. This recipe is definitely a winner!
28. Gluten-Free Baked Ziti
Baked ziti is the ultimate comfort food, and this gluten-free version definitely satisfies the craving. It's straight-forward to adapt using gluten-free pasta.
I boil gluten-free ziti noodles until al dente before assembling. In a baking dish, alternate layers of ziti, meaty tomato sauce, ricotta, mozzarella, and parmesan.
After 30 minutes of baking, it emerges hot, melty, and deliciously saucy. The cheese gets perfectly browned on top. Kids devour this gluten-free version just like the original. Serve it up for an easy weeknight dinner win.
29. Gluten-Free Cheesy Tater Tot Casserole
This gluten-free tater tot casserole is irresistible comfort food. It's a fun way to dress up gluten-free tots for breakfast, lunch, or dinner.
I brown ground beef with onions and garlic before mixing in cream of chicken soup, milk, and cheddar. After spooning into a baking dish, I top with a layer of gluten-free tater tots.
Baked until golden, this casserole is crunchy, creamy, and irresistible. The combo of cheesy beef mixture and crispy tots can't be beat! Kids request this gluten-free version on repeat.
30. Easy Gluten-Free Banana Bread
This easy one-bowl banana bread recipe results in a moist loaf with warm banana and spice flavors. It just happens to be gluten-free too!
Mashed ripe bananas add natural sweetness and moisture. I use a blend of gluten-free flour, baking soda, baking powder, eggs, butter, and vanilla.
After mixing up the quick batter and pouring into a loaf pan, it bakes up beautifully in under an hour. The house fills up with tempting banana aroma.
Sliced thick, this gluten-free banana bread is great for breakfast or snacks. It keeps well during the week and freezes like a dream. This will become your go-to recipe!