Are you in the mood for some sizzling Mexican chicken recipes that are not only delicious but easy to prepare? You've come to the right place! I've gathered a collection of 25 simple yet flavorful recipes that bring the zest and vibrancy of Mexican cuisine straight to your dining table.
From busy weeknights to relaxed weekend dinners, these recipes have got you covered. Let's dive right in and discover the joy of creating authentic Mexican dishes that will impress your family and friends!
1. Chicken Burritos
Spice up your taste buds with mouthwatering chicken burritos made from your very own Crockpot Mexican chicken.
Juicy, flavorful meat meets a warm tortilla, gooey cheese, and all your fave fixings like zesty salsa, creamy guacamole, and tangy sour cream.
The best part? You're the boss, so mix and match ingredients to create a burrito that's uniquely you.
Whether it's a speedy lunch or a satisfying dinner, these burritos will satisfy your cravings.
2. Mexican Chicken Casserole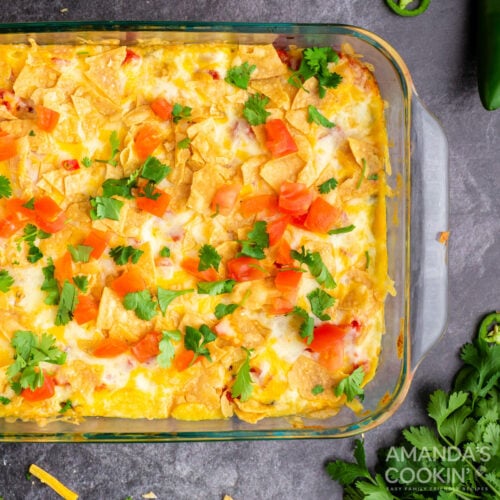 Layer tortillas, chicken, tomatoes, beans, and cheese for a truly mouthwatering experience.
This dish will transport you straight to the vibrant streets of Mexico. As you dig in, the creamy chicken soup, tangy tomatoes, and rich cheese create a taste explosion like no other.
3. Chicken Fajitas
Get ready to indulge in the tender, juicy chicken of these mouthwatering fajitas! Imagine the vibrant peppers and crispy onions sautéed to perfection.
The trick to keeping the chicken succulent? Cooking it whole. As it grills, the flavors mingle and create an irresistible combination.
4. Crockpot Mexican Chicken
Prepare yourself for a flavour explosion! As the chicken works its magic in the crockpot, the chipotle peppers in adobo infuse it with smoky, sweet, and spicy goodness.
The tantalizing aroma fills my kitchen and gets me pumped for dinner.
This Mexican chicken recipe is a game-changer, delivering incredible flavor and convenience. With minimal effort, you'll have juicy, tender chicken that pairs perfectly with rice, tortillas, or even salads.
5. Chicken Chimichangas
Crunchy, golden chimichangas are a total game-changer. They'll have you hooked from the first bite.
Imagine a crispy shell stuffed with perfectly seasoned shredded chicken. One crunch and you're in for a juicy, tender explosion of Mexican spices.
6. Chicken Quesadillas
Get ready to sink your teeth into these irresistible, flavor-packed quesadillas!
Picture tender chicken and ooey-gooey cheese melting together, creating the perfect bite.
With a satisfyingly crispy outside, you'll experience that delightful crunch you crave.
And the best part? These quesadillas are a genius way to use up any leftover chicken from Taco Tuesday.
Whip up these Mexican chicken quesadillas in no time for a meal that will make you feel like part of the familia.
7. Slow Cooker Queso Chicken Dip
This creamy, cheesy goodness is packed with tender chicken, beans, peppers, and tomatoes. As it simmers in the slow cooker, the flavors blend together beautifully, creating an appetizer that's simply irresistible.
Grab some tortilla chips or fresh veggies and get ready to be the hero of any gathering.
8. Mexican Stuffed Peppers
The combination of green, red, and yellow peppers creates a visually stunning dish that will make your taste buds jump for joy.
What sets these Mexican stuffed peppers apart is the clever twist of cutting them in half from top to bottom, allowing for more stuffing and easier baking.
So, brace yourself for the ultimate flavor extravaganza!
9. Chicken Taco Salad Recipe
Fresh ingredients like corn and Cotija cheese come together to create a satisfying and mouthwatering meal.
The vibrant colors and textures of this salad will make your taste buds dance with excitement. But wait, there's more! The tangy salsa adds a zesty kick to each and every bite, taking this dish to a whole new level of deliciousness.
And let's not forget about the creamy sour cream dressing that perfectly complements the crunchiness of the tortilla chips. It's a match made in culinary heaven!
10. Mexican Chicken and Beans
Get ready to fall in love with the explosive flavors of tender chicken, flavorful beans, and savory spices in this incredible Mexican dish. It's the ultimate weeknight dinner that's quick and easy.
Sauté the chicken until it's perfectly cooked, then amp up the heat with some Mexicorn (or regular corn) and your choice of extra chilies. Let all the incredible flavors meld together in a mouthwatering blend of spices and water.
This meal will leave you completely satisfied and craving for more.
11. Crockpot Chicken Taco Chili Recipe
Get ready to experience the ultimate crockpot chicken taco chili! Cook it low and slow for 6-8 hours to let those flavors mingle and create a mouthwatering masterpiece.
This recipe takes those classic Mexican taco vibes and transforms them into a hearty, satisfying chili. Your taste buds won't know what hit 'em! The shredded chicken soaks up all those savory spices, resulting in a dish that's pure deliciousness.
And the best part? It's a breeze to make! Just throw everything in your slow cooker and let the magic happen.
The end result? A warm, comforting bowl of goodness that'll make you feel like the life of the fiesta.
12. Skillet Chicken Con Queso Recipe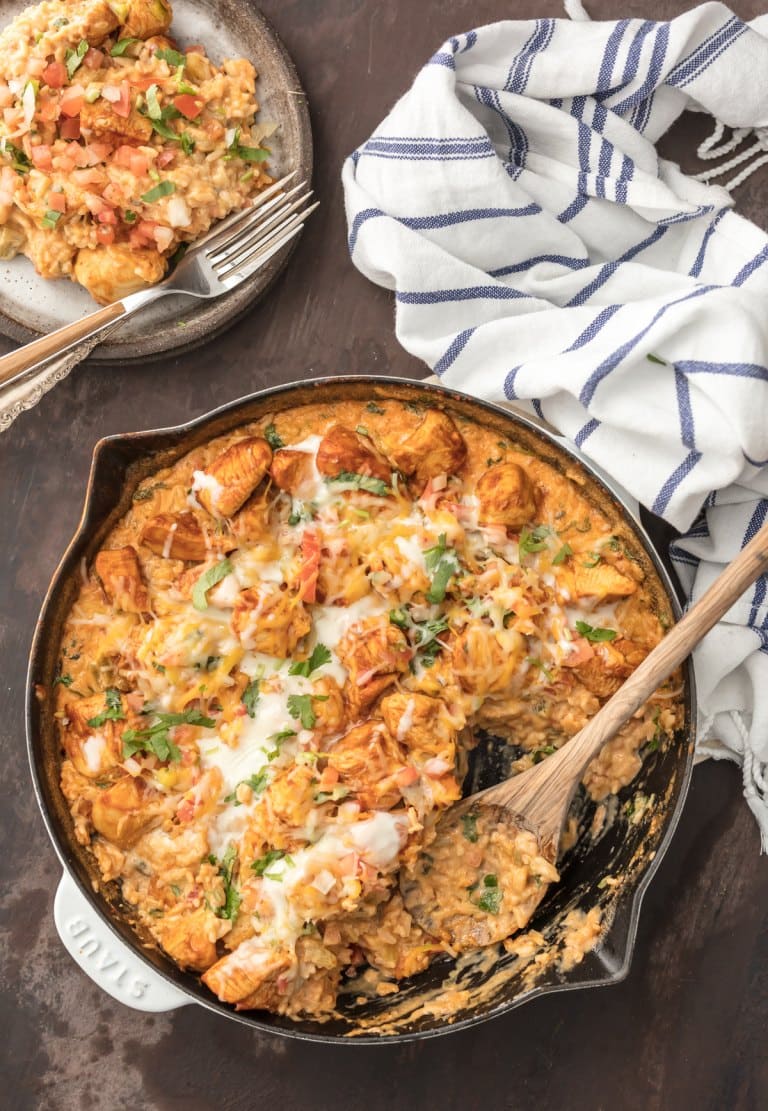 Tender chicken, gooey cheese, and a fiery burst of flavor all come together in this mouthwatering dish. The creamy queso sauce is perfectly blended into the rice, creating a rich and satisfying meal that will have you begging for seconds.
Close your eyes and take a bite – you'll be instantly transported to the vibrant streets of Mexico, where every bite is a celebration of culture and community.
13. Grilled Chicken Street Tacos
Grilled chicken street tacos that will make your taste buds dance! Tangy sauce marinates the juicy chicken, adding a burst of flavor to every bite.
Sink your teeth into the soft tortilla and savor the perfectly seasoned, tender meat with a hint of spice. Fresh salsa and diced onions bring a refreshing crunch, creating a symphony of textures.
14. Mexican Mole Sauce Recipe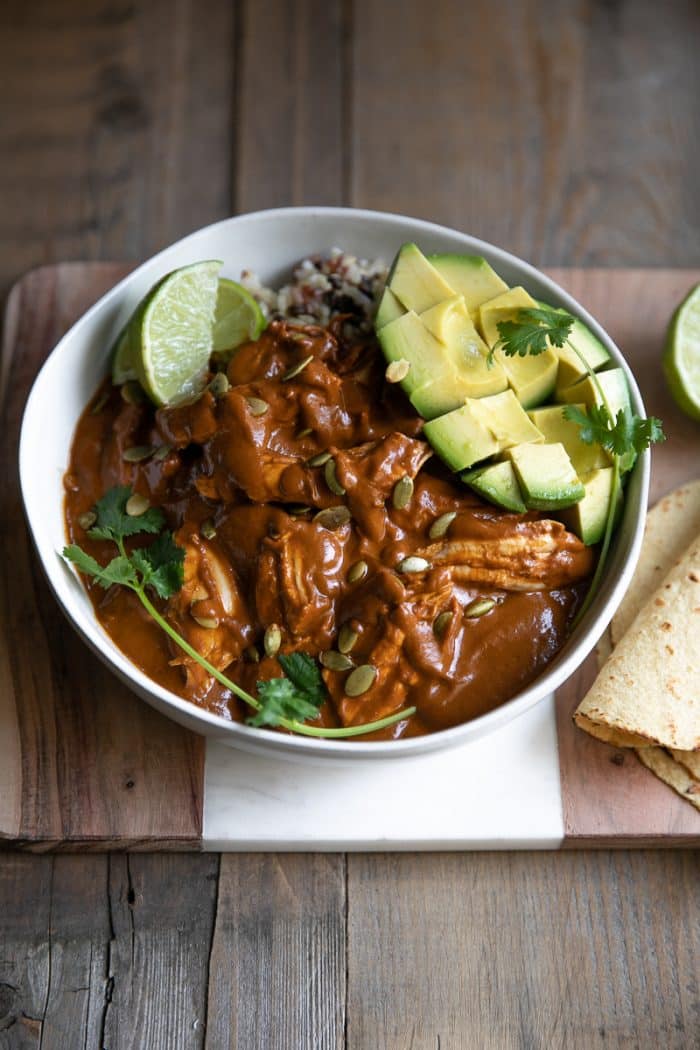 It's a culinary masterpiece, where warm spices come together in perfect harmony.
This sauce is made with love, carefully selecting each ingredient to achieve the ultimate balance of sweet and savory. The slow-cooking process allows the flavors to meld together, creating a sauce that's complex and oh-so-satisfying.
15. Mexican Chicken Empanadas
Picture this: tender, juicy Mexican chicken enveloped in a flaky pastry crust that's so irresistible, it'll have you begging for more.
But wait, it gets even better! The filling is not just any old chicken – oh no! It's bursting with rich, bold flavors that will dance on your taste buds.
And let's not forget about the texture! The flaky crust perfectly complements the tender filling, creating a tantalizing combination that will leave you craving every single bite. It's like a party in your mouth, and everyone's invited!
Now, here's the best part: these empanadas are incredibly versatile. You can use leftover Crockpot chicken, whip up some taco-seasoned chicken with beans and peppers, or let your imagination run wild with your favorite fillings.
The possibilities are endless, and the result is always a convenient handheld delight.
16. Chicken Enchiladas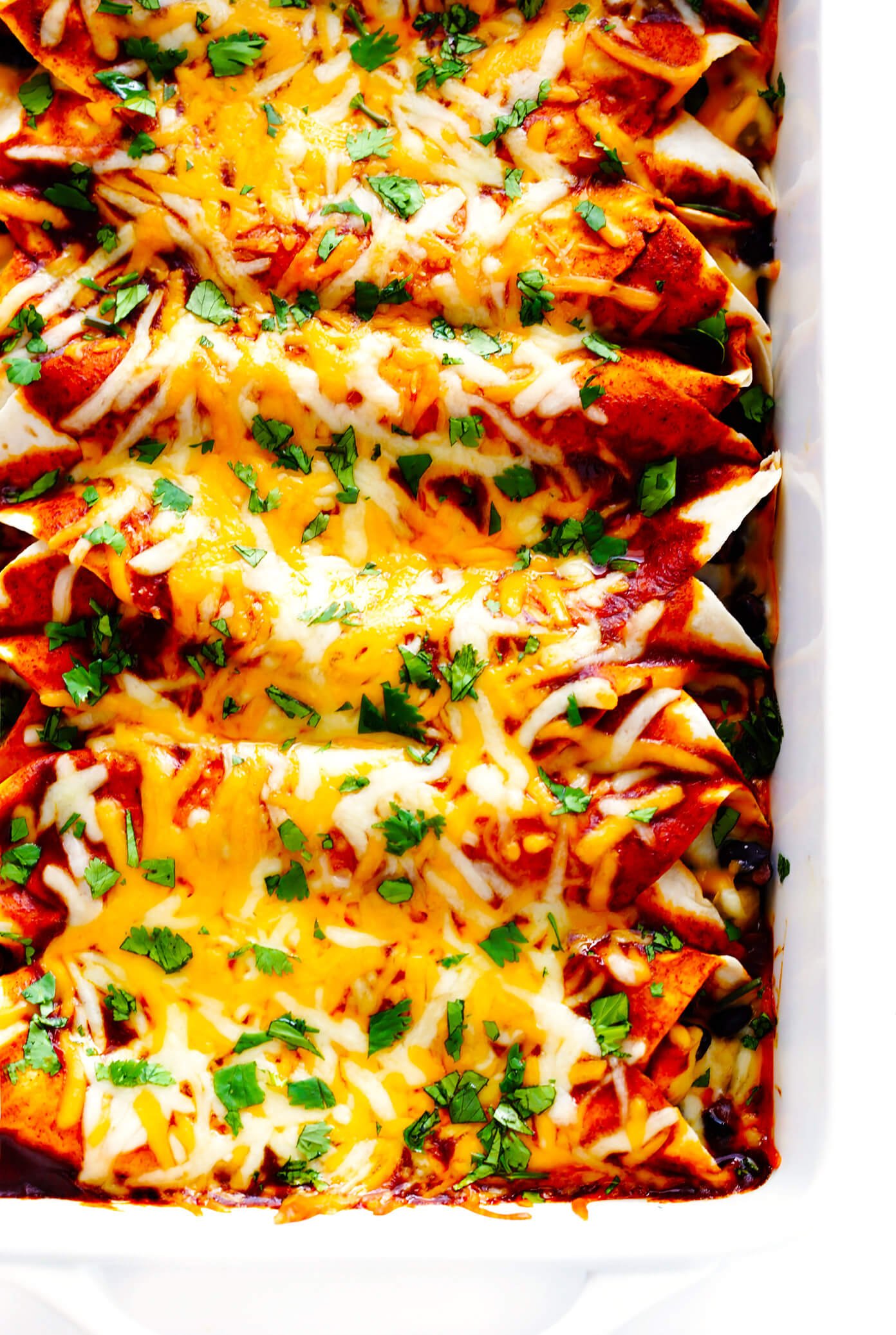 These chicken enchiladas are a childhood favorite that I absolutely adore recreating at home.
The filling is bursting with succulent chicken, vibrant peppers, and oh-so-satisfying beans.
But what truly makes these enchiladas extraordinary is the luscious tomato sauce slathered on top and the ooey-gooey melted cheese that adds a comforting, cheesy touch.
With each heavenly bite, you'll be transported to the vibrant world of Mexican cuisine.
17. Mexican Inspired Grilled Chicken Salad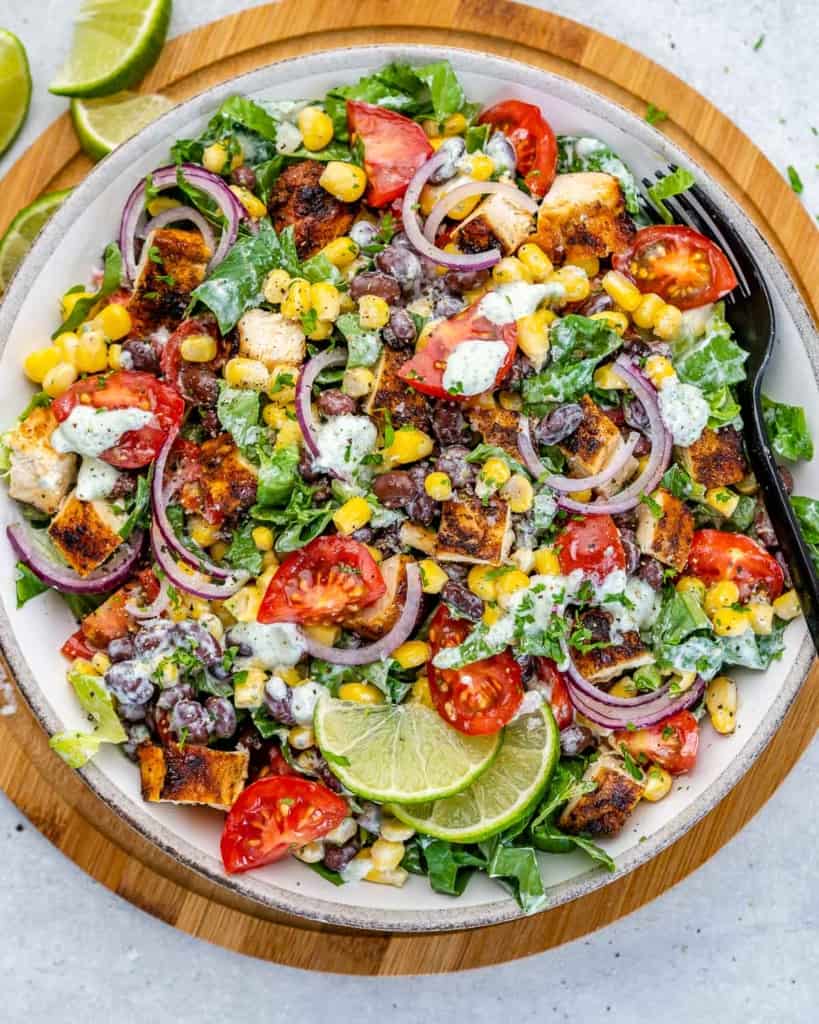 Craving a lighter option after indulging in Chicken Enchiladas? Say hello to the Mexican Inspired Grilled Chicken Salad!
It's a flavor explosion with fresh lettuce, juicy tomatoes, sweet corn, grilled chicken, and protein-packed beans.
This salad satisfies cravings and keeps you on track with your health goals.
18. Chicken Tamales with Salsa Verde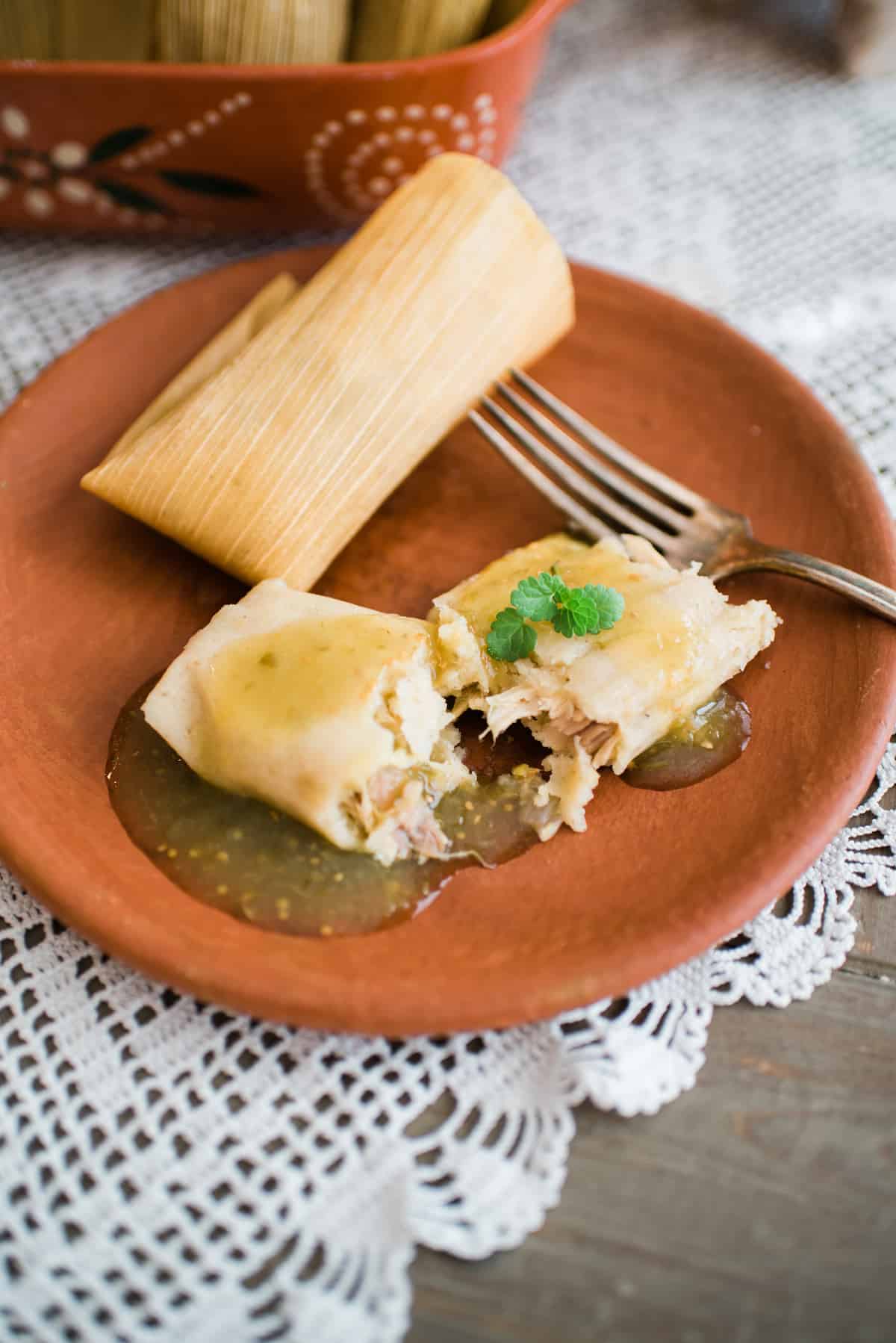 These little bundles of joy bring families together in the kitchen, Mexican style.
Masa flour is the star ingredient, creating a fluffy and oh-so-delicious dough that hugs the tender chicken filling. And let's not forget about the salsa verde! It adds a tangy and spicy punch to make your taste buds sing.
19. Crockpot Mexican Chicken Stew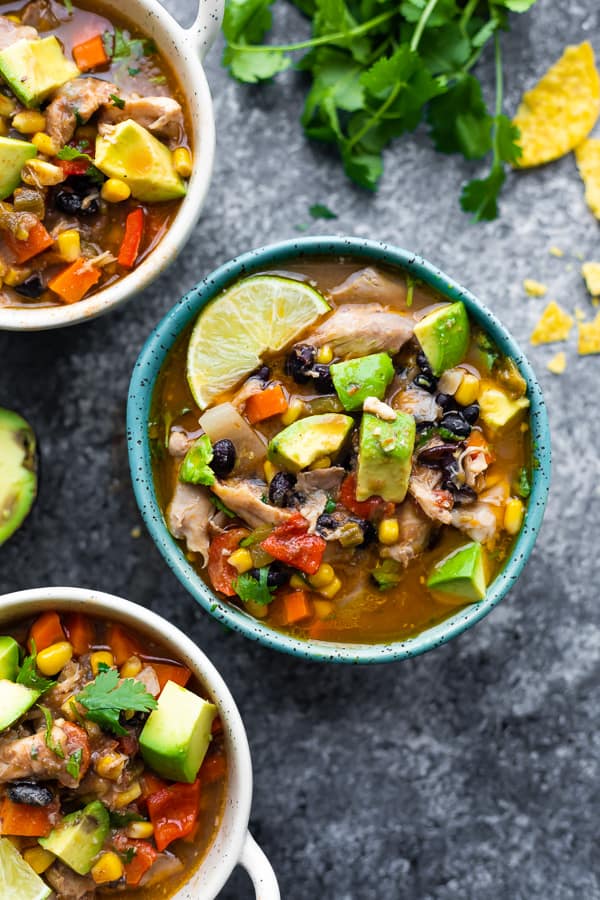 Get ready for a flavor explosion with this crockpot Mexican chicken stew! Your home will be filled with irresistible aromas all day long.
It's the perfect meal to warm you up on those cold, chilly days. For maximum flavor, go for chicken thighs, but you can also use chicken breast if you prefer.
And here's a tip: don't forget to chop up leftover chicken for an extra delicious twist!
20. Pollo Asado (Mexican Roast Chicken)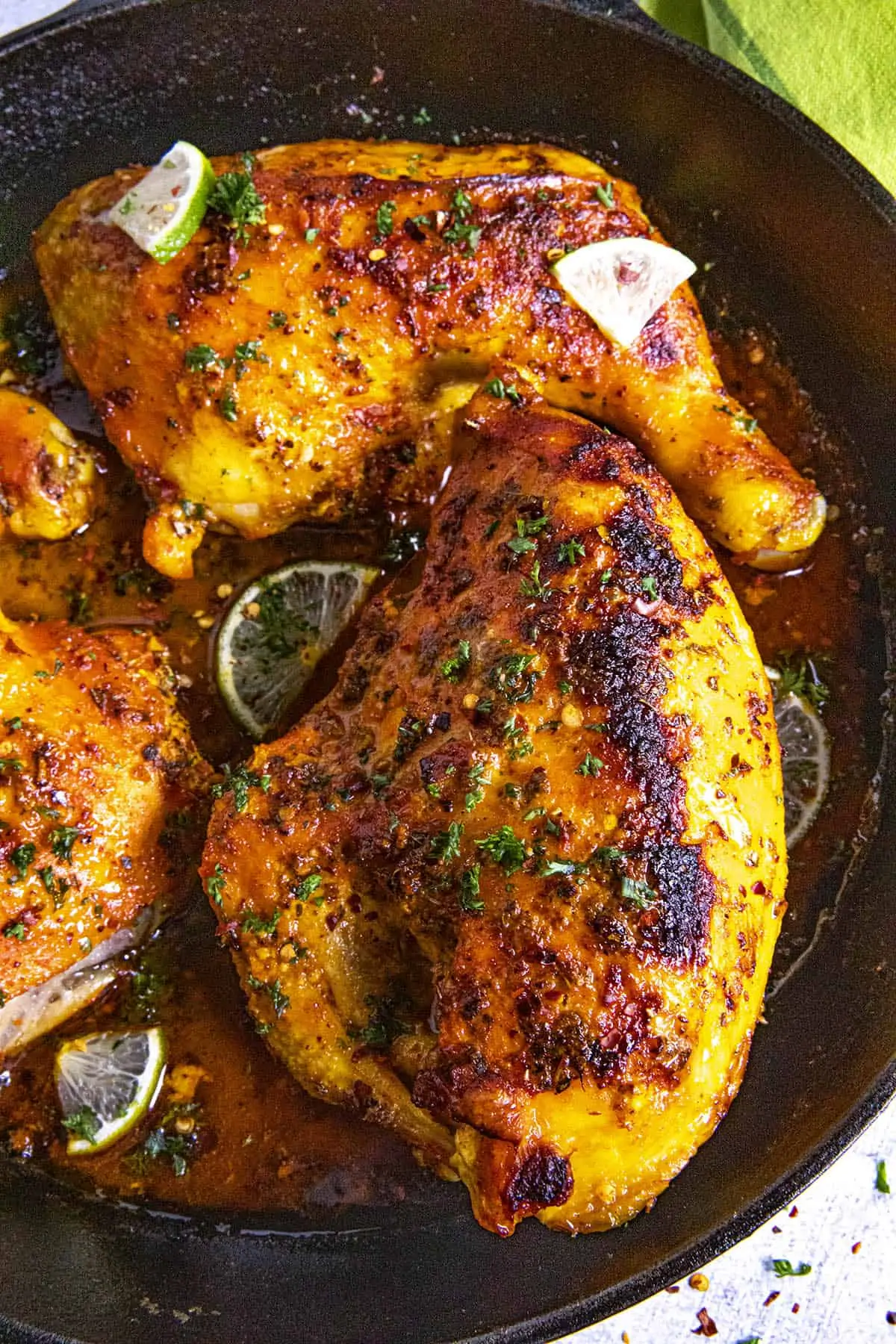 Get ready for a finger-licking Mexican delight: Pollo Asado, also known as Mexican Roast Chicken. Brace yourself for an explosion of flavors and juicy tenderness that will leave you craving for more.
But here's the secret: it's all about the marinade. This special blend of spices, with sazon playing a starring role, will take your taste buds on a wild ride. And guess what? You can easily find sazon in any store.
21. Chicken Burrito Bowl Recipe (Chipotle Copycat)
Start by layering warm rice and juicy grilled chicken in a bowl.
Then, amp up the excitement by adding black beans, sweet corn, and diced tomatoes.
But wait, it gets even better! Slather on some creamy guacamole, tangy salsa, and a generous sprinkle of shredded cheese.
Now, mix it all up and get ready to be transported straight to Mexico.
Brace yourself for a party in your mouth as you savor every delicious bite.
Not only is this bowl bursting with vibrant colors and satisfying textures, but it's also a healthy and filling option.
22. Mexican Chicken and Rice
Looking for a one-pot meal that's bursting with flavor? Look no further!
This Mexican dish will satisfy all your cravings. Cooked in a Dutch oven or heavy-bottomed saucepan, it's all about enhancing those flavors. And let me tell you, the secret to perfect rice lies in the even heat distribution of the pot.
But hey, if you're feeling fancy, you can always cook the rice and chicken separately. But why bother when you can enjoy the convenience and mouthwatering deliciousness of this easy Mexican chicken and rice dish?
23. Skinny Mexican Chicken Skillet
Heat up some olive oil in a sizzling skillet and sauté that chicken until it's gorgeously golden brown.
The kitchen is instantly filled with the mouthwatering aroma, beckoning me to dive into these irresistible Mexican flavors.
Now, let's throw in some corn and beans, watch as the vibrant colors burst to life, creating a true feast for both my eyes and taste buds.
24. Mexican Chicken Soup
Feeling sick? Warm your soul with a piping hot bowl of Mexican chicken soup! Packed with fresh ingredients and a fiery kick, this soup will clear your airways and give you the boost you need.
Flavorful peppers, tender chicken, and aromatic spices come together for a satisfying meal that feels like a warm hug.
25. Fiesta Chicken Pasta Bake
Get ready to whip up a mouthwatering fiesta chicken pasta bake! Mix cooked pasta with a creamy sauce, tender chicken chunks, and a blend of spicy seasonings. It's a flavor explosion that'll make your taste buds dance!
Perfect for busy nights when you want easy and flavorful. Cheesy pasta, savory chicken, and spicy spices create a comforting and satisfying dish.
Add colorful peppers or top it off with spicy salsa for an extra kick. Get ready to indulge in this irresistible Mexican-inspired pasta bake!