Looking to spice up your dinner tonight? Look no further! In this blog post, we're diving headfirst into the savory world of Mexican pork dishes. No fancy chef skills required, just a hearty appetite for some delicious flavors.
Join me as we explore 10 must-try Mexican pork dishes that are perfect for any food lover. Hungry yet? Let's get started!
1. Crockpot Chalupas
You've gotta try Crockpot Tacos. They're a hearty Mexican dish that's perfect for any dinner gathering.
Imagine waking up to the tasty, smoky aroma of pulled pork that's been cooking overnight. It's a time-saver as you prepare this delicious meal the night before and let it cook while you sleep. This gives you the freedom to go about your day without worrying about what to serve for dinner.
The tender pulled pork served on tortillas and topped with cheese creates a balance of flavors that is both delightful and comforting.
2. Tacos Al Pastor
It's hard to resist the allure of Tacos al Pastor, especially with their flavorful combination of marinated pork, pineapple, onion, and cilantro.
This dish is a love letter to taste buds that crave a mix of sweet and savory in every bite. The ingredient-heavy marinade infuses such an intense flavor into the pork that it makes you wish for taco Tuesday every day.
Analyzing further, it's clear that the secret lies in its preparation. The pork is marinated long enough to soak up all the flavors then cooked slowly until it becomes very tender.
3. Pozole Rojo (Mexican Pork and Hominy Stew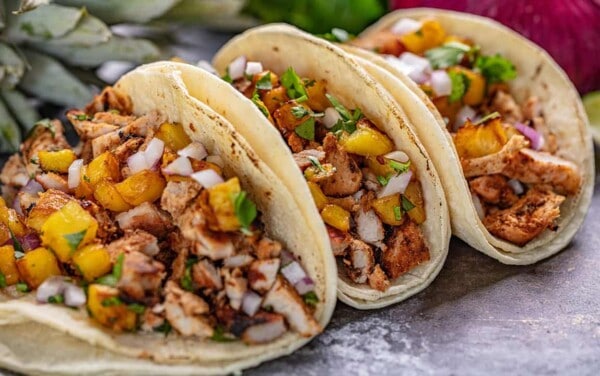 Bursting with hearty pork and hominy, this traditional Mexican dish is steeped in spicy flavors from red chilies providing much-needed warmth on a chilly day.
But what makes Pozole Rojo truly stand out is its garnishing game! A generous sprinkle of fresh cabbage, radishes, avocado, and a squeeze of lime not only adds texture but also enhances its nutritional value.
This quick recipe is perfect for those blustery Sunday afternoons when you're craving something heart-warming yet don't want to be shackled by long cooking times.
4. Mexican Pork Stew
That's right, we're talking about a stew that's as robust as it is flavorful. This Mexican Pork Stew, full of juicy pork, hearty beans, and rich tomatoes, brings a punch of piquancy to combat the winter blues.
The addition of fresh lime and cilantro provides an unforgettable flavor experience that tantalizes your taste buds.
Ideal for dark winter nights, this dish offers an escapade into culinary freedom. It encourages you to explore flavors beyond the mundane and invites you to embrace the exotic.
And here's the best part – it doesn't tie you down with difficult preparation steps! You can easily prepare it in a Crockpot or pressure cooker for time-saving convenience without compromising on taste or quality.
5. Pulled Pork Burrito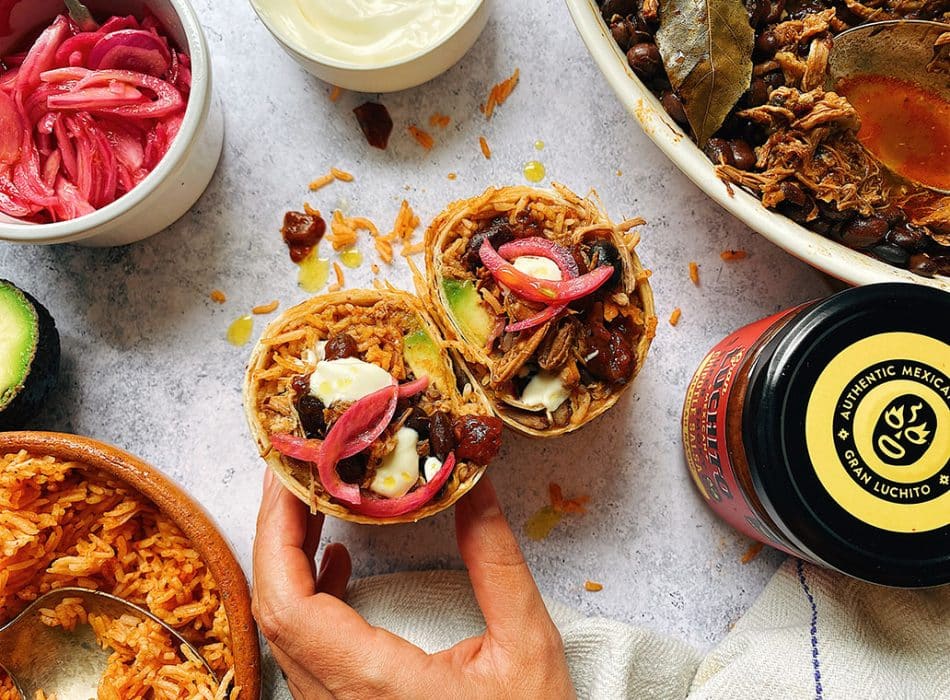 This comfort food is a symphony of flavors packed into one hand-held meal, each bite delivering a satisfying medley of tender pulled pork, beans, cheese and veggies. The slow-cooked pork pulls apart effortlessly, infused with traditional Mexican spices that awaken the senses.
That's not all; the beauty of this dish lies in its customizable nature. You can add as much sour cream, salsa or guacamole as you want – it's all about personal freedom!
In my opinion, there's nothing quite like a well-prepared pulled pork burrito for dinner after a long day. It encapsulates homely warmth and indulgence perfectly.
6. Carnitas (Mexican Slow Cooker Pulled Pork)
Moving on from the succulent pulled pork burrito, let's dive into another Mexican classic – Carnitas.
This traditional gem is a celebration of flavor in every bite. Imagine sweet, juicy morsels of seasoned pork that are both crispy and tender — that's Carnitas for you.
What's even more appealing is the quick 5-minute prep time; your slow cooker does all the work, infusing those flavors deep into the meat over hours of slow cooking.
The result? A versatile dish that can be added to soups, tacos, sandwiches or eaten on its own.
7. Mexican Pork Tamales
Switching gears now, let's explore the world of homemade tamales. Don't let the long list of ingredients intimidate you; it's an easy process that only takes about an hour.
The rich pork filling, a symphony of succulent meat simmered to perfection, harmonizes beautifully with a spicy red pepper sauce. Each bite is a celebration of flavors, textures, and traditions, encapsulated in a corn husk package.
Crafting tamales at home gives you the freedom to improvise – maybe add some cheese or experiment with different fillings. It's more than just cooking; it's about embracing heritage and creating something delicious from scratch.
8. Cochinita Pibil
You're sure to be caught by the bright flavors of this pork dish, an enticing dish that puts the meat with a unique orange-spiced sauce. This Mexican pulled pork recipe is a must-try for anyone eager for cooking freedom.
The sauce, mixing tangy orange juice, tart lime, and rich red paste, delivers a burst of flavor that's nothing short of amazing.
Each bite of this juicy pork carries a group of taste feelings: sour citrus hints blend with the earthy flavors from the red paste, creating an unforgettable concert in your mouth.
But it's not just about taste; it's also incredibly versatile! Whether you're pairing it with rice or stuffing tacos and enchiladas, cochinita pibil opens up new realms in your cooking adventures.
9. Spicy Pork Tacos with Red Cabbage Slaw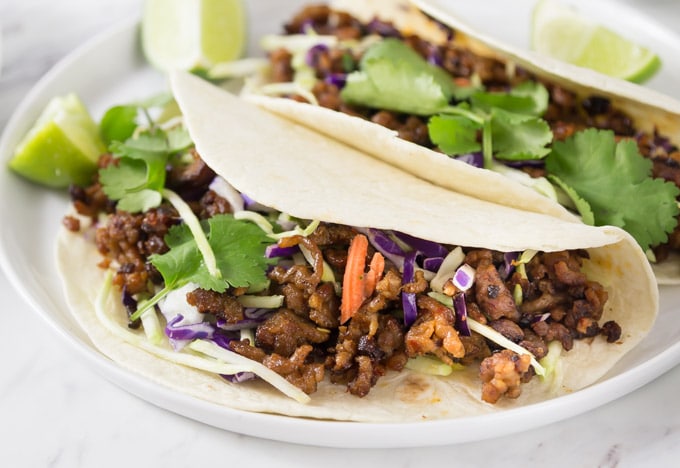 Perfect for a weeknight family dinner, these tacos offer an explosion of flavor and texture. The spicy pork is marinated in chili garlic sauce that adds a fiery punch, while cinnamon lends a surprising depth of smoky sweetness.
But what truly sets it apart is the red cabbage slaw – its fresh crunch provides a delightful contrast to the tender pork, ensuring each bite is balanced and satisfying. It's also incredibly versatile; feel free to add your own twist!
10. Pulled Pork Enchiladas (Pork Carnitas)
If you've had your fill of tacos, then it's time to dive into the comforting world of pulled pork enchiladas. This timeless dish offers a mouthwatering blend of juicy pork, melting cheese, and spicy salsa in every bite.
It's an excellent way to sneak some veggies into kids' diets as they'll be too focused on the gooey cheese and succulent pork to notice!
What makes this Mexican classic even more appealing is its adaptability for meal prep. It freezes and thaws well without losing its delightful texture or robust flavors.
So go ahead, make a batch tonight; savor some now and stash the rest away for future meals.