I've spent years exploring Spain's vibrant food scene, and I'm thrilled to share my top 25 Spanish tapas recipes with you.
Whether you're hosting a party or just looking for some new recipes to try, these tapas are sure to be a hit. So without further ado, let's dive into the list of 25 Best Spanish Tapas Recipes.
1. Mojo Picante
You'll find that Mojo Picante is a versatile and flavorful sauce that can really enhance your Spanish tapas recipes. It's perfect with seafood, chicken, or pork, lending each a spicy kick.
As a drizzle or dip, it elevates the dish's taste and presentation. Ideal for tapas parties, it complements varied flavors beautifully.
2. Spanish Mussels
In your journey to create flavor-rich dishes, you've chosen the divine sauce of mussels inspired by Spain's culinary style. The base of white wine and tomato dances with smoked paprika, saffron, and garlic.
This Spanish tapa is a symphony on the palate – each mussel bursting with vibrant flavors that transport you straight to a seaside café in Valencia.
3. Pisto
Switching gears to vegetarian dishes, let's delve into the rustic and hearty world of Pisto. This Spanish stew parallels Caponata or Ratatouille, but shines with its own unique flair.
Laden with eggplant, zucchini, peppers, onions, and tomatoes simmered in abundant olive oil, it's a riot of flavors. Served in individual cazuelas with crusty bread on the side – it's comfort in a bowl!
4. Spanish Clams with White Beans and Chorizo
Diving right into seafood, let's talk about clams simmered with white beans and chorizo – it's a delightful dish that'll make your tastebuds dance.
The succulent clams, tender beans, and spicy chorizo create a harmonious symphony of flavors.
Served with crusty bread and drizzled with olive oil, this Spanish tapa is not just a meal, but an experience worth savoring.
5. Spanish Tortilla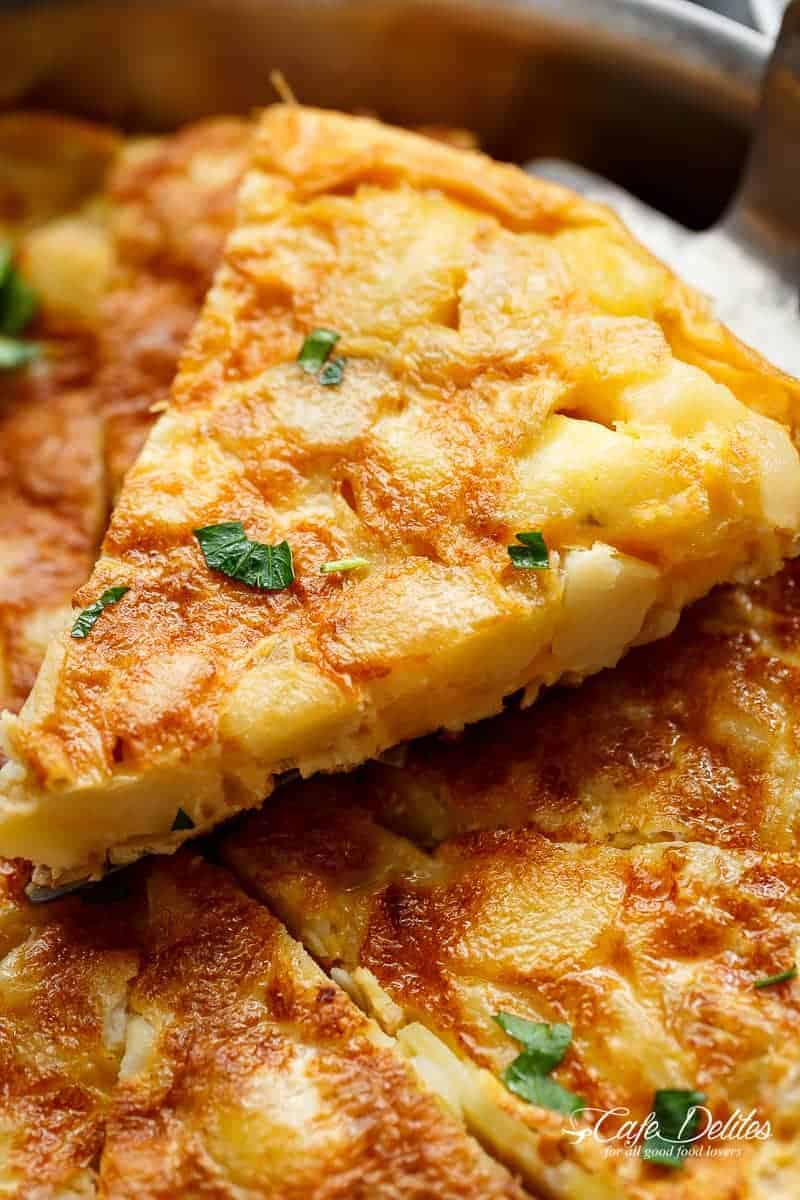 You're going to love the crispy exterior and fluffy interior of a Spanish tortilla, an elevated omelette that's perfect for brunch or gatherings.
Fried to perfection, this traditional tapas recipe is a culinary gem featuring humble potatoes and eggs.
It's not just an omelette; it's a centerpiece of your table, tempting you with its golden hues and inviting textures.
6. Gambas al Ajillo (Spanish Garlic Shrimp)
Next up, let's delve into Gambas al Ajillo, a tantalizing seafood dish that'll have your taste buds dancing with its garlicky goodness.
This popular Spanish tapa features succulent shrimp sizzling in a garlic-infused oil. It's perfectly paired with crusty bread for sopping up every last drop.
As for home cooking, it's an achievable delight – no need to be a seasoned chef to nail this one!
7. Spanish Cheese Board
It's time to impress your guests with a grand charcuterie board filled with assorted specialties. On this board, you can showcase a variety of items such as hams, cheeses, olives, and spreads.
The rich and earthy flavors of Spanish hams perfectly complement the creamy notes of various local cheeses. To add a briny contrast, you can include a selection of olives.
And don't forget to include spreads that provide a sweet or spicy touch. This well-rounded display is more than just an appetizer; it's a statement piece that will elevate any tapas gathering.
8. Clams with Sherry and Serrano Ham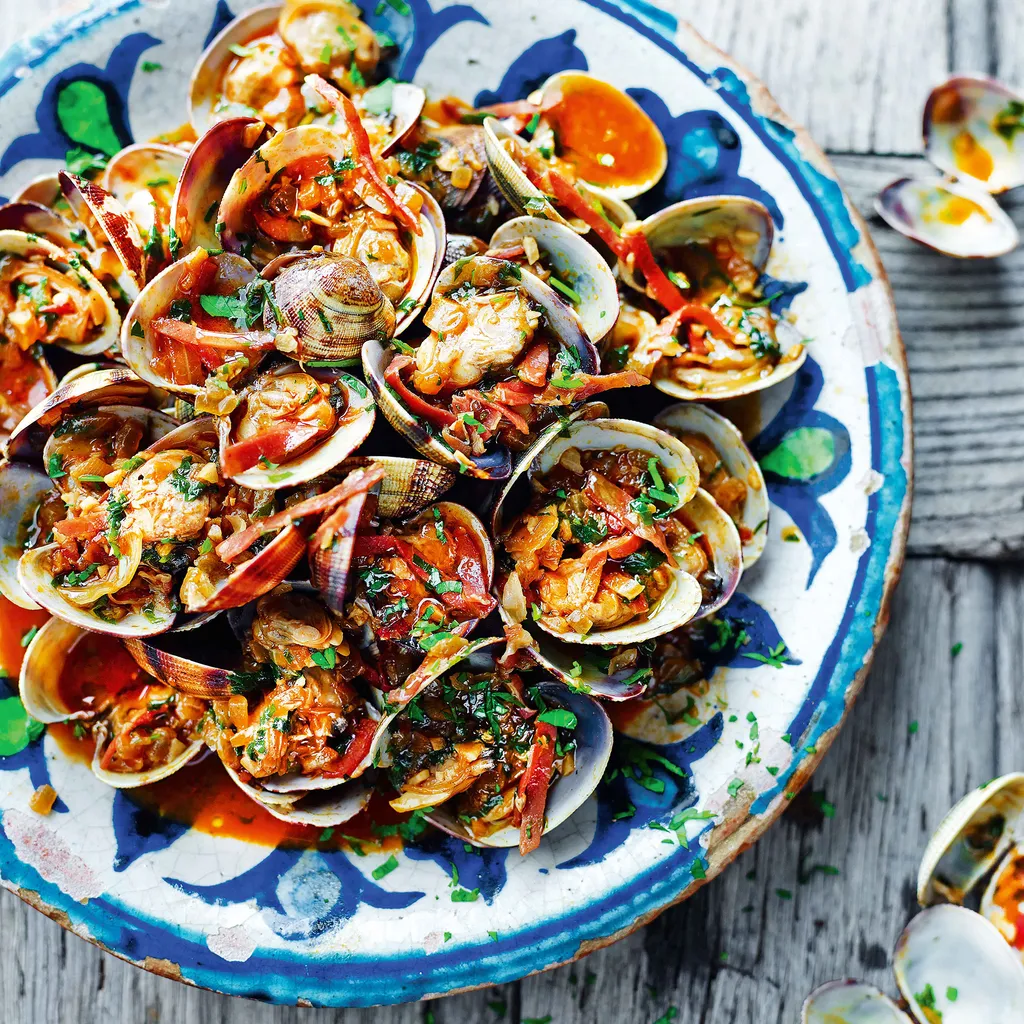 Diving right into the main course, let's talk about clams in a sherry-infused sauce, studded with savory bits of Serrano ham.
This Spanish seafood delicacy is divine! The salty morsels of ham enhance the sweet clams while the sherry adds depth and complexity.
Paired with crusty bread for sauce-mopping, it's an immersive culinary experience that'll transport you straight to a bustling tapas bar in Spain.
9. Patatas Bravas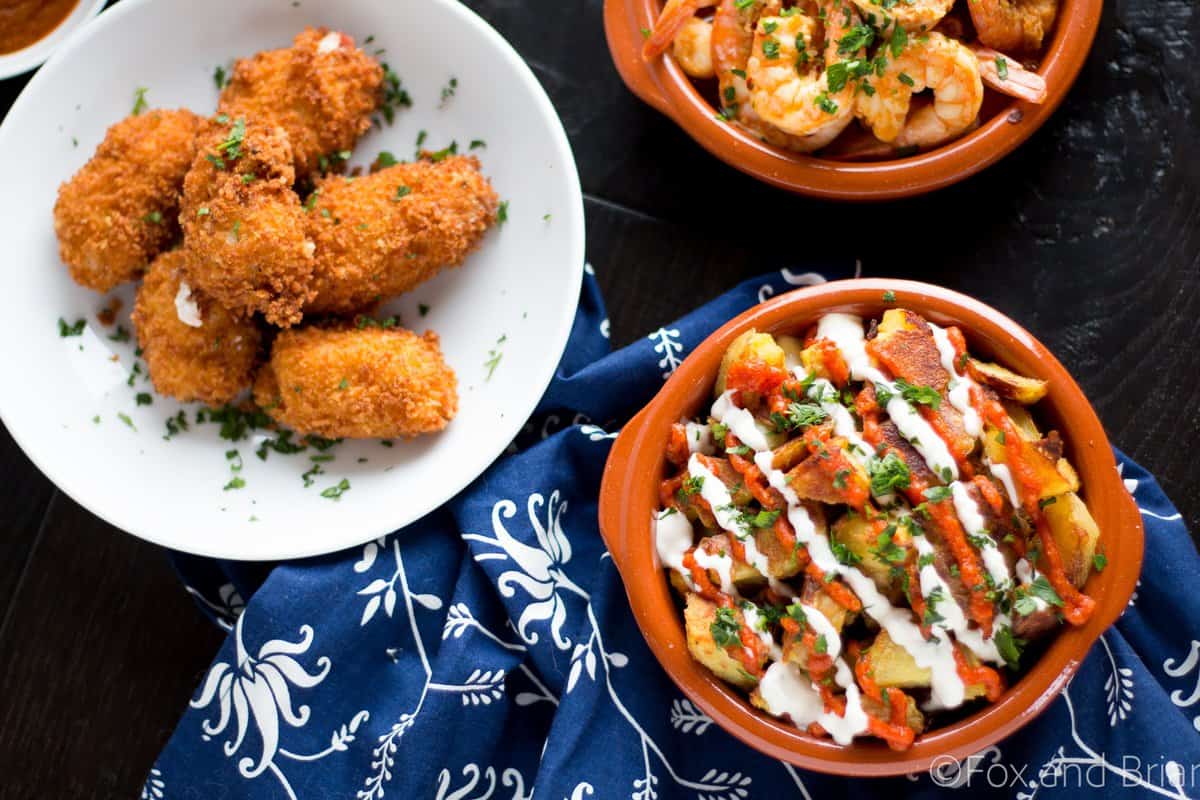 You're going to adore Patatas Bravas, a delightful dish that starts with crispy baked potatoes, topped with smoky salsa brava and garlic aioli.
The crunch of the spuds harmonizes with the fiery salsa, while the creamy aioli provides a soothing counterpoint.
This tapas staple is not just delicious, it's downright addictive.
10. Pan Con Tomate (Spanish Tomato Bread)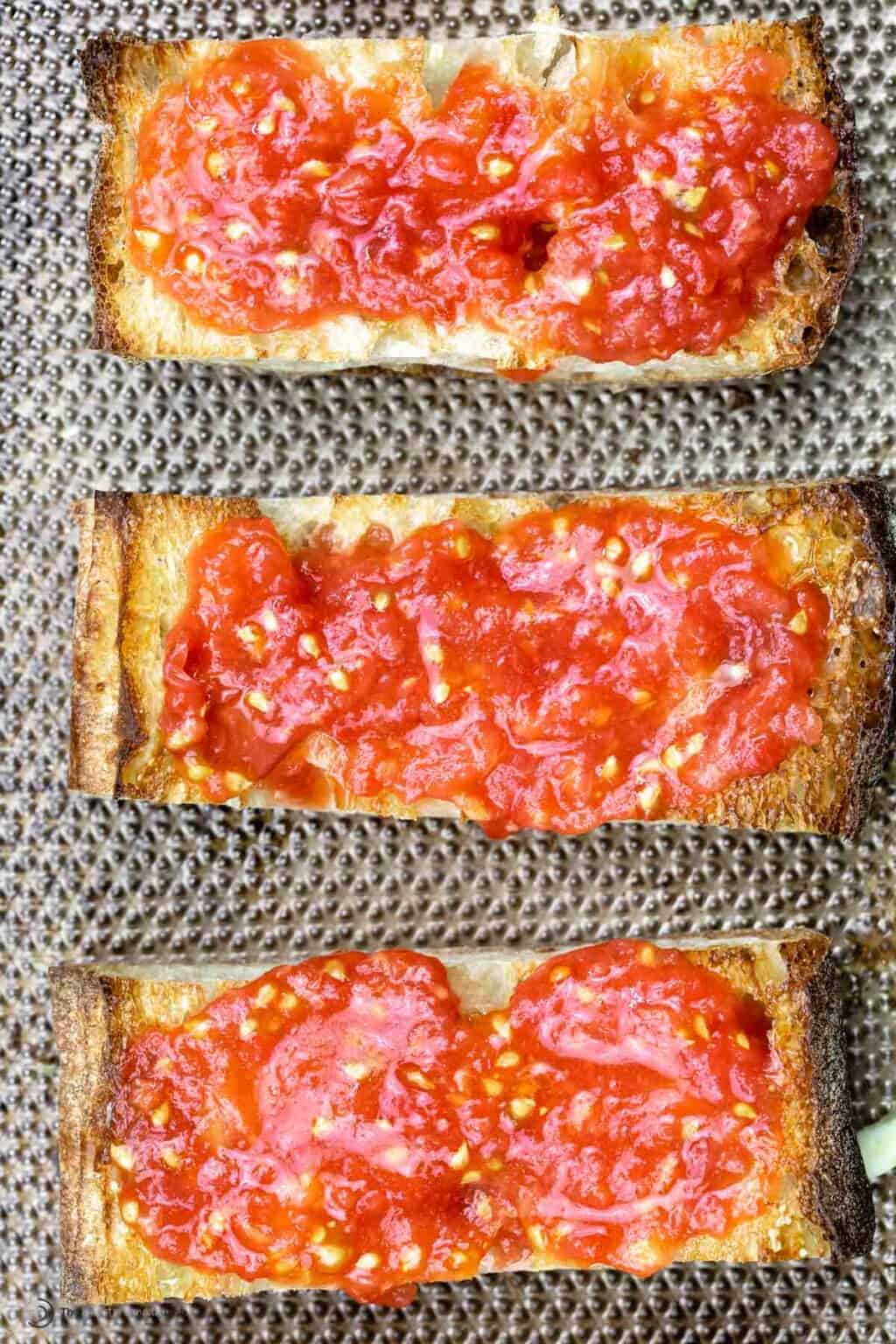 Pan con Tomate's a quick and simple dish, ideal for impromptu gatherings with friends or family. Imagine warm bread topped with juicy tomatoes, laced with fragrant garlic and drizzled in olive oil.
This tapas staple captures the essence of Spanish cuisine – fresh ingredients beautifully combined to create vibrant flavors.
11. Spanish Empanadas
When it comes to savory snacks, you can't beat the generously stuffed empanadas, with their flaky pastry and a variety of fillings. Filled traditionally with onions, bell peppers, and minced meat; each bite is a symphony of flavors.
There's an art to crafting these Spanish treats that goes beyond simple cooking. You're not only preparing food but creating experiences – inviting everyone to belong in the vibrant Spanish culture.
12. Fried Calamari with Spanish Paprika
A beloved tapas dish in Spain, this treat is easy to make and perfect for sharing.
The golden, crispy exterior gives way to tender squid, while a dusting of Spanish paprika adds smoky complexity. Its presentation invites you in – it's not just about eating, but experiencing community through food.
13. Pinchos Morunos
You're going to love making these easy, flavor-rich Pinchos Morunos for your next party or get-together. The pork skewers, marinated in earthy spices, ooze Spanish authenticity.
They're a crowd-pleaser – their robust flavors and tantalizing aroma are irresistible.
14. Pimientos de Padrón
Let's move on to another classic dish: Pimientos de Padrón. These regional peppers are fried until blistered and then seasoned with just a pinch of salt.
The simplicity of this dish belies its robust flavor. The blistering brings out an earthy depth in the peppers, perfectly counterbalanced by the sharpness of the salt.
It's a must-try for pepper enthusiasts seeking authentic Spanish tapas.
15. Espinacas con Garbanzos (Spanish Spinach with Chick Peas)
You'll find this hearty dish combines chick peas and fresh spinach, creating a classic appetizer that's greatly loved.
Bathed in a rich tomato-onion sauce, it bursts with exotic spices. Each bite takes you on a flavorful journey to Spain itself.
Undeniably, it's an integral part of any authentic tapas experience.
16. Manchego Croquetas
Manchego Croquetas are similar to mozzarella sticks but with a unique twist – their main ingredient is a thick and creamy béchamel sauce.
Fried to crispy perfection, they encase sharp manchego cheese that oozes out with each bite.
The contrast between the crunchy exterior and the velvety inside makes these croquetas a pleasure for any cheese lover.
17. Spanish Ham Croquettes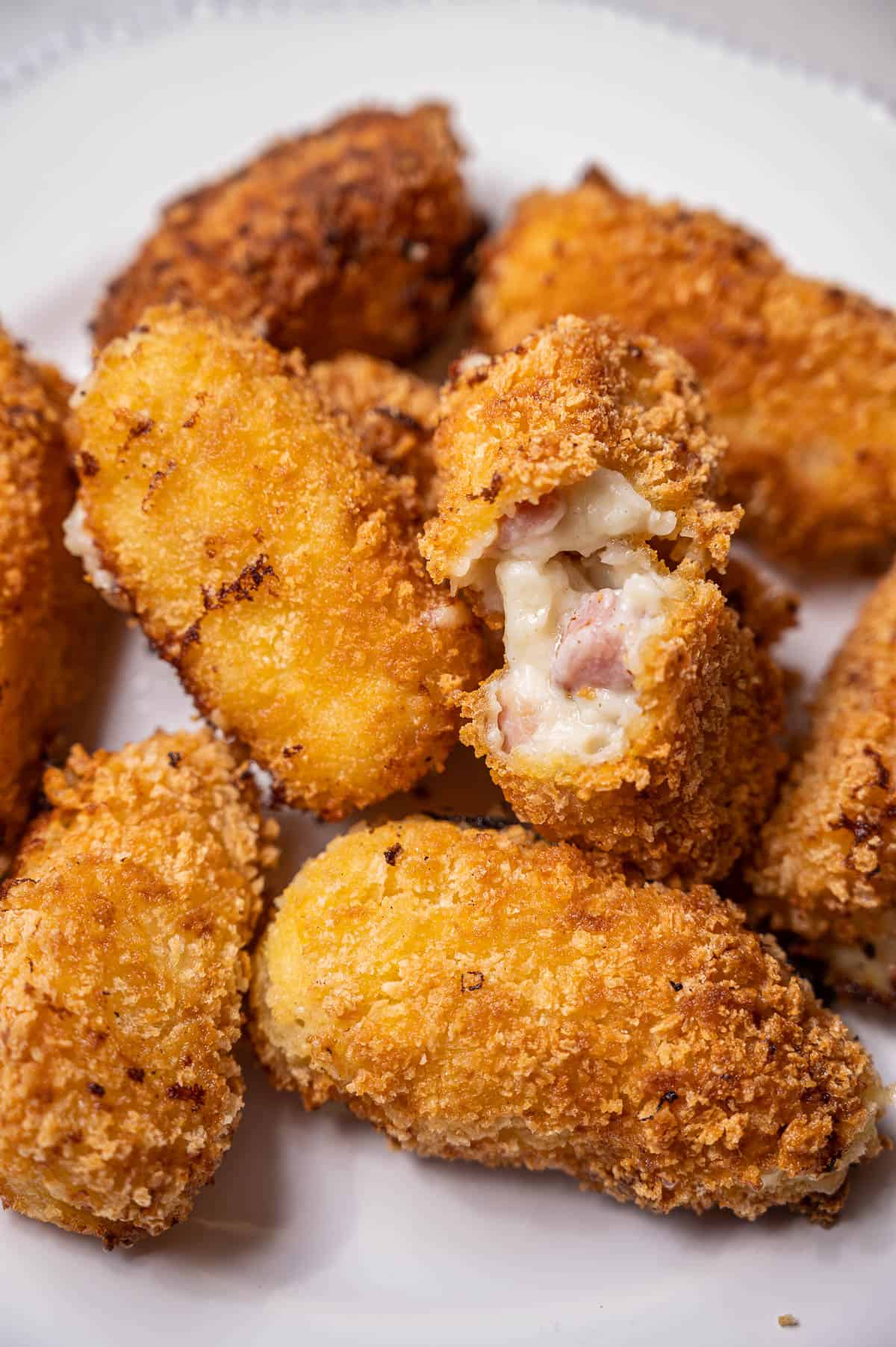 Ham Croquetas is a delightfully creamy and crispy delicacy made from béchamel sauce and serrano ham scraps, deep-fried to perfection.
It's the Spanish interpretation of croquettes; wonderfully creamy without cheese, encapsulated in a crisp exterior.
The subtle saltiness of the Serrano ham blends beautifully with the silky béchamel, creating an exquisite balance of flavors that dances on your palate.
18. Marinated Olives
Next up, let's get those olives marinated in that delicious concoction of garlic and lemon-infused olive oil with a touch of red pepper flakes. It's a super simple, addictive, and healthy treat that'll surely kickstart any party.
This Spanish staple is not just tasty but also visually appealing with its glossy coating. A dash of almonds adds the perfect crunch, making this a must-have at your tapas table.
19. Spanish Summer Salad (Pipirrana)
Pipirrana is a traditional summer salad from the south of Spain that celebrates ripe tomatoes in all their glory.
This colorful dish, brimming with luscious tomatoes ripened in warm sunshine and adorned with cool crunchies, offers a tasty tribute to tomato season.
Its popularity isn't surprising – its vibrant flavors and visually appealing presentation truly encapsulate Spanish culinary charm.
20. Spanish Meatballs
Shifting gears now, we'll delve into the world of meatballs rolled the traditional way, a top choice in local bars and an ideal centerpiece for your tapas party.
These juicy morsels are popular for good reason – they boast a robust flavor profile that's both hearty and comforting.
Their golden-brown sear adds texture, making every bite a gastronomic delight.
21. Tomato and Butter Bean Dip
It's time to explore our creamy and savory White Butter Bean Dip, a crowd-pleaser that pairs perfectly with crusty bread or pita chips.
This Spanish-inspired dip is stewed to perfection, fusing the robust flavors of garlic, shallot, and paprika with butter beans and tomato paste.
The result? A delectably smooth dip that invites you into the rich world of Spanish tapas.
22. Chorizo Al Vino Tinto
Next up, we've got Chorizo al Vino Tinto, a classic and extremely easy-to-make dish that's quite common in tapas bars. Imagine the juicy chorizo sausage soaking up rich red wine, delivering a harmonious blend of spicy and sweet flavors.
It's not just about taste; the vibrant red presentation is an eye-catcher too. Truly, this Spanish tapa ticks all boxes for a comforting culinary experience!
23. Pan con Jamón
You're going to love Pan con Jamón, your new favorite appetizer that's extremely easy to make and highly addictive.
This Spanish delicacy highlights high-quality jamón nestled on crusty bread, a symphony of textures and flavors. Don't cut corners—the magic lies in the quality ingredients.
Every bite is a welcoming embrace into the heart of Spanish cuisine. Trust me, one taste and you'll be part of our tapas-loving family!
24. Pulpo a la Gallega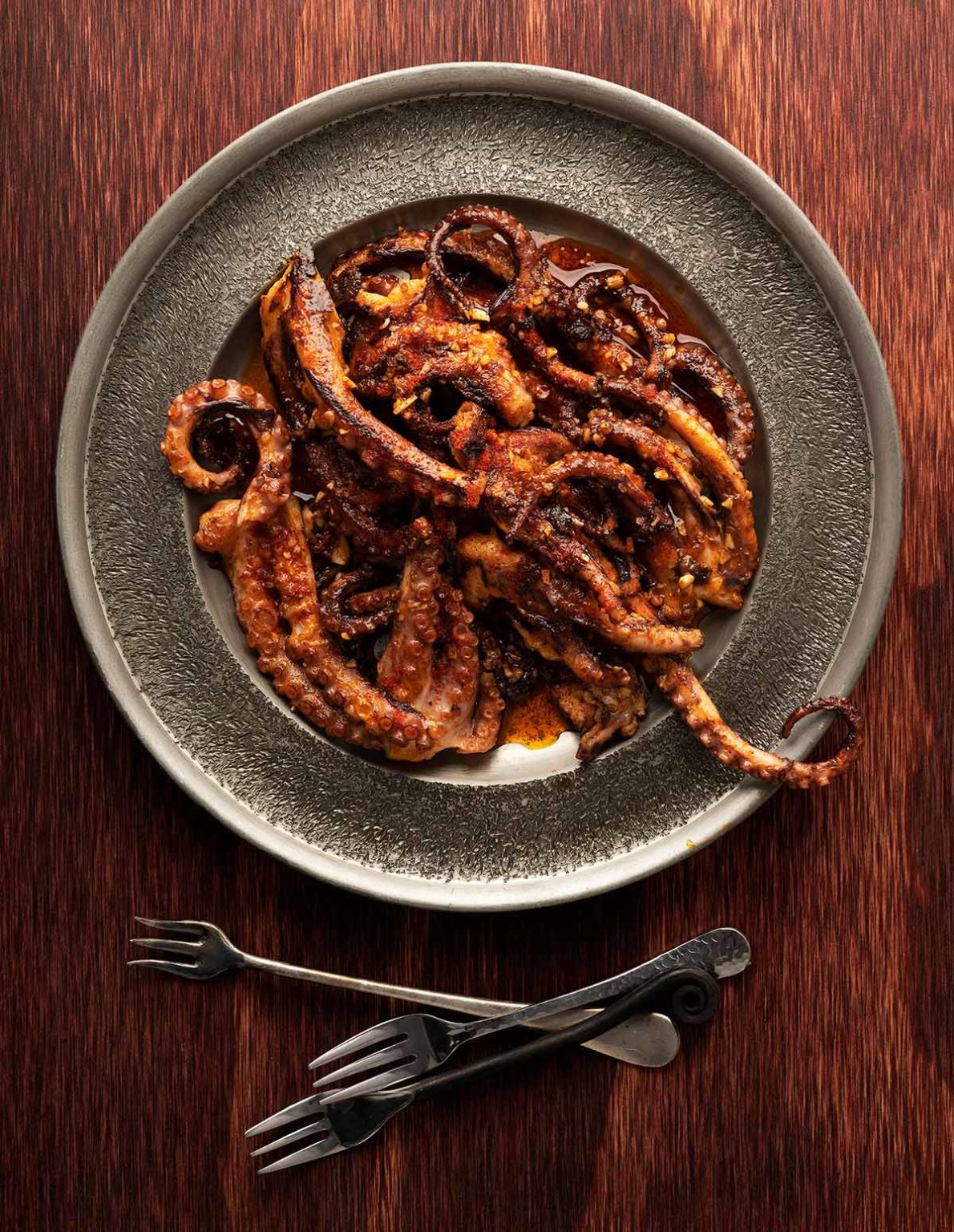 This octopus salad will have you savoring new flavors in no time.
This seafood tapa is a Spanish delight. It consists of tender octopus tossed in olive oil with paprika and sea salt.
The presentation of Pulpo a la Gallega is simple yet captivating. It creates a sense of belonging even among the most eclectic groups enjoying this dish.
25. Cider Glazed Chorizo Tapas
Switching gears, let's whip up some easy and quick cider glazed chorizo. You'll serve them on toothpicks, making them an ideal choice for appetizer servings.
This Spanish tapa is a delicious mingling of flavors. It features robust chorizo blanketed with a tangy-sweet apple cider glaze, punched up by fragrant herbs and spices.
It's an inviting bite-sized delight that captures the heart of Spanish cuisine.