Looking for some tasty vegan appetizers? Trust me, as someone who adores savory pies, I've got a knack for spotting a good starter.
I've rounded up 25 vegan finger foods that are straightforward to make and hit the spot every time. Vegan or not, these bites are a hit for any crowd. Let's dig in, shall we?
1. Vegan Charcuterie Board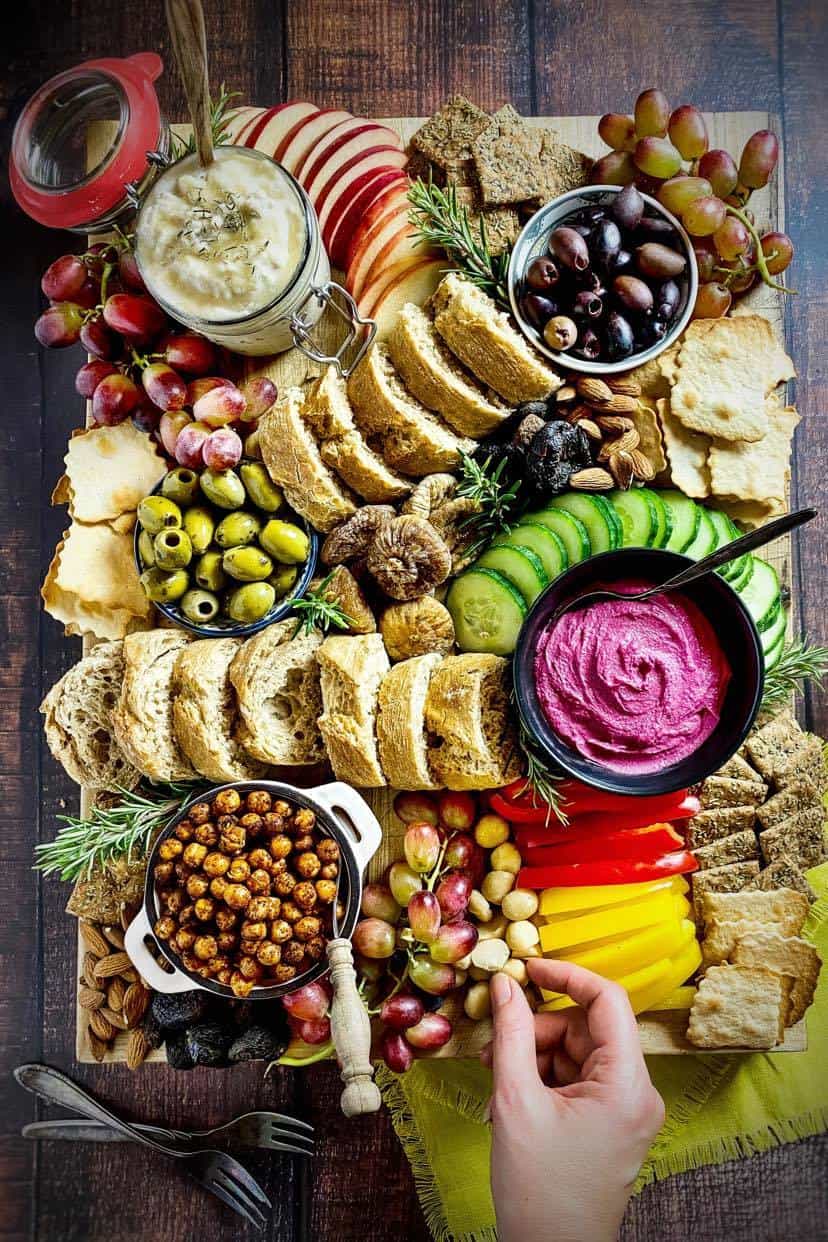 The vegan charcuterie board is a delicious and visually stunning option for those looking for plant-based finger foods.
This vibrant spread bursts with color, featuring bell peppers, broccoli, zucchini, and an array of fresh veggies.
But it's not just about appearances – this board is overloaded with flavor, crunch, and nutrition.
To add a sweet and nutty contrast, fruits and nuts are included. Serve it with hummus and vegan dips for an instant hit.
2. Vegan Air Fryer Pasta Chips
Try making these vegan air fryer pasta chips using whole wheat shells for a nutritious and delicious snack!
These crispy bites are inspired by the viral TikTok trend but with a healthy twist.
Instead of deep-frying regular pasta shells in oil, we're opting for a healthier version by using whole wheat shells and an air fryer.
The result? A guilt-free appetizer that is equally as tasty as the original.
3. Vegan Tzatziki
This creamy sauce is traditionally made with yogurt, cucumbers, garlic, olive oil, and salt.
By swapping out the regular yogurt for coconut yogurt, you not only make it suitable for those avoiding dairy but also add a delightful nutty flavor that transports you to a tropical paradise.
Infused with mint and lemon, this tzatziki becomes the perfect cooling and tangy appetizer for hot summer days.
4. Vegan Tomato Flatbread
To make this vegan tomato flatbread, you'll need to spread a generous layer of tahini on top of the flatbread. The tahini adds a creamy and savory contrast to the sweetness of the tomatoes. It's like a flavor explosion in your mouth!
The colorful tomatoes bring a burst of freshness, while the garlic gives it a peppery kick. Every bite is crunchy and satisfying.
This appetizer is perfect for any gathering, and it will make you feel like part of a community that celebrates delicious vegan food.
5. Vegan Caramelized Onion Dip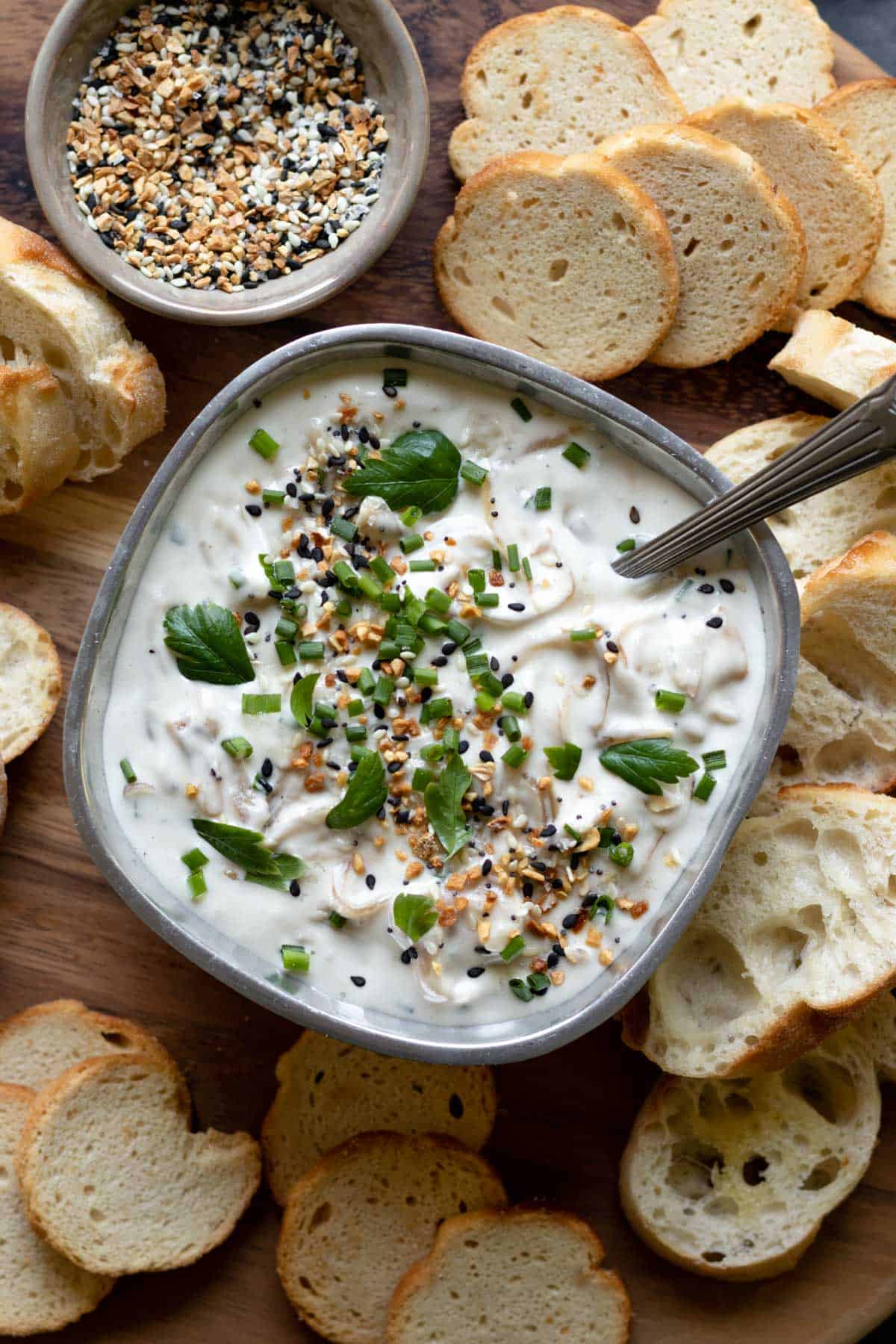 You'll love how the sweet onions caramelize and blend with the garlic, chives, and vegan sour cream to create a rich and creamy dip that pairs perfectly with your favorite snacks.
The onions become beautifully golden as they cook down, releasing their natural sweetness. Combined with the fragrant garlic and fresh chives, this dip is bursting with flavor.
The vegan sour cream adds a tangy creaminess that makes it irresistible.
6. Buffalo Cauliflower Wings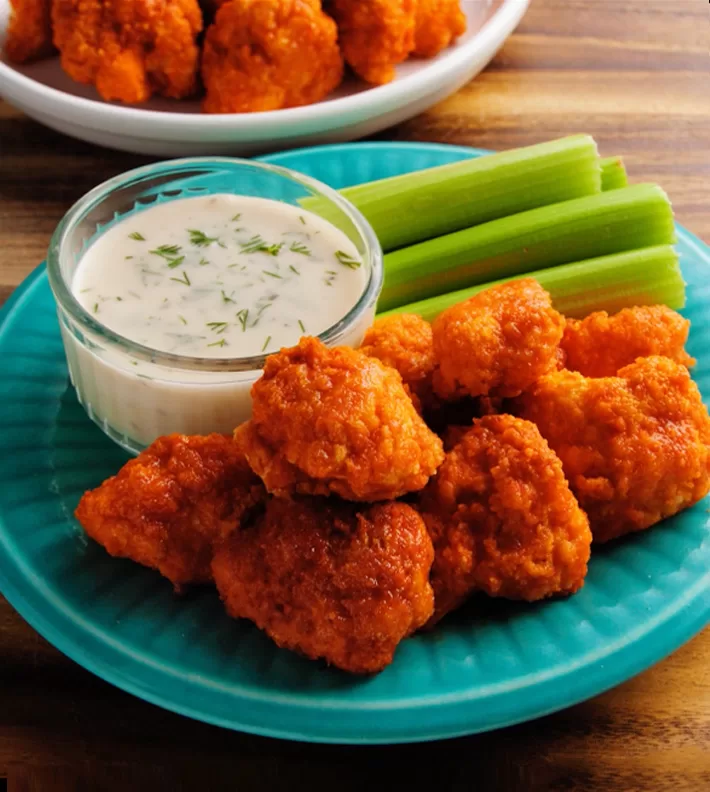 The cauliflower wings are baked until crispy and then tossed in a spicy buffalo sauce for a deliciously addictive snack.
These wings may not taste like chicken, but they are scrumptious and have a savory kick that will keep you coming back for more.
They are super nutritious too, making them the perfect guilt-free treat.
7. Vegan Potato Cakes with Carrot and Rice
Get ready to enjoy these flavorful vegan potato cakes packed with mashed potatoes, carrots, and rice. These hearty appetizers are a budget-friendly option made with basic, inexpensive ingredients.
They're perfect for using up leftover mashed potatoes and are naturally vegan and gluten-free. Each bite is filled with the creamy texture of the mashed potatoes, the subtle sweetness of the carrots, and the satisfying chewiness of the rice.
8. Vegan Spinach Dip
After indulging in the delightful Vegan Potato Cakes with Carrot and Rice, my taste buds were craving another vegan appetizer. That's when I discovered the heavenly Vegan Spinach Dip.
This creamy delight is flavored with garlic, onion, and a rich dairy-free cream cheese. With its smooth texture and incredible taste, it's no wonder this dip is a crowd-pleaser at any gathering.
Get ready to change your opinion on spinach with this delectable finger food.
9. Tomato Steak Tartare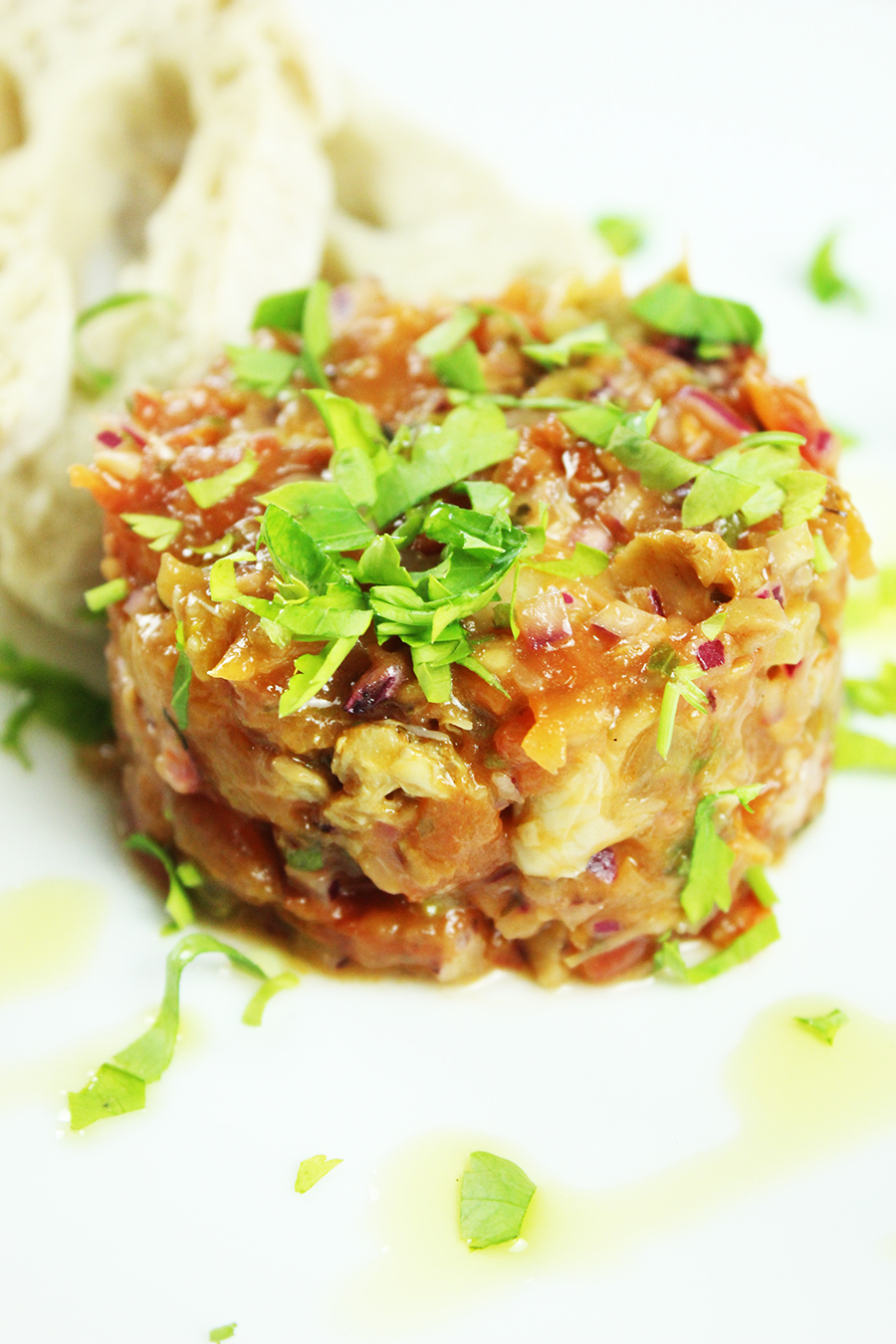 If you're looking for a vegan twist on a classic French dish, try the tomato steak tartare.
This appetizer is inspired by the traditional steak tartare, but instead of using raw beef, it features finely cut tomatoes.
It's perfect for those who want to enjoy the flavors and textures of the original dish without the meat.
The tomatoes are seasoned with herbs and spices to mimic the savory taste of steak, while still maintaining their natural freshness.
Garnished with a dollop of vegan mayo or mustard and served with crispy bread or crackers, this tomato steak tartare is sure to impress your guests at any gathering.
10. Roasted Beet Hummus
The stunning magenta color of Roasted Beet Hummus instantly captivated me, but it was the creamy sweetness from the beets that truly won me over.
With a burst of lemon, a hint of garlic, and a drizzle of olive oil, this dip became an irresistible blend of flavors.
11. Low Fat Harissa Sweet Potato Wedges
The low-fat harissa sweet potato wedges are a delicious and healthy option for snacking. These crispy wedges are seasoned with a perfect blend of salt and harissa, creating a balanced flavor profile. It includes sweetness, saltiness, smokiness, and savory notes with a spicy kick.
Not only do they taste amazing, but they also cater to various dietary needs. They are vegan, gluten-free, and paleo-friendly.
12. Vegan Chicken Nuggets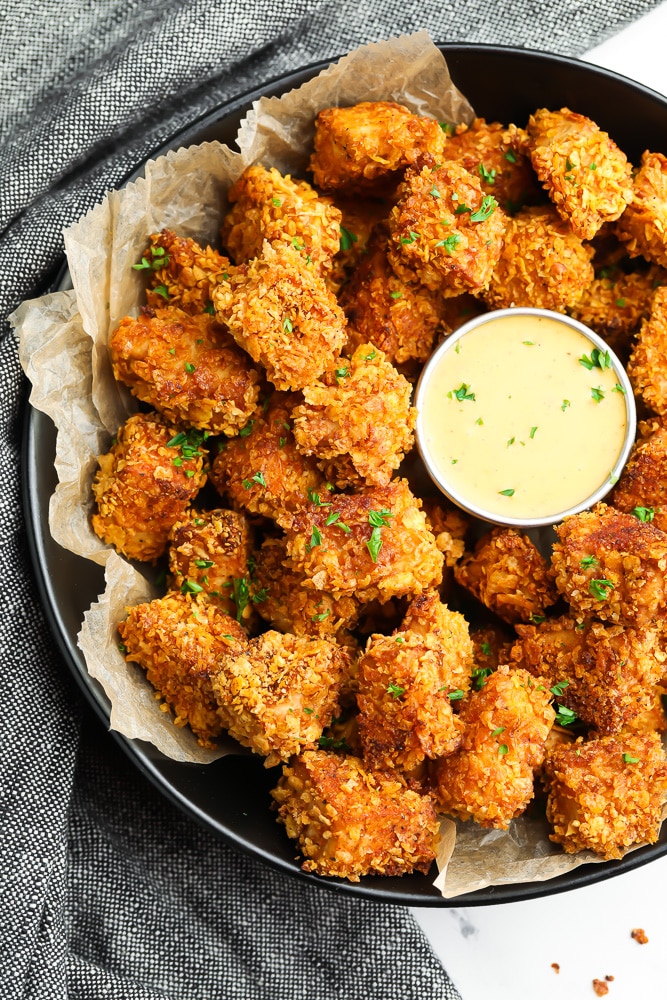 Get ready to enjoy some mouthwatering vegan chicken nuggets made with flavorful baked tofu and coated in crushed cornflakes for a delightful crunch.
These nuggets are the perfect appetizer or snack for any occasion.
The tofu is marinated in a delicious blend of soy sauce and seasonings, giving it a savory and satisfying taste.
When dipped in your favorite nugget sauce, these vegan chicken nuggets become irresistible.
You won't believe they're not made from real chicken!
13. 5-Minute Vegan Cashew Queso
You can create a creamy and flavorful vegan queso using a simple blend of cashews, nutritional yeast, garlic, spices, and harissa paste.
The combination of raw cashews and nutritional yeast gives this cheese-free queso a surprisingly cheesy taste.
The smooth puree is packed with savory flavors from the garlic and spices, while the harissa paste adds just the right amount of heat.
This vegan queso is perfect for dipping chips or drizzling over nachos, providing a delicious plant-based option for appetizers that everyone can enjoy.
14. Sticky Sesame Cauliflower Wings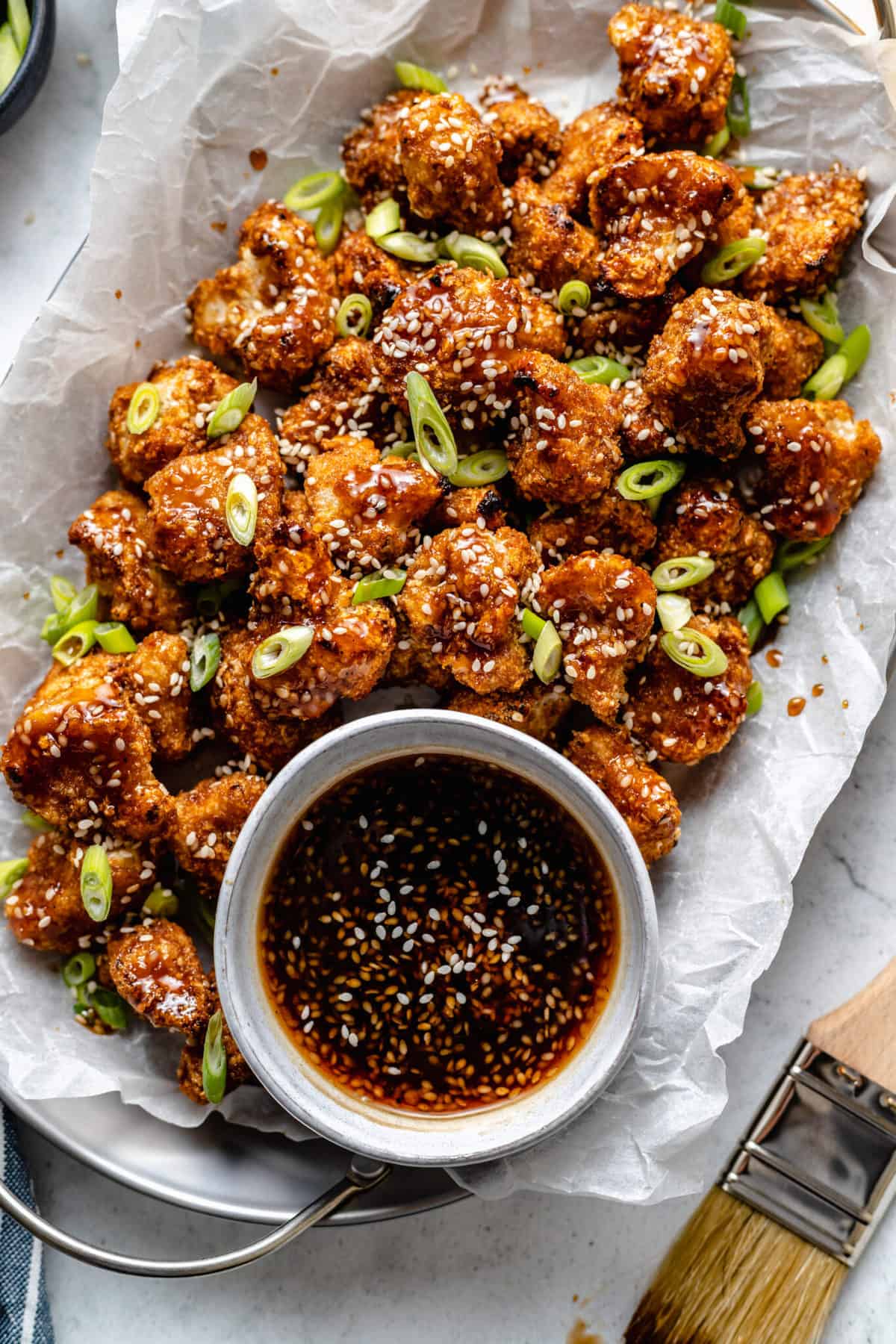 These little bites of heaven are surprisingly addictive. The thick, sticky sauce is a perfect blend of sweet and umami flavors that coat each crispy cauliflower floret.
Even picky eaters won't be able to resist the irresistible combination of textures and flavors in these delectable finger foods.
15. 4-Ingredient Broccoli Tater Tots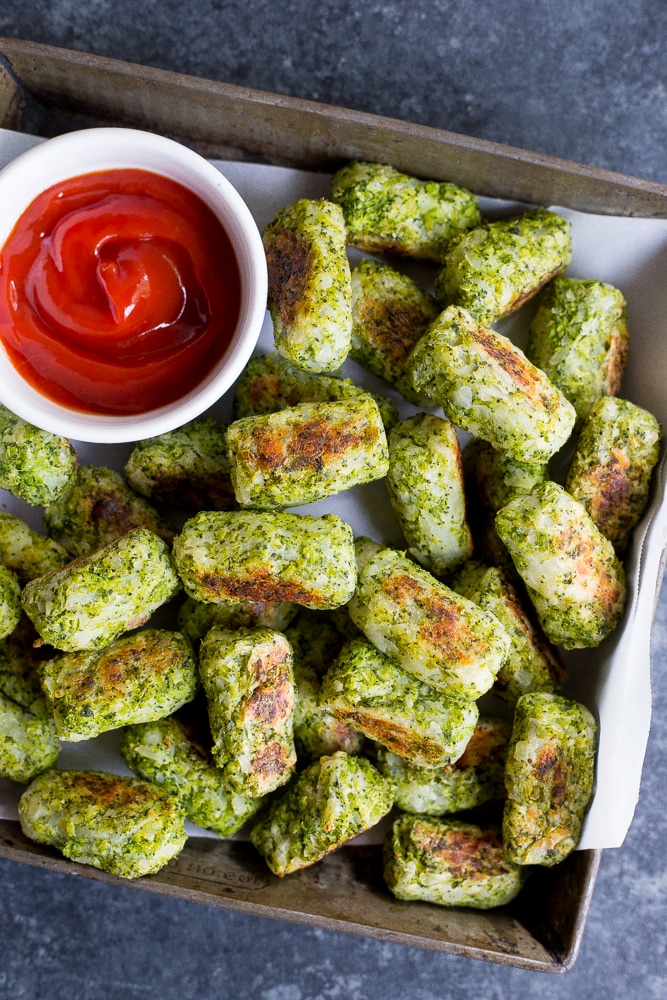 Don't underestimate the power of broccoli. These tots are a delicious and nutritious twist on the classic potato version. Made with tender broccoli florets, breadcrumbs, and savory spices, they're a flavorful bite-sized snack that's perfect for any gathering.
The vibrant green color of the tots adds a pop of freshness to your appetizer spread. And don't worry, they still have that crispy exterior and fluffy interior you love in traditional tater tots.
These broccoli tots are a surefire way to impress your friends while sneaking in some extra veggies.
16. Vegan Bruschetta
For a plant-based twist on a classic appetizer, try topping toasted ciabatta with a flavorful blend of diced tomatoes, garlic, basil, balsamic vinegar, olive oil, and seasonings.
This vegan bruschetta is the perfect addition to any party spread. The combination of fresh ingredients creates a burst of vibrant flavors in every bite. The juicy tomatoes paired with fragrant garlic and aromatic basil create a mouthwatering experience that will leave your guests wanting more.
Drizzle some balsamic vinegar and olive oil over the top for an extra layer of richness.
17. Baked Vegan Onion Rings
These baked vegan onion rings are a healthier alternative to the traditional fried version. With their crispy and golden exterior, and a sweet and crunchy interior, they are sure to be a hit at any gathering.
The batter, made with chickpea flour, not only adds a beautiful coating to the onions but also creates a wonderful outer crunch.
And the best part? They're baked instead of fried, meaning fewer calories and zero grease.
18. Vegan Spinach Artichoke Dip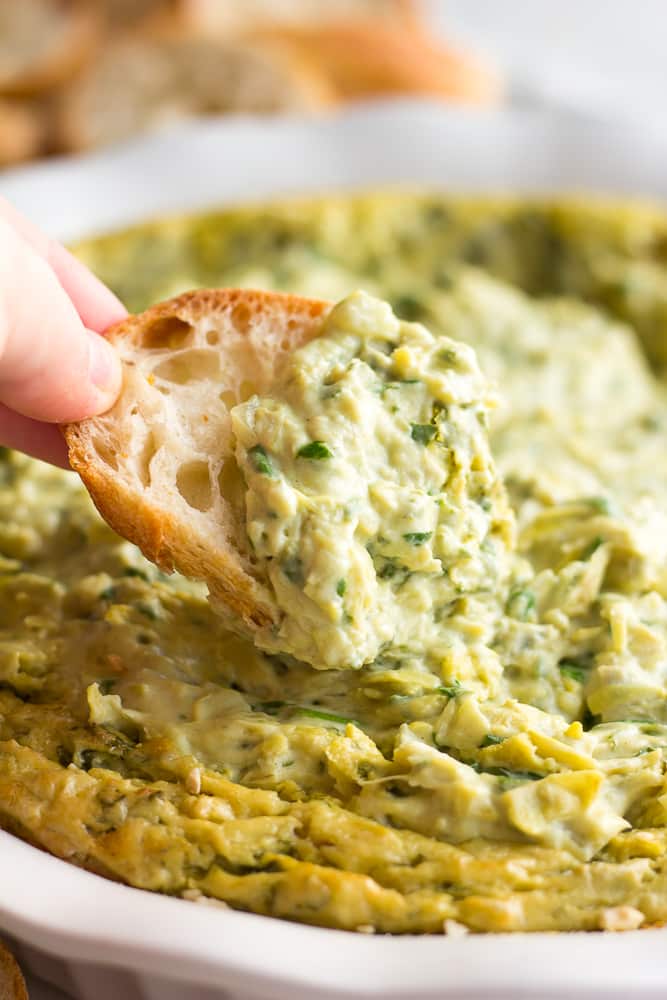 You'll love the creamy and dreamy texture of this spinach artichoke dip. It's made with a plant-based trifecta of raw cashews, non-dairy milk, and nutritional yeast.
The cashews blend into a smooth and rich base, while the nutritional yeast adds a cheesy flavor without any actual cheese.
Paired with crispy tortilla chips or warm bread, this dip is an absolute crowd-pleaser. It's like a cozy hug for your taste buds! You won't even miss the dairy!
19. Vegan Eggplant "Meatballs"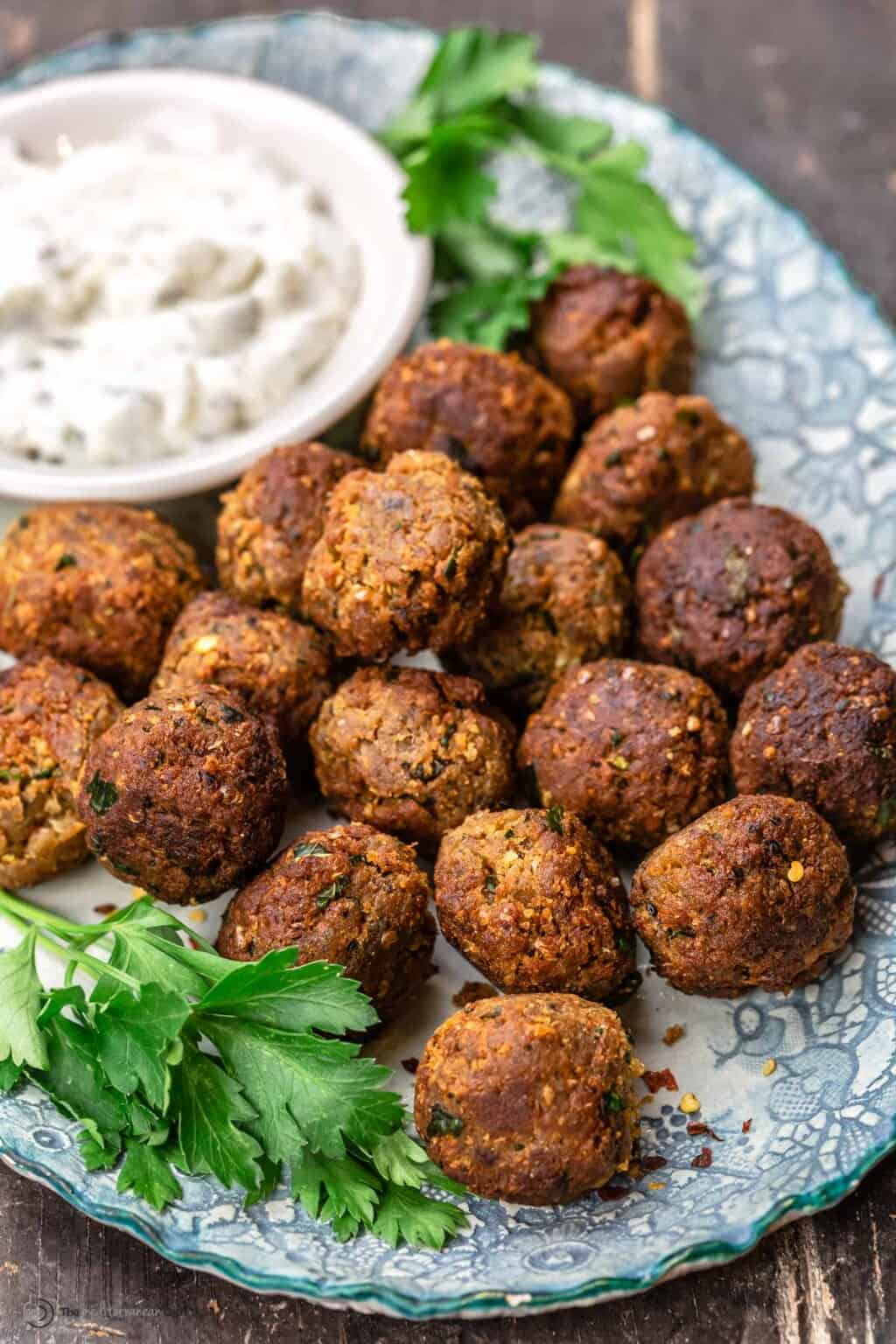 If you're craving a hearty and flavorful meatball alternative, try making these vegan eggplant 'meatballs' that are packed with savory goodness.
These plant-based balls are not dry or overly crumbly like many vegan options out there. They have just the right amount of heat from the red pepper flakes, giving them a kick without being excessively spicy.
These vegan eggplant 'meatballs' are perfect for those who desire belonging to the world of delicious finger foods.
20. Candied Rosemary Walnuts
The candied rosemary walnuts are a delightful blend of sweetness and earthiness, with a crackly exterior and delicately crunchy interior.
The candy coating is not one-note; it's infused with the warm flavors of cinnamon and rosemary, adding a touch of woodsy goodness to each bite.
These vegan appetizers are perfect for any gathering, providing a unique twist on traditional finger foods.
21. Maple Roasted Salted Almonds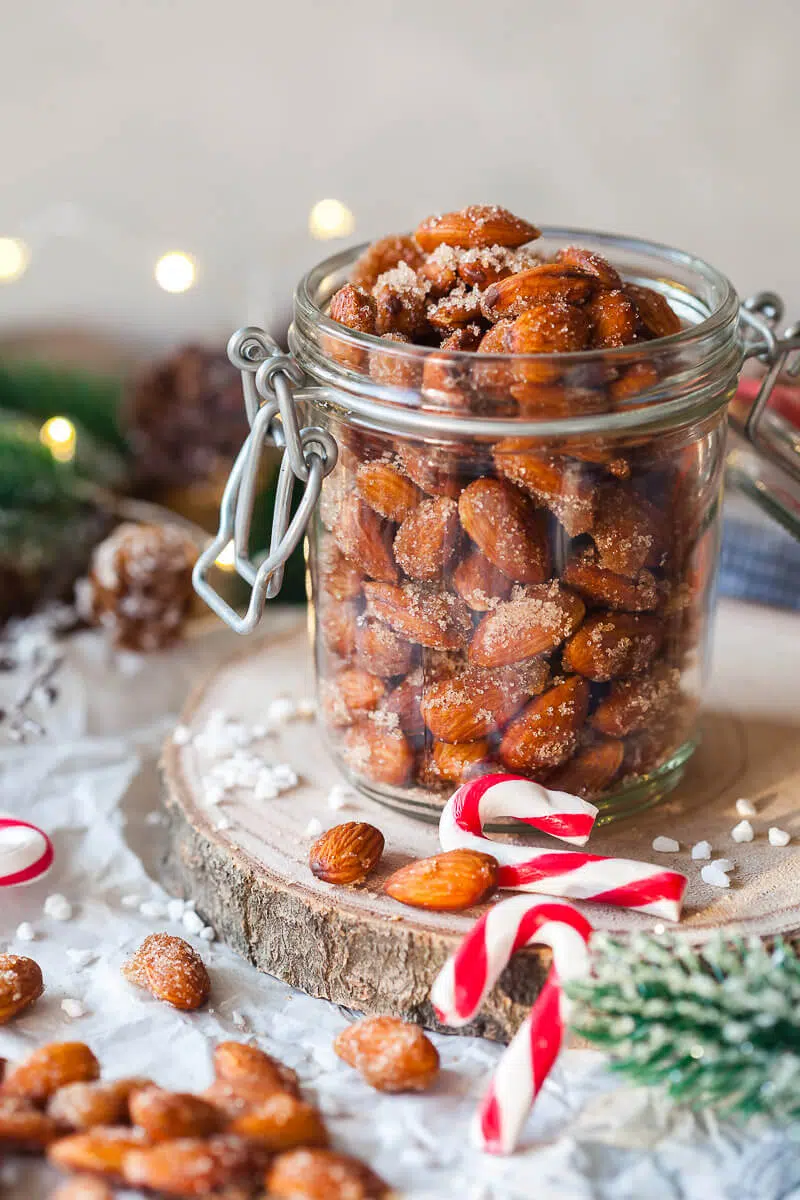 To enhance the flavor of your almonds, try seasoning them with a blend of maple syrup and salt before baking for a deliciously improved taste.
The sweetness of the syrup perfectly complements the natural nuttiness of the almonds, while the salt adds a savory kick.
As they bake, the maple syrup caramelizes and creates a mouthwatering glaze that coats each almond.
The result is a crunchy, sweet-salty snack that will have everyone coming back for more.
22. Vegan Jalapeno Poppers
For a plant-based twist on the classic party essential, try making vegan jalapeno poppers using nutritional yeast instead of cheese. These spicy and savory appetizers are sure to be a hit at any gathering.
Nutritional yeast adds a nutty and savory flavor, enhancing the plant-based alternatives to cheese. The creamy filling made with cashews, nutritional yeast, and spices perfectly complements the heat of the jalapenos.
You won't even miss the cheese!
23. Tokyo Street Fries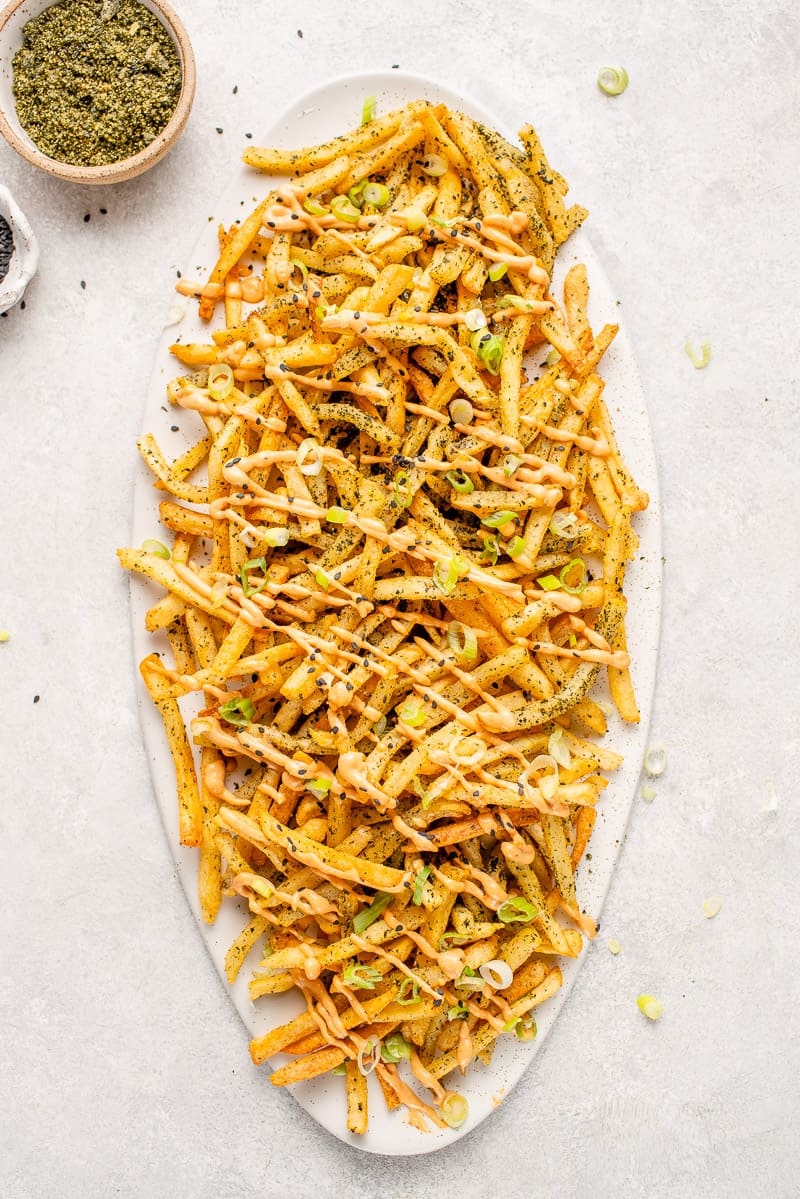 With a Tokyo twist, these street fries are seasoned with Tokyo mix popcorn seasoning and drizzled with Sriracha mayo for a creamy and spicy topping.
The Tokyo mix seasoning, made from seaweed, sesame seeds, salt, and nutritional yeast, adds a burst of umami flavor to the crispy fries.
The combination of the savory seasoning and the tangy Sriracha mayo creates an addictive taste that will keep you coming back for more.
These vegan-friendly appetizers are perfect for anyone craving a unique and delicious snack option.
24. Mutabal (Middle Eastern Eggplant Dip)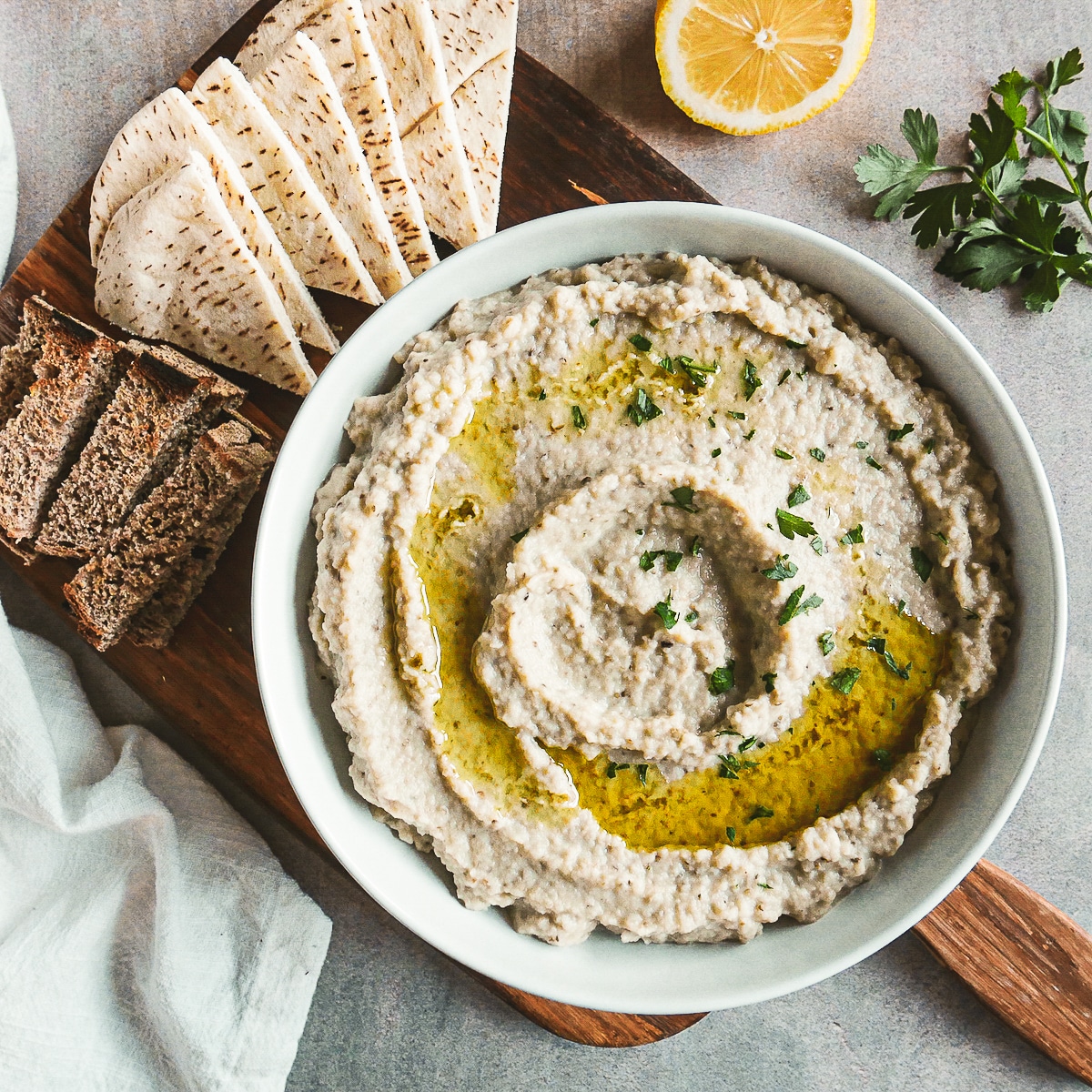 Now that we've explored the deliciousness of Tokyo Street Fries, let's travel to the Middle East and dive into the world of Mutabal.
This creamy eggplant dip is a true crowd-pleaser. Made with roasted eggplant, tahini, yogurt, garlic, and lemon juice, it offers a burst of flavors that will leave you craving for more.
Even if you're following a vegan lifestyle, fear not! Just swap in some plant-based yogurt and enjoy this scrumptious appetizer without compromising on taste.
25. Cheesy Kale Chips
Indulge in the addictive crunch of these cheesy kale chips, made with a mouthwatering blend of cashews, sunflower seeds, and nutritional yeast.
These chips are a game-changer for anyone looking to satisfy their snack cravings guilt-free. The puree of raw cashews and sunflower seeds creates a creamy coating that perfectly complements the crispy kale leaves.
With just the right amount of salty and cheesy flavor, these chips are bound to become your new favorite go-to snack. Trust me, you won't be able to resist reaching for seconds!