Avocados are the ultimate superfood. With their creamy, rich texture and mild flavor, they are endlessly versatile in plant-based cooking.
I'm thrilled to share my 25 best vegan avocado recipes, from deliciously decadent desserts to fresh and vibrant salads.
Let's dive in!
1. Vegan Spiced Tofu Wraps with Pesto Avocado Cream
For a fresh take on tofu wraps, try my irresistible pesto avocado cream sauce. The zesty, herby flavor pairs perfectly with spiced tofu. Just blend silken tofu with avocado, basil, lemon juice and garlic for a sauce that's creamy yet light.
Spread over your favorite wraps or flatbread with baked tofu, veggies and greens for a satisfying plant-based meal. The avocado makes this pesto extra creamy but still nutritious.
2. Moist and Fudgy Gluten-Free Avocado Chocolate Cake
Indulge your chocolate cravings without the guilt! This luscious cake stays moist and fudgy thanks to avocados, which replace butter in the batter.
Ground chia seeds help bind it together for a gluten-free treat. Cocoa powder, vanilla and espresso powder ensure plenty of chocolate intensity.
Top it off with an easy avocado icing, using lemon juice instead of confectioner's sugar. A couple of simple swaps allow you to enjoy chocolate cake again!
3. Creamy Avocado Pasta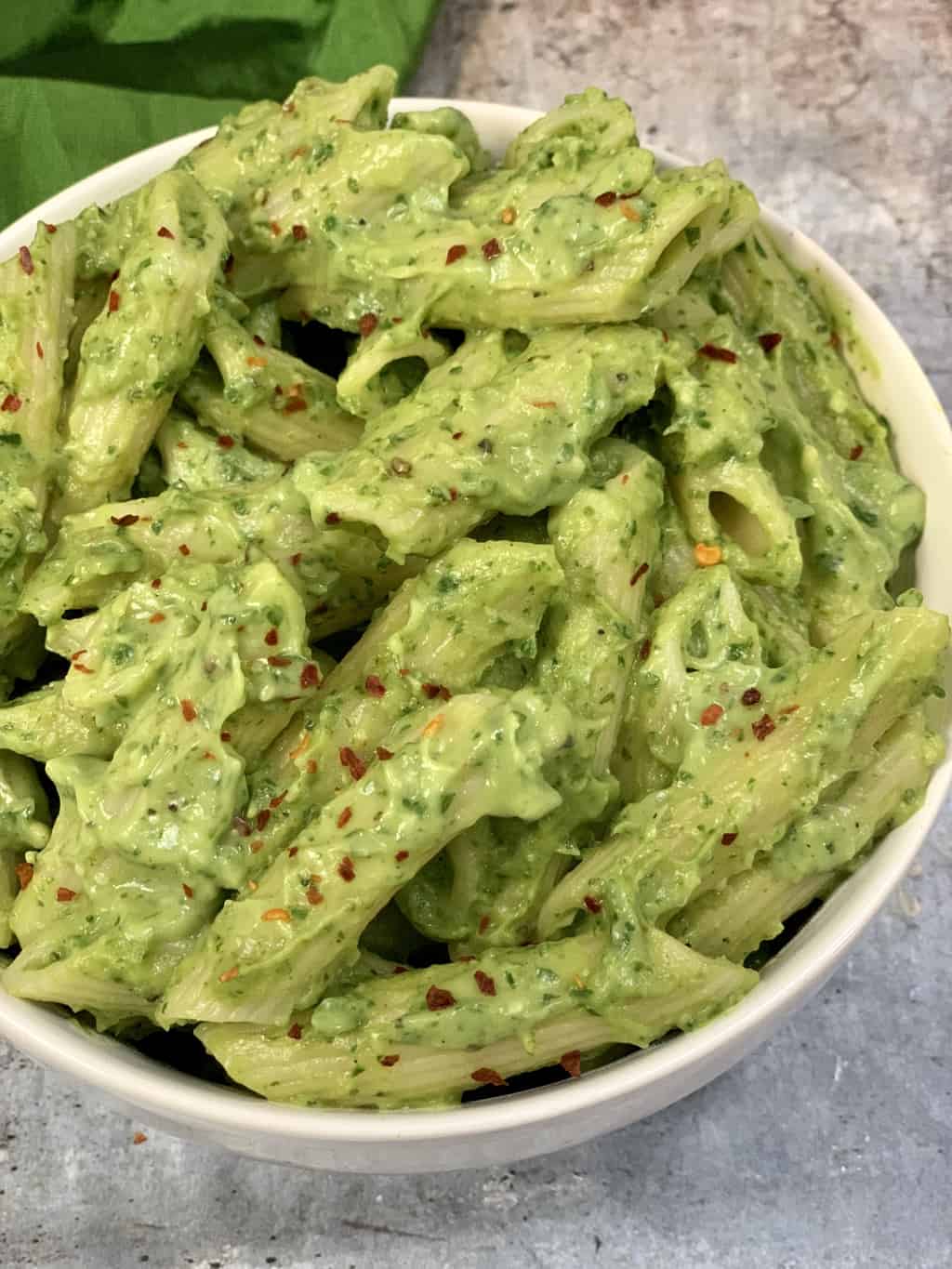 Pasta gets a healthy makeover thanks to the magic of avocados! Their richness creates a velvety plant-based sauce when blended with garlic, lemon juice and nutritional yeast.
Fresh baby spinach adds color while preserving the sauce's vibrant green hue. The avocados provide plenty of substance, making this a satisfying 20-minute meal.
For extra decadence, add some roasted cherry tomatoes on top.
4. Vegan Avocado Fries (Air Fryer)
Get your fry fix without all the oil! These unique avocado fries have a crispy exterior but a creamy, cool interior.
Simply slice avocados into wedges, coat in panko breadcrumbs and air fry until golden. The air fryer gives you all the crunch without the unhealthy fat.
Serve these tasty avocado fries with a zesty mango West Coast dipping sauce for irresistible flavor.
5. Green Goddess Sandwich
For a vegetarian sandwich that really satisfies, try my smashed chickpea filling paired with nutrient-rich avocado. Just blend chickpeas with vegan mayo, lemon juice, garlic and your favorite herbs and spices.
Layer the spread with sliced avocado, lettuce, tomato and onion between bread or in a pita pocket.
The chickpeas and avocado offer a substantial source of plant-based protein to keep you powered throughout the day.
6. Avocado Aioli
Make any dish more crave-worthy with my simple 5-minute avocado aioli! Just whip avocado flesh with lemon juice, garlic and your choice of herbs for a flavorful, velvety egg-free aioli.
Drizzle it over fries, sandwiches, wraps or veggies. The avocado creates a rich, luxurious texture without dairy, eggs or mayo. For spicy aioli, add a pinch of cayenne pepper.
7. Healthy Avocado Lime Cheesecake
A sweet treat for hot summer days, this refreshing cheesecake uses avocados in place of heavy cream cheese. Just blend ripe avocados with lime juice, coconut oil and coconut cream until perfectly smooth and creamy.
Pour the mixture into a prepared crust, chill completely, then top with a fresh lime zest garnish.
Naturally sweetened with maple syrup, this cheesecake is a cool, creamy indulgence.
8. Vegan Avocado Mac and Cheese
Comfort food, reinvented! Nutritional yeast and cashews lend a cheesy, creamy base to this classic dish, while avocado adds extra richness and body.
The avocados ensure a smooth and velvety sauce that coats each noodle perfectly. For extra flavor, try adding sautéed onions, roasted red peppers or steamed broccoli.
This nourishing, plant-based mac and cheese soothes the soul.
9. Burst Tomato and Zucchini Spaghetti with Avocado Sauce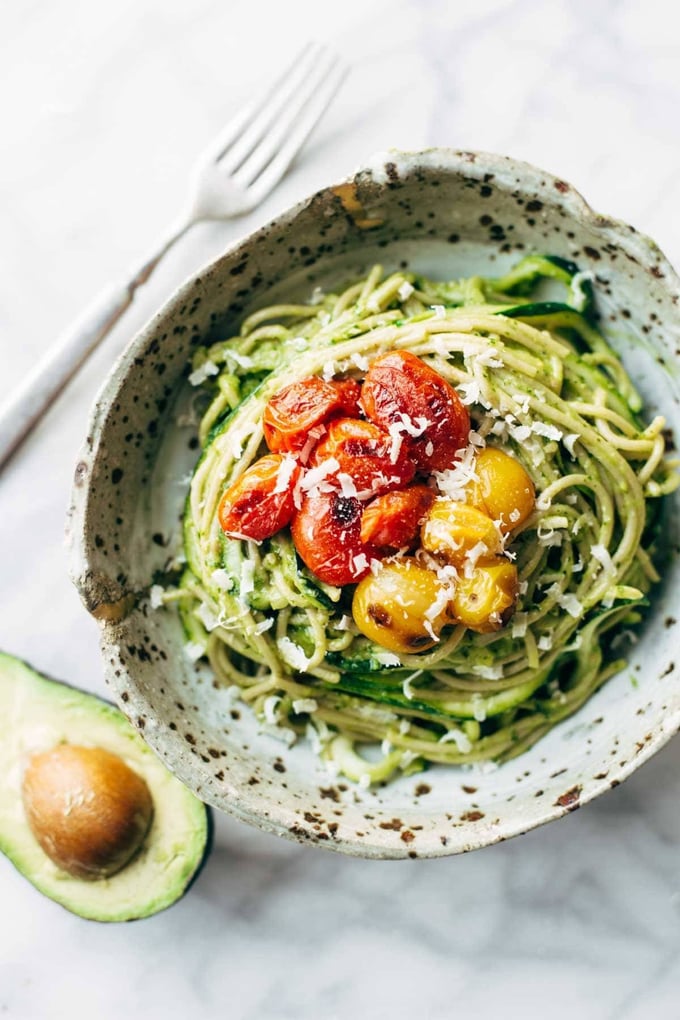 For a fun, fresh pasta night, try my zucchini noodles with a flavor-packed avocado sauce. Blistered cherry tomatoes add sweetness while giving the dish a vibrant pop of color.
Then finish it off with grated parmesan for a savory, satisfying meal that's also low-carb.
The cool, creamy avocado sauce is so addictive you'll forget all about heavy cream or cheese!
10. Vegan Pistachio Lemon Avocado Cake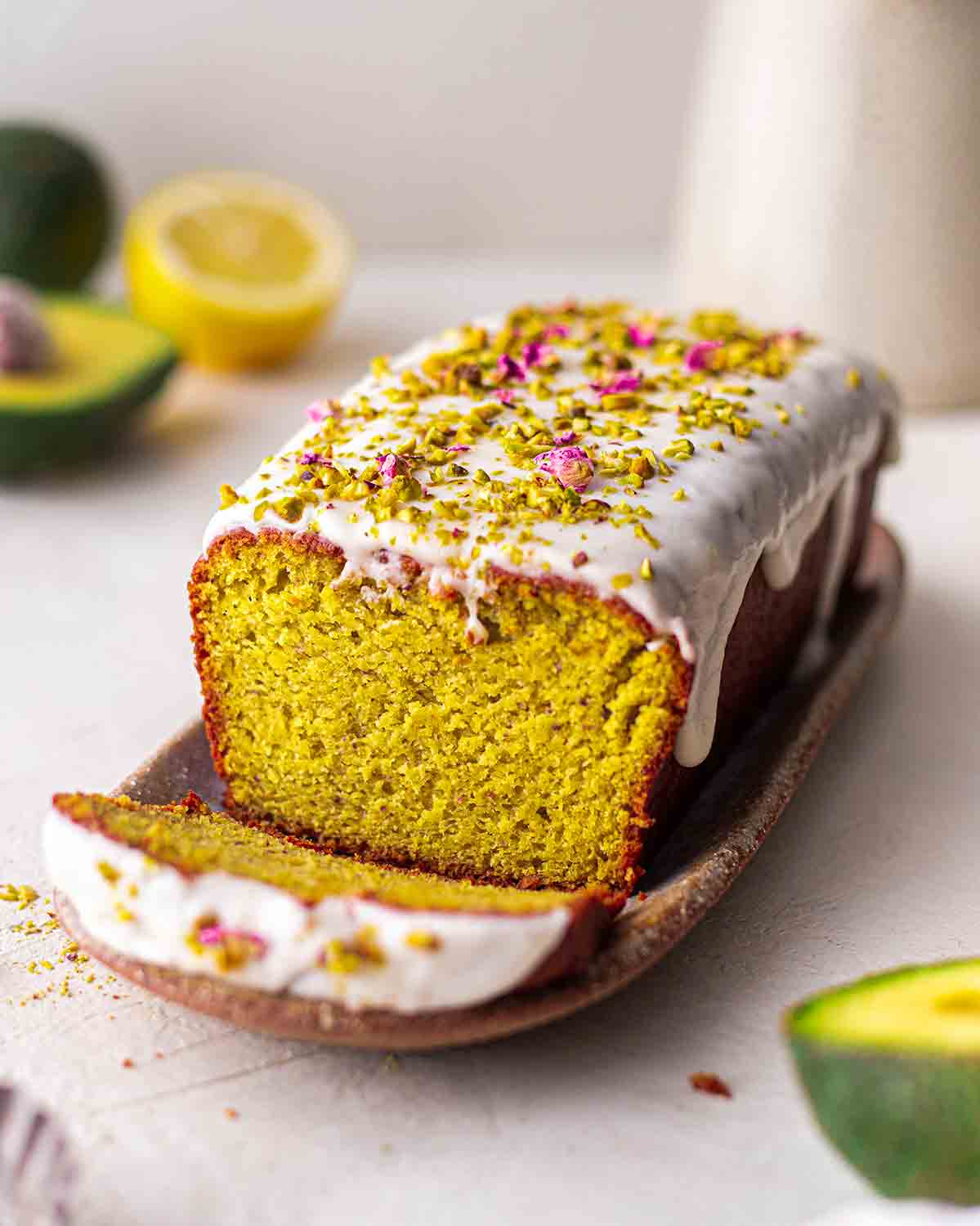 This delightful tea cake puts the avocado center stage! The pistachio and lemon perfectly complement the avocado's richness.
Eggs and butter are replaced with mashed avocado in this fluffy batter. A touch of lemon zest in the frosting brightens up the buttery avocado base.
It's the ideal cake for showering a friend with love and celebrating connection. Serve it proudly at your next garden party or book club!
11. Avocado Sushi Rolls
Skip the raw fish but keep the avocado in these homemade sushi rolls. With brown rice, carrots, cucumber and avocado, they make a filling and nutritious plant-based meal.
The creamy avocado is the star here, lending richness to balance the rice and vegetables. Rolling the sushi is easier than you think!
Just lay out your nori sheet and pile on the veggies and rice. No special skills needed.
12. Creamy Avocado Banana Green Smoothie
Start your day the healthy way with this power-packed green smoothie. Thanks to the avocado, it's extra thick, creamy and satisfying.
Simply blend avocado with banana, vanilla protein powder, spinach and milk of your choice until frosty and smooth.
The fiber-rich veggies and protein keep you full, while the banana and avocado lend natural sweetness and creaminess. A most excellent way to eat your greens!
13. Vegan Avocado Ice Cream
You won't believe this luscious ice cream is vegan! Avocados are the secret, lending a rich, creamy base when blended with coconut milk and coconut cream.
Vanilla and maple syrup add sweetness without overpowering the delicate avocado flavor. The result is a cool, decadent treat without any dairy.
For chocolate avocado ice cream, add cocoa powder or melted chocolate chips. Spoonful, anyone?
14. Healthy Avocado Potato Salad
This twist on potato salad uses Greek yogurt and avocado for rich flavor and creaminess while keeping it lighter than mayo-loaded versions.
The potatoes soak up all the zesty dressing of lemon juice, mustard, green onions and herbs. Cubed avocado makes it extra creamy but just as crave-worthy.
It's the ideal healthy side dish or potluck contribution to wow the crowd.
15. Crispy Air Fried Avocado Tacos
Tacos get an upgrade with these crispy avocado fries, refried beans, spicy mayo and all the fixings. After air frying the avocado fries, assemble your tacos with pickled red onions, cilantro, jalapeños – whatever you crave!
The hot, crispy avocado fries are an irresistible contrast to the cool refried beans and spicy mayo. You may never go back to ground beef again.
16. Vegan Avocado Brownies
You'll never know these fudgy brownies are vegan! Overripe avocados replace butter for incredibly moist, chocolatey brownies with less fat.
Cocoa powder, chocolate chips and espresso powder ensure serious chocolate intensity. Walnuts or pecans add crunch.
Mix up the batter, bake, then cut into squares for gooey, fudgy bliss. Avocados make the brownies extra decadent tasting.
17. Cream of Avocado Soup
Experience the richness of avocados in this velvety, comforting soup. Onions, garlic, cumin and cilantro build the flavor base before blending with avocado and either chicken or vegetable broth.
For extra luxury, swirl in some coconut milk or cream. Garnish with pepitas, tortilla strips or cilantro.
The avocados make this soup ultra creamy without using any cream.
18. Vegan Eggs Benedict with Avocado and Tofu
For special weekend brunch, try this vegan spin on eggs Benedict. Toasted English muffins get layered with sautéed tofu, sliced avocado and our easy dairy-free hollandaise sauce.
Just blend silken tofu with non-dairy milk, lemon juice and spices. Drizzle liberally over the tofu and avocado "eggs" for a comforting elegance.
It's perfect when you want to impress friends with fancy food minus the eggs.
19. Vietnamese Avocado Smoothie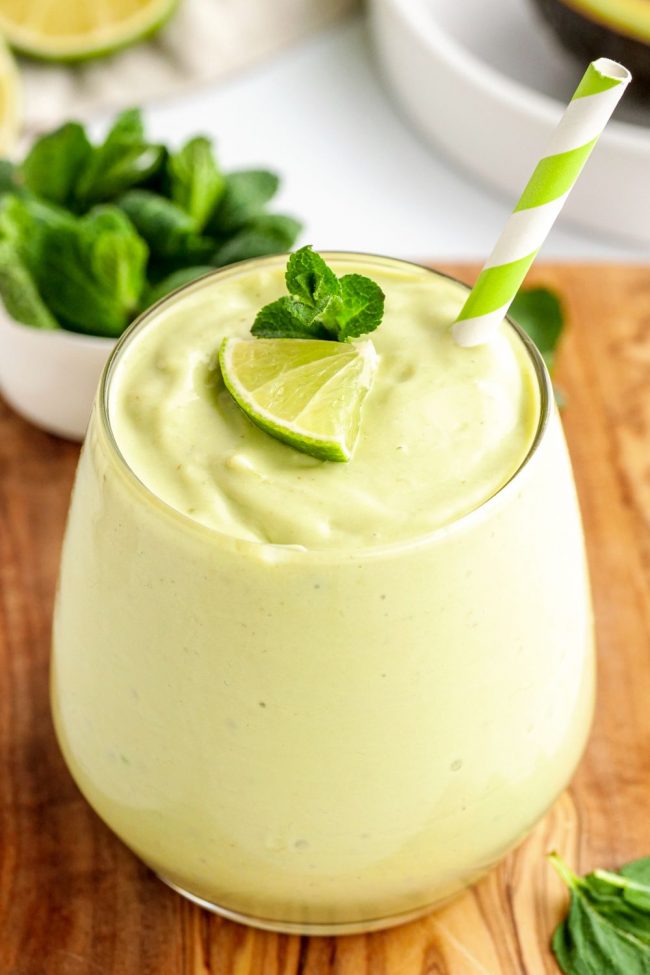 Transport yourself to a tropical paradise with this cooling and satisfying smoothie. It blends avocado, coconut milk, creamy maple syrup and lemon zest for ultimate refreshment.
The avocado adds frothy thickness while remaining dairy-free and nourishing. For even more exotic flair, add passionfruit or a swirl of mango puree on top.
One sip whisks you away to tranquility.
20. Avocado Chocolate Mousse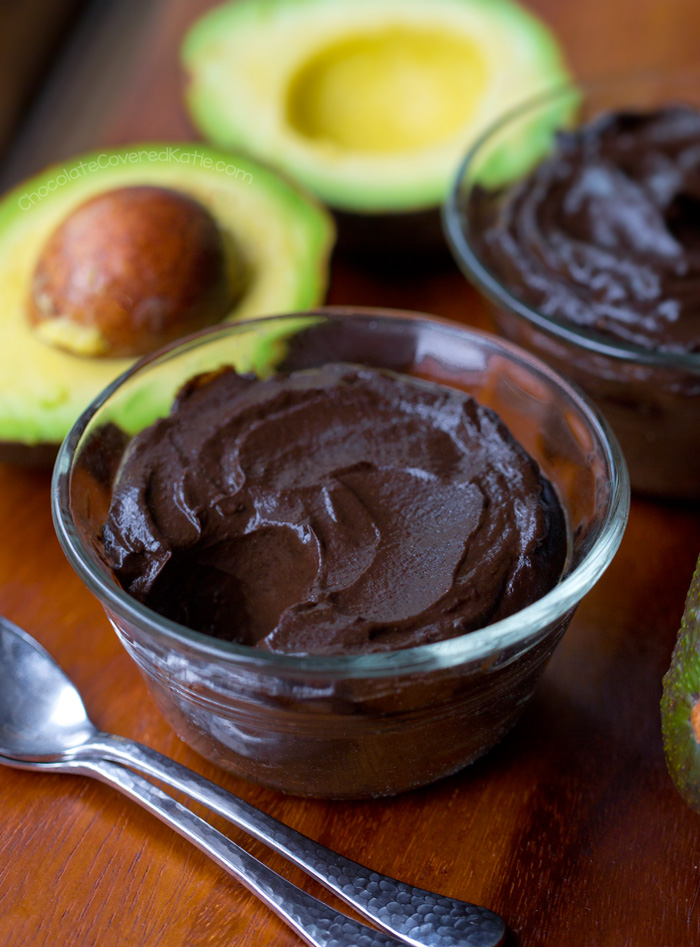 Light yet intensely chocolatey, this mousse satisfies cravings without the heavy cream. Silky avocado blends into the vegan chocolate base for a decadent, smooth texture.
Chilling it firms the mousse up while allowing the flavors to meld. For a perfectly smooth consistency, blend the avocado with non-dairy milk before adding the chocolate.
Top with shaved chocolate or fresh raspberries for an elegant dessert.
21. Vegan Avocado Jalapeño Dip
Get your chip dip game strong with this quick and creamy jalapeño version. Just blend avocado, jalapeños, cilantro, lime juice and spices for an ultra flavorful dip with kick.
The avocado creates a smooth, substantial base while the jalapeño brings on the heat.
Did I mention it takes just 10 minutes? The rest of your party snacks don't stand a chance against this crave-worthy dip.
22. Avocado and Radicchio Salad with Lime Vinaigrette
Treat your tastebuds to this vibrant and balanced salad centered around fresh, buttery avocado and pleasantly bitter radicchio.
The salad greens contrast with the richness of the avocado while the lime vinaigrette ties everything together. Accents like pickled red onion, pistachios and dried cranberries lend pops of flavor, texture and color.
23. Easy Vegan Avocado Crema
Add flavorful flair to tacos, burritos, fajitas and more with my zingy avocado crema. The avocado whips into a luxuriously smooth and creamy base.
Lime juice, cilantro and a pinch of cayenne pepper balance out the avocado's richness with a tangy spice.
Drizzle it just as you would sour cream over your favorite Mexican dishes. But unlike sour cream, this crema is vegan and takes only minutes to make!
24. Lemon Avocado Cake
Bright, refreshing and perfectly lemony, this delightful cake gets its moist crumb from mashed avocado. The avocado's neutral flavor lets the lemon zest and juice shine through. Just blend it into the batter in place of any butter.
Baking the cake gives it a wonderful nourishing density that's never heavy or greasy. Top slices with a bit of lemon curd or glaze for even more citrusy goodness.
25. Chilled Avocado and Cucumber Soup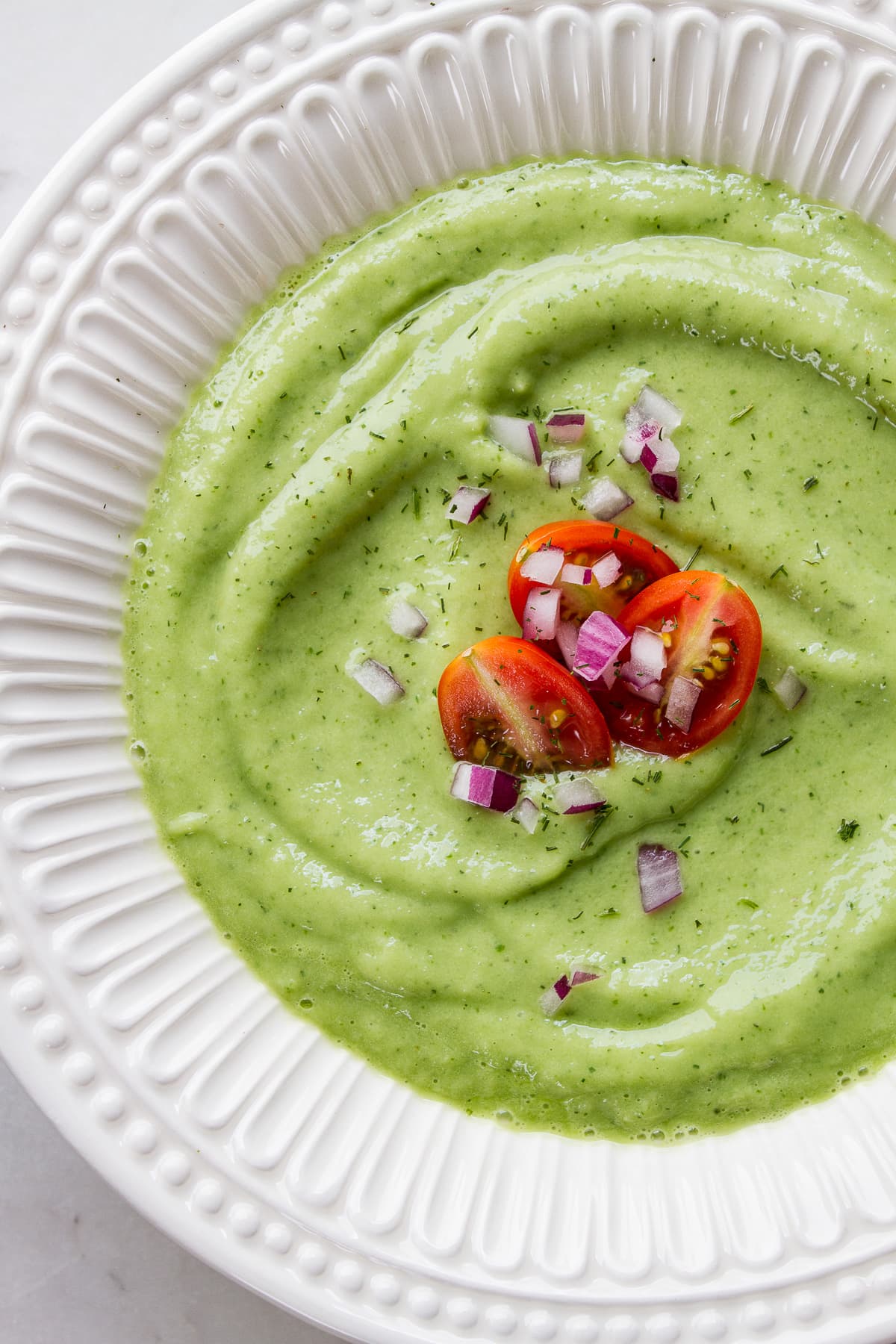 On sweltering summer days, cool down with this simple chilled soup. Just blend ripe avocados, cucumber, herbs and onion into a light yet creamy base.
For extra richness, stir in coconut milk or olive oil. Top each serving with crunchy toasted pepitas, sunflower seeds or chives.
At once cooling and comforting, this quick soup lets the fresh flavors of the veggies shine thanks to the avocado's mild taste.