The past few years have seen a dramatic rise in the popularity of plant-based and gluten-free eating. As more people adopt vegan and gluten-free lifestyles for health, ethical, or personal reasons, the demand has grown tremendously for recipes that are both vegan and gluten-free.
As a long-time vegan who also avoids gluten for health reasons, I'm always seeking out new recipe ideas to add variety to my diet while still aligning with my dietary preferences.
Over time, I've curated a collection of my absolute favorite vegan and gluten-free recipes that don't compromise on flavor or texture.
From hearty main dishes to luscious desserts, this roundup includes 25 of the tastiest vegan gluten-free recipes I've discovered. They're perfect for everyday meals, dinner parties, potlucks, or other occasions.
Vegan Loaded Nachos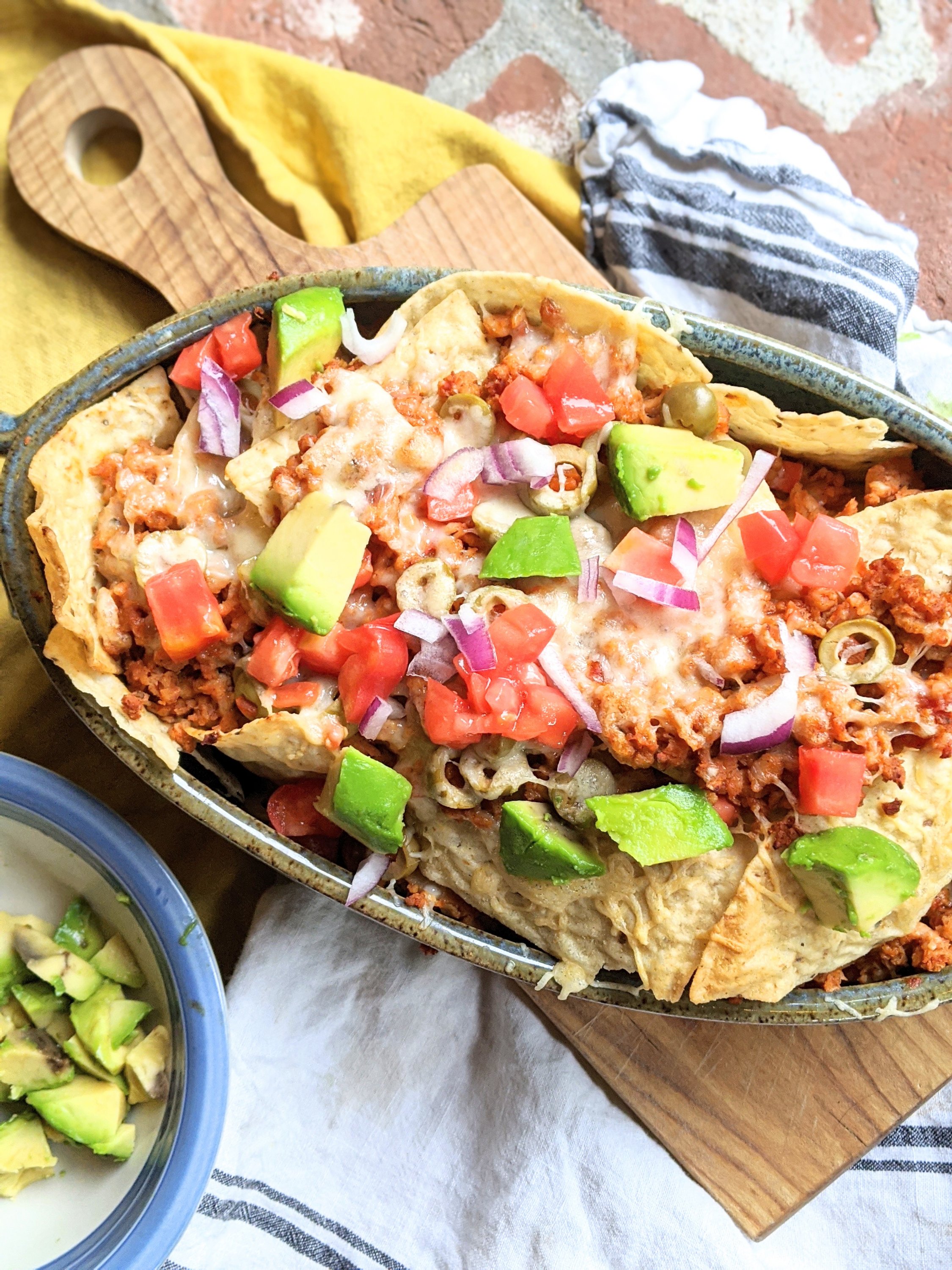 These sensational vegan-loaded nachos are fully loaded with cheesy, meaty, and delicious veggies, making them the perfect recipe for cozy nights, Taco Tuesday, or Super Bowl parties. They're guaranteed to be a crowd-pleaser, so make extra!
Gluten-Free and Vegan Vegetable Noodle Miso Soup
This umami bomb of a soup gets its rich flavor from miso paste and toasted sesame oil. It's nutritious and colorful, loaded with vegetables like mushrooms, carrots, broccoli, and kale over vegetable noodles.
Vegan Gluten-Free Spring Rolls
Spring rolls are always a good idea, and this delicious version is both nutritious and stuffed with goodies like grilled, sriracha-marinated tofu, rice vermicelli, and a variety of vegetables. They're fun to make and eat, wrapping up the ingredients like mini burritos.
Gluten-Free Vegan Oven-Baked Zucchini Chips
These baked zucchini chips are salty, cheesy, and spicy, satisfying cravings for a crunchy snack but with a healthy twist. They make for a perfect alternative to potato chips!
Tofu Scramble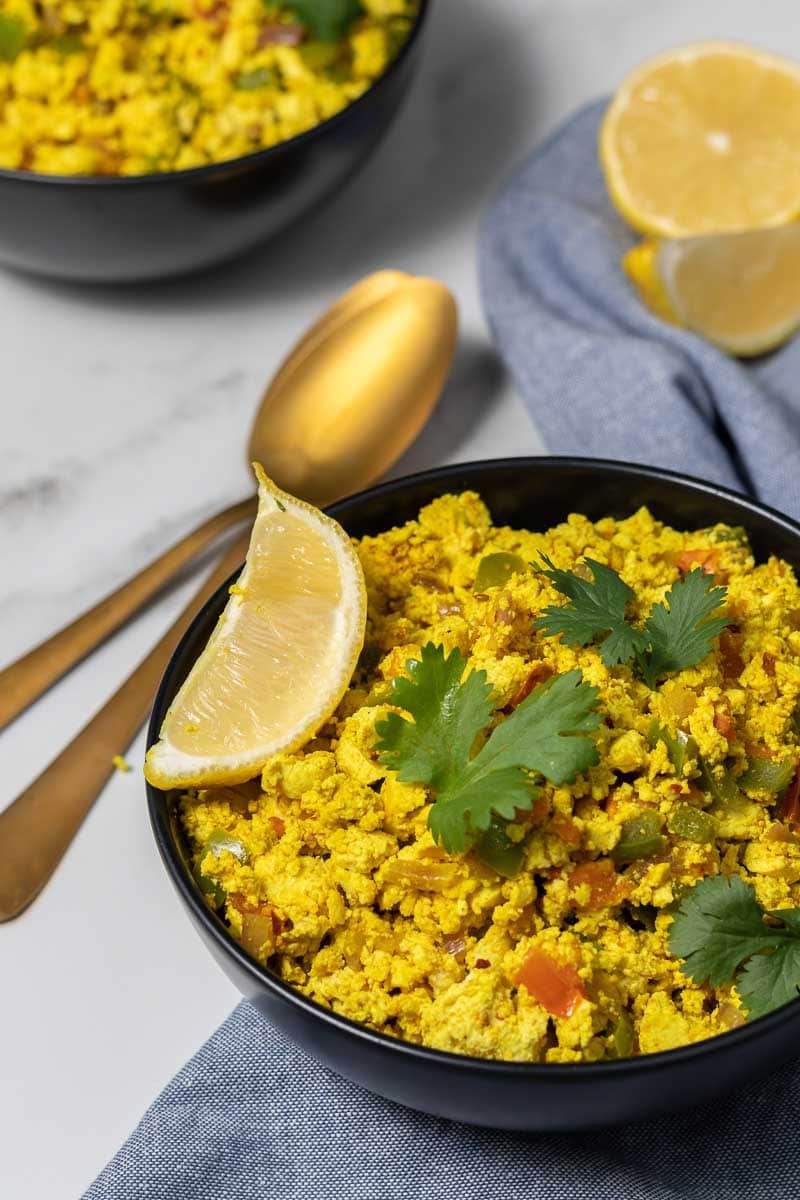 Start your day protein-packed with this tofu scramble breakfast, seasoned richly with cumin, turmeric, chili powder, garlic and more for a flavor profile just like real eggs. Add in some vegan cheese and veggies like peppers for even more flavor.
Simple Lemon Quinoa Salad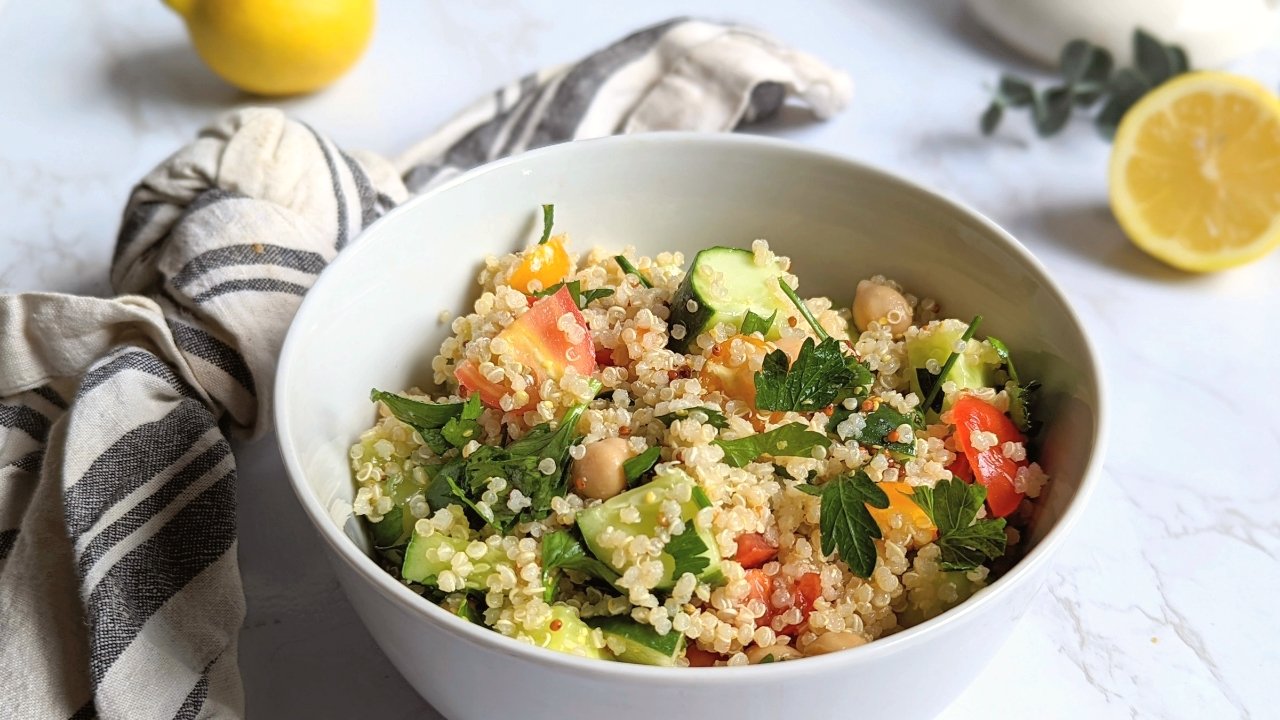 This simple yet filling salad gets its zesty citrus flavor from lemon juice and packs lots of protein from quinoa and chickpeas.
With fun textures from quinoa, cucumbers, tomatoes, and chickpeas and a tangy lemon mustard dressing, it's a great side dish or light meal.
Mexican Buddha Bowl
Easy to make and endlessly fresh, tasty, and customizable, this Mexican Buddha (or burrito) bowl contains rice, black beans, corn, cherry tomatoes, and avocado.
Drizzle on some lime juice or your favorite dressing. Add extras like roasted peppers, jalapeños, pickled red onions, and more!
Baked Chickpea Balls
These hearty chickpea "meatballs" are incredibly healthy, protein-filled and satisfying. Made primarily from chickpeas, corn, flax, and vegetables, season them with your favorite spices. Smother them with sauce for amazing flavor.
Vegan Carnitas with Mushrooms
These meaty mushrooms get their shredded "pork" look from a flavorful marinade of vinegar, orange juice, lime juice, soy sauce, garlic, jalapeños, and onions.
The result is a plant-based filling that mimics the taste of traditional pork carnitas.
Easy Vegan Cheese Ball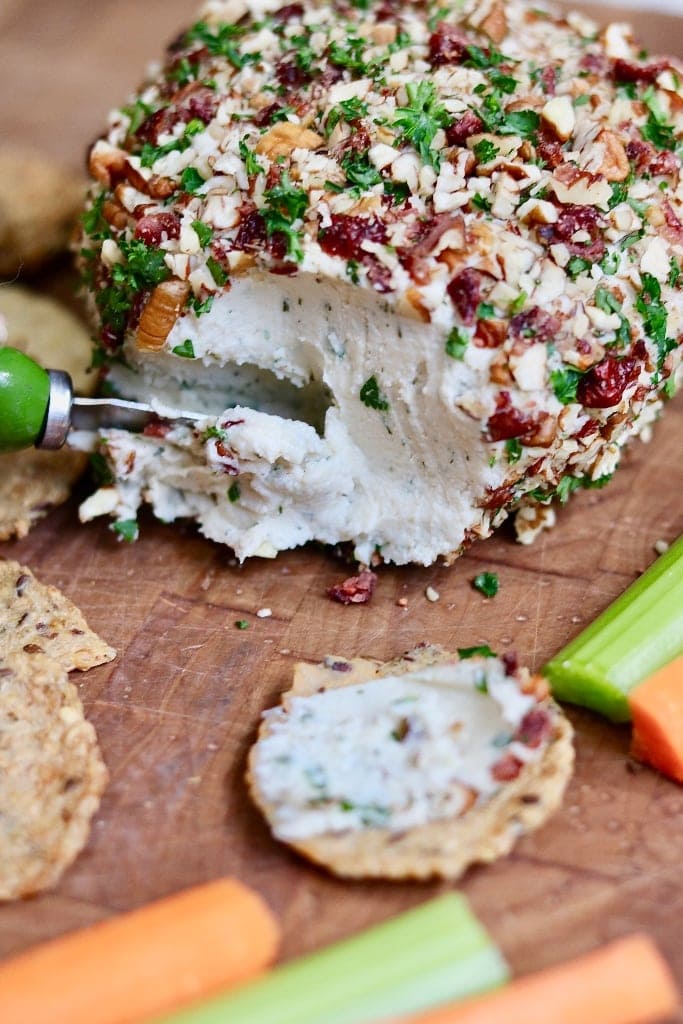 A classic party staple gets a vegan makeover with this delicious, creamy vegan cheese ball.
Made without any real cheese, it uses vegan cream cheese, cooked cashews, and coconut milk for a rich base that gets loaded up with herbs and seasonings.
Top it off with nuts and cranberries for the perfect sweet and savory combo.
Creamy Vegan Cucumber Salad
This solid cucumber salad recipe is great for barbecues and potlucks.
The vegan creamy sauce uses coconut yogurt, apple cider vinegar, lemon juice, dijon mustard, and maple syrup for flavor and creaminess.
Dill, red onion, and garlic add even more flavor.
Black Bean Stuffed Sweet Potatoes
Take baked potatoes to the next level with these Tex-Mex stuffed sweet potatoes.
They're incredibly flavorful but meat-free, with baked sweet potato halves stuffed with a zesty black bean, corn, tomato and red onion salsa flavored with lime, cilantro, and garlic.
Add guacamole and homemade vegan sour cream on top.
Ultimate Chickpea Salad Sandwich
Get your creamy, protein-packed chicken salad fix without the chicken or dairy with this sandwich made with chickpeas instead of chicken, vegan mayo, grapes, almonds, celery, onions, and parsley.
Gluten-free bread makes it allergy-friendly.
Gluten-Free Vegan Pancakes
Everybody loves fluffy pancakes, and this recipe proves that they can still be allergy-friendly with gluten-free oat flour, non-dairy milk, sugar, vanilla, oil and baking powder. Top them just like classic pancakes!
Mediterranean Quinoa Salad
This fresh, Mediterranean-inspired quinoa salad contains quinoa, cucumbers, tomatoes, peppers, olives, and red onion tossed in a dressing of olive oil, lemon juice, and fresh herbs. It's delicious as a main or side dish.
30-Minute Chickpea and Tomato Coconut Curry Soup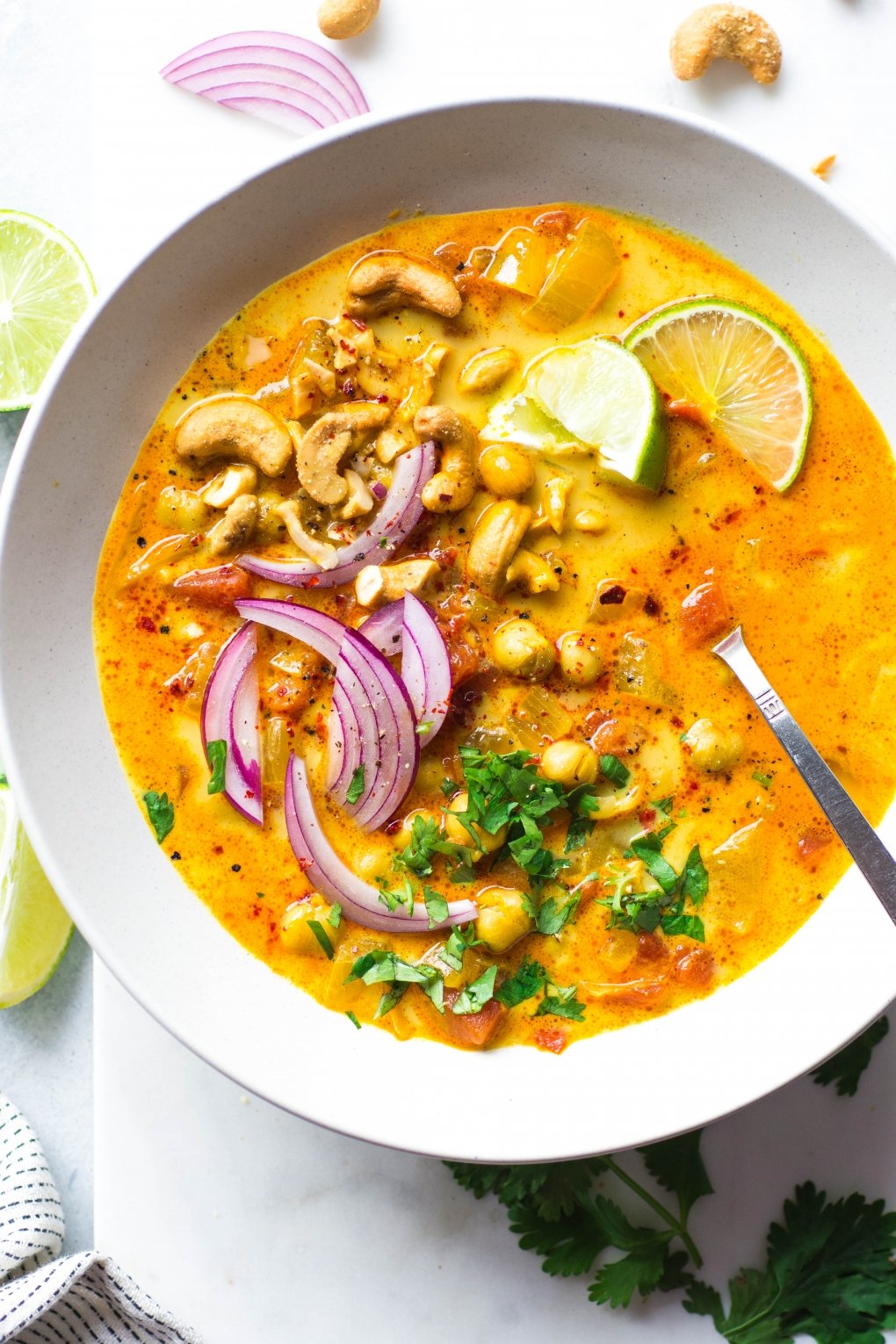 This easy, healthy, fast, and delicious curry soup warms the soul with its blend of coconut milk, vegetable stock, garlic, onions, chilis, tomatoes, and curry powder, balanced by a touch of lime juice. Chickpeas add protein and heartiness.
Tofu Breakfast Sandwich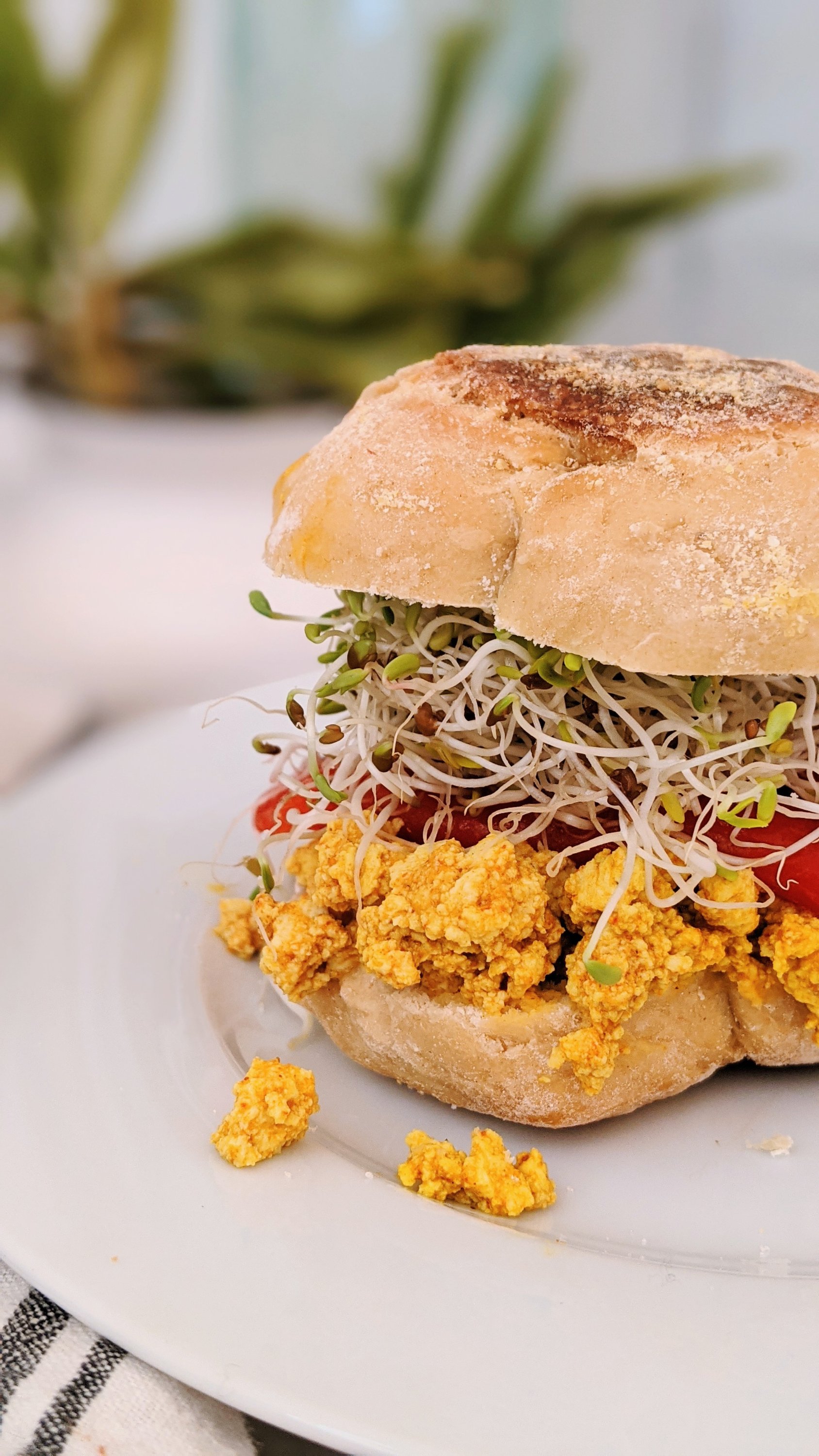 Tofu stands in for scrambled eggs in this breakfast sandwich, seasoned with nutritional yeast for eggy flavor.
Add roasted red peppers, sprouts, or other veggies for extra flavor and nutrition. Enjoy between two toasted gluten-free English muffins!
Crispy Vegan Gluten-Free Latkes
Latkes are like the best hybrid of pancakes and hashbrowns, but traditionally contain off-limit ingredients.
With simple swaps like gluten-free flour and plant-based milk, they can easily be made both gluten-free and vegan while frying up just as golden and tasty.
Vegan Gluten-Free Chocolate Chip Cookies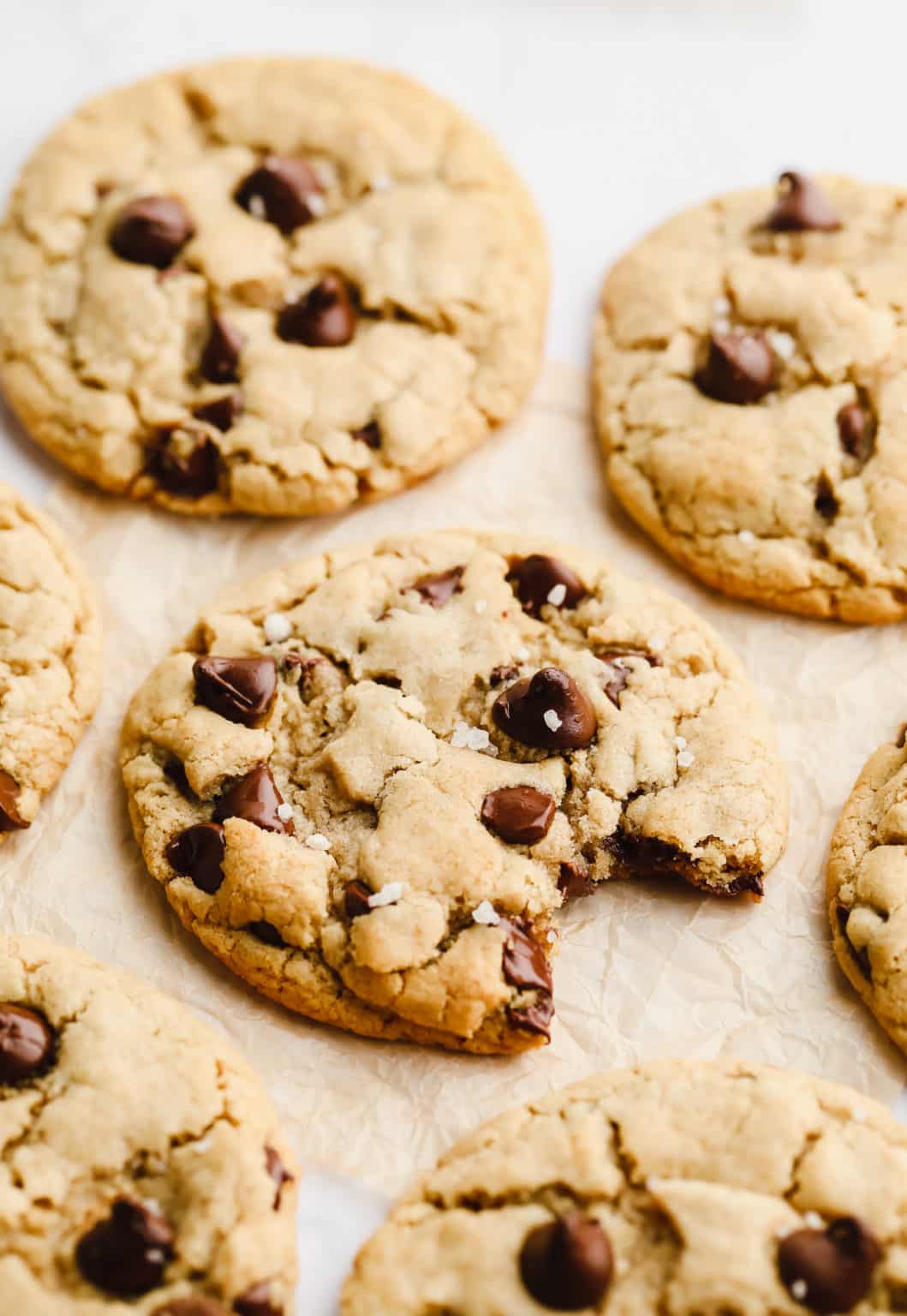 Even those with dietary restrictions don't have to miss out on delicious chocolate chip cookies!
These tasty alternatives use vegan butter, gluten-free flour, plant-based milk, and vegan chocolate chips.
Peanut Butter Overnight Oats
Whip up these easy make-ahead overnight oats for a breakfast that's thick, creamy, delicious, and healthy.
They contain just a few simple ingredients like peanut butter, rolled oats, almond milk, chia seeds, and maple syrup for sweetness. Top with fresh fruit just before eating.
Vegan Gluten-Free Banana Bread
This moist, delicious banana bread can be enjoyed by vegans and gluten-free eaters alike. To make it vegan, an apple cider vinegar hack replaces the egg.
Gluten-free flour, sugar, bananas, oil, and leavening agents round out the simple ingredients list.
Lentil Bolognese
Hearty lentils make the perfect meat substitute in this vegan and protein-packed pasta sauce.
Cooked down with tomato, onions, garlic, mushrooms, and Italian seasonings, the lentils mimic the texture of ground beef in a classic meaty bolognese. Serve over gluten-free pasta.
"Cheesy" Vegan Kale Salad with Farro
This hearty and healthy vegan salad, loaded with nutritious kale and roasted veggies over farro, makes a whole meal on its own.
A sauce of nutritional yeast and mustard lends a "cheesy" flavor.
Crispy Black Bean Tacos
These simple yet supremely satisfying black bean tacos come together quickly.
Cooked onions and highly seasoned black beans get pan-fried until crispy and golden, then stuffed into corn tortillas and topped with your favorite taco accompaniments like guacamole, vegan sriracha mayo, and jalapeños.
Gluten-Free Sticky Buns
Breakfast just isn't complete without a gooey, ooey-gooey caramel cinnamon roll, more affectionately known as a sticky bun.
Although traditionally made with gluten and dairy, they can be adapted to be vegan and gluten-free without sacrificing the taste.
Swap in vegan butter, non-dairy milk, and gluten-free flour to get all the flavors of soft sweet rolls and melty caramel.