As a long-time vegan and lover of Mexican cuisine, I'm always on the hunt for delicious vegan burrito recipes. Burritos make such a satisfying meal – stuffed with rice, beans, veggies, and more. The possible flavor combinations are endless!
I've gathered my 10 favorite vegan burrito recipes to share with you today. From breakfast burritos to burritos loaded with spicy seitan, you'll find plenty of inspiration here.
Read on for all the details on building the ultimate vegan burrito!
1. Ultimate Vegan Burrito
To make the ultimate vegan burrito, start by roasting some bell peppers and onions. This adds a delicious depth of flavor.
Next, cook up a pot of Mexican rice and season some black beans. Feel free to use leftover rice to make these burritos even quicker.
Sprinkle the rice and beans with taco seasoning or cumin, chili powder and garlic powder. Sauté some mushrooms, onions and peppers if you want more veggies.
From there, load up your tortilla with the ingredients and top with guacamole, salsa and hot sauce. The fresh components like lettuce, tomatoes and cilantro add a nice crunch too. It's the perfect meatless meal!
2. Vegan Mushroom Burritos
Mushrooms make a fantastic meat substitute in vegan burritos. Their hearty, meaty texture soaks up all the taco flavors.
For an easy weeknight dinner, sauté some mushrooms and onions in olive oil and taco seasoning. Make sure to cook them until they're nicely browned.
Meanwhile, warm up some leftover rice you have on hand and heat some refried beans.
Throw everything together in a tortilla along with some shredded vegan cheese, salsa, guacamole – whatever your heart desires! The mushrooms add plenty of flavor on their own.
I love these mushroom burritos because they come together so quickly. Keeping pre-cooked rice in the fridge helps cut down on time too.
3. Easy Refried Bean Burrito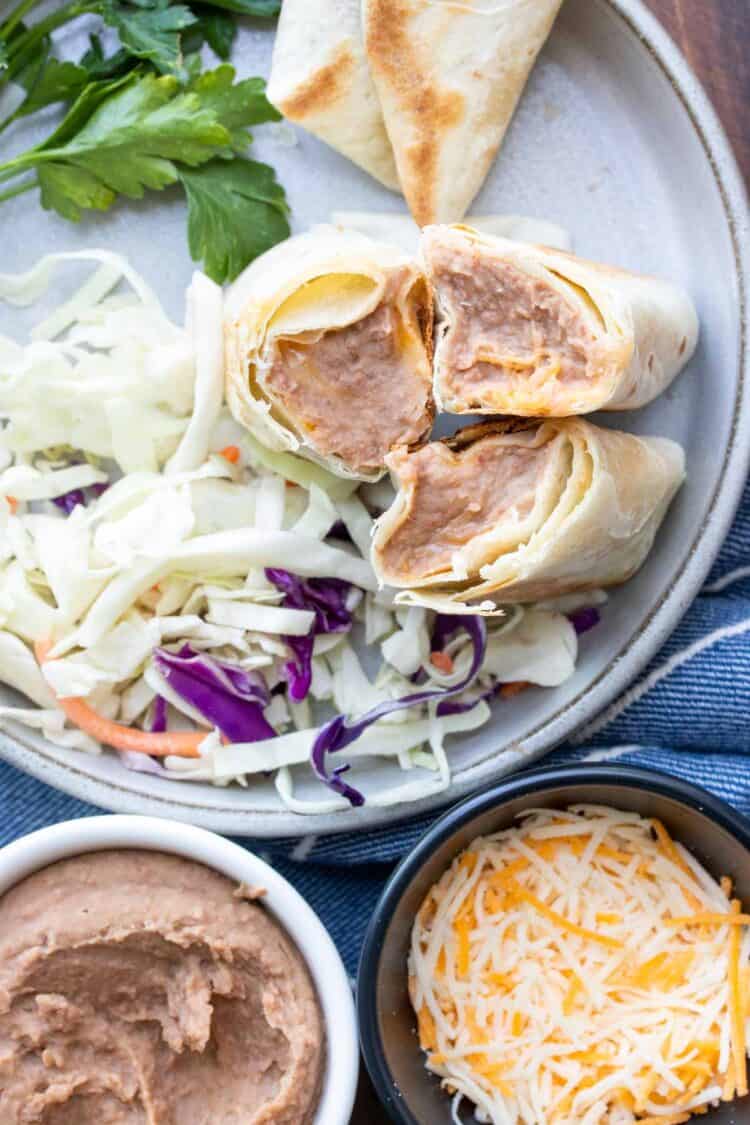 When time is short, an easy vegan burrito filled with refried beans really hits the spot. If you want to make your own refried beans, cook up some pinto beans with onion, garlic and spices. Then mash them and cook to thicken.
Canned refried beans work great too – just look for vegan varieties without lard. Sauté some onions and peppers if you want extra flavor.
Stuff your tortilla with the beans, Mexican rice, and toppings like vegan cheese, lettuce, tomato and guacamole. I love Daiya's dairy-free shredded cheese because it melts beautifully.
Pan fry the burrito in some oil to get it hot and crispy. Enjoy this fast and tasty meal any night of the week. The convenience of canned refried beans makes this burrito super simple.
4. Vegan Cheesy Potato Burritos
For an ultra-comforting vegan burrito, you can't go wrong with potatoes and melty vegan cheese. Russet or red potatoes work well here since they hold their shape when cooked.
Start by chopping some potatoes into 1-inch pieces. Toss them with olive oil, chili powder, cumin, garlic powder and salt. Roast at 400°F until crispy and browned.
Meanwhile, prepare a pot of cilantro lime rice to complement the spicy potatoes.
Assemble your burritos by layering the tortillas with rice, roasted potatoes, shredded vegan cheese and other toppings.
These cheesy potato burritos deliver total taco flavor without any meat. It's budget-friendly too, thanks to inexpensive potatoes and rice.
5. Best Vegan Breakfast Burritos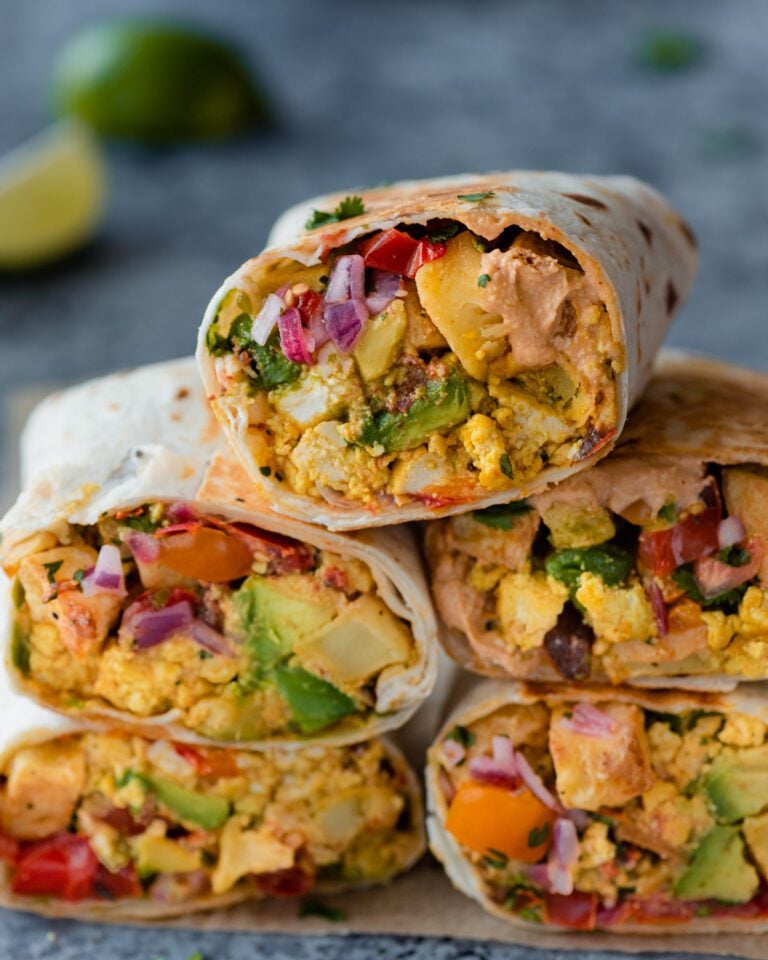 Wake up to a satisfying vegan breakfast burrito loaded with all your favorite components. The star of this burrito is the tofu scramble seasoned with nutritional yeast and spices.
To make a flavorful tofu scramble, sauté crumbled firm tofu in oil along with onions, peppers and seasonings. Add some potato chunks too for heartiness.
In another pan, cook up some roasted potato chunks until crispy and browned.
Assemble your breakfast burritos with tofu scramble, potatoes, tomato salsa and optional guacamole. The fresh pico de gallo salsa adds a nice bright flavor.
Smother everything in your favorite hot sauce for a spicy kick. These protein-packed burritos will give you energy all morning long.
6. Vegan Black Bean Burrito
For a quick and easy weeknight dinner, these black bean burritos really deliver. They mimic the taste of a burrito from your favorite Mexican restaurant.
First, heat up some oil in a skillet to pan fry the tortilla. This gives it a wonderfully crisp texture. Remove and set aside.
In the same skillet, sauté some diced onions, peppers, corn and potatoes until softened. Season with plenty of taco spices.
Add black beans, cooked rice and diced tomatoes to the veggie mixture. Let it all heat through until piping hot.
Pile the bean and veggie filling into the crisp tortilla shell. Top with guacamole, vegan cheese shreds, salsa and anything else you love!
7. Southwest Tofu Burritos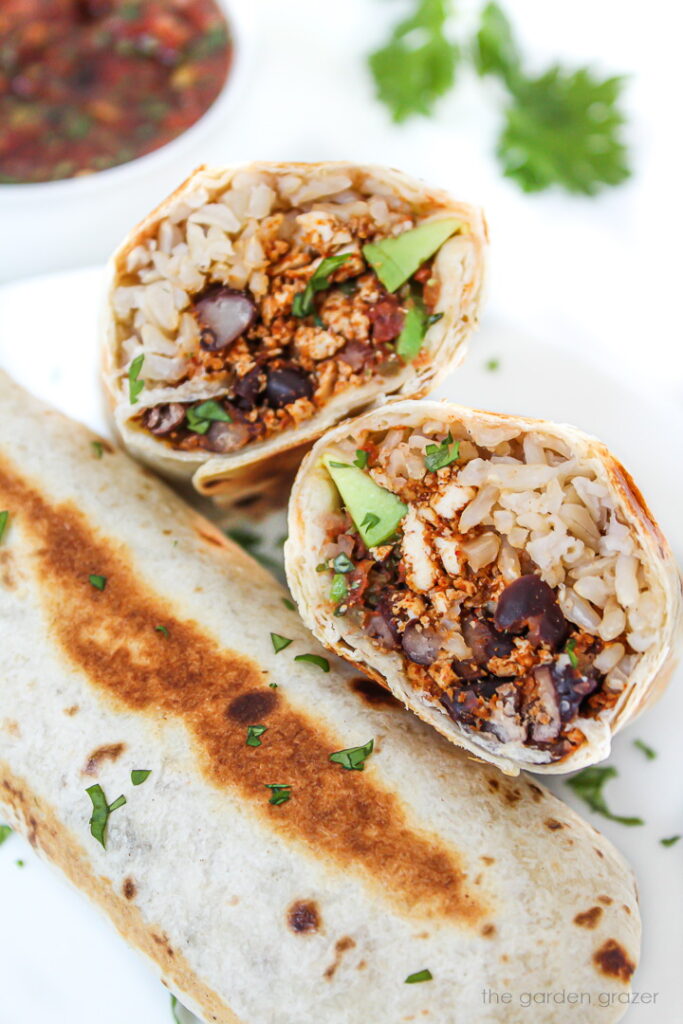 Marinated and seasoned tofu makes a fantastic filling for these Southwest-inspired burritos. Firm or extra-firm tofu works best, as it holds up well when cooked.
Start by pressing the tofu to remove excess moisture. Then cube it and toss with chili powder, cumin, paprika and garlic. The spices infuse the tofu with lots of flavor.
While your rice is cooking, sauté the tofu in oil until lightly browned. Warm up some beans or veggies too.
Stuff your tortillas with the seasoned tofu, beans, rice, peppers, corn, etc. Finish it off with creamy guacamole, salsa and dairy-free cheese. The tofu and beans provide a double dose of plant-based protein.
8. Chipotle Vegan Burrito with Cilantro Lime Rice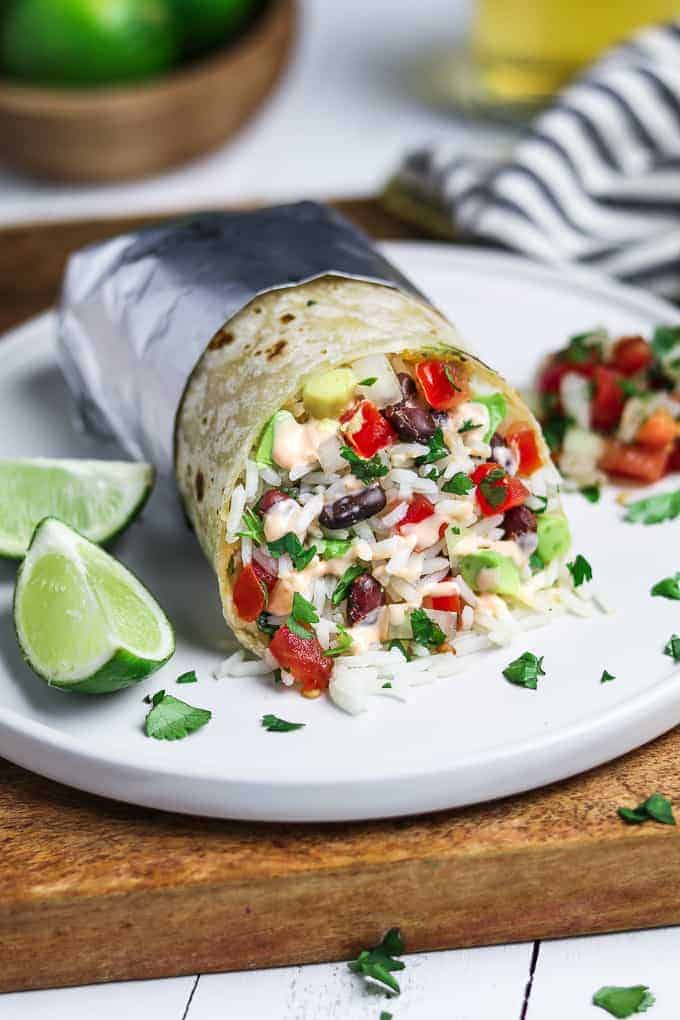 Fans of Chipotle's veggie burritos will love this homemade version, complete with flavorful cilantro lime rice.
Cook the rice in vegetable broth and stir in chopped cilantro and lime juice. This bright, fresh rice complements the heartier burrito fillings.
Sauté some bell peppers and onions for extra flavor. Heat your beans and assemble all the components in a tortilla.
Of course, it's not a Chipotle-style burrito without the creamy, spicy sauce. Combine vegan mayo with sour cream, lime juice and your favorite hot sauce.
Pile on the toppings like guacamole, lettuce, and pico de gallo too. The fresh flavors in this burrito are incredible.
9. Sheet Pan Vegan Chick'n Burritos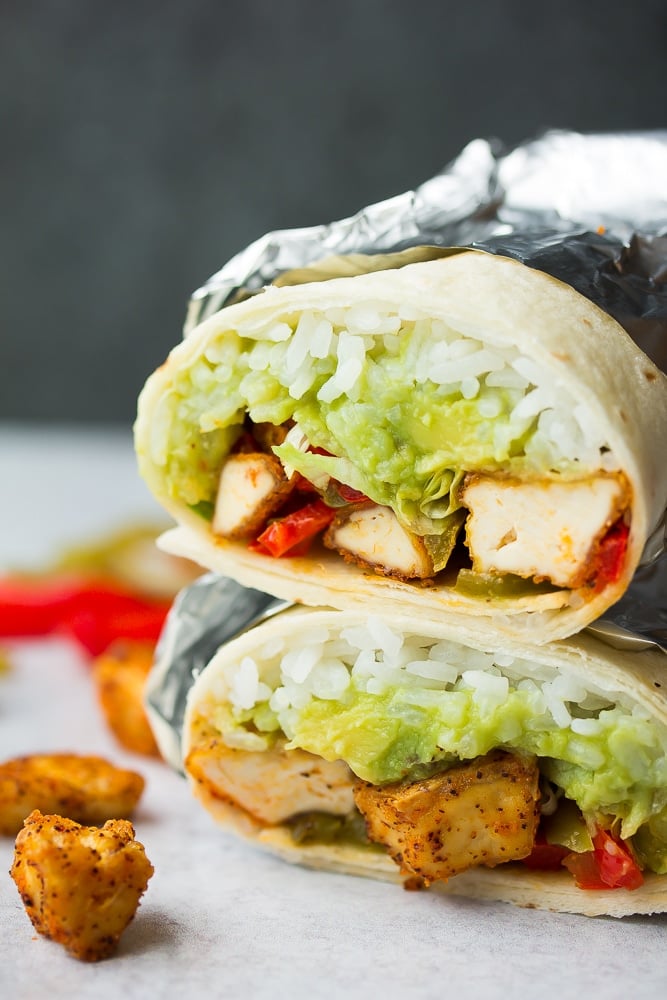 These sheet pan burritos feature spicy vegan "chick'n" along with colorful veggies. The chick'n is made from pressed and seasoned tofu.
Start by draining and pressing the tofu to remove moisture. Then cube it and toss with spices like garlic powder, paprika, chili powder and cumin.
Spread the tofu on a sheet pan and add sliced bell peppers and onions. Roast everything at 400°F until lightly charred.
When you're ready to assemble the burritos, stir together the tofu chick'n and veggies with beans, guacamole, rice—anything you want!
Everything cooks together easily on one sheet pan, keeping dinner simple. These protein-packed burritos will satisfy any craving.
10. "Beefy" Vegan Burritos
For a heartier vegan burrito, try using seitan that mimics the taste and texture of ground beef. Seitan is made from wheat and packed with protein.
Sauté the seitan in a skillet with onions, garlic, chili powder and spices until browned. Season it generously for serious taco flavor.
In your tortilla, layer the seitan with refried beans, Mexican rice, sautéed bell peppers and melted vegan cheese.
Garnish your burrito with all the fixings like lettuce, pico de gallo, guacamole and vegan sour cream. The "beefy" seitan elevates this burrito to the next level.