Indian cuisine is a treasure trove of aromatic herbs, warming spices, and comfort foods that nourish the soul.
In this roundup, I'll be sharing 34 of my favorite easy vegan Indian recipes, from crispy pakoras to creamy curries, fluffy breads, and sweet treats. These dishes capture the diverse flavors of India, while honoring timeless culinary traditions.
So let's dive in and explore the wonderful world of vegan Indian cooking!
1. Coconut Ladoo
Let's start with a classic Indian sweet – coconut ladoo. These melt-in-your-mouth morsels are made from just a few simple ingredients – coconut milk, shredded coconut, raw sugar, and cardamom. The combination creates a mildly spicy, perfectly sweetened coconut flavor.
Coconut ladoo is a great way to satisfy a sweet tooth without overindulging. The naturally sweet coconut provides just the right amount of sugar. I like to enjoy one or two after a meal.
2. Vegan Palak Paneer with Tofu
Palak paneer is a popular Indian dish of creamy spinach combined with paneer cheese. My vegan version uses extra-firm tofu in place of the paneer. Marinated and roasted, the tofu provides a rich, nutty flavor that pairs beautifully with the spiced spinach puree.
This recipe comes together quickly but packs delicious complexity. The spinach is first cooked down with onions, garlic, and ginger. Then it's spiced with cumin, coriander, and garam masala.
Roasting the tofu gives it a lightly crispy texture on the outside while keeping the inside soft and creamy. Served over basmati rice, it's flavorful and fulfilling.
3. Turmeric Lemon Rice
For a simple, nutritious side dish, try this turmeric lemon rice. It combines the earthy aroma of turmeric with bright citrus and fluffy basmati rice. The turmeric adds a lovely golden color while providing anti-inflammatory benefits.
I love serving this rice alongside rich curries or dals. The tart lemon cuts through the heaviness and helps cleanse the palate. Garnish with toasted nuts or fresh herbs to dress it up. It also makes an easy packed lunch on its own.
This dish proves you don't need a complicated recipe to create something delicious and nourishing.
4. Vegan Chickpea Curry Stew
When I want a hearty plant-based meal, this easy chickpea curry stew really satisfies. It's packed with protein from the chickpeas and iron from the spinach. Diced tomatoes provide a fresh flavor contrast to the creamy coconut milk.
This is a simple one-pot dish that comes together in 30 minutes but tastes like it simmered for hours. For extra heat, add a pinch of cayenne pepper or red pepper flakes.
I recommend serving it over brown rice or quinoa to complete the meal. The possibilities for customization here are endless, so have fun with it!
5. Quick Masala Dosa
Let's move on to a savory crepe known as a dosa. Traditional dosa recipes require time to ferment the batter. But my quick masala dosa eliminates that step by using rice and chickpea flour.
The result is a lightly crispy crepe with a delicious sourdough tang. For the filling, I use a flavorful potato curry spiced with mustard seeds, chiles, and fresh curry leaves. It strikes a perfect balance of spicy, savory and subtly sweet.
Dosa makes a satisfying breakfast, lunch, or dinner when served with fresh chutney.
6. Vegetable and Chickpea Coconut Curry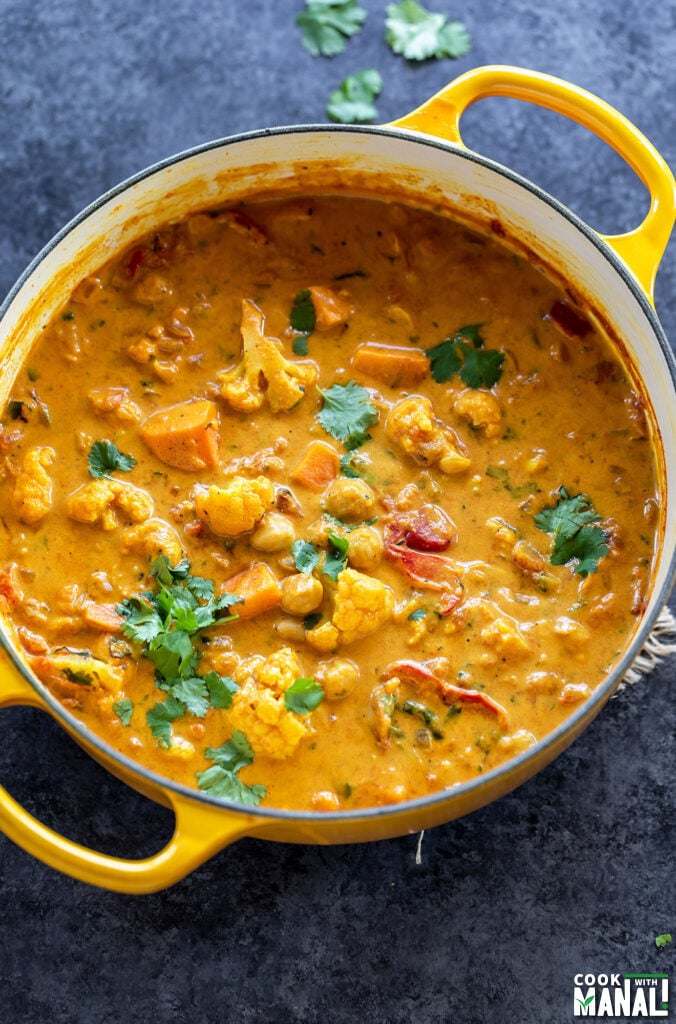 Coconut curries are an easy way to infuse dishes with rich, exotic flavor. This recipe combines a creamy coconut broth with chopped vegetables, chickpeas, and warming spices like coriander, cumin, and turmeric.
In less than an hour, you can have a fragrant, hearty plant-based meal on the table. Potatoes provide starchy substance while spinach adds a pop of color and nutrition.
To enhance the flavors, I recommend squeezing fresh lime juice over the curry before serving. A pinch of red pepper flakes also brings a nice heat. This is comfort food at its best!
7. Tempeh Stir-Fry in a Ginger Coconut Sauce
When time is short, this simple tempeh stir-fry comes together in a flash. Diced tempeh provides a meaty texture that pairs nicely with crisp-tender vegetables. The quick ginger coconut sauce can be made with pantry staples.
A sprinkle of red pepper flakes adds a touch of heat while amino acids offer an umami flavor boost. Served over rice or noodles, it's a fast and easy weeknight meal.
Like with many stir-fries, feel free to improvise with whatever vegetables are on hand for a customized dish.
8. Vegan Red Lentil Curry
Red lentils make a wonderful base for vegan curries since they break down into a creamy texture as they cook. This easy red lentil curry simmers the legumes in a lightly spiced tomato sauce. Garlic, ginger, cumin and coriander add layers of flavor.
For some freshness, I love topping this curry with cilantro. Serve it alongside basmati rice or warm naan bread. The red lentils provide fiber and protein for a nutritious, plant-based meal that comes together quickly.
Spice it up with some added heat if you like!
9. Vegan Kheer
Let's take a break from savory recipes to try this comforting vegan kheer. Kheer is a classic Indian rice pudding, typically made with cow's or coconut milk. My dairy-free version uses nutty oat milk and a touch of saffron for richness.
The oats and oat milk create a naturally sweetened creamy base, with cardamom providing a subtle, exotic spice. It's perfect for dessert or even breakfast. For added texture, top with toasted nuts or coconut flakes.
I hope this recipe brings a taste of India straight to your kitchen in the easiest way possible.
10. Almond Flour Badam Katli
Badam katli is a beloved Indian sweet made from flour, sugar, cardamom and nuts. It has a melt-in-your-mouth texture similar to a shortbread cookie. My version uses almond flour for a naturally nutty flavor and sweetness.
A pinch of saffron provides an exotic aroma and golden color. Feel free to customize this recipe with your choice of nut butter, alternative flours or spices like cinnamon or rose water.
However you make it, badam katli is sure to satisfy any sweet tooth. Enjoy it with an afternoon tea or as a dessert.
11. Chana Masala
No roundup of Indian recipes is complete without chana masala. Chickpeas smothered in an incredible onion-tomato sauce, this dish is bursting with incredible flavors. Garlic, ginger, and aromatics like bay leaf infuse the sauce with layers of flavor.
I like to toast the cumin, coriander, cinnamon, and cardamom to intensify their essence before grinding. This dish is delicious wrapped in warm roti or served over basmati rice.
However you enjoy it, chana masala is the ultimate crowd-pleaser. The aroma alone will have your mouth watering!
12. Tofu Makhani
Get your spice fix with this satisfying tofu makhani. The star ingredient is the rich, creamy tomato-cashew sauce. Garam masala, cumin, and smoked paprika add depth and just a touch of heat.
Silky tofu provides substance while soaking up all the flavors of the sauce. I love serving this with freshly baked naan to mop up every last drop.
Garnish with cilantro for color and freshness. This sauce also pairs well with steamed vegetables or rice if you want to change it up.
13. Jackfruit Curry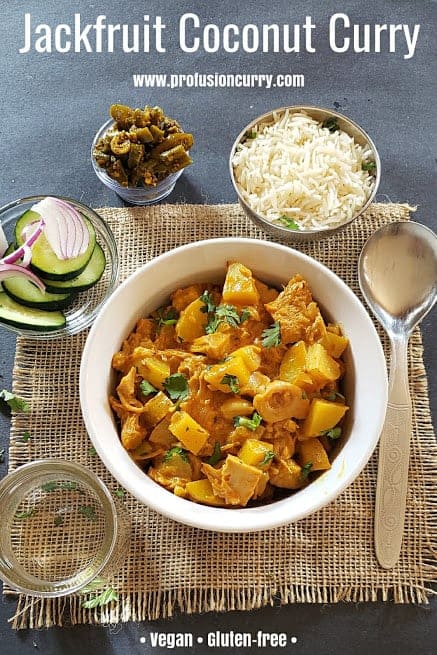 For a meatless dish with texture, try this jackfruit curry. Young, unripe jackfruit has a stringy consistency similar to pulled meat. When cooked in a flavorful coconut milk-based gravy, it absorbs the spices and seasons beautifully.
Along with jackfruit, this curry contains potatoes for heartiness and tomato for a touch of tanginess. Seasoned with garlic, ginger, cumin and coriander, the flavors come together in perfect balance.
I recommend serving it alongside basmati rice or warm naan bread for soaking up the scrumptious sauce.
14. Vegan Saag Paneer
Saag paneer is another Indian restaurant classic made vegan and easy. Just like my palak paneer recipe, this one uses marinated tofu to recreate the texture of paneer cheese. Chopped spinach provides the "saag" component.
Garlic, ginger, and spices infuse the dish with aromatic flavor. For extra creaminess, I sometimes add a spoonful of cashew cream.
There are so many ways to customize this recipe based on your tastes and what you have on hand. However you make it, saag paneer is the ultimate comfort food.
15. Tawa Burgers
Let's switch things up with a vegan twist on Indian burgers! Tawa burgers get their name from the cast iron griddle (tawa) used to cook them. The patties are made of potatoes and chickpeas seasoned with classic Indian spices.
I love serving them on buns with chopped onion, sliced tomatoes, and tart schezwan chutney. For added crunch, top with crispy fried capsicum.
Unlike beef hamburgers, these burgers are full of fiber, plant-based protein, and nutrients. They make for a satisfying yet lighter meal than their meaty counterparts.
16. Easy 3-Ingredient Vegan Roti
Freshly baked Indian flatbreads like roti or naan are the perfect accompaniment to flavorful curries and dals. My simplified 3-ingredient roti requires no yeast or long rise time. It's made with just flour, garlic paste, and sea salt.
The soft dough comes together quickly then gets rolled and cooked on a hot skillet. I love stuffing it with spicy potato mixtures for a meal on the go.
Drizzle with melted vegan butter or coconut oil for extra richness. This naan also pairs nicely with soups, salads, or simply enjoyed by itself.
17. Vegan Bombay Potatoes
For a delicious vegan side dish, try these flavor-packed bombay potatoes.
Cubed potatoes are tossed in aromatic spices like cumin, coriander, turmeric, and chili powder, cooking until perfectly tender. Mustard seeds and curry leaves provide nutty, earthy notes.
A squeeze of lemon gives the dish some zing. This combination of sweet and savory flavors is hard to resist.
I like to enjoy bombay potatoes as the ideal complement to rich curries. The possibilities for mixing up the spices are endless depending on your tastes.
18. Vegan Chickpea Curry
When time is of the essence, this quick vegan chickpea curry can be ready in under 30 minutes. The base contains onion, garlic, ginger, tomatoes, and basic curry spices like cumin, coriander, turmeric, and garam masala. From there, just add any vegetables you have on hand!
Hardy veggies like cauliflower, carrots, and potatoes work well, as do canned chickpeas or lentils.
Finish with a dash of lime juice and cilantro for acidity and freshness. Serve over rice or with warm naan bread for an easy, budget-friendly curry.
19. Vegan Butter Chicken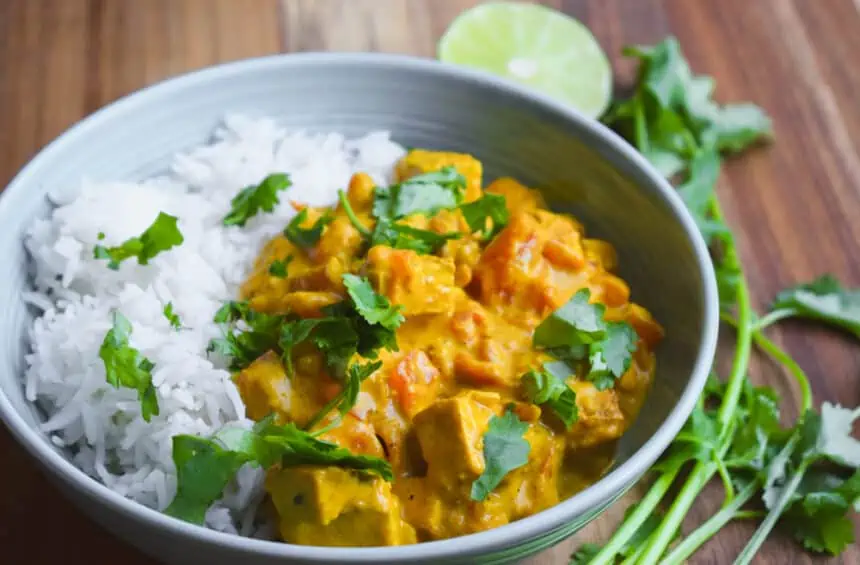 Butter chicken is a creamy, tangy, slightly spicy curry dish that packs some serious flavor.
Traditionally made with chicken, my vegan version uses garbanzo beans along with tofu for texture. A luscious cashew cream sauce brings everything together.
It contains all the aromatic ingredients you expect in a good Indian curry – garlic, ginger, tomato, curry powder, garam masala.
A touch of coconut milk lends sweetness to balance the spices. Spoon this satisfying curry over basmati rice for the ultimate comfort meal.
20. Vegan Bombay Carrot Salad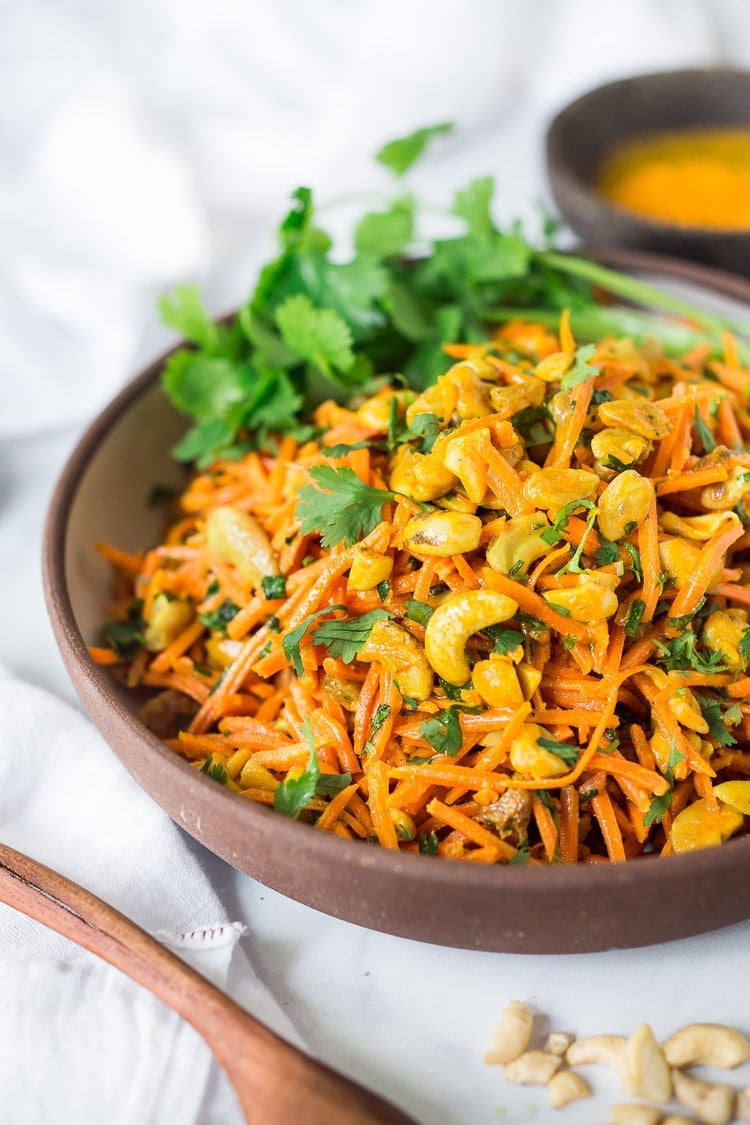 Carrots are the surprise star ingredient in this vibrant vegan salad. Shredded raw carrots get massaged with lemon, olive oil, cumin, and other flavorful spices. Raisins add pops of sweetness while pistachios provide crunch.
The dressing soaks into the carrots, infusing them with bright, bold flavors. Topped with crunchy roasted chickpeas and vegan yogurt, this salad makes a light yet totally satisfying lunch or side dish.
Play around with the spices to make this recipe your own.
21. Vegan Dal Makhani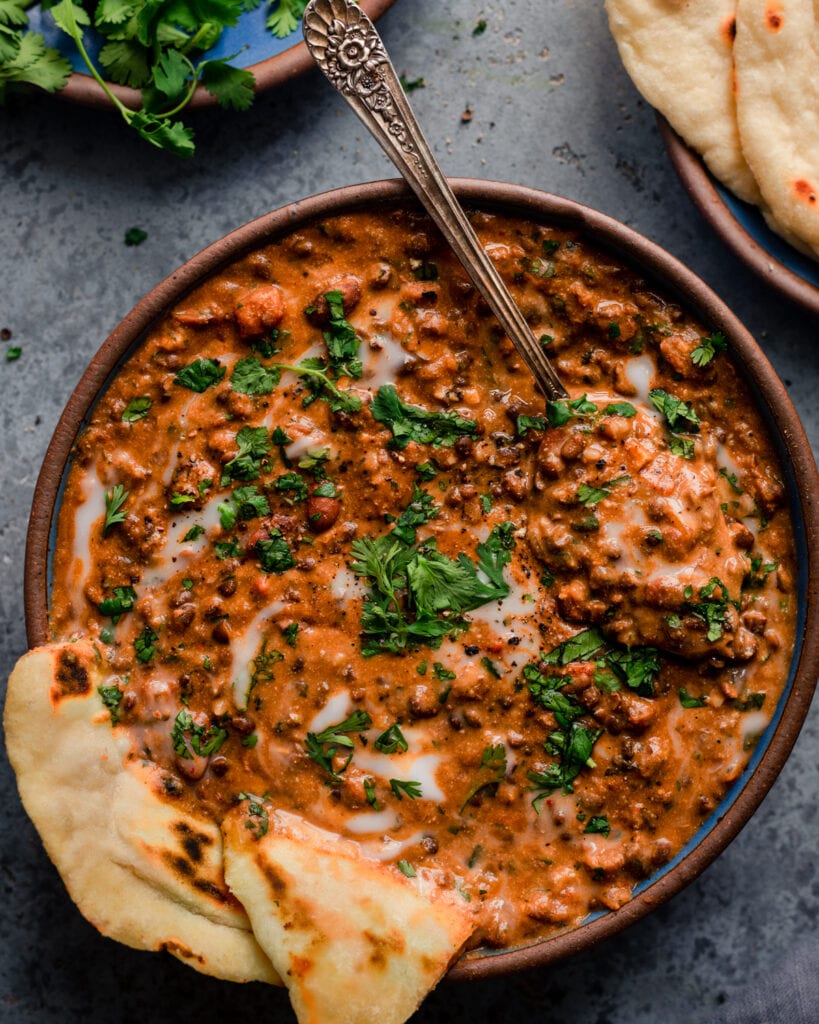 With its rich, complex flavors, dal makhani is one of my favorite Indian dishes to make vegan. Traditionally a labor of love, this version simplifies the preparation by using canned beans.
Kidney beans and black lentils simmer together in a lightly spiced tomato and cashew cream sauce.
Onion, garlic, ginger, cumin, coriander, turmeric, black pepper, and chili powder build deep, warming flavors.
Allowing the dal to cook low and slow is key to letting the spices permeate the beans. Served over basmati rice with fresh naan, it's pure comfort.
22. Tandoori Tofu Tikka Masala
Get your protein on with this satisfying tandoori tofu tikka masala. Tandoori tikka describes a dish where protein chunks are marinated in yogurt and Indian spices then grilled. For my vegan version, extra-firm tofu stands in for meat.
The marinated tofu gets a quick pan fry to char the edges. Then it simmers in an incredible creamy tomato curry sauce known as makhani.
Basmati rice makes the perfect base to soak up every last drop. Garnish with cilantro for added color and freshness in every bite.
23. Easy Vegan Naan Bread
Buttery, flaky naan is divine but typically contains dairy products. My easy vegan naan uses plant-based yogurt and oil to achieve a soft, rich dough. Stuff it with whatever fillings you desire – I love spicy potatoes or lentils!
Without yeast, this naan comes together quickly and gets right to cooking. Grilled over an open flame or in a cast iron skillet, it puffs and chars to flaky perfection.
Brush with a bit of vegan butter or coconut oil if you'd like extra richness. Dip it in your favorite curry or chutney and enjoy!
24. Vegetable Vindaloo
Vindaloo is a spicy curry dish that originates from the southwestern coast of India. This vegan version packs all the signature flavors – a tangy tomato base with potatoes, warm spices like cumin and coriander, and a good hit of chili peppers.
I use a combination of cayenne and smoked paprika to provide layered heat. Crisp vegetables like cauliflower and green beans balance the soft potatoes. The flavors really bloom after simmering for 30 minutes or longer.
For toning down the spice, stir in some coconut milk. This dish truly brings the heat!
25. Vegan Indian Biryani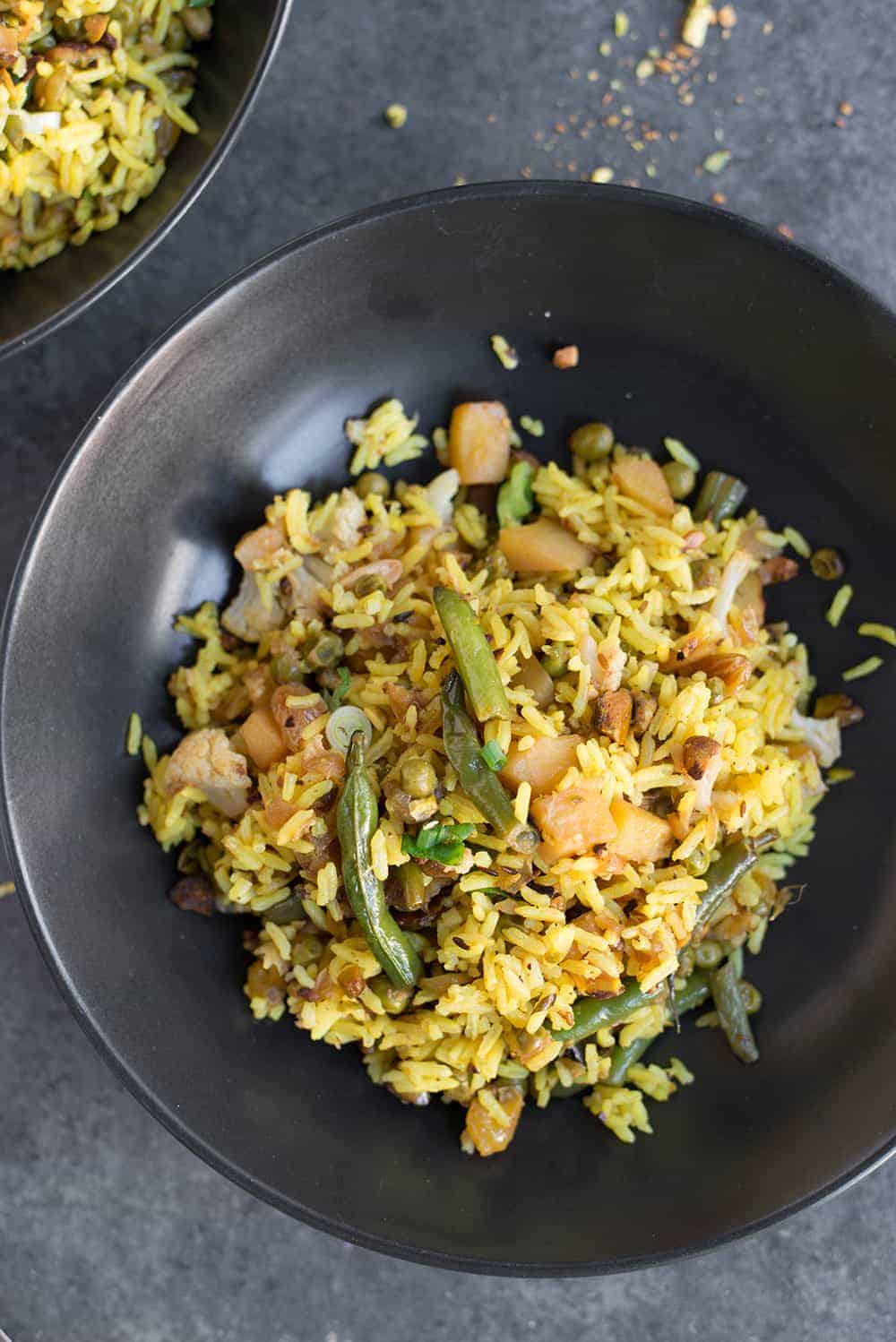 Biryani is a one-pot rice dish loaded with fragrant spices and vegetables. What I love about vegan biryani is how customizable it is. You can add any combination of vegetables, beans, nuts or meat substitutes.
For this recipe, I use nutty basmati rice, chopped cauliflower and chickpeas seasoned with cardamom, cinnamon, cumin, and chili powder. Saffron lends its exotic floral aroma and golden hue.
Feel free to switch up components to make this dish your own. Top with vegan yogurt to cut the spice and add creaminess.
26. Indian Mulligatawny Soup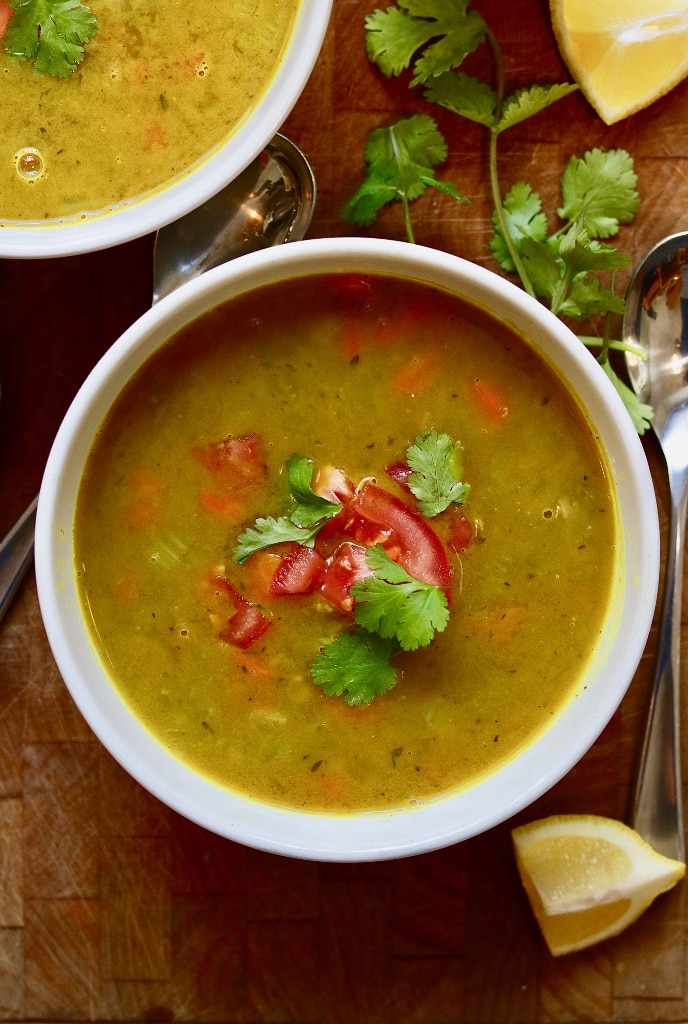 Warm up from the inside out with this cozy vegan mulligatawny soup. It's packed with lentils, white beans, diced tomatoes, and an enticing blend of spices. Curry powder, cumin, and garam masala provide classic Indian flavors.
A touch of cayenne and black pepper brings subtle heat. I love garnishing this soup with fresh cilantro, a squeeze of lime, and a drizzle of coconut milk.
The array of textures and flavors in each comforting spoonful is highly craveable! This soup really satisfies on a chilly evening.
27. Vegan Vegetable Pakoras
These crispy vegetable pakoras are the ultimate snack or appetizer for Indian food lovers. Pakoras feature chopped veggies dipped in a mildly spiced chickpea flour batter and fried until golden brown. For the vegetables, I love using potatoes, cauliflower, spinach, onions, or eggplant.
The chickpea flour keeps things gluten-free with a light, crispy texture. Spices like cumin, coriander, amchoor, chili powder, and garam masala add subtle heat and aroma.
For dipping, I serve the pakoras with tangy tamarind or mint chutney. They make the ideal spicy-crunchy bite!
28. Mint Chutney
No Indian feast is complete without chutney – the refreshing, tangy condiments that bring balance to rich curries and spicy dishes.
This easy mint chutney highlights my favorite herbs, especially the cooling flavor of fresh mint. It also contains cilantro, garlic, ginger, green chiles, lemon juice, and spices.
I make it right in the blender for the fastest prep. Adjust the amounts of ginger and chiles to taste if you like it spicier or milder.
Drizzle over samosas or pakoras, use as a sandwich spread, or enjoy with fresh flatbread. This chutney is extremely versatile and full of fresh flavor.
29. Chickpea Tikka Masala
Get your protein fix from delicious marinated and roasted chickpeas smothered in creamy tomato makhani sauce. Inspired by the traditional chicken dish, this vegan chickpea tikka masala has all the rich flavor without the meat.
Chickpeas marinate briefly in a yogurt-free tikka sauce then roast until plump and slightly charred. Then they simmer in an incredible cashew cream curry punctuated by cumin, coriander and garam masala.
Enjoy this saucy, satisfying curry with basmati rice and naan bread.
30. Vegan Indian Dessert – Saffron Rose Kheer
Kheer is the quintessential Indian rice pudding, and this vegan version infuses creamy rice and oat milk with aromatic saffron and rose water. It makes for the perfect light yet satisfying dessert.
The star ingredient is basmati rice cooked with non-dairy milk until soft and thickened. A touch of saffron lends its distinctive floral aroma and golden hue. Rose water provides additional floral essence. Pistachios add crunch for texture.
Enjoy this sweet, exotic treat after a spicy meal.
31. Vegetable and Chickpea Coconut Curry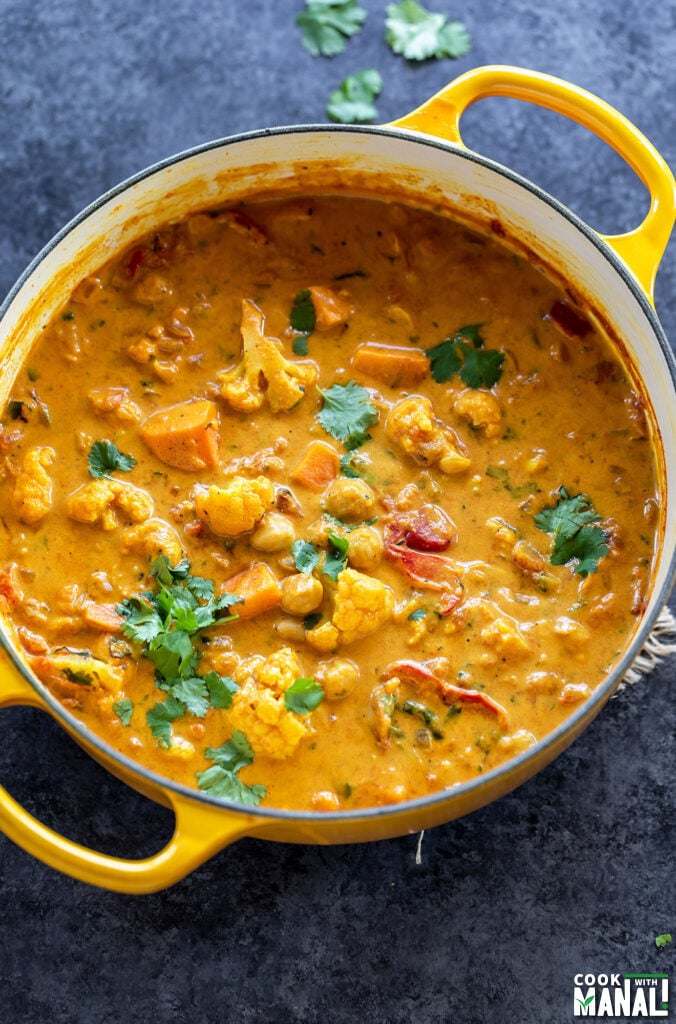 Last but not least, this vegetable and chickpea coconut curry brings all the flavors together in one bowl – creamy coconut, warm spices, crisp-tender veggies, and protein-packed chickpeas.
Onion, garlic, ginger, and tomato form the aromatic base. Then cubed potatoes, cauliflower, spinach and chickpeas simmer in the fragrant coconut milk sauce.
Spices like coriander, cumin, and turmeric add earthiness. Squeeze fresh lime juice over the top for extra zing. This nourishing curry truly has it all.